Adobo is the unofficial national dish of the Philippines. Usually made with pork belly or chicken, this dish renders off an incredibly addictive sauce made with soy sauce, lots of vinegar, and a touch of sugar. Salty, sour, and just a little sweet, this dish is worth making for the sauce alone. Flavored with garlic, peppercorns, and bay leaf the chicken slowly cooks for two hours and then a final broil caramelizes the sugars and further reduces the sauce. Served simply over a bed of plain white rice, you'll be making double batches of this dish before you know it.
Note: This recipe requires Suvie 2.0 and the Suvie Starch Cooker. To prepare this dish in Suvie 1.0, set the rice to cook for 15 minutes in Step 2. Follow remaining instructions as directed.
My Cook: Adobo Chicken
Please always check your food to ensure your food has been cooked to safe serving temperatures. Please see our guide
here
for recommended FDA Time & Temperatures.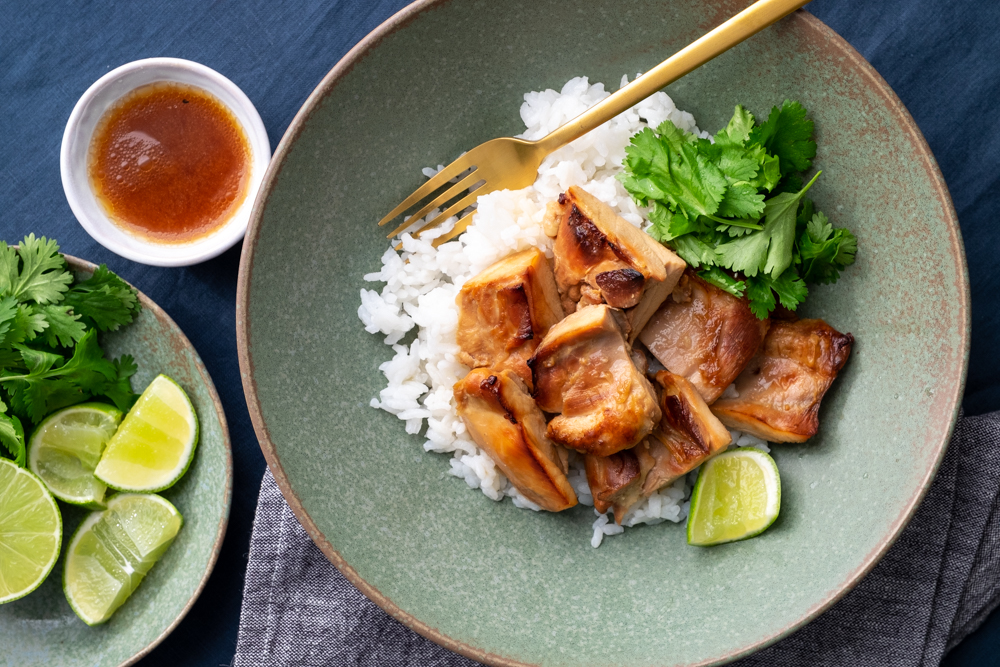 Ingredients
1 1/2 lb boneless, skinless chicken thighs
½ cup rice vinegar
¼ cup soy sauce
2 tbsp brown sugar
2 bay leaves
1 tsp whole peppercorns
7 cloves garlic, smashed and peeled
1 cup white short grain rice
4 lime wedges and chopped cilantro for garnish
Directions
1. Combine 1/2 cup rice vinegar, 1/4 cup soy sauce, 2 tbsp brown sugar, 2 bay leaves, 1 tsp peppercorns, and 7 cloves garlic in a Suvie pan. Stir until the brown sugar dissolves.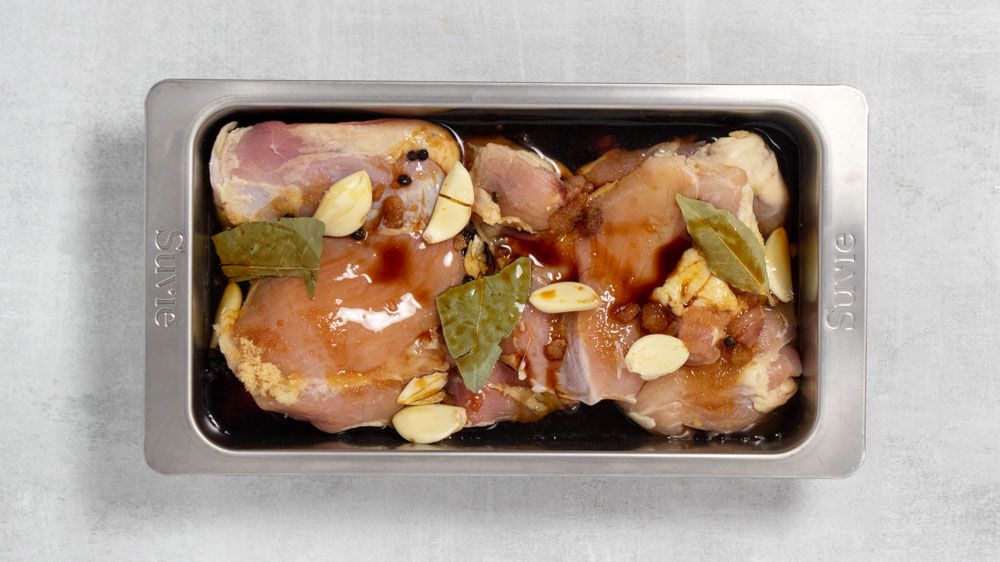 2. Add the chicken thighs to the pan and coat with the sauce. Insert pan into the bottom of your Suvie. Input the settings below, and cook now or schedule. Place jasmine rice in a Suvie rice pot and insert into your Suvie Starch Cooker. Input settings for long grain rice, fill reservoir, and schedule.
Suvie Cook Settings
Bottom Zone: Slow Cook on Low, 2 hours
Top Zone: Slow Cook on Low, 2 hours
3. After the cook, fluff rice with a fork and adjust seasoning to taste.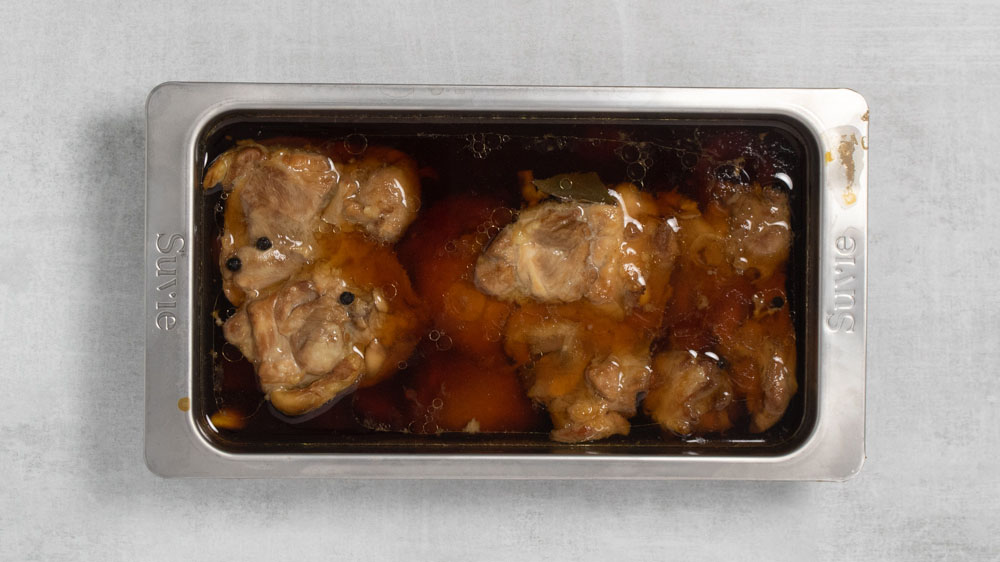 4. Remove bay leaves, peppercorns, and garlic from the sauce (or leave garlic in for a more pungent flavor). Cut the chicken thighs into large pieces and return to pan, turning to coat in the sauce.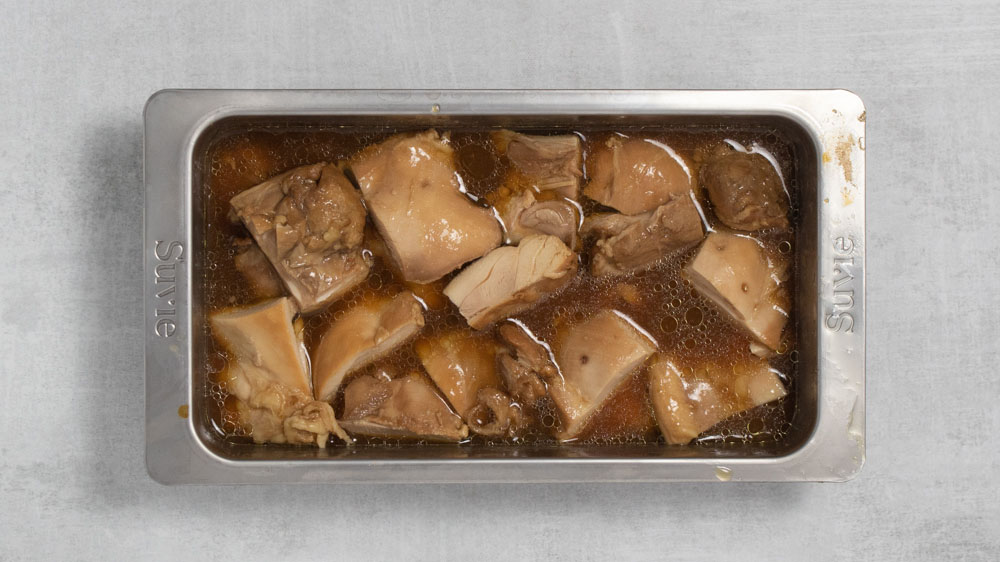 5. Return pan to Suvie and broil the chicken for 15 minutes until browned and toss with the sauce to baste. Serve the chicken over rice, spoon the sauce over the chicken so it soaks into the rice, and garnish with fresh cilantro and lime juice. Enjoy!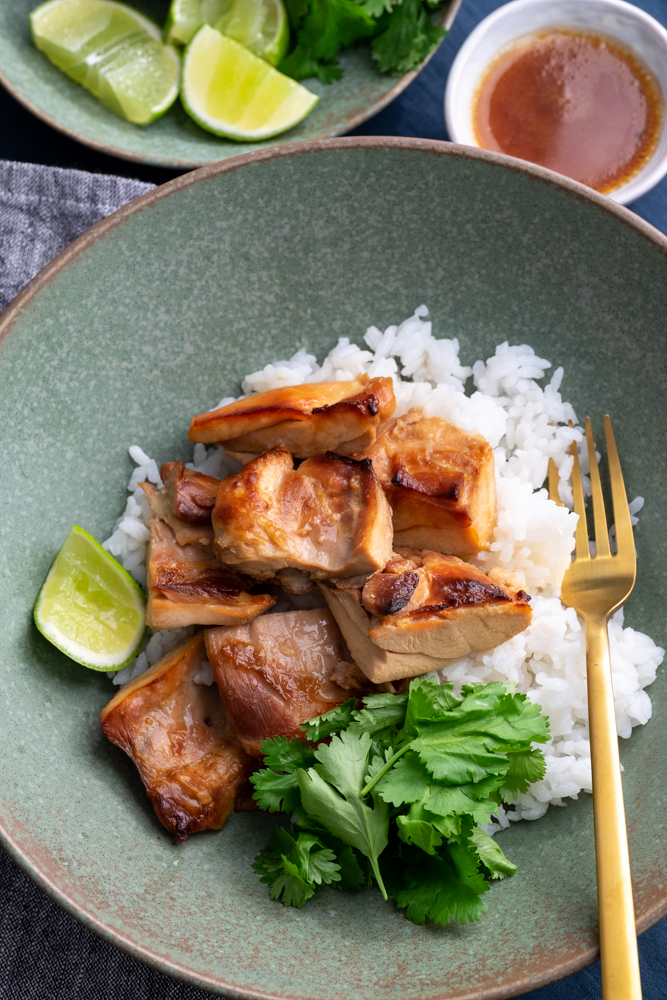 Wine Pairing
Depending on your preference, it's possible to pair either acidic or fruit-forward wines with adobo dishes. Acidic wines will pair well with the sour and savory notes of the soy sauce and vinegar. Fruity wines on the other hand will add a wonderful contrast. If you are struggling to chose we recommend serving this dish with a glass of Barbara wine. Barbara is wonderfully fruit-forward and has a very high acidity.