We thought we would give the traditional Christmas Ham a major upgrade. Taking inspiration from Italian Porchetta (a giant, crispy pork belly roll) we've seasoned up a beautiful pork tenderloin with garlic and rosemary, and then wrapped it up in strips of bacon for a gorgeous presentation. Low and slow sous vide cooking is the best way to ensure a perfectly juicy pork tenderloin and helps it take on some of the smoky flavor from the bacon. A quick sear in the skillet gets the bacon nice and crispy. Served with classic roasted Brussels sprouts and a parsnip puree that marries the natural sweetness and spiciness of the parsnips with cool and tangy sour cream. The best thing about this recipe? Suvie does all the work for you so you can spend more time with your loved ones this holiday season.
Note: This recipe requires Suvie 2.0 and the Suvie Starch Cooker. To prepare this dish in Suvie 1.0, set the parsnips to cook for 30 minutes in Step 7. Follow remaining instructions as directed.
Bacon Wrapped Pork Tenderloin, Roasted Brussels Sprouts, Parsnip Puree
Please always check your food to ensure your food has been cooked to safe serving temperatures. Please see our guide
here
for recommended FDA Time & Temperatures.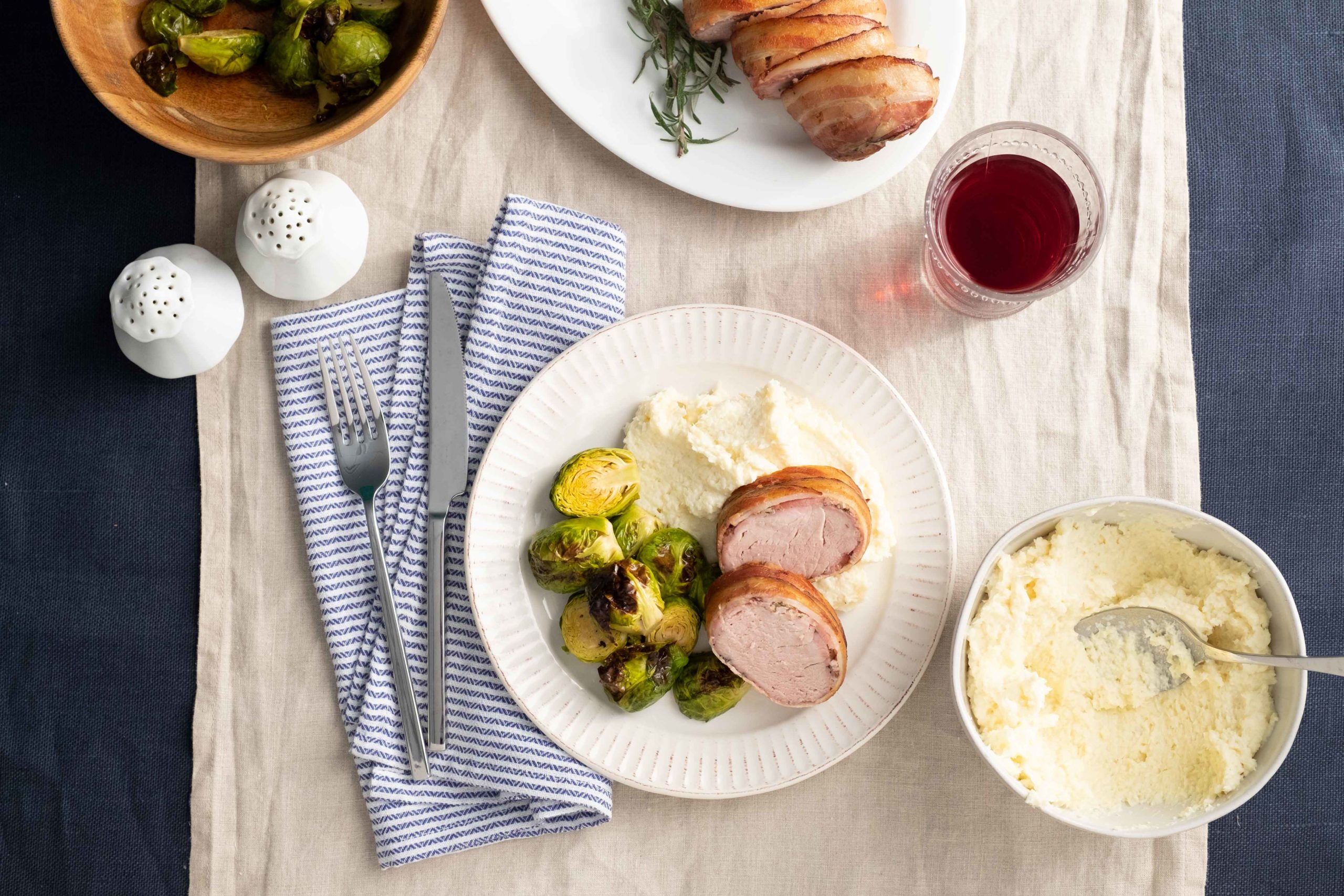 Ingredients
1 pork tenderloin (about 1 lb)
1 package bacon
4 cloves garlic, minced
1 bunch fresh rosemary
1 lb Brussels sprouts, halved
1 lb parsnips, peeled and diced
⅓ cup sour cream
Olive oil
Salt and pepper
Directions
1) Remove the leaves from 4 sprigs of rosemary and discard the hard, woody stems. Peel the garlic and mince together with the rosemary.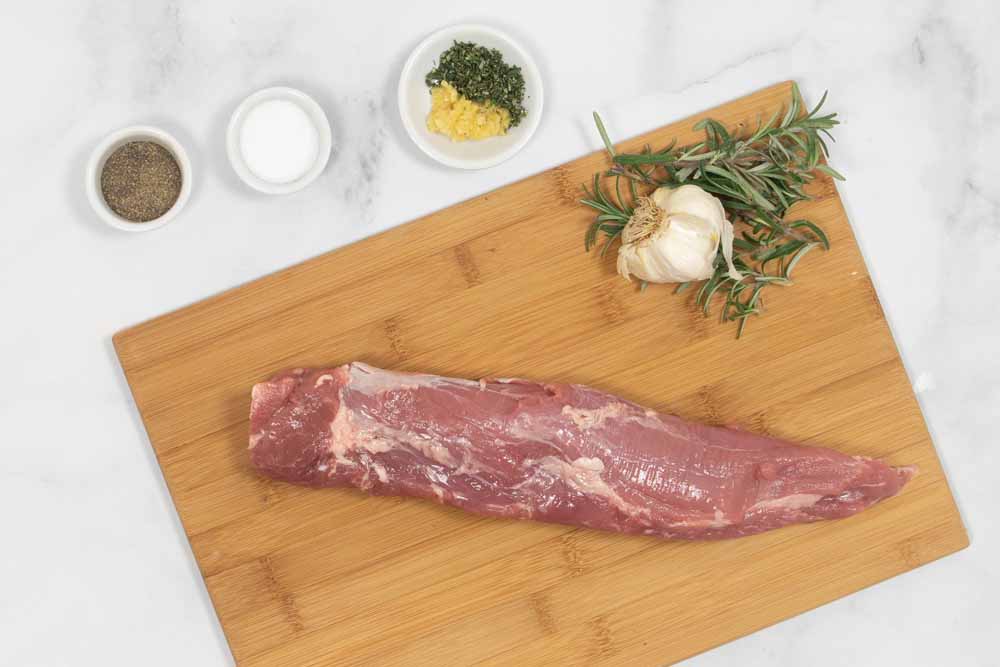 2) Season the pork tenderloin well with salt and pepper, then rub with the garlic and rosemary.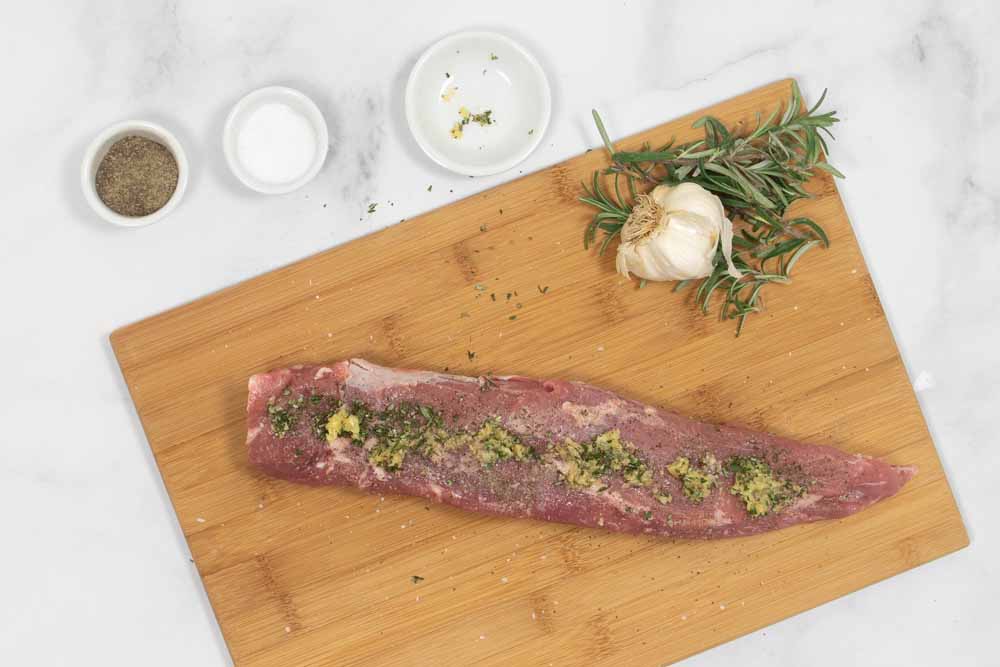 3) Lay out the bacon on a cutting board, overlapping pieces slightly.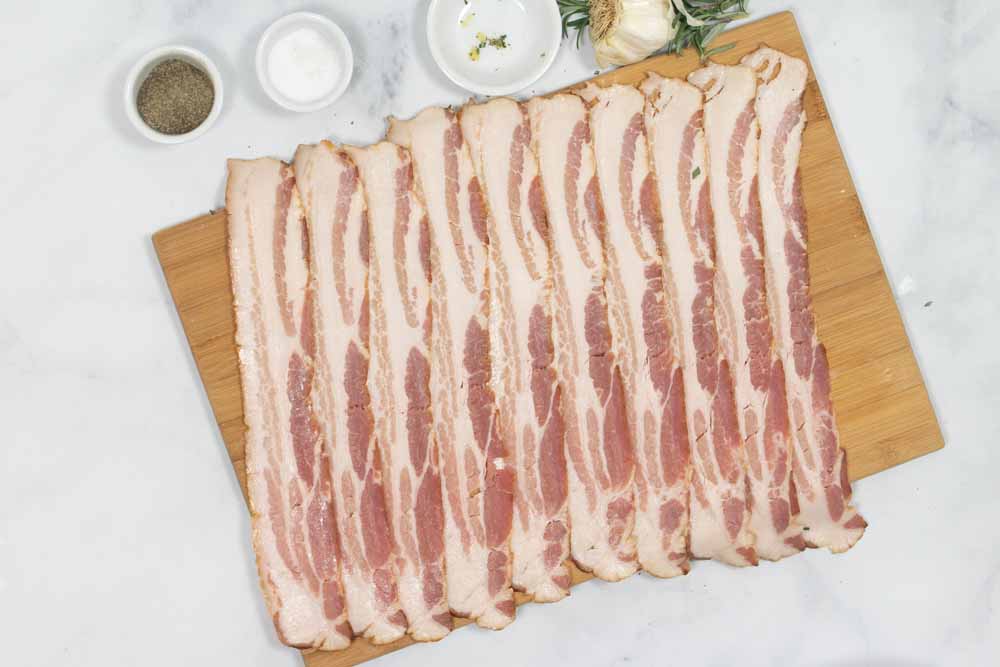 4) Place the tenderloin in the middle of the overlapped bacon.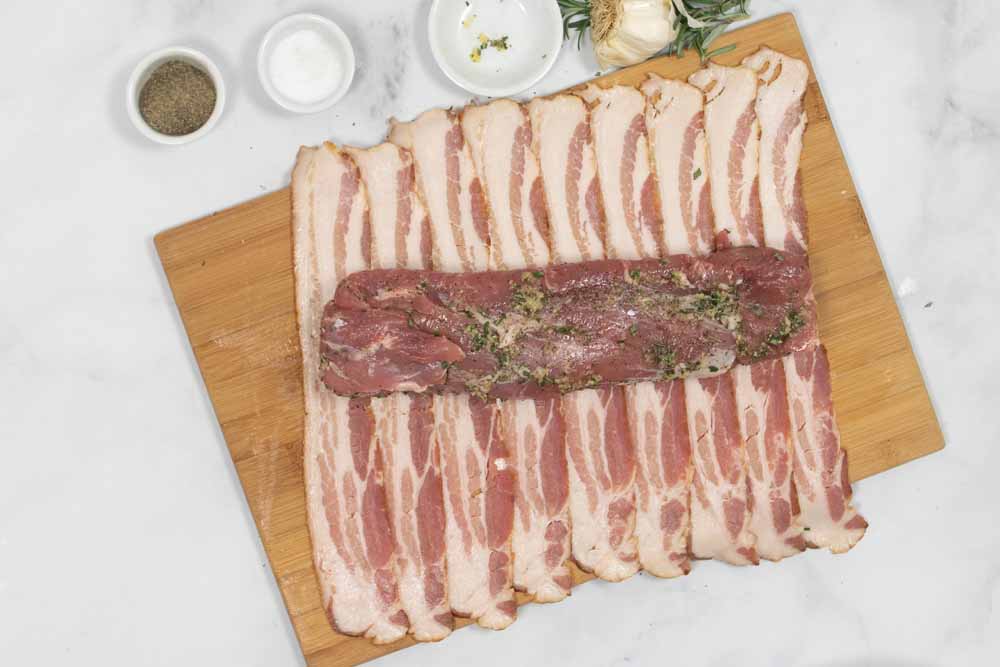 5) Starting at the top of the cutting board, wrap the bacon around the tenderloin, alternating sides and tucking each piece over the last.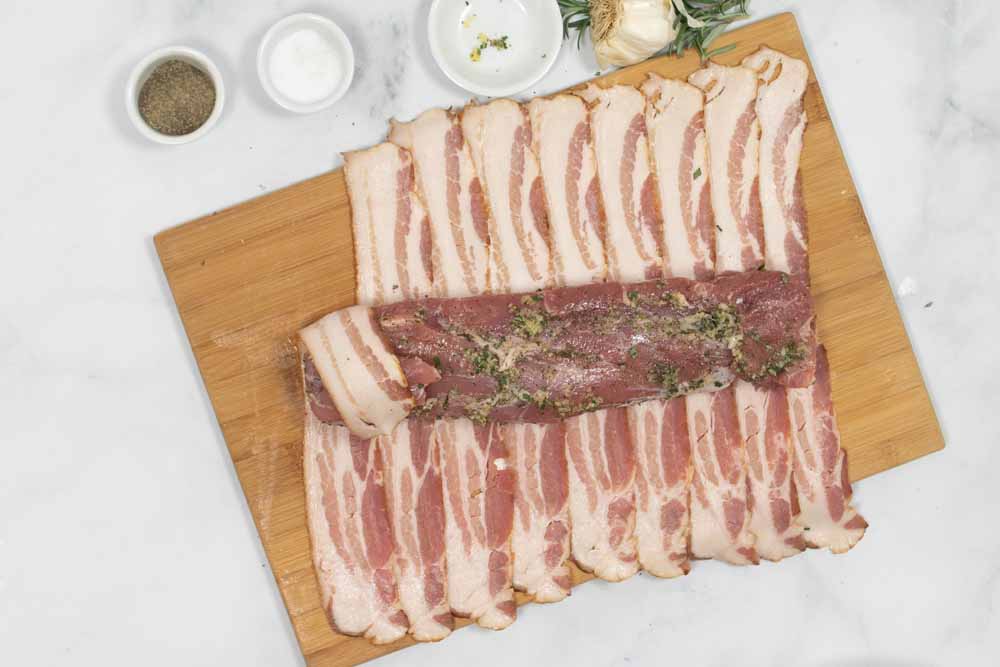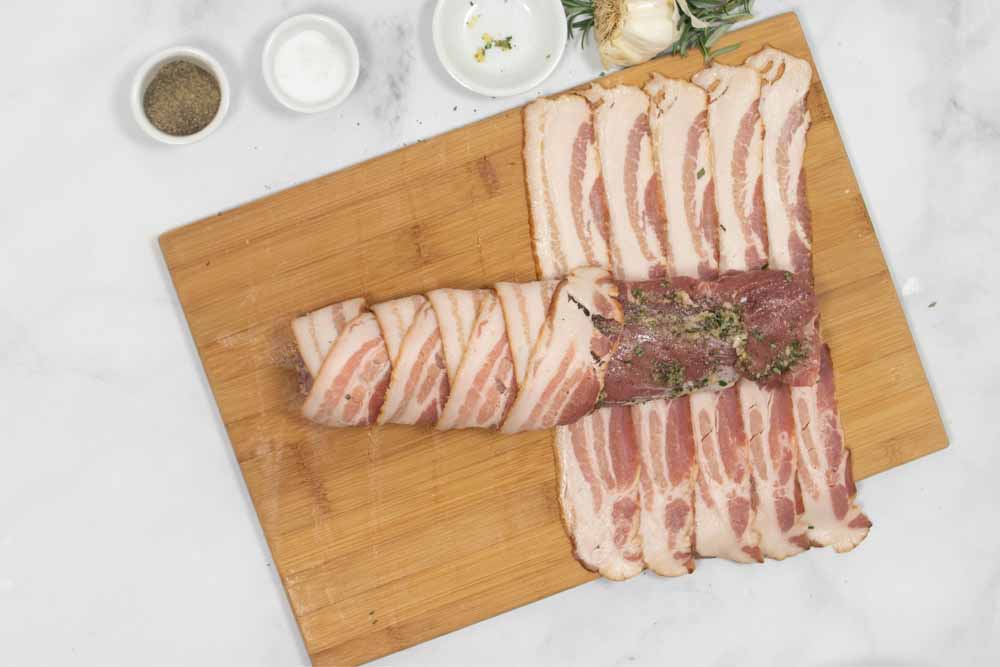 6) Vacuum seal the tenderloin. Place pork in a Suvie pan, cover with water, and load into bottom of Suvie. Place Brussel sprouts in a second Suvie pan, drizzle with 2 tsp olive oil, season with salt and pepper, and load into top of Suvie. Input settings below.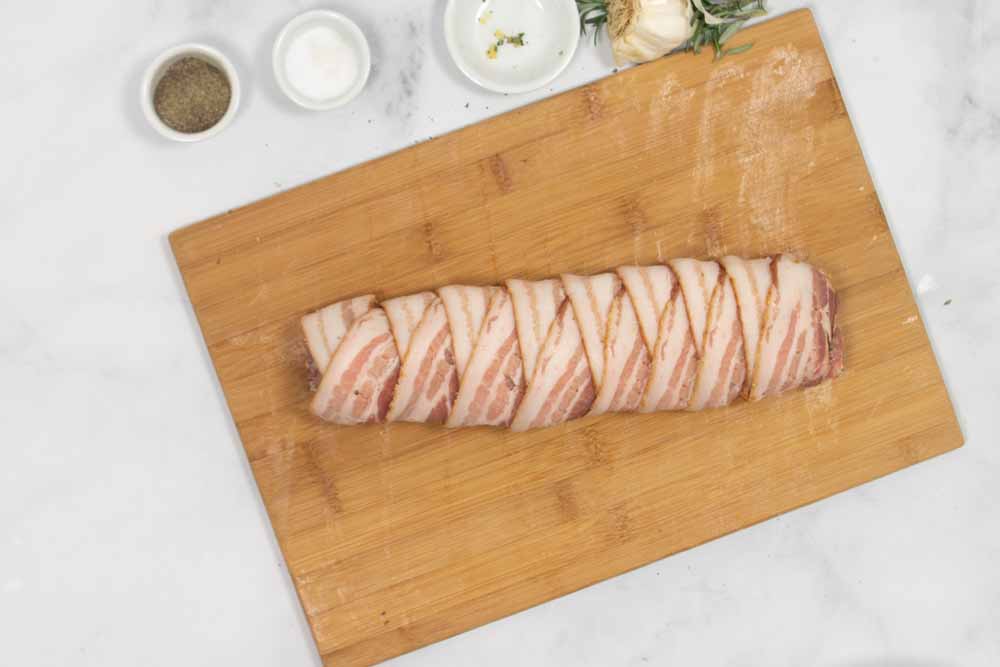 7) Place 1 lb peeled, diced parsnips and 2 tsp kosher salt in the Suvie pasta strainer set inside the Suvie starch pot. Insert pot into the Suvie Starch Cooker, input settings for potato mode, fill reservoir, and cook for 30 minutes.
Suvie Cook Settings
Bottom Zone: Sous Vide at 140°F for 2 hours
Top Zone: Sous Vide at 140°F for 2 hours
8) After cooking, remove the parsnips and add to a blender or food processor. Add the sour cream, salt and pepper and process until smooth. Add a little water to thin out the parsnips to a spreadable consistency and adjust seasoning to taste. Broil Brussel sprouts for 10 minutes, or until browned.
9) To finish the tenderloin, heat a large skillet over medium heat. Cut open the vacuum bag, drain the juices, and pat the pork dry with paper towels. Sear in the skillet over medium heat until all sides are browned and crispy (there will be enough fat left on the bacon that you shouldn't need to add any oil, especially if you are using a well seasoned cast iron skillet).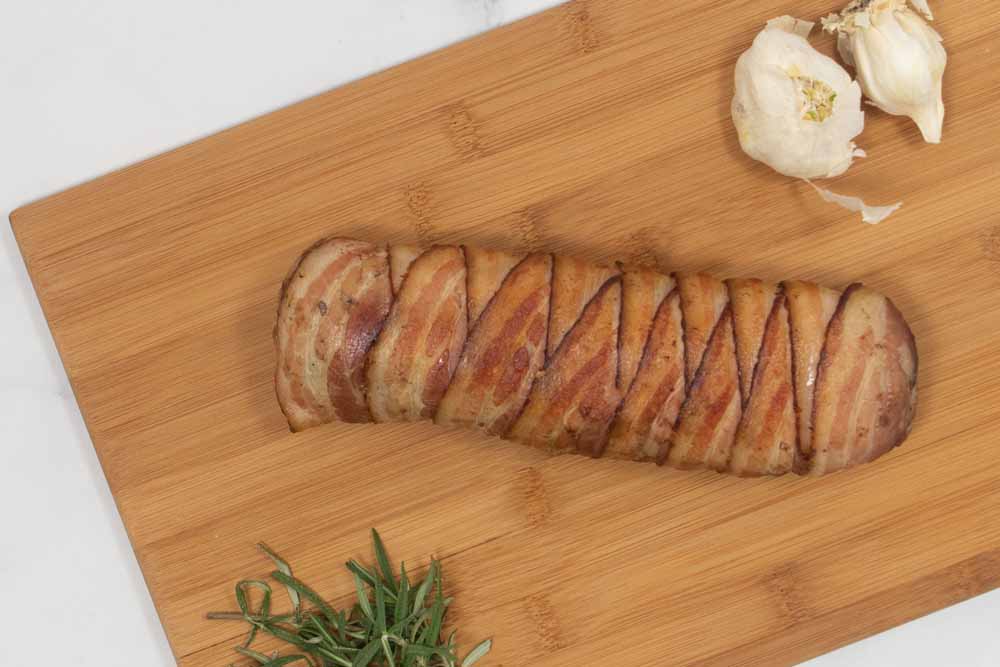 Wine Pairing
Pork loin is a delicate cut of meat with a subtle flavor so it's important to pair it with a wine that won't overwhelm it. Fortunately, pork goes well with both reds and whites so you have plenty of wines to choose from. We recommend either a good bottle of oaked Chardonnay, or a juicy Grenache.