Baked stuffed shells are the perfect parcel of pasta, filling, and sauce. We stayed with a classic combination of large pasta shells, marinara sauce (jarred or homemade, up to you), and creamy ricotta filling flecked with basil and red pepper flakes. No need to boil the shells before you put them in your Suvie, the long cook time will adequately soften them. Filling the shells can be a little bit tricky when they are uncooked, so be sure to choose shells from the box that have a wide opening and cut a hole small enough in the bag that it can fit inside the shell.
My Cook: Baked Stuffed Shells
Please always check your food to ensure your food has been cooked to safe serving temperatures. Please see our guide
here
for recommended FDA Time & Temperatures.
Servings: 2-3
Difficulty: 1 hour 30 minutes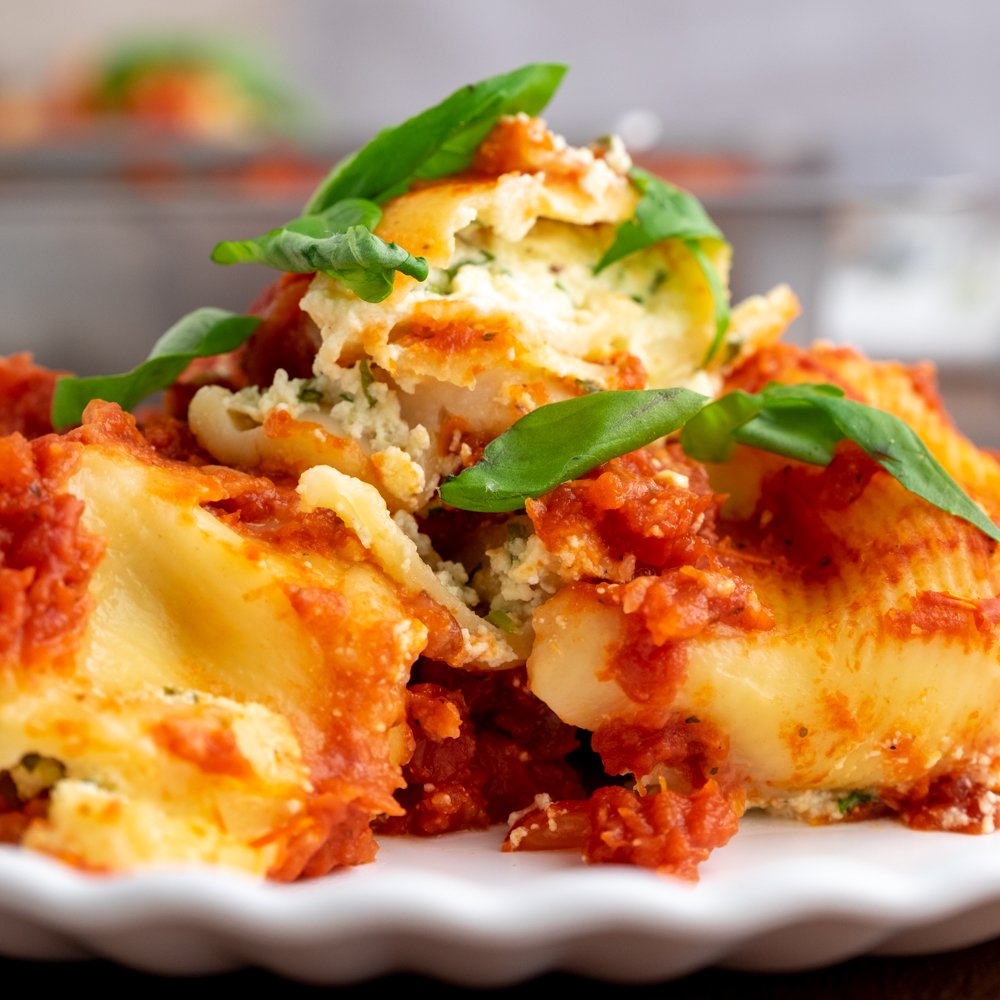 Ingredients
1 cup basil leaves
16 oz ricotta cheese
2 large eggs
4 oz parmesan cheese, grated
¼ tsp red pepper flakes
Salt and pepper
16 oz marinara sauce
6 oz large pasta shells, about ½ a box
Directions
Roughly chop basil, setting aside 2 tbsp for garnish. In a medium bowl whisk together the ricotta, eggs, parmesan cheese, red pepper flakes, chopped basil, 1 tsp salt, and 1 tsp ground black pepper.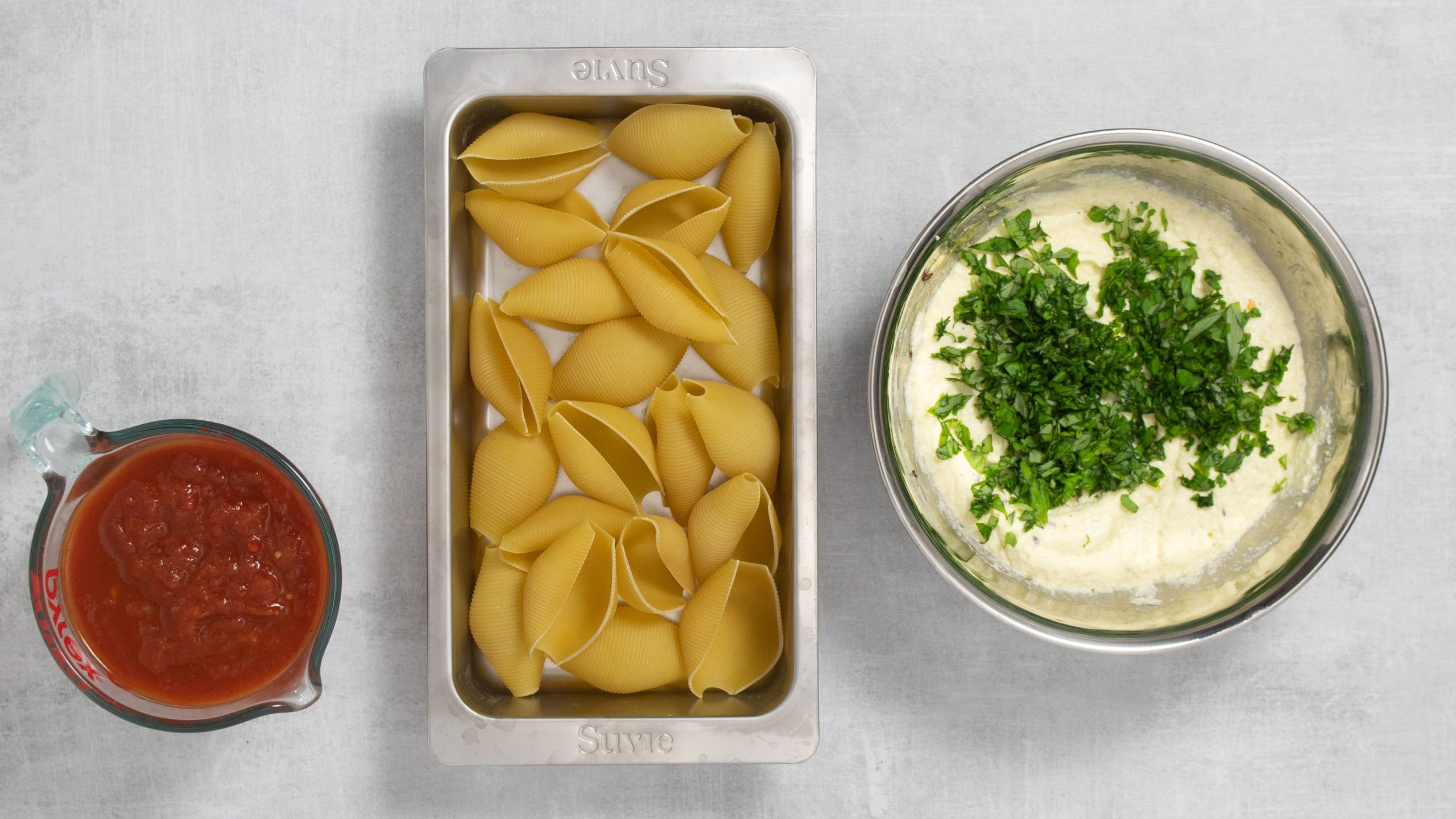 Fill a piping bag or a gallon-sized ziplock bag with the ricotta mixture. Spread ½ cup marinara sauce over the bottom of two Suvie pans. Snip off a small portion of the bottom corner of the ziplock bag if using, about ¼ an inch in size. If using a pastry bag, fit with ¼" tip. Fill shells with ricotta mixture and place seam-side down in the Suvie pans.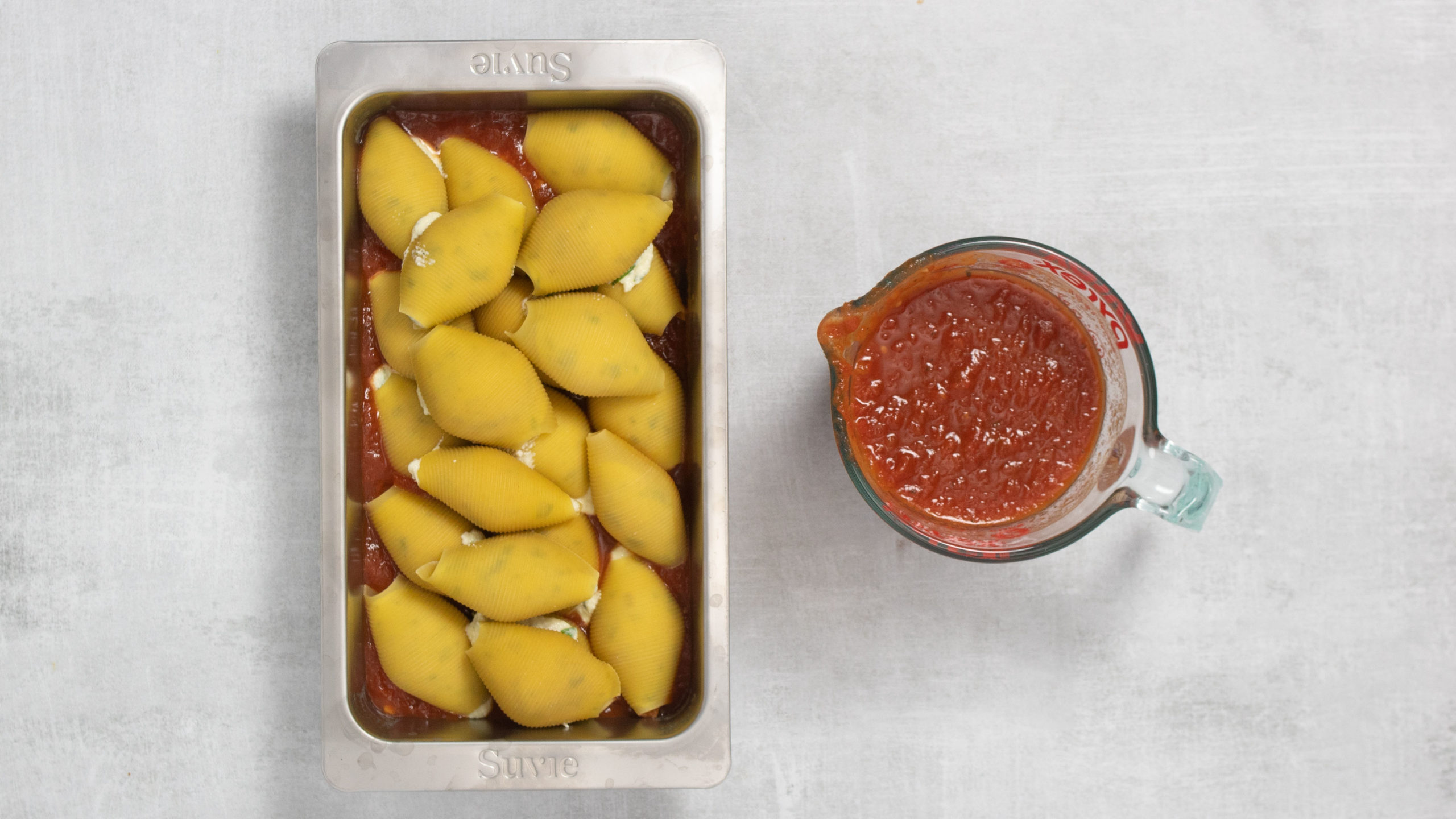 Pour remaining marinara sauce evenly over the top of the shells.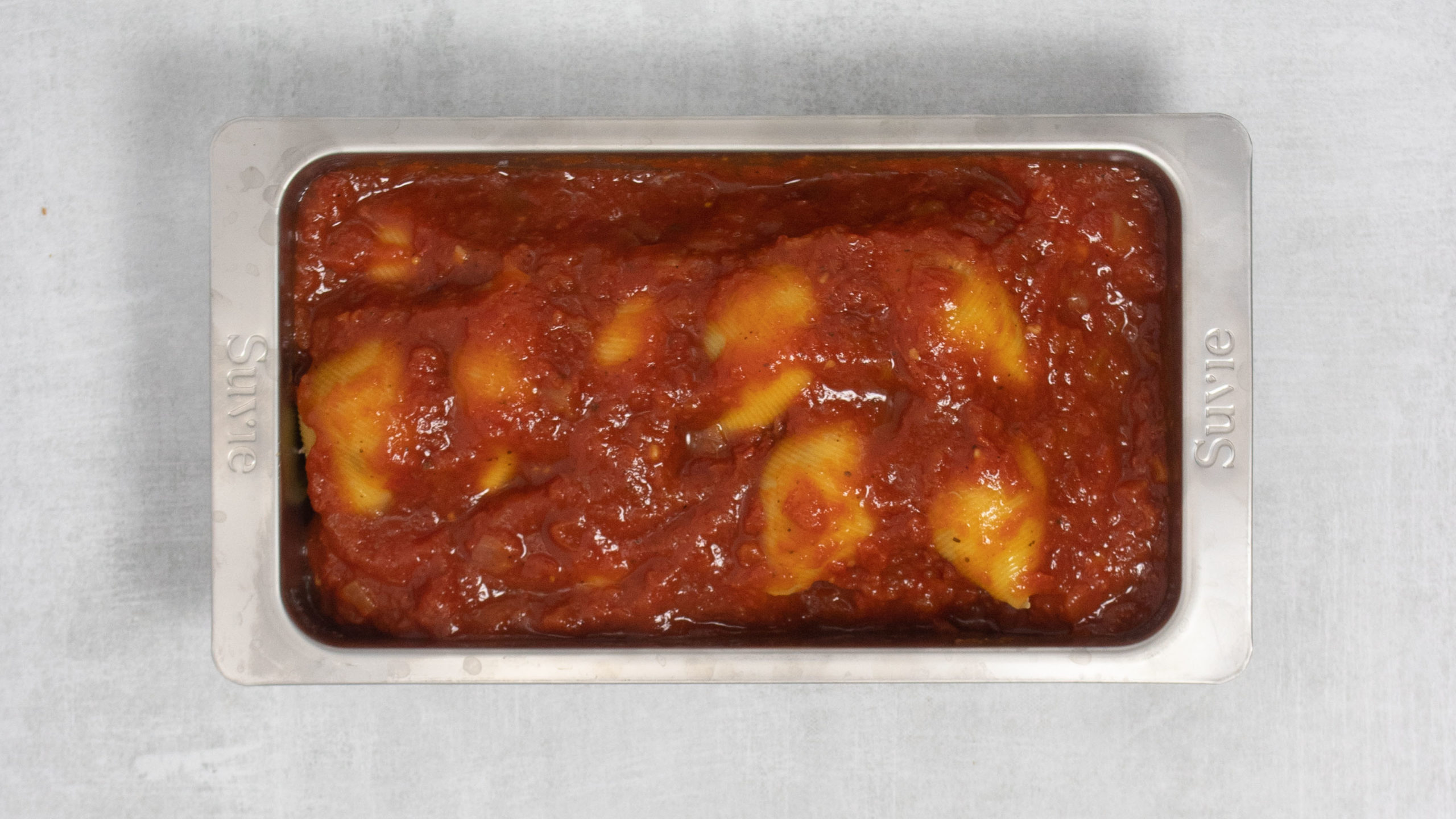 Insert pans into your Suvie, input settings, and cook now or schedule. 
Suvie Cook Settings
Bottom Zone: Slow Cook Low for 1 hour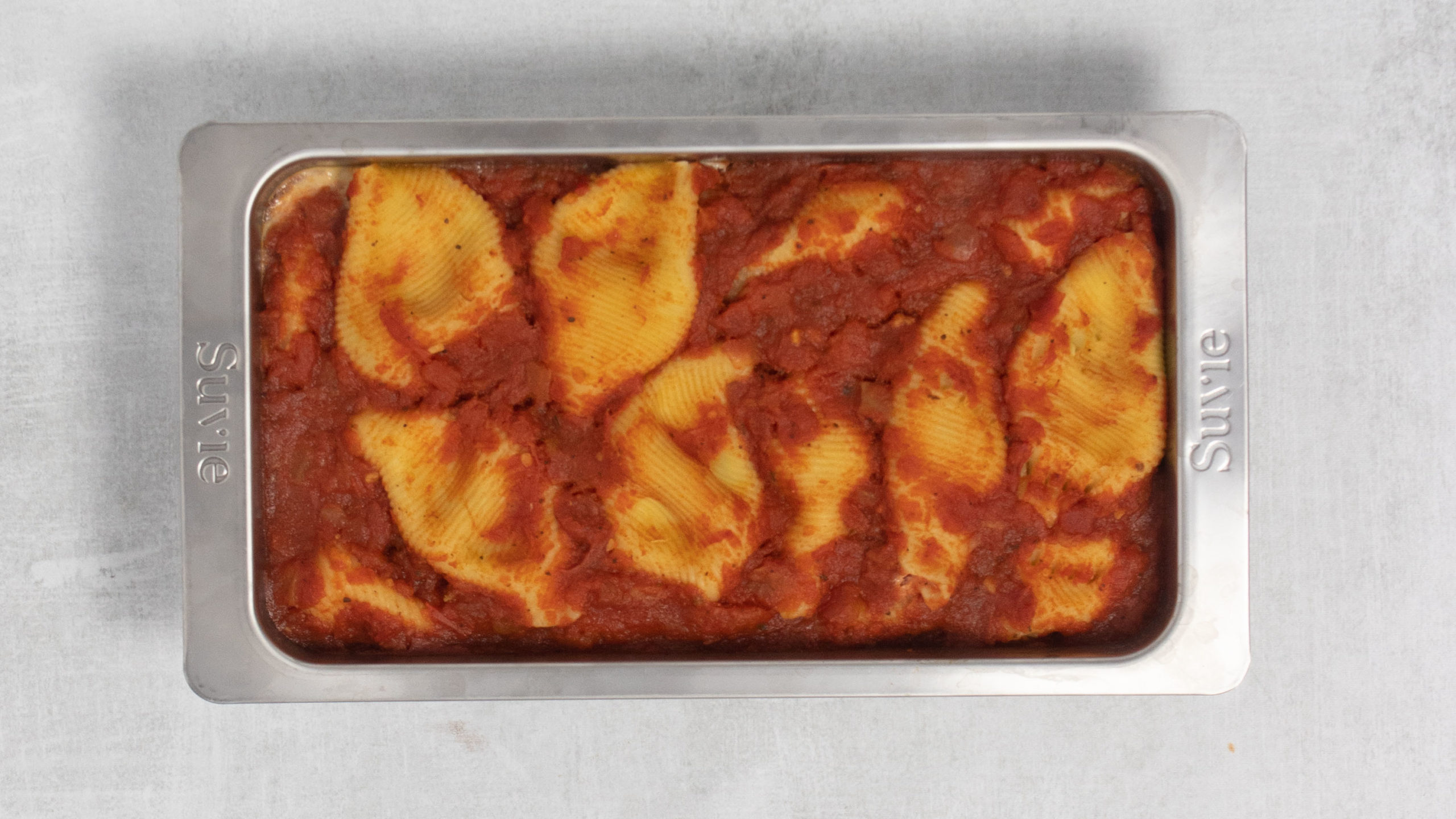 Remove from Suvie and garnish with reserved basil.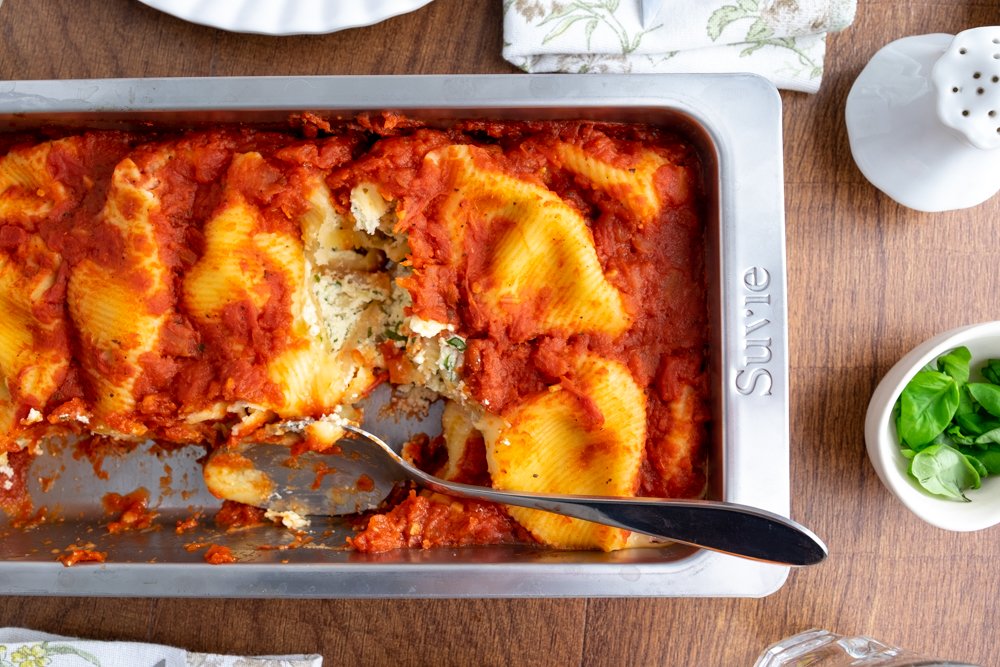 Note: If you would like to make this recipe in Suvie 1.0, insert pans into the top zones of Suvie, fill reservoir, and set to Slow Cook on Low for 1 hour.
Wine Pairing
When picking a wine to pair with this meal, look for medium bodied reds with a reasonable amount of acidity. Your safest bet is a glass (or a bottle!) of Sangiovese. This Tuscan wine is acidic enough to cut through the ricotta cheese without overwhelming it and will pair wonderfully with the marinara sauce.