Summer wouldn't be the same without this classic Italian dish. The Caprese salad personifies Italian cuisine, which is characterized by an adoration of simple ingredients and minimal preparation. Creamy mozzarella meets the sweet acidity of juicy tomatoes and the lush fragrance of fresh basil. Its' all topped with a drizzle of olive oil, a generous sprinkle of salt, and a splash of good balsamic.
Chicken Caprese Penne
Please always check your food to ensure your food has been cooked to safe serving temperatures. Please see our guide
here
for recommended FDA Time & Temperatures.
Servings: 2
Difficulty: 2 hours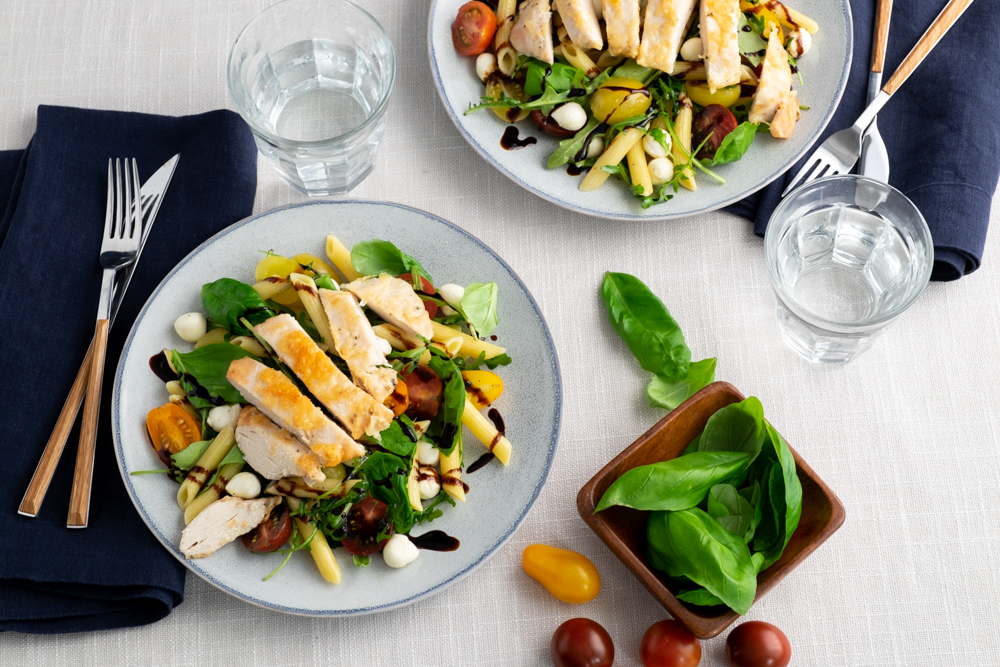 Ingredients
2 (6-8 oz) chicken breasts
8 oz cherry tomatoes
4 oz penne pasta
4 oz fresh mozzarella pearls (or 4 oz fresh mozzarella torn into small pieces)
2 tbsp extra virgin olive oil
1 oz arugula
2 tbsp grated Parmesan cheese
1 bunch fresh basil
2 tbsp balsamic glaze
Directions
1) Season chicken breasts all over with kosher salt and ground black pepper. Vacuum seal chicken with 1 tsp olive oil and place in a Suvie pan. Cover with water, place in the bottom zone of Suvie. Input settings and cook now or schedule.
Suvie Cook Settings
Bottom Zone: Sous Vide at 150°F for 1 hour, 30 minutes
Top Zone: None
2) Place 4 oz penne pasta in the Suvie starch strainer set within the Suvie pasta pot (green handles). Cover pot with lid and place inside the Suvie Starch Cooker, ensuring the pot is centered on the hot plate. Input settings and cook now or schedule.
Suvie Starch Cooker Settings
Rice, Long Grain, 1 Cup
3) During the cook, slice cherry tomatoes in half and season with salt and pepper to taste. Set aside in medium bowl. After the chicken is cooked, remove from the packaging and pat dry.
4) Sprinkle 2 tbsp Parmesan cheese over the chicken breasts, return pan to Suvie, and broil for 8-12 minutes until browned.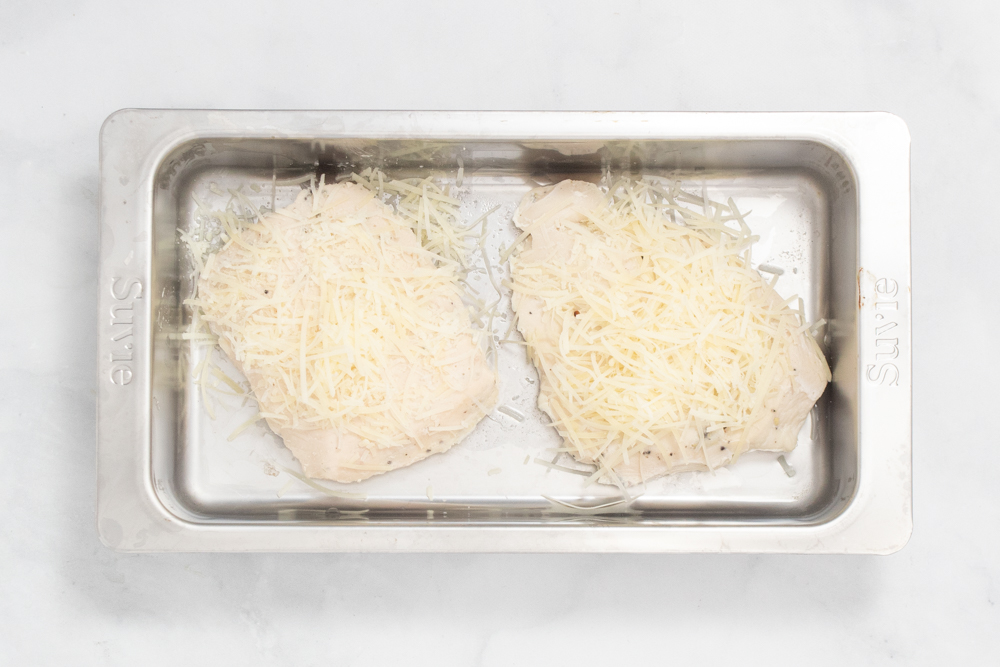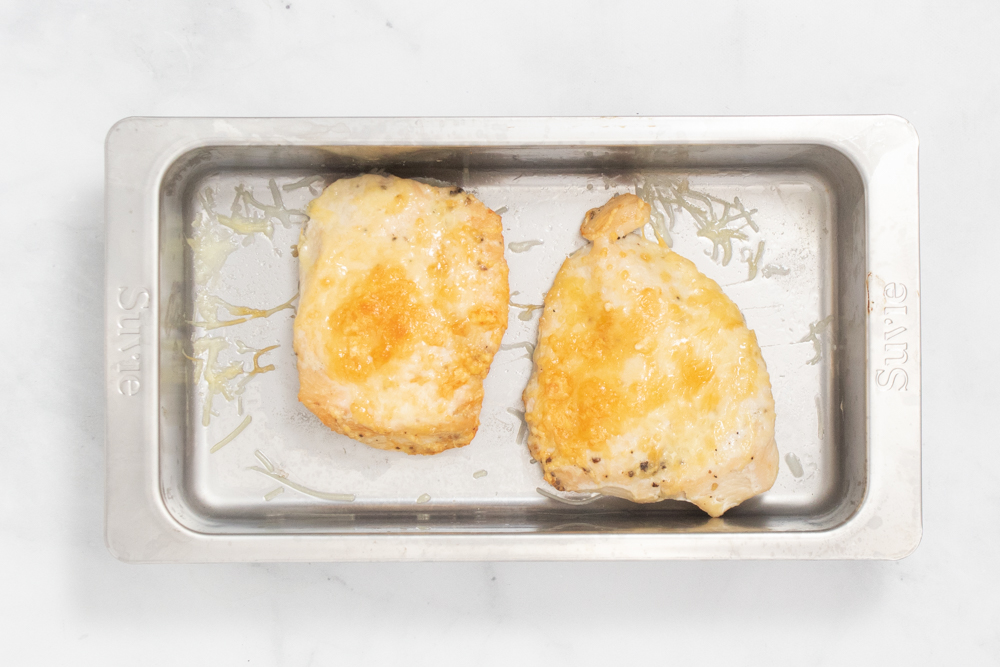 5) Meanwhile, in a large bowl, stir together penne pasta and sliced tomatoes. Add the arugula and mozzarella pearls to the bowl, and toss to coat. Season to taste with salt and pepper, and divide between plates.
6) When the chicken is done broiling, remove from Suvie. Slice the chicken into pieces and arrange on top of the pasta. Drizzle with the balsamic glaze and add basil leaves for garnish. Buon appetito!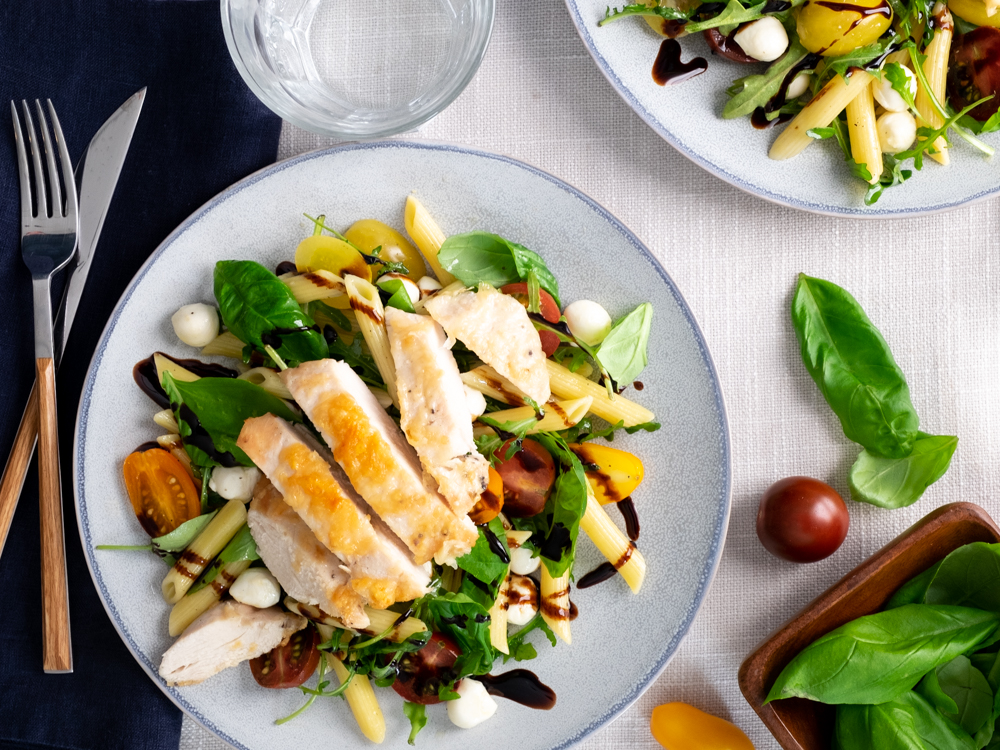 Wine Pairing
Bright acidic wines with strong fruit notes will pair wonderfully with this dish. We recommend either Sauvignon Blanc or Albarino.