Mediterranean cuisine highlights the best parts of eating healthy. We combine healthy fats such as olive oil and hummus with protein-rich quinoa and a pile of vegetables to create a delicious bowl that's so much more than your typical salad. We love making bowls for weeknight dinners because it's so easy to double the recipe and make extra for lunches the next day. You can customize this bowl swapping in other veggies, nuts, seeds, or grains you have at home to create your perfect meal. Enjoy this hearty bowl with bold Mediterranean flavor and feel great doing it.
My Cook: Mediterranean Vegetable Bowl
Please always check your food to ensure your food has been cooked to safe serving temperatures. Please see our guide
here
for recommended FDA Time & Temperatures.
Servings: 2
Difficulty: 2 hours and 20 minutes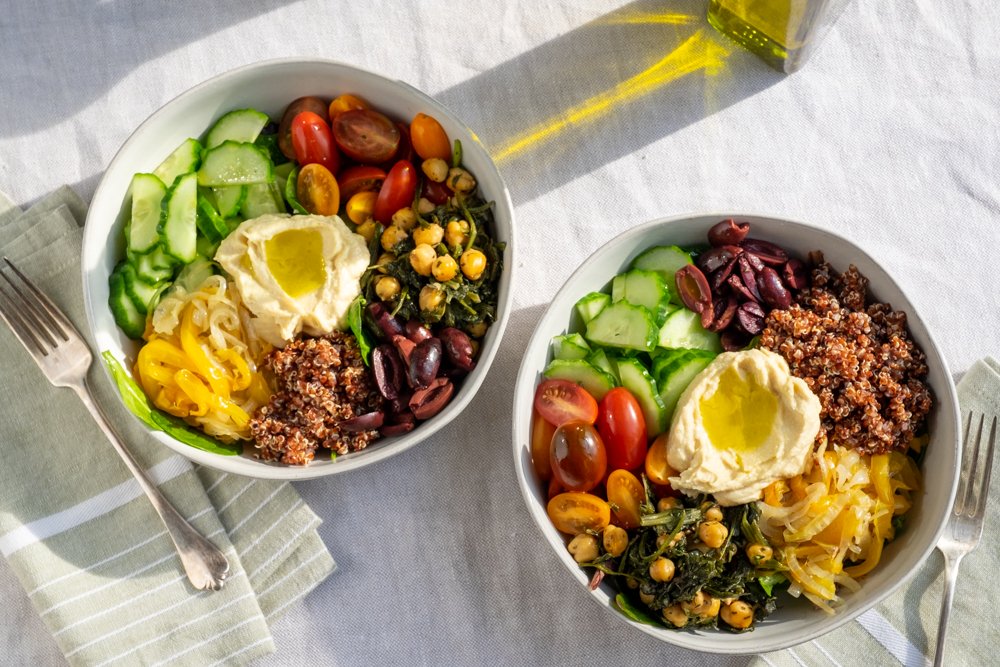 Ingredients
1 tbsp olive oil, divided
15.5 oz can chickpeas drained and rinsed
8 oz frozen spinach, thawed
½ tsp each of dried basil, dried thyme and garlic powder
Salt and freshly ground black pepper
1 bell pepper stemmed, seeded, and thinly sliced
1 small onion, thinly sliced
½ cup quinoa
1 cup grape tomatoes halved
1 cup cucumber halved lengthwise and sliced
½ cup pitted Kalamata olives, sliced in half
4 cups mixed greens
¼ cup lemon vinaigrette, divided (any vinaigrette is fine)
⅓ cup hummus
Directions
In a Suvie pan add 2 tsp olive oil, chickpeas, spinach, basil, thyme, garlic powder, 1 tsp salt, and ½ tsp ground black pepper. Mix to combine and load into upper right zone of Suvie. Place sliced bell pepper and onion in another Suvie pan with ½ tsp salt. Load into upper left zone of Suvie.
Pour quinoa and 2 tsp salt into starch pan and load into starch zone. Fill reservoir, enter My Cook > Multi-Zone settings and cook now or schedule.
My Cook > Multi-Zone Settings
Protein: 175˚F, 1 hr
Vegetable: 20 min
Starch: 12 min
After the cook, remove the chickpeas pan, the peppers and onions pan, and the starch pan from Suvie. Drain the excess water from the peppers and onions pan. Add 1 tsp olive oil to peppers and onions and season to taste, then return to Suvie. Broil for 10 minutes.
Meanwhile, chop the tomatoes, cucumber, and olives. In a large mixing bowl toss the greens with 2 tbsp of the vinaigrette. Divide the greens between two bowls. Top with the quinoa and chickpea-spinach mixture. Remove peppers and onions from Suvie, add to bowls. Top with tomatoes, cucumber, olives, and hummus. Sprinkle the additional 2 tbsp lemon vinaigrette over the bowls.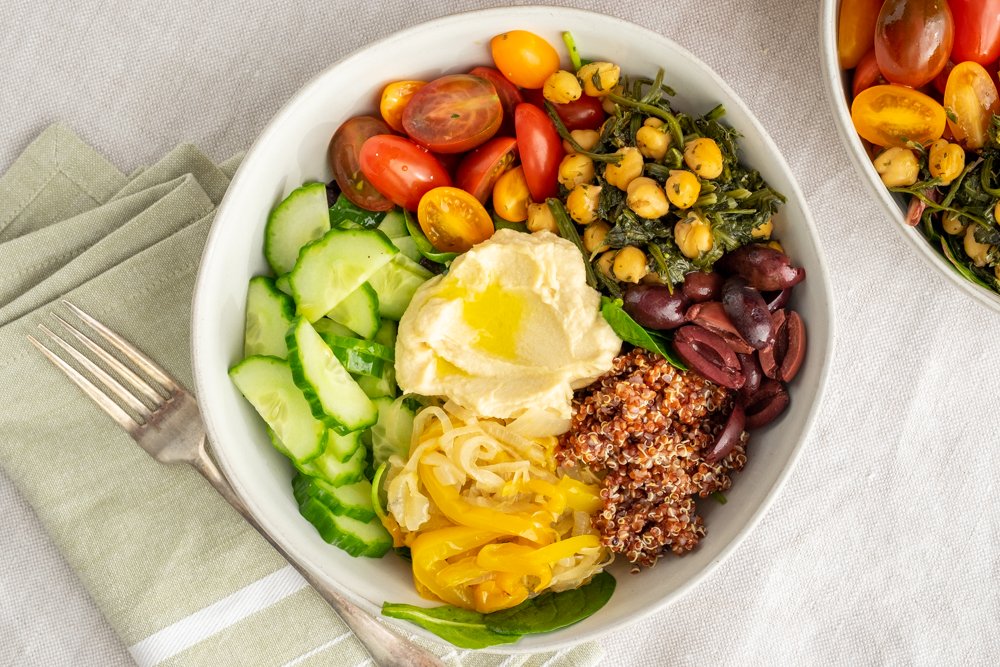 Nutrition Info per Serving: Calories 720, Fat 26g, Sodium 1260mg, Carbs 97g, Protein 30g