This salmon dish gets its flavor from fresh scallions, tahini, garlic, ginger, and lime zest, giving it a citrusy kick. Crusting the salmon in sesame seeds just before serving gives it a crunch that sous-vide can't provide alone. Finally, the bok choy and rice round out the meal making it a complete and healthy dinner ready for you and your family when you get home. Feel free to replace the jasmine rice with brown rice or quinoa for a boost in fiber making this an even more wholesome meal.
Sesame-Crusted Salmon
Please always check your food to ensure your food has been cooked to safe serving temperatures. Please see our guide
here
for recommended FDA Time & Temperatures.
Servings: 4
Difficulty: 1 hour, 30 minutes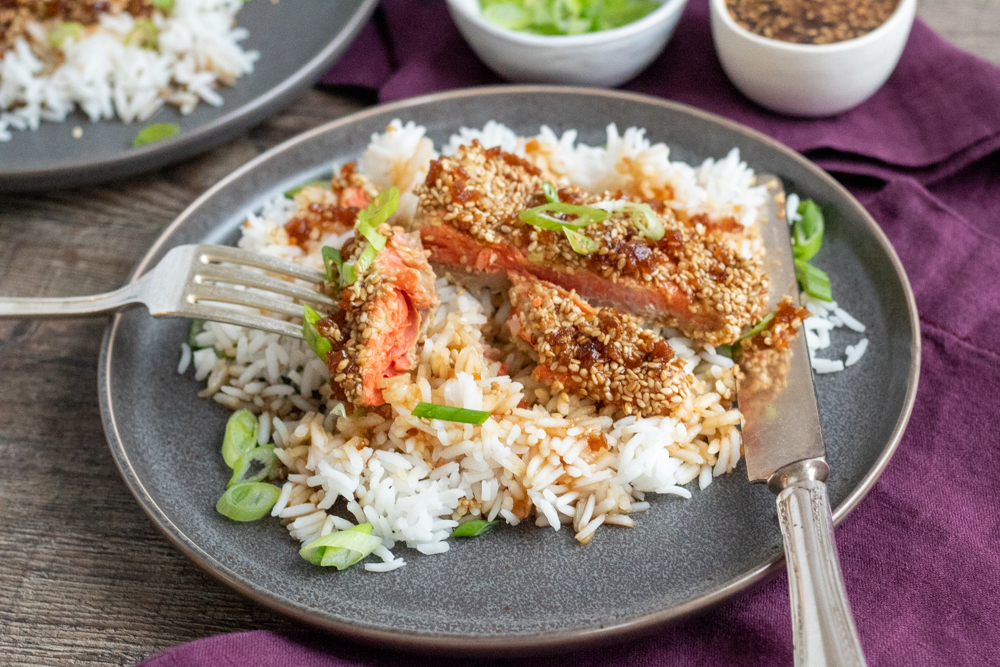 Ingredients
2 scallions, white portion minced, green portion sliced thin and set aside
4 tsp grated lime zest plus 2 tsp juice
4 tsp tahini
2 tsp grated fresh ginger
3 cloves garlic, minced
2 tsp brown sugar
1 tbsp vegetable oil
4 (6 oz) skinless salmon fillets
8 oz baby bok choy, halved
1 cup jasmine rice
¾ cup sesame seeds
4 tbsp teriyaki sauce or to taste
Directions
1) In a small bowl , stir together scallion whites, 4 tsp lime zest, 2 tsp lime juice, 4 tsp tahini, 2 tsp ginger, 2 tsp brown sugar, 1 tsp vegetable oil, and 1 tsp salt. Place 4 salmon fillets in a vacuum bag with the marinade. Vacuum seal the bag then place in a Suvie pan, cover completely with water, and load into the bottom zone of Suvie.
2) Place 8 oz baby bok choy in a Suvie roasting rack set within a Suvie pan. Pour 1/2 cup water into the pan and load into the top zone of Suvie. Input settings and cook now or schedule.
Suvie Cook Settings
Bottom Zone: Sous Vide at 125°F for 45 minutes
Top Zone: Steam for 10 minutes
3) Place 1 cup jasmine rice in the Suvie rice pot (black handles) and place inside the Suvie Starch Cooker, ensuring pot is centered. Input settings and cook now.
Suvie Starch Cooker Settings
Rice, Medium Grain, 1 cup
4) After the cook, remove the salmon and bok choy from Suvie. Drain the excess water from the vegetable pan, toss bok choy with 1 tsp oil and 1 tsp salt. Return pan to Suvie and broil for 8-10 minutes.
5) Meanwhile, drain water from salmon and remove fillets from bag. Pour sesame seeds into a shallow bowl or plate and coat each fillet with sesame seeds. When the bok choy is done broiling, remove from Suvie.
6) To plate, divide the rice between four plates. Top rice with bok choy and salmon. Drizzle 1 tbsp teriyaki sauce over the salmon, bok choy, and rice, then sprinkle scallion greens over each plate.