Mapo Tofu is soft tofu cooked in a spicy red chili sauce that originates from the Sichuan province. The dish uses fermented, spicy broad bean paste to give it much of its spice. This dish also calls for Sichuan peppercorns which provides a numbing, tingling sensation. The bean paste and peppercorns together form a sensation known as málà in Chinese, meaning numbing-spiciness which is a unique and tantalizing combination. Note: this recipe calls for soft tofu; do not use silken tofu, which is too delicate.
Vegan Mapo Tofu
Please always check your food to ensure your food has been cooked to safe serving temperatures. Please see our guide
here
for recommended FDA Time & Temperatures.
Servings: 4
Difficulty: 3 hours and 20 minutes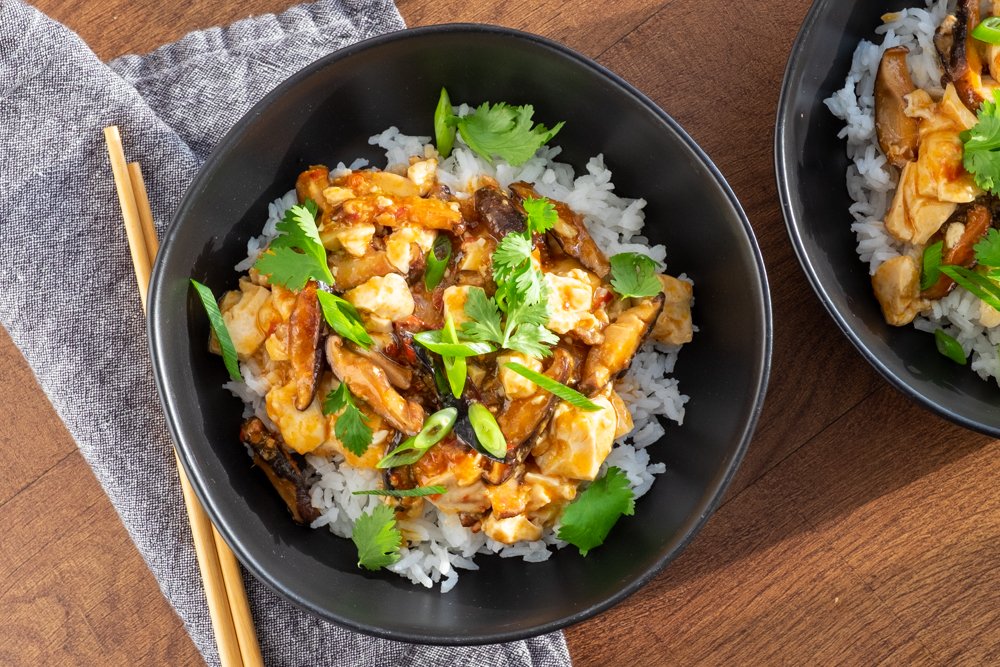 Ingredients
8 oz shiitake mushrooms, chopped
¼ cup scallions, sliced, white and green parts separated
2 tbsp vegetable oil
1/2 – 1 tsp red pepper flakes
2 tbsp doubanjiang (fermented spicy broad bean paste)
1 tbsp minced garlic
1 tbsp grated ginger
15 oz soft tofu, cut into 1" cubes
2 tsp soy sauce
1 tsp toasted sesame oil
1 tsp Sichuan peppercorns, crushed
1 tbsp cornstarch, whisked into 2 tbsp water
1 cup jasmine rice
1/4 cup cilantro leaves
Directions
1) Divide 8 oz mushrooms, 1/4 cup scallion whites, 2 tbsp vegetable oil, 1/2 tsp red pepper flakes, 2 tbsp doubanjiang, 1 tbsp garlic, and 1 tbsp ginger between two Suvie pans. Place pan in the bottom zone of Suvie and broil for 15 minutes.
2) Meanwhile, gently combine 15 oz tofu, 2 tsp soy sauce, 1 tsp sesame oil, 1 tsp Sichuan peppercorns, and cornstarch mixture in a large bowl.
3) When the broil is finished, drain off any liquid from the pan, then add the mushrooms to the bowl with the tofu. Mix gently so as to not break up the tofu and pour back into the Suvie pan. Return pan to Suvie. Input settings and cook now or schedule.
Suvie Cook Settings
Bottom Zone: Slow Cook High for 2 hours
4) Add 1 cup rice to the Suvie rice pot (black handles). Cover pot with lid and place pot in the Suvie Starch Cooker, ensuring pot is centered on the hot plate. Enter cook settings, and cook now or schedule.
Suvie Starch Cooker Settings
Rice, Long Grain, 1 Cup
5) After the cook, fluff rice with a fork. Gently fold the mapo tofu to combine and season to taste with salt and pepper. Divide the rice among four bowls. Top with the mapo tofu. Sprinkle green scallions and cilantro over the mapo tofu and serve.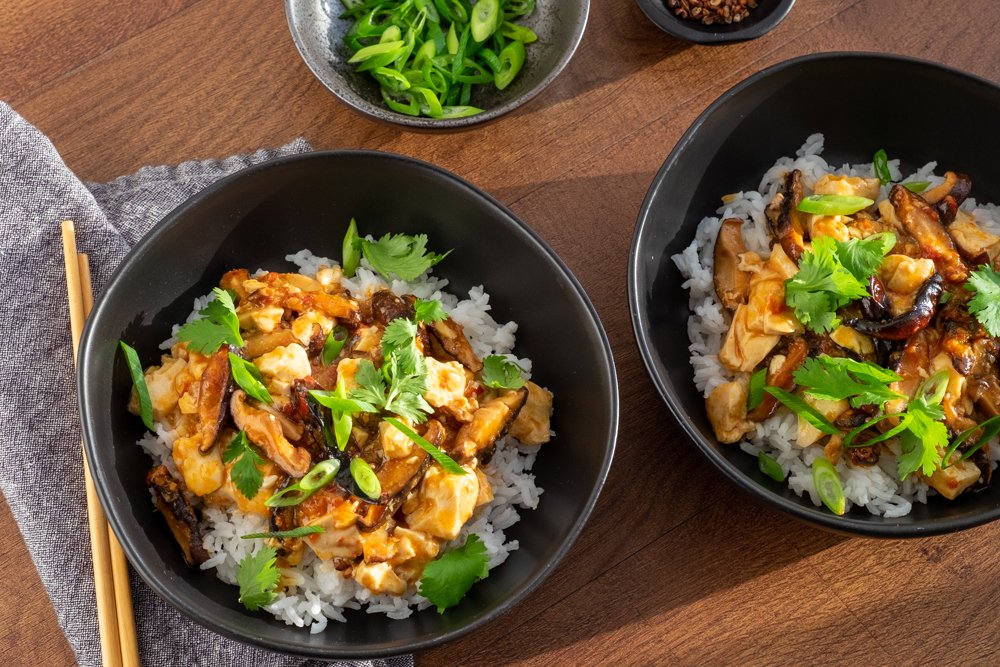 Nutrition
Nutrition Info per Serving: Calories 620, Protein 25g Fat 25g, Sodium 580mg, Carbs 103g