Baked scallops are a classic New England dish that consists of succulent scallops topped with a rich, buttery cracker topping. Most recipes are easy to assemble, but can turn out dry if baked too long. To combat this issue we sous vide the scallops first to ensure they are cooked perfectly and then top them with cracker crumbs and broil until golden brown. The dish's traditional cream sauce is cooked separately and brightened up with a little lemon juice and zest. Delicate nests of linguine are an elegant pairing, but cook very quickly, so we only set the starch for 3 minutes; if you choose a different pasta increase the cooking time to 10 minutes.
Please always check your food to ensure your food has been cooked to safe serving temperatures. Please see our guide
here
for recommended FDA Time & Temperatures.
Servings: 4
Difficulty: 1 hour and 35 minutes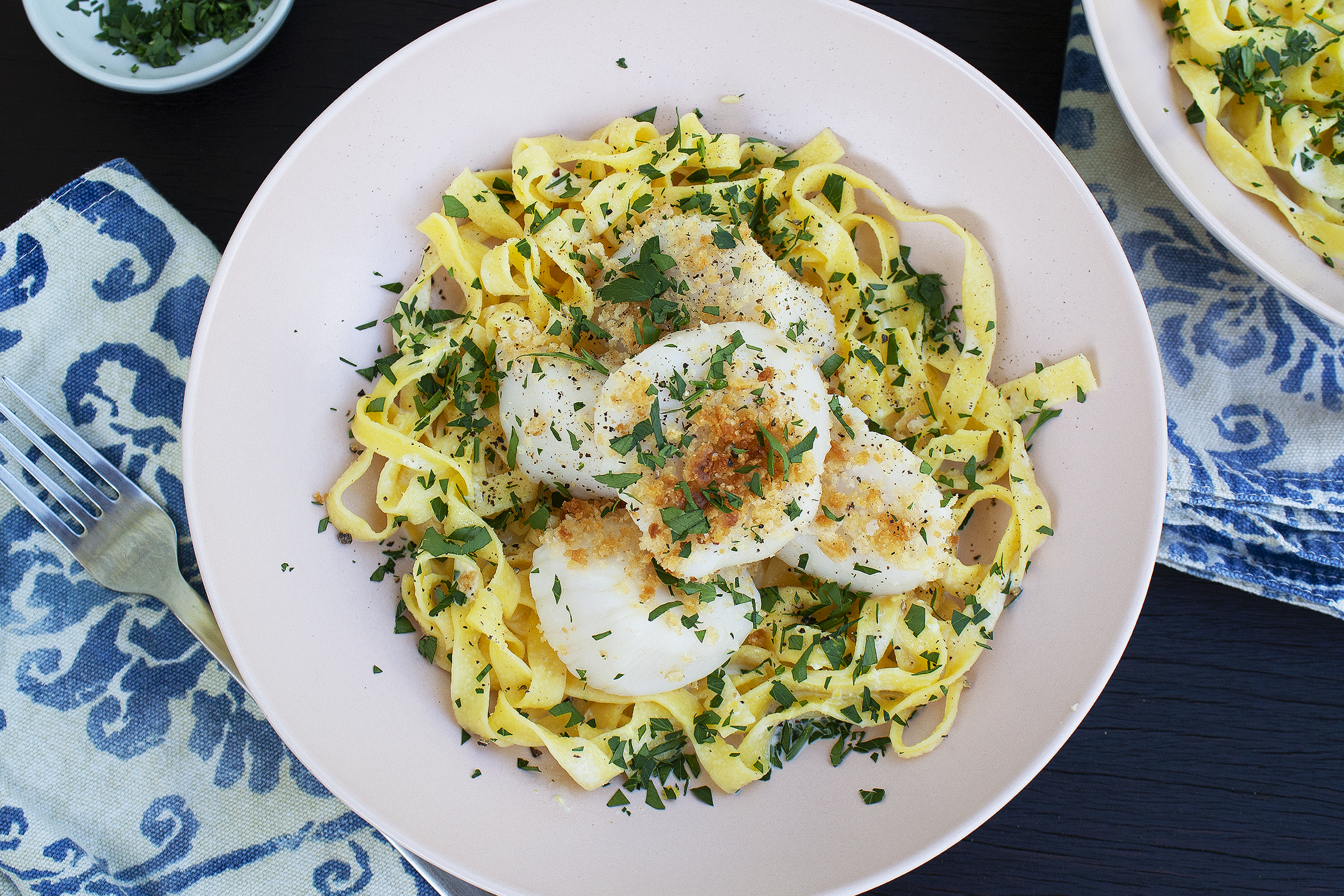 Ingredients
1 ½ lbs sea scallops
2 tsp olive oil, divided
3/4 cup heavy cream
½ cup chicken broth
6-8 oz linguine nests
¼ cup butter cracker crumbs, from about 5 crackers
1 lemon, juiced and zested
1 tbsp minced parsley or chives
Directions
Pat scallops dry and then vacuum seal with 1 tsp olive oil. Place scallops in a Suvie pan, cover with water, and insert into the top right zone of your Suvie.
Whisk together heavy cream and chicken broth in a Suvie pan. Insert pan into top left zone of your Suvie.
Place linguine in starch pan.
Fill reservoir, input settings, and cook now or schedule. 
My Cook > Multi-Cook Settings
Protein: 120°F for 30 minutes
Vegetable: 0 minutes
Starch: 3 minutes
While the scallops cook, stir together remaining 1 tsp olive oil, pinch of salt, and cracker crumbs in a small bowl.
Once the scallops have finished cooking, remove pans from your Suvie, pouring off water from scallop pan. Remove scallops from bag, pat dry, and return to clean, dry pan.
Top scallops with cracker crumbs.
Whisk lemon juice and lemon zest into the cream mixture and season to taste with salt and pepper.
Broil both pans for 10 minutes, until cracker crumbs are browned and cream sauce is steaming.
Divide linguine between shallow bowls and pour cream sauce over the top. Top each serving with broiled scallops and minced fresh herbs.
Nutrition
Nutritional Information per serving (4 servings per recipe): Calories 500, Total Fat 20g, Total Carbohydrates 41g, Total Sodium 50mg, Total Protein 31g