Traditional Carne Adovada is a New Mexican marinated pork dish that uses whole chili peppers, garlic, oregano, cumin, vinegar, and salt. While the original recipe involves time-consuming blending and straining of the chili peppers we cut down the prep time by using New Mexican red chili powder instead. The sauce is cooked in a separate pan as the meat because pork butt renders a ton of liquid when slow-cooked and ultimately dilutes the sauce. The recipe is spicy and we wouldn't recommend it for people with a low spice tolerance or kids but it has a lot to offer any spice aficionados out there. If you're looking for a less spicy version check out our recipe for carnitas tacos. We've left the toppings instruction pretty open-ended so feel free to improvise and add in your favorites.
New Mexican-Style Braised Pork (Carne Adovada)
Please always check your food to ensure your food has been cooked to safe serving temperatures. Please see our guide
here
for recommended FDA Time & Temperatures.
Servings: 4
Difficulty: 4 hours and 20 minutes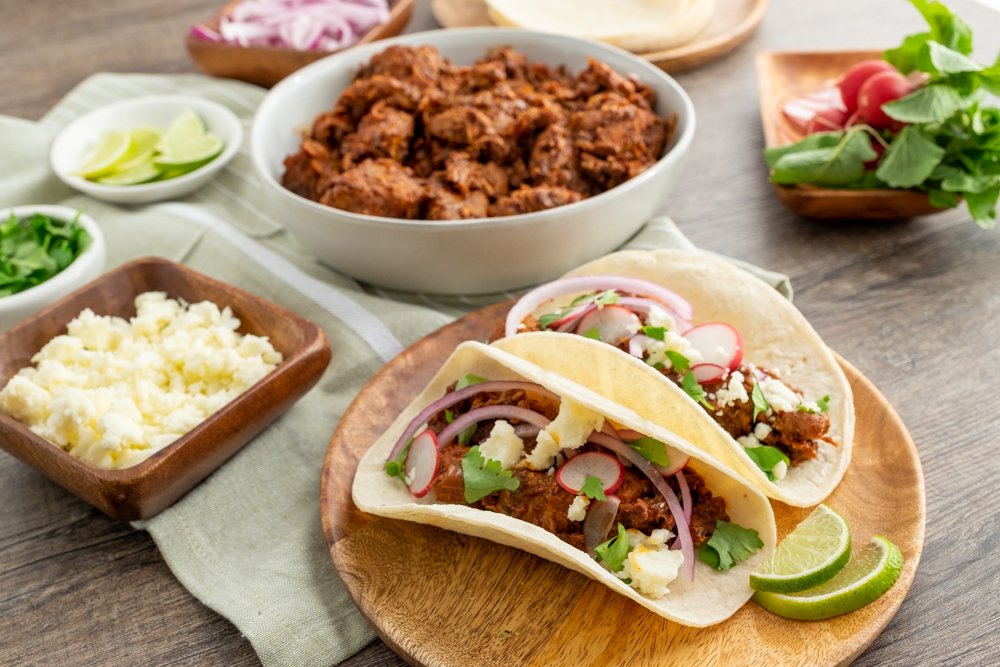 Ingredients
1 small onion, diced
3 medium garlic cloves, minced
3 tbsp vegetable oil
2 tbsp ground dried New Mexican red chili powder (or Ancho chili powder)
2 canned chipotle peppers in adobo sauce, minced and 2 tbsp of the sauce
3 tablespoons honey
3 tablespoons distilled white vinegar
2 teaspoons dried Mexican oregano
1½ tsp ground cumin
¼ tsp ground cloves
2 lb boneless pork butt, trimmed and cut into 1½" pieces
Corn tortillas
Sliced red onion
Queso fresco
Cilantro
Lime wedges
Directions
Broil onion, garlic cloves and 1 tbsp oil together in a Suvie pan for 10 minutes.
During the broil, toss the pork butt pieces with salt, pepper and 2 tbsp oil and place in another Suvie pan.
After the broil, stir chili powder, chipotle peppers, adobo sauce, honey, vinegar, oregano, cumin, and cloves to the onion and garlic pan.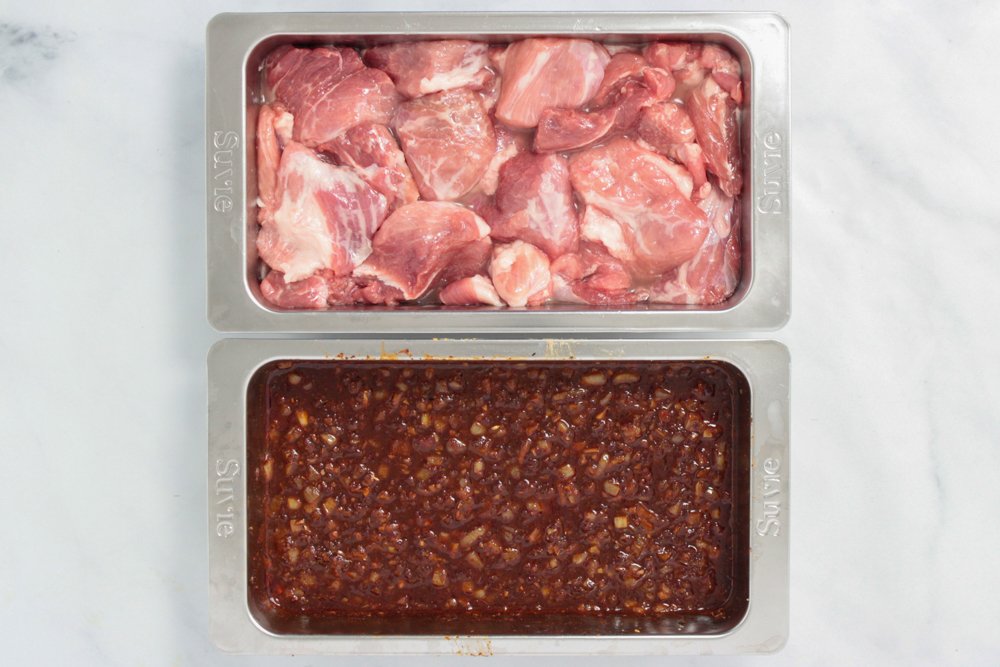 Return pan pans into your Suvie, input settings, and cook now or schedule.
Suvie Cook Settings
Bottom Zone: Slow Cook High for 3 hours
During the cook, prepare the toppings. Slice red onion and lime wedges. Crumble the queso fresco.
After the cook, remove both pans from Suvie.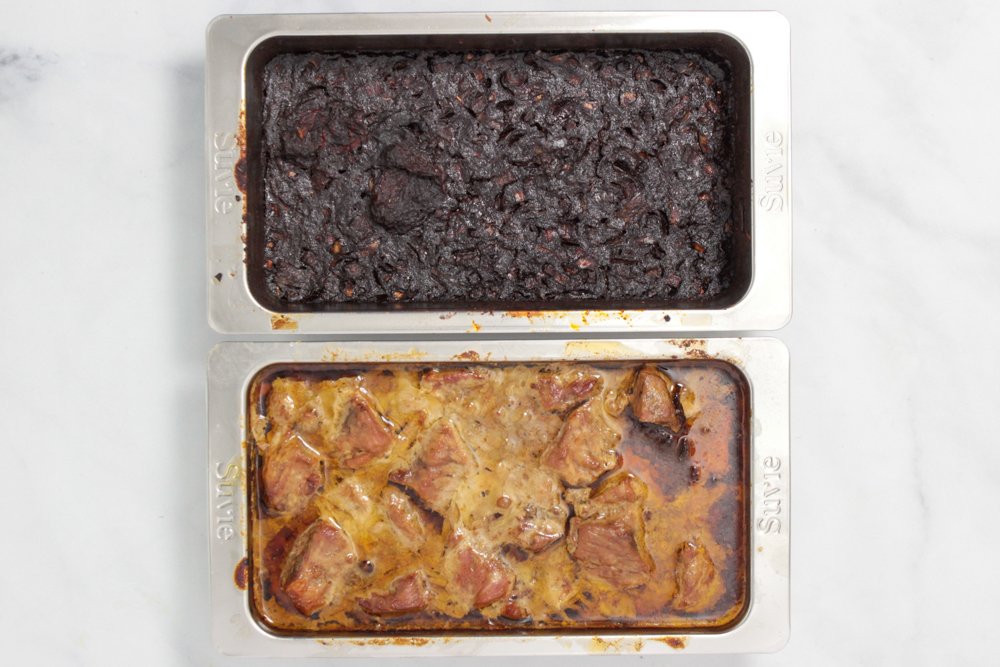 Stir ¼ cup of the pork juices into the sauce and drain off the rest. Toss the pork and the sauce together until evenly coated.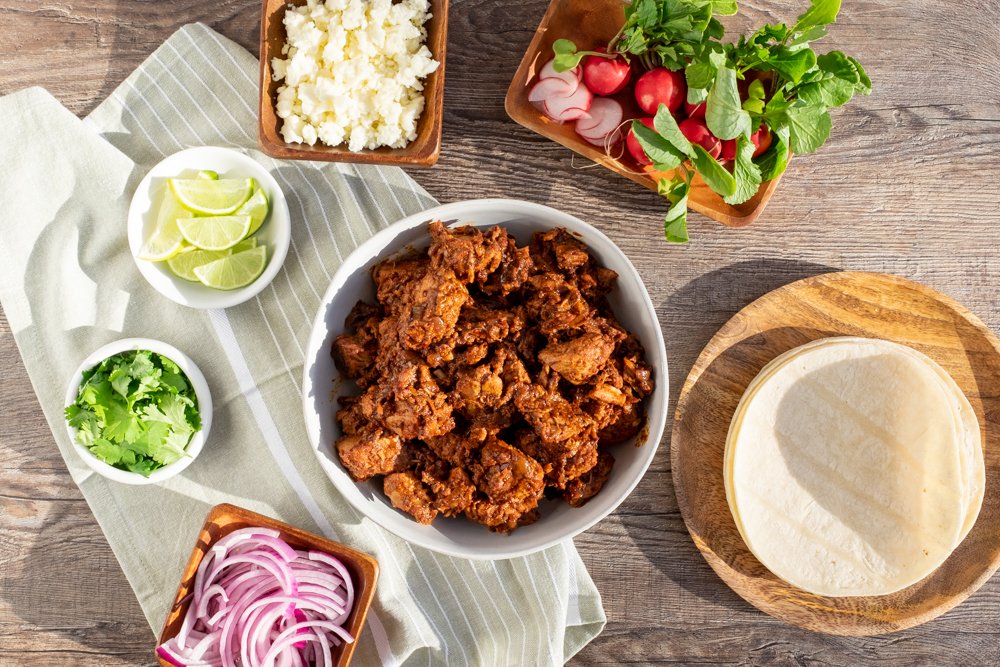 To serve place pork into corn tortillas and top with sliced red onion, crumbled queso fresco, cilantro leaves and a squeeze of lime juice.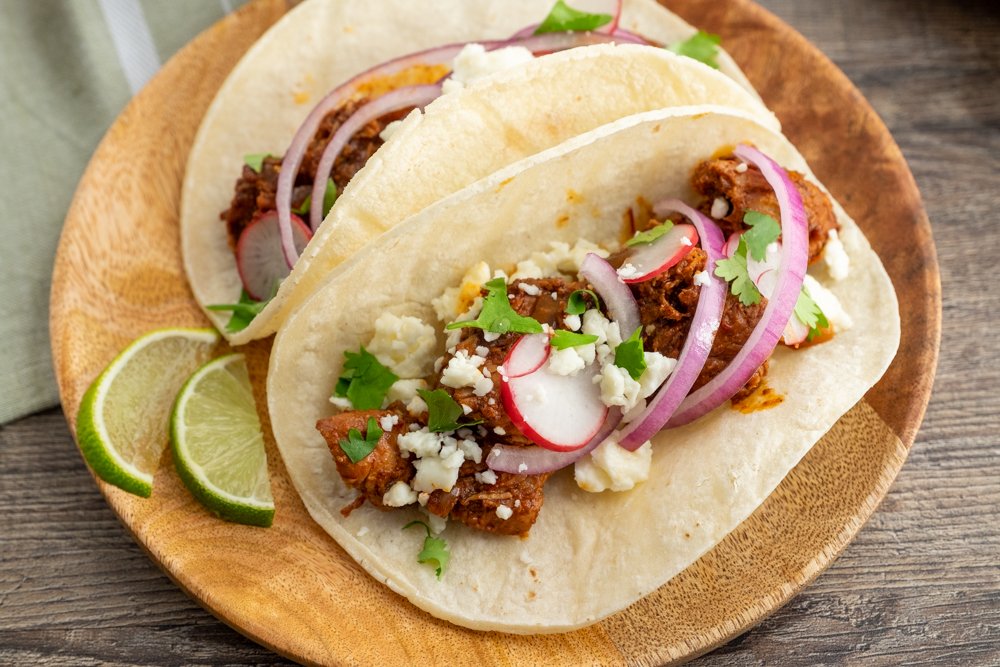 Note: If you would like to make this recipe in Suvie 1.0, insert pans into the top zones of Suvie, fill reservoir, and set to Slow Cook on High for 3 hours.