All you need are a handful of flavor-packed ingredients to pull a satisfying and delicious dinner together. In this case, we call on sweet cherry tomatoes, tangy balsamic vinegar, meaty pork chops, toothsome farro, creamy butter, and fresh basil to produce a meal greater than the sum of its parts. We char the cherry tomatoes slightly to amplify their sweetness. The tomatoes will splutter a bit when you add them to the pan, so be sure to drain them well beforehand and pat them off gently if they seem quite wet. We cook the tomatoes briefly to impart some color and then add the balsamic vinegar, which gets cooked into a syrup that can be drizzled over the pork and farro.
Note: This recipe requires Suvie 2.0 and the Suvie Starch Cooker. To prepare this dish in Suvie 1.0, set the farro to cook for 35 minutes in Step 2. Follow remaining instructions as directed.
Pork Chops with Blistered Balsamic Cherry Tomatoes
Please always check your food to ensure your food has been cooked to safe serving temperatures. Please see our guide
here
for recommended FDA Time & Temperatures.
Servings: 2
Difficulty: 2 hours and 25 minutes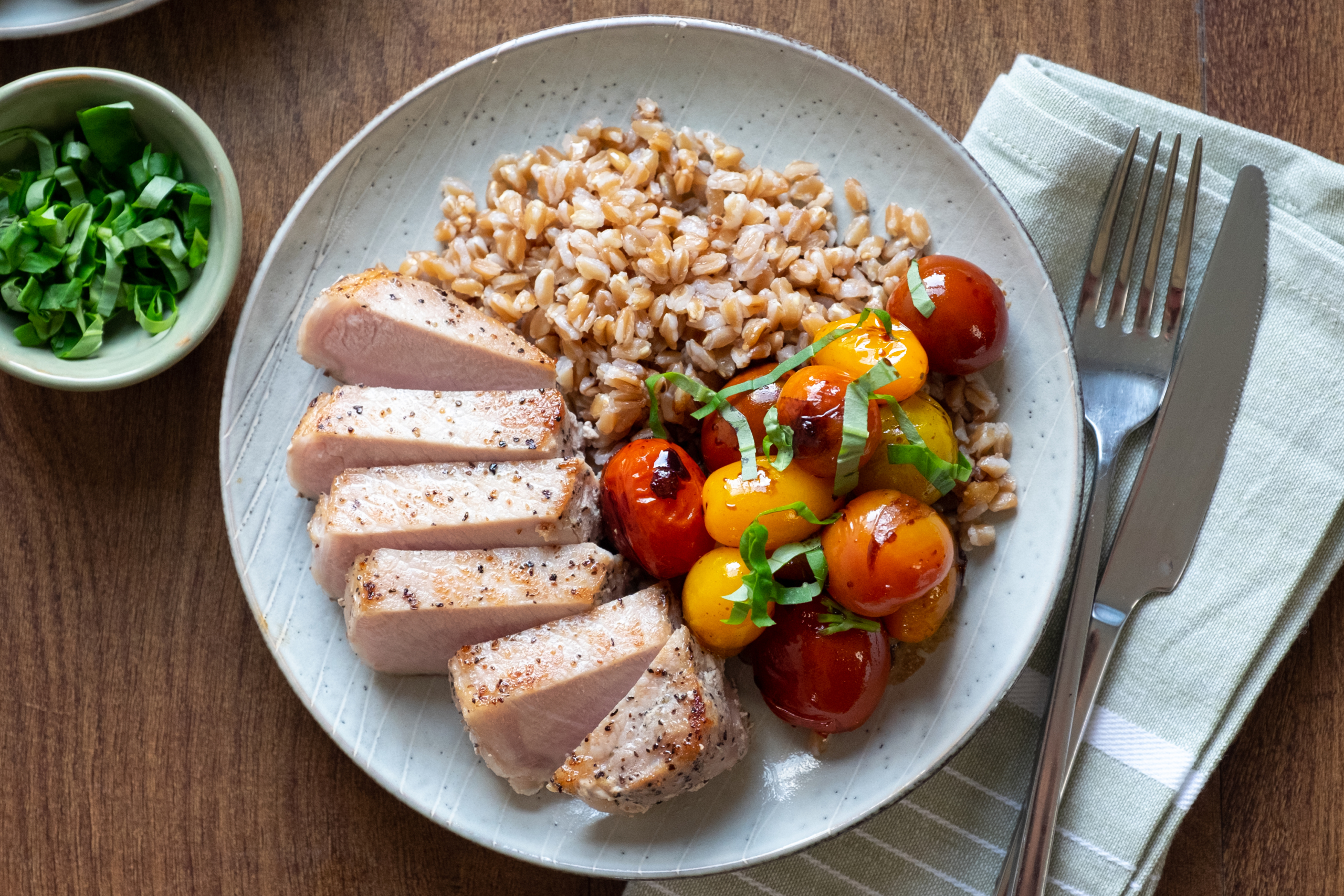 Ingredients
2 (6-8 oz) pork chops
2 tbsp vegetable oil, divided
10 ounces cherry tomatoes
¼ cup balsamic vinegar
1 cup farro
1 tbsp unsalted butter, softened
2 tbsp chopped fresh basil, optional
Directions
1. Pat pork chops dry and season with salt and pepper. Vacuum seal pork with 1 tbsp vegetable oil. Place vacuum bag in a Suvie pan, cover with water, and insert into the bottom zone of your Suvie.
2. Place cherry tomatoes in a Suvie pan and insert into the top zone of your Suvie. Input settings below. Place 1 cup farro and 2 tsp kosher salt in the Suvie pasta strainer set inside the Suvie starch pot. Insert pot into the Suvie Starch Cooker, input settings, fills reservoir, and schedule.
Suvie Cook Settings
Bottom Zone: Sous Vide at 135°F for 1 hour
Top Zone: Sous Vide at 135°F for 1 hour
3. Remove all pans from your Suvie. Transfer tomatoes to a fine mesh strainer to drain. Transfer farro to a medium bowl with the butter, stirring to melt. Season to taste with salt and pepper.
4. Pat pork thoroughly dry. Heat remaining 1 tbsp vegetable oil in a heavy bottom pan or cast iron skillet over high heat until just smoking. Add pork and sear for 30 seconds without moving. Flip chops over and sear on the other side for 30 seconds. Repeat flipping and searing until pork is well browned, about 2 minutes total. Transfer pork to a cutting board and turn heat to low.
5. Add tomatoes and cook without moving for 30 seconds or until bottoms are blackened. Add balsamic vinegar and cook until balsamic is syrupy and thick, about 3 minutes, stirring often. Remove from heat and season with salt and pepper to taste.
6. Divide farro and pork chops between plates. Top each serving with tomatoes, drizzling sauce over the farro and pork. Garnish with basil, if using.
Nutrition
Nutritional Information per serving (2 servings per recipe): Calories 725, Total Fat 33g, Total Carbohydrates 51g, Total Sodium 200mg, Total Protein 53g