This casserole-like dish is a combination of comfort food and spring-summer vegetables. Juicy sausage takes center stage over a creamy blend of potatoes, corn and spinach with just a hint of spice. We recommend using spinach and corn because they are easily accessible but you can substitute kale, carrots, squash or any other vegetable that holds up well to slow cooking. If you choose to use cut red potatoes you either need to do a cook now or add the potatoes in the last hour of cooking, as leaving cut potatoes in the unrefrigerated starch zone for many hours can encourage unwanted bacteria growth. You can use small new potatoes if you want to avoid this problem altogether.
Sausage, Corn, Spinach, Potato Bake
Please always check your food to ensure your food has been cooked to safe serving temperatures. Please see our guide
here
for recommended FDA Time & Temperatures.
Servings: 4
Difficulty: 2 hours and 45 minutes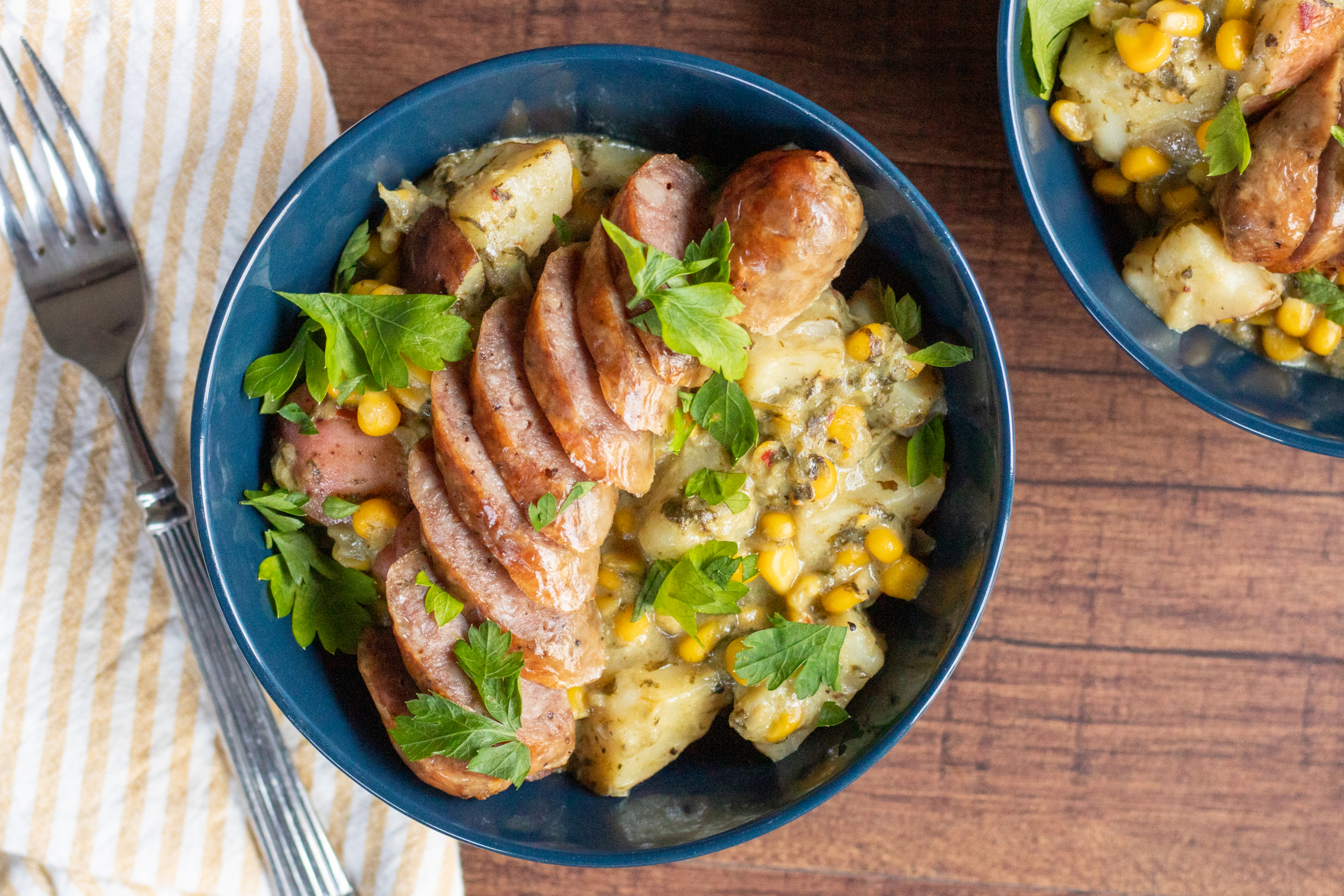 Ingredients
1 tbsp olive oil
1 large onion, diced
3 garlic cloves, minced
½ tsp crushed red pepper flakes (optional)
½ tsp pepper
1 tsp salt
4 (3-4 oz) sausage links
1¼ pounds red potatoes (about 4-5 medium), cubed (or new potatoes about 1½" in diameter)
½ cup chicken or vegetable broth, divided
1 tbsp cornstarch
2 cups (10 oz) frozen corn kernels
½ cup heavy cream or half and half
2 cups fresh or frozen spinach
Optional garnishes: parsley, parmesan cheese, red pepper flakes
Directions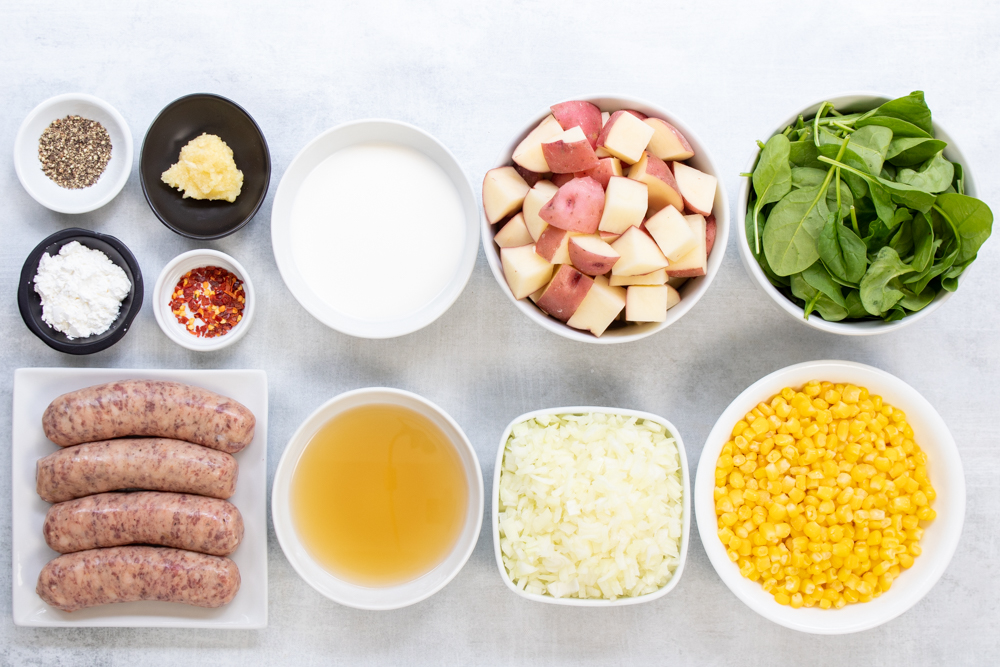 Combine olive oil, onion, garlic, crushed red pepper flakes, pepper, and salt in a Suvie pan. Broil for 10 minutes stirring halfway through cooking.
In another Suvie pan combine the sausages and ¼ cup chicken broth.
Dissolve cornstarch in remaining ¼ cup chicken broth. After the broil, add the cornstarch mixture, corn, heavy cream, and spinach into the Suvie pan with the onions. Insert Suvie pans into upper zones of Suvie.
Add the cubed potatoes to the starch pan. Insert potatoes into starch zone. Fill reservoir, enter cook settings, and cook now.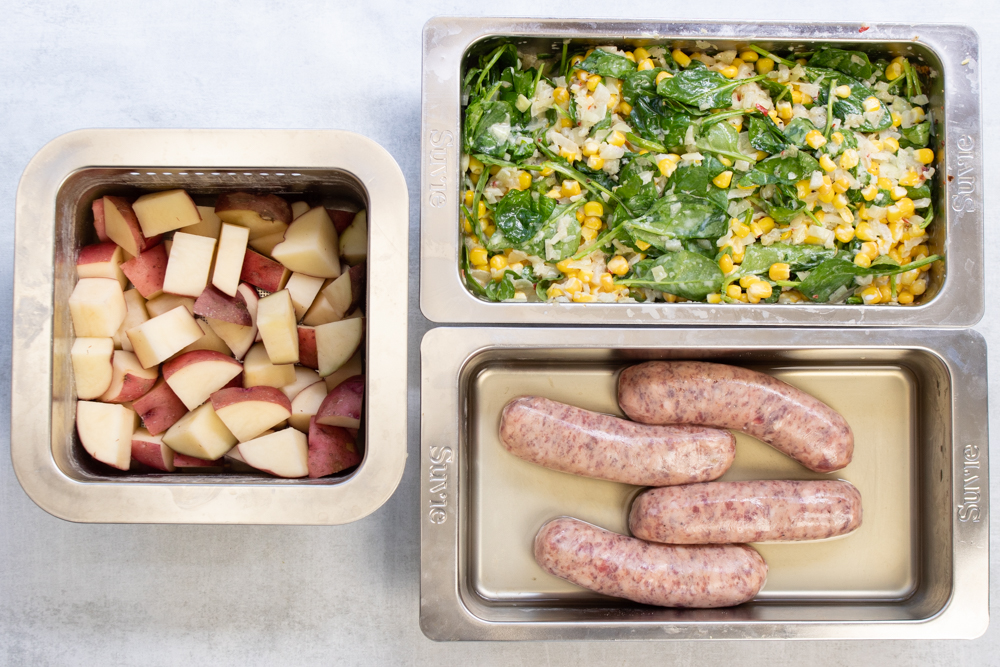 My Cook > Slow Cook & Starch Settings
High, 1 hour
Starch: 50 minutes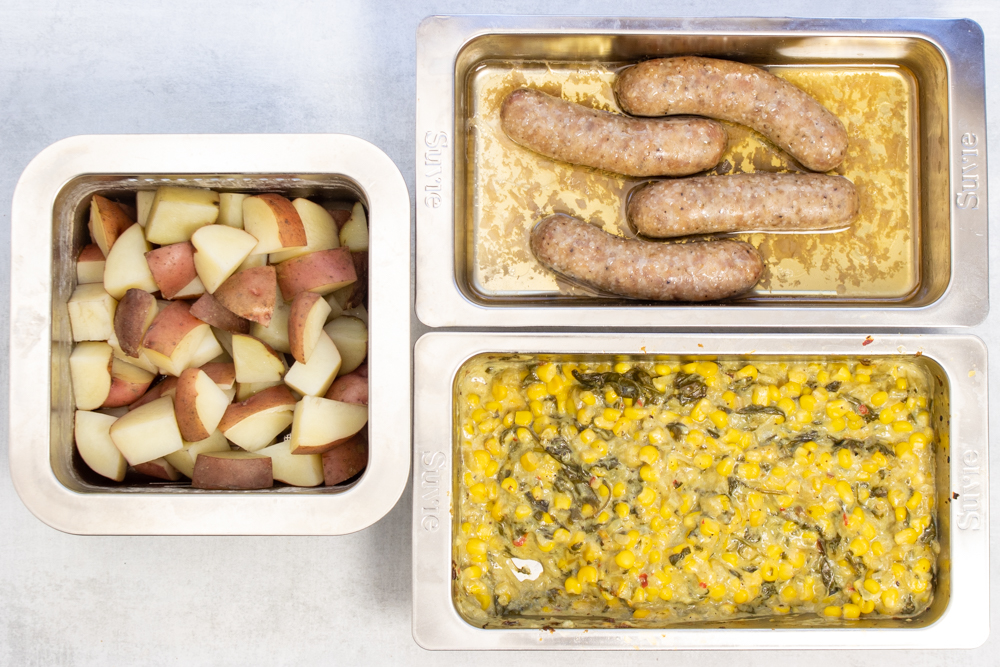 After the cook, remove the potatoes and corn from Suvie. Broil sausages for 7 minutes until browned on both sides. During the broil, toss together the corn-spinach mix with the potatoes in a large mixing bowl. Divide between bowls. When sausages are done broiling, slice and arrange on top of potatoes. Garnish with parsley, parmesan cheese, or red pepper flakes.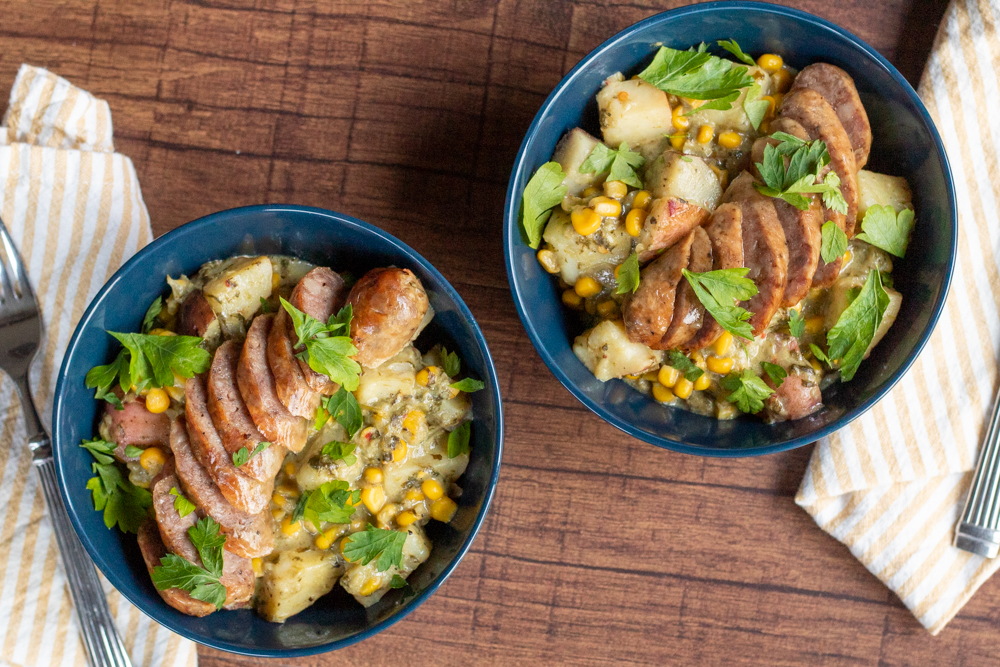 Nutrition
Nutritional Information per serving (4 servings per recipe): Calories 464, Total Fat 23.8g, Total Carbohydrates 48.1g, Total Sodium 1157.3mg, Total Protein 17.9g