This Mediterranean-inspired dish helps you get 4 cups of spinach into a delicious seafood pasta dinner. We use the marinade from the shrimp with a little thickening agent to achieve a garlicky, lemony, shrimpy sauce that coats the pasta and spinach. Topped with tomatoes, feta and parsley this meal has a light and fresh taste with no worry of overcooked shrimp. We used whole-wheat pasta in this dish but you can use any pasta or rice you like. You could also add a bit more spinach and skip the pasta entirely.
Shrimp and Spinach over Whole-Wheat Pasta
Please always check your food to ensure your food has been cooked to safe serving temperatures. Please see our guide
here
for recommended FDA Time & Temperatures.
Servings: 4
Difficulty: 2 hours and 25 minutes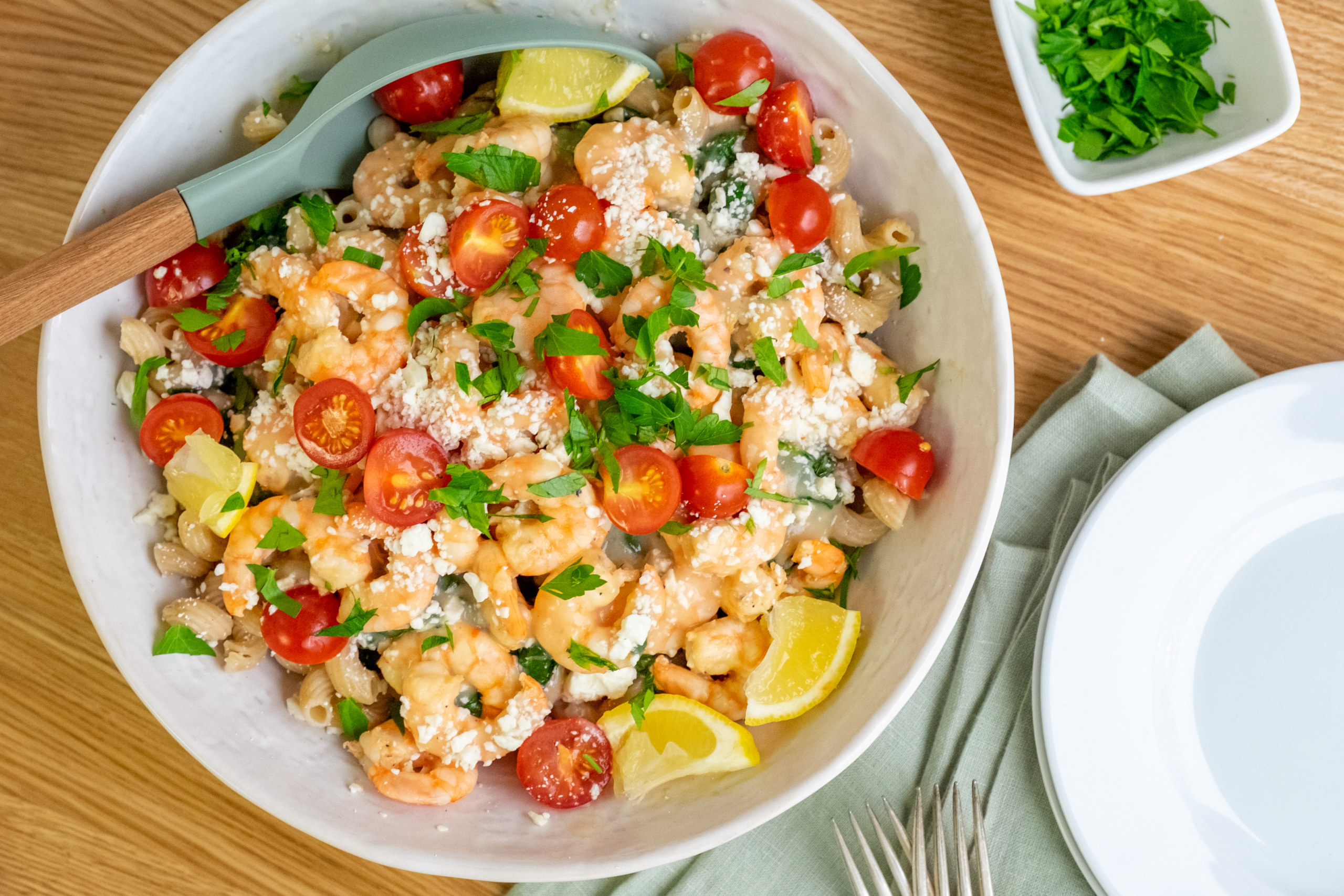 Ingredients
1 lb raw shrimp, peeled and deveined
1 tbsp olive oil
3 garlic cloves, minced
½ cup chicken broth
2 tbsp lemon juice
½ tsp dried basil
8 oz whole-wheat pasta
4 cups chopped fresh spinach
1 tbsp cornstarch
1 cup cherry tomatoes, quartered
1/2 cup crumbled feta cheese
1/4 cup chopped fresh parsley
Directions
Season shrimp with salt and pepper then place in vacuum seal bag with 1 tbsp olive oil, garlic, chicken broth, lemon juice, and dried basil. Make sure the contents of bag are evenly distributed before vacuum-sealing (here's our DIY vacuum-sealing guide). Add bag to a Suvie pan, cover with water and load into upper right zone of Suvie. 
Add spinach to another Suvie pan and load into upper left zone of Suvie.
Pour whole-wheat pasta into starch pan and load into Suvie.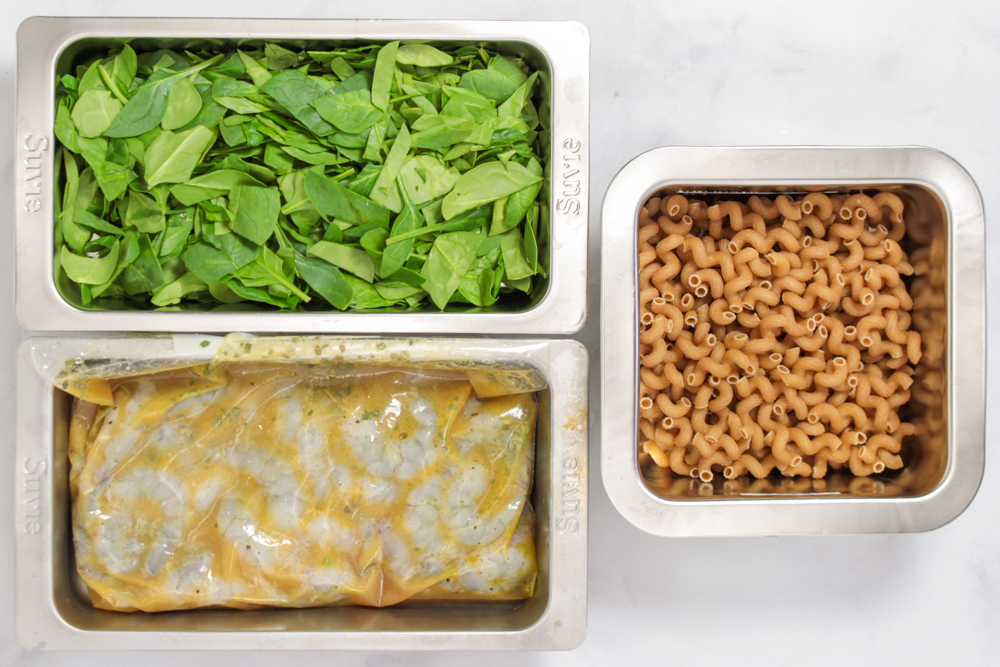 Fill reservoir, enter My Cook > Multi-Zone settings and cook now or schedule.
My Cook > Multi-Zone
Protein: 125°F for 1 hour
Vegetable: 8 minutes
Starch: 2 minutes
After the cook, remove the spinach and shrimp from Suvie.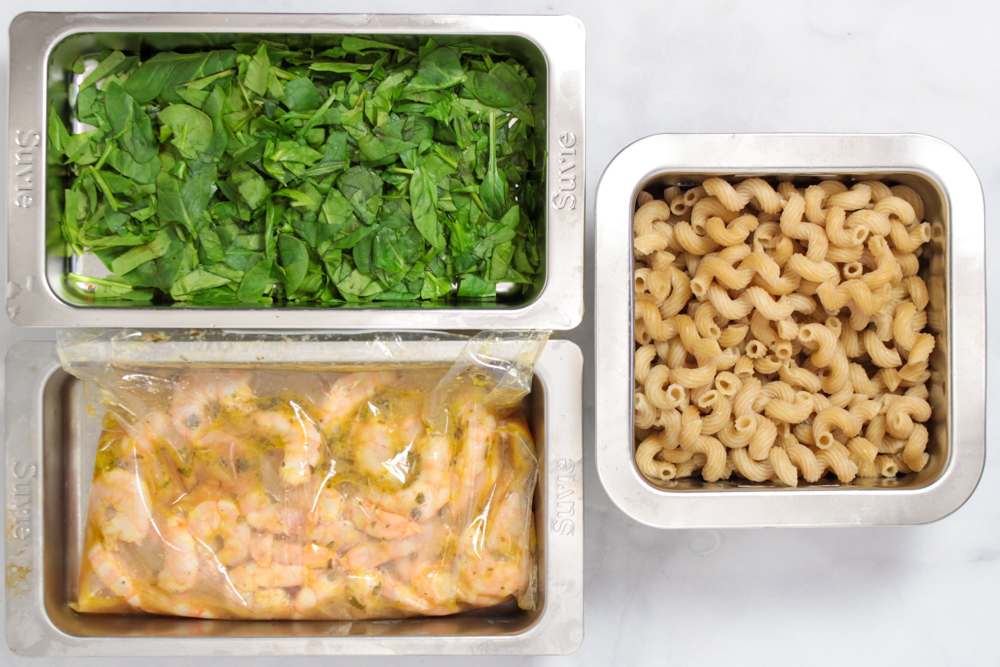 Drain the water from the shrimp pan then pour the contents of the vacuum-sealed bag into the pan. Combine the cornstarch with 2 tbsp water in a small bowl then pour the cornstarch slurry into the pan with the shrimp. Stir to combine. Load back into the upper right zone of Suvie.
Drain excess water from the spinach pan, toss with ½ tsp salt, ¼ tsp pepper and a sprinkle of olive oil. Return to upper left zone of Suvie. Broil spinach and shrimp for 8 minutes until shrimp sauce has thickened, stirring halfway through the cook.
After the broil remove shrimp, spinach and pasta from Suvie. In a large bowl add the pasta followed by the spinach, then shrimp and sauce. Top with tomatoes, feta and chopped parsley.