Snuggle up and get ready for the ultimate vegetarian comfort food. Shepherd's pie hails from across the pond where rural farmers would take all their leftovers and smother them in mashed potatoes. In this recipe, we use fresh ingredients instead of leftovers to make a heaping pile of veggies cooked in a scrumptious gravy. This recipe allows you to either mash your own potatoes (don't worry, a fork or potato masher will be fine) or use a premade mash. We prefer to mash our own in order to get the consistency we like but either works well. After those veggies are tucked in with a nice cover of potatoes, we broil to finish giving the dish a nice toasted look and taste. Throw a couple chopped chives on top and you've made an all-star vegetarian dish perfect for a cold, rainy night.
Slow Cook: Vegetarian Shepherd's Pie
Please always check your food to ensure your food has been cooked to safe serving temperatures. Please see our guide
here
for recommended FDA Time & Temperatures.
Servings: 4
Difficulty: 3 hours and 25 minutes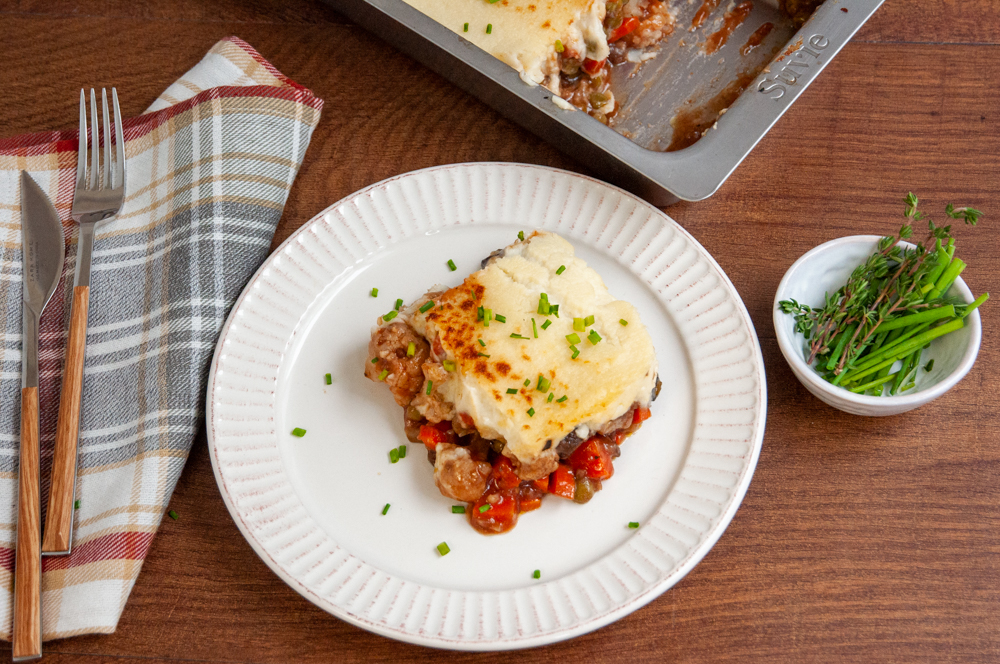 Ingredients
2 tablespoons olive oil
1 shallot, minced
8 oz fresh mushrooms, sliced
6 oz cauliflower florets
2 carrots, peeled and chopped
3 tsp salt, divided
1 tsp pepper or to taste
2 tbsp cornstarch
¼ cup red wine
½ cup vegetable stock
2 tablespoons tomato paste
1 cup frozen peas
½ heavy cream
3 tbsp butter, melted
3 garlic cloves, minced
16 oz peeled potatoes, chopped into 1" cubes
Chives or thyme sprigs, for garnish (optional)
Directions
Combine the olive oil, shallot, mushrooms, carrots, cauliflower, 2 tsp salt and pepper in a Suvie pan. Broil for 10 minutes or until some of the vegetables' juices are released.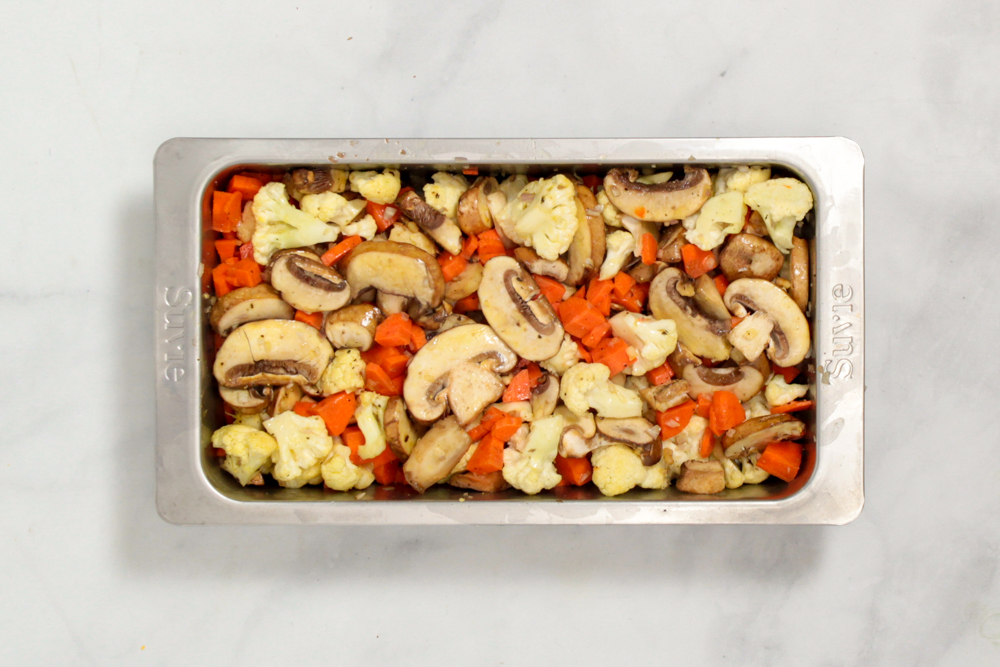 During the broil, whisk together cornstarch with a few tbsp of the wine. Then mix in the rest of the wine, the vegetable stock, tomato paste, and the frozen peas to the cornstarch and wine slurry.
After the broil, combine the liquid ingredients with the broiled vegetables and make an even layer in the Suvie pan.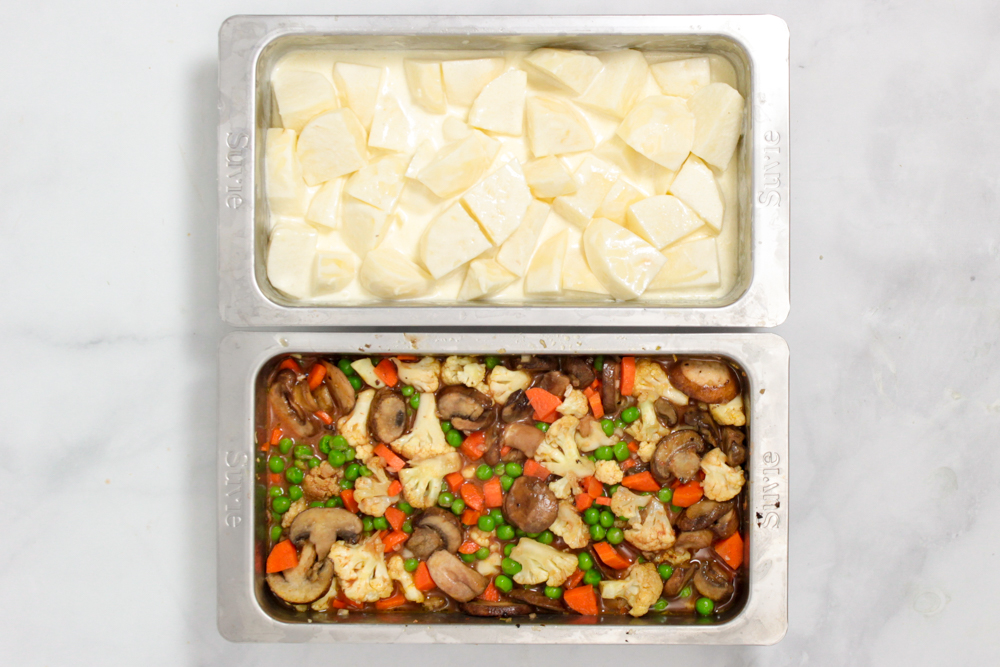 If using premade mashed potatoes: spread the potatoes evenly on top of the vegetables. In another Suvie pan, whisk together the cream, butter, garlic and 1 tsp salt. Toss the potatoes in the cream mixture and spread out in bottom of pan. Insert both pans into your Suvie, input settings, and cook now or schedule. 
Suvie Cook Settings
Bottom Zone: Slow Cook High for 2 hours
After the cook, remove both pans from Suvie. Give the veggies a quick stir to ensure all the liquid is distributed.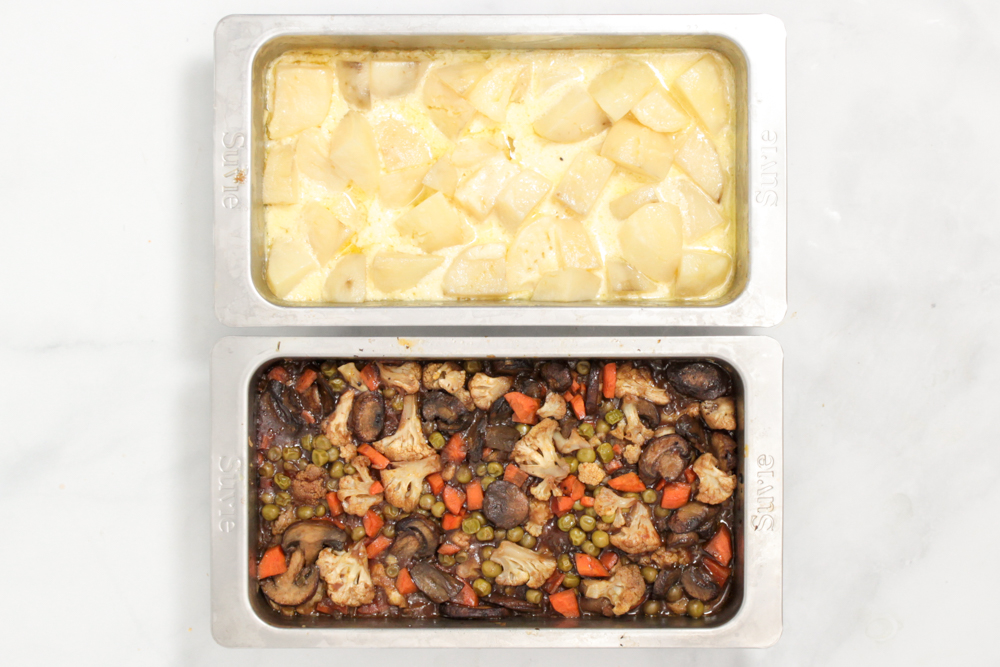 For the potatoes: we can go about this a few different ways. The easiest is to take a fork and give them a rough mash making sure the cream is well incorporated. For a finer, fluffier mashed potato, run the potatoes through a food mill, ricer or take a spatula and mash them through a sieve. Please do not use an immersion blender or food processor to mash potatoes, they will turn out gummy and unappetizing.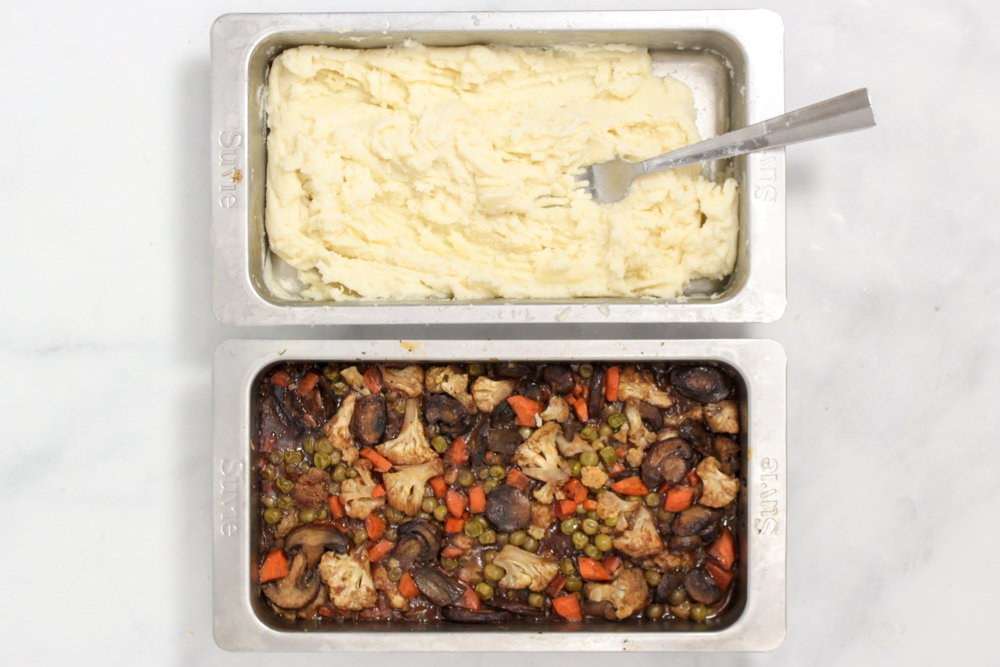 With your potatoes sufficiently mashed, spread them across the top of the veggies and broil for 8-10 minutes, turning the pan halfway through the cook. *To avoid overcooking: do not leave shepherd's pie unattended during this step!*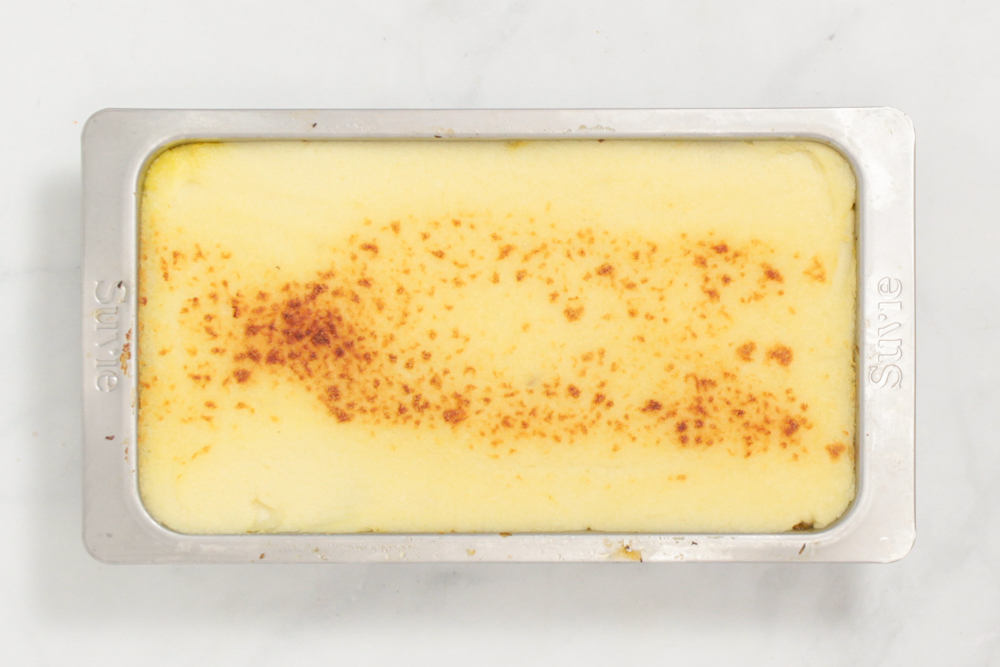 If you used premade mashed potatoes, just broil them right after your cook is complete. When the mashed potatoes are a golden brown and toasty, remove from Suvie. Divide shepherd's pie amongst four bowls, top with chopped chives or thyme leaves and enjoy!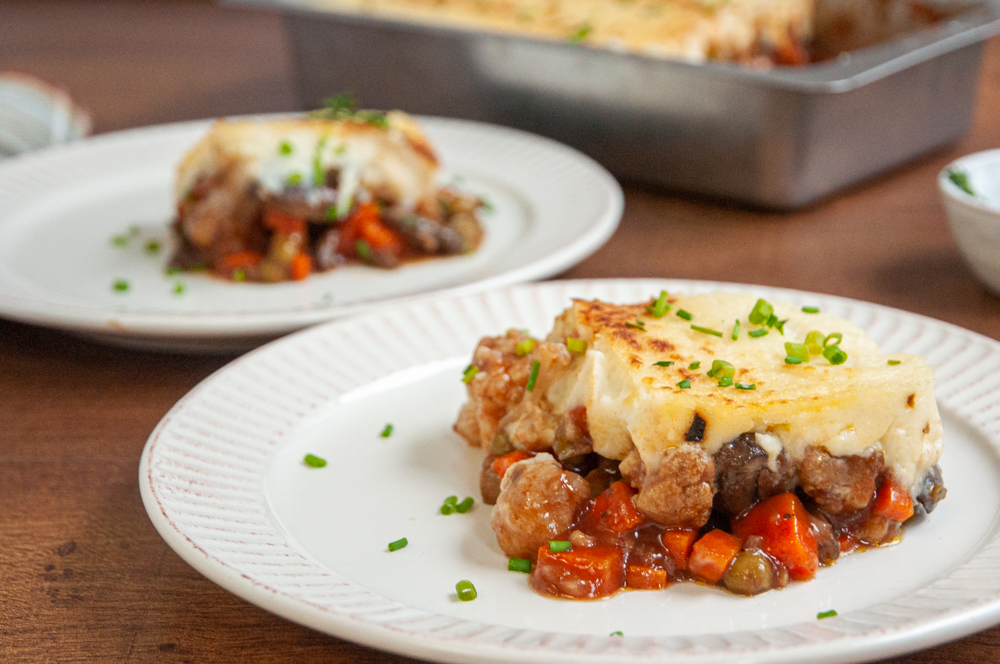 Note: If you would like to make this recipe in Suvie 1.0, insert pans into the top zones of Suvie, fill reservoir, and set to Slow Cook on High for 2 hours.
Wine Pairing
We recommend serving this dish with a good quality Chardonnay. This French wine pairs well with vegetarian dishes and the medium acidity will cut through the creamy potatoes.