This southwest shrimp bowl is perfect for an easy weeknight meal that's tasty and healthy. The southwest seasoning mix gives the shrimp a little kick while the lime, tomatoes, and guacamole lend a fresh zing to your palate. We've included an option to take this bowl to the next level by pickling some onions, chopping romaine and tossing on some tortilla strips but these are completely optional. In fact, all the toppings in this bowl are optional, swappable and interchangeable making it the most customizable meal ever!
Southwestern Shrimp Bowl
Please always check your food to ensure your food has been cooked to safe serving temperatures. Please see our guide
here
for recommended FDA Time & Temperatures.
Servings: 4
Difficulty: 1 hour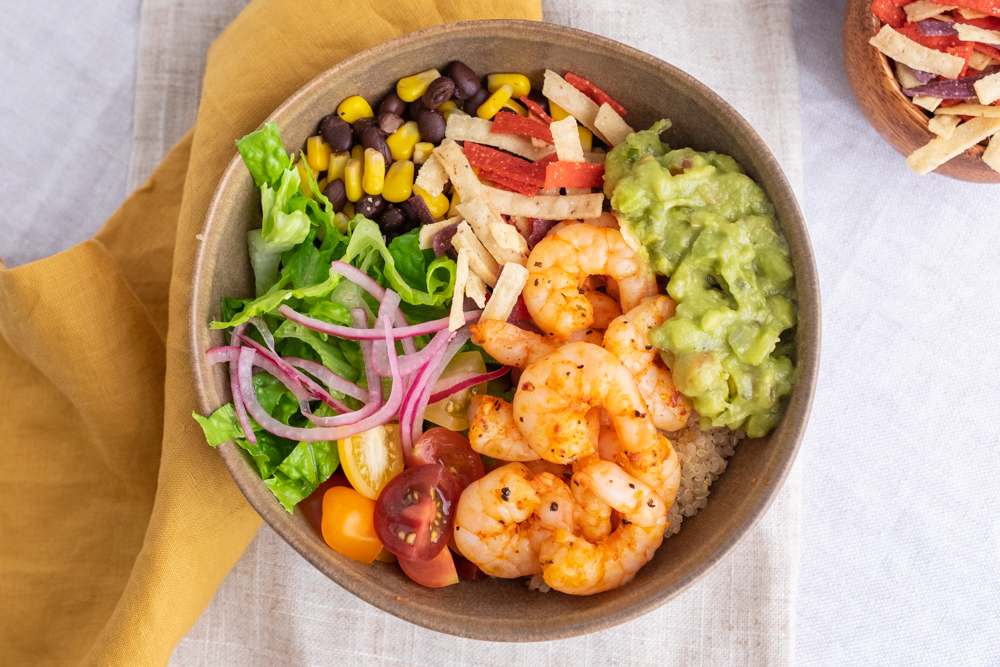 Ingredients
1 lb large shrimp, peeled and deveined
1 tbsp southwest seasoning mix
1 tablespoon vegetable oil
1 (15.5 oz) can black beans, rinsed and drained
1 cup frozen corn kernels, defrosted
1 cup quinoa, rinsed
1/2 cup apple cider vinegar
1 tablespoon sugar
1 medium red onion, thinly sliced
1 ripe avocado, sliced or 1 cup guacamole
1 cup cherry tomatoes, sliced
1 lime, quartered
1 cup tortilla strips
4 cup shredded romaine
Directions
1) Vacuum seal 1 lb shrimp with 1 tbsp southwest seasoning mix and 1 tbsp vegetable oil. Place shrimp in a Suvie pan, cover with water, and load into the bottom zone of Suvie.
2) Place corn and beans in a second Suvie pan, season with salt and pepper to taste and load into top zone of Suvie. Enter cook settings and cook now or schedule.
Suvie Cook Settings
Bottom Zone: Sous Vide at 125°F for 45 minutes
Top Zone: Sous Vide at 125°F for 45 minutes
3) Place 1 cup quinoa in the Suvie rice pot (black handles). Cover pot with lid and place inside the Suvie Starch Cooker, ensuring the pot is centered on the hot plate. Input settings and cook now or schedule.
Suvie Starch Cooker Settings
Grains, Quinoa, 1 cup
4) During the cook combine ½ cup apple cider vinegar, 1 cup warm water, 1 tbsp sugar and 1½ tsp salt in a medium bowl. Stir until sugar is dissolved. Add red onion to the bowl. Allow the onions to rest for at least 15 minutes or up to 2 hours.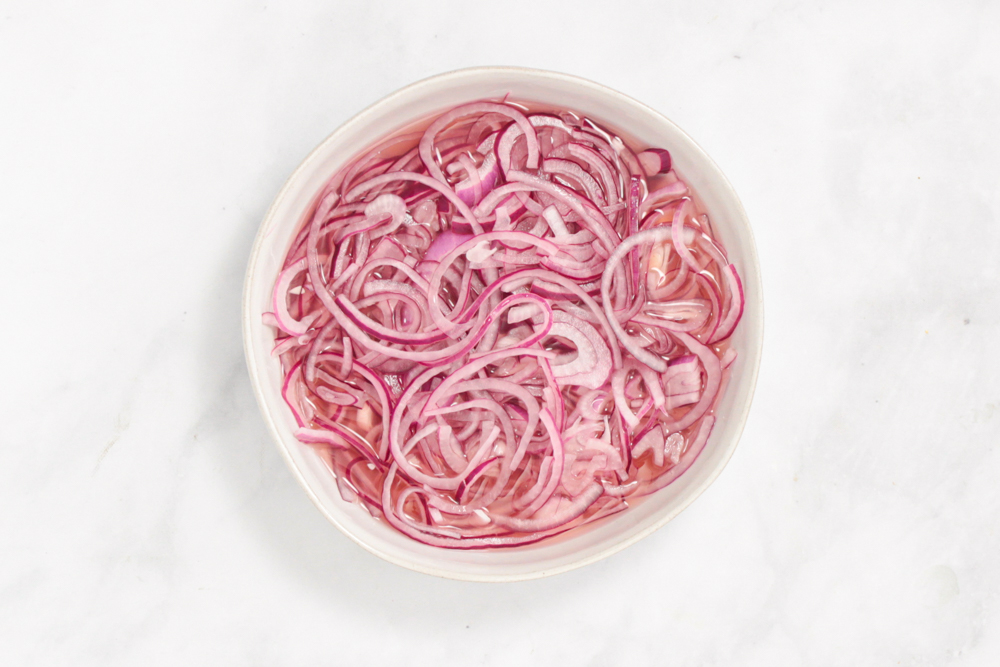 5) After the cook, remove all pans from Suvie. Remove quinoa and fluff with a fork. Stir corn and beans into the quinoa and season with salt and pepper to taste.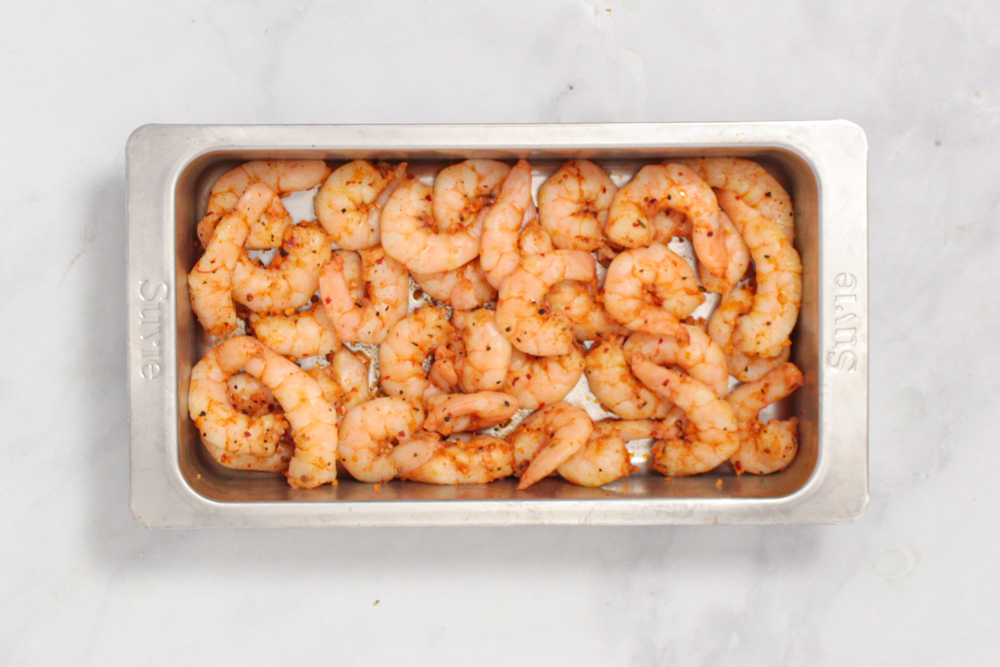 6) To assemble, divide the quinoa, beans and corn between four bowls. Place shrimp on top with tomatoes, avocado (or guacamole), pickled onions, shredded romaine, tortilla strips, and a squeeze of lime juice.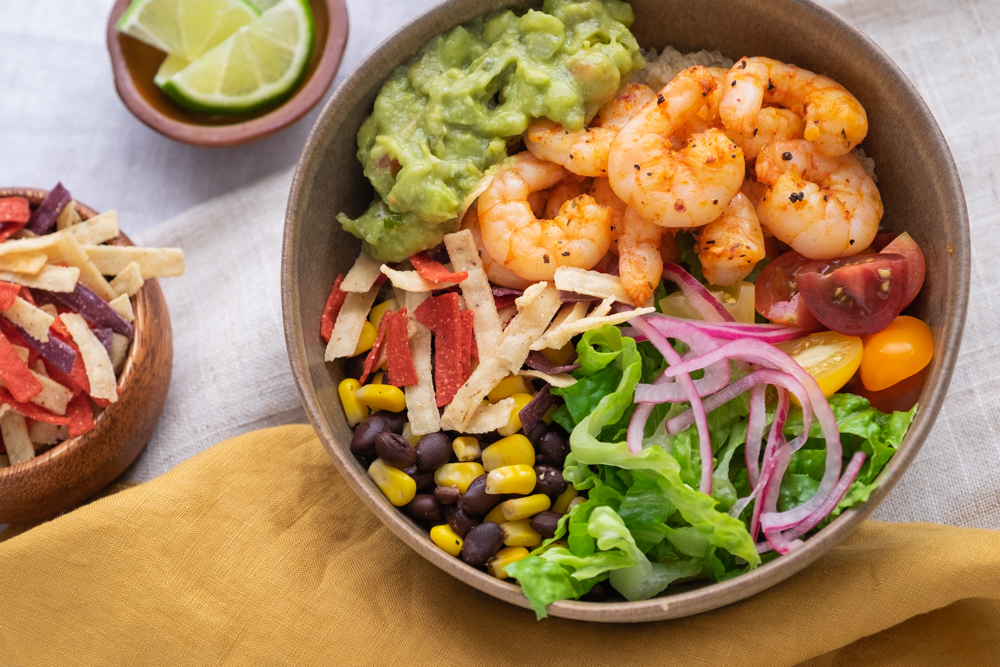 Wine Pairing
A good glass of Riesling will pair beautifully with this dish. The sweeter notes of this wine will balance out the Southwestern spice and bring out the flavors of the shrimp.