Drift off on your own mini staycation with these bright and crunchy chicken lettuce wraps. Bring in the sweet with roasted juicy pineapple and complement it with the right amount of heat to suit your flavor palate. Be sure to keep your lettuce wraps filled and sturdy by using the large outer leaves from romaine hearts.
Sweet Heat Lettuce Wraps with Pineapple Rice
Please always check your food to ensure your food has been cooked to safe serving temperatures. Please see our guide
here
for recommended FDA Time & Temperatures.
Servings: 4
Difficulty: 2 Hours and 10 Minutes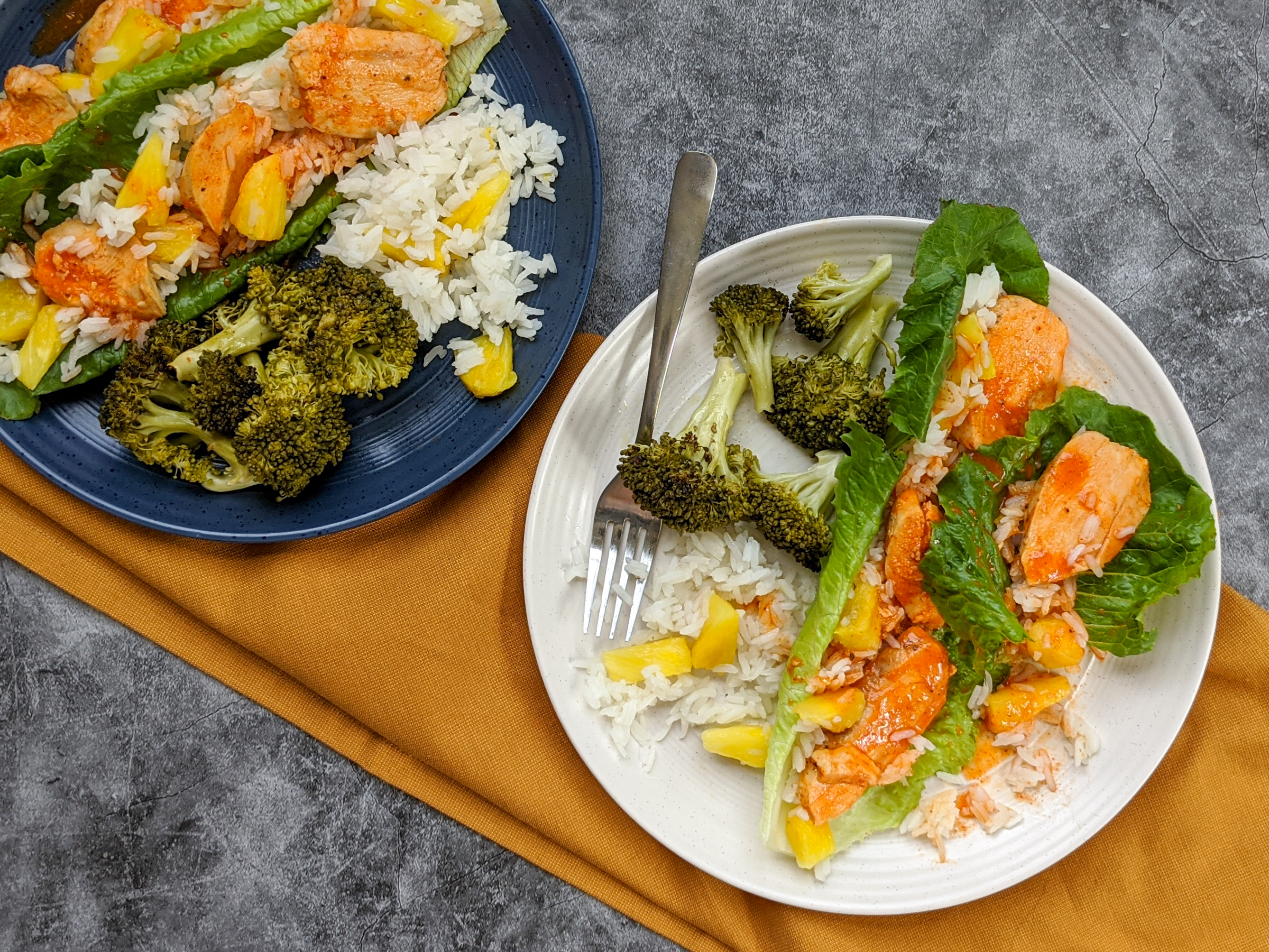 Ingredients
1 lb boneless, skinless chicken breasts
10 oz broccoli florets
8 oz pineapple chunks
1 cup jasmine rice
1 tbsp gochujang
2 tbsp orange juice
8 large romaine lettuce leaves
1 tbsp sugar
½ tsp salt
Directions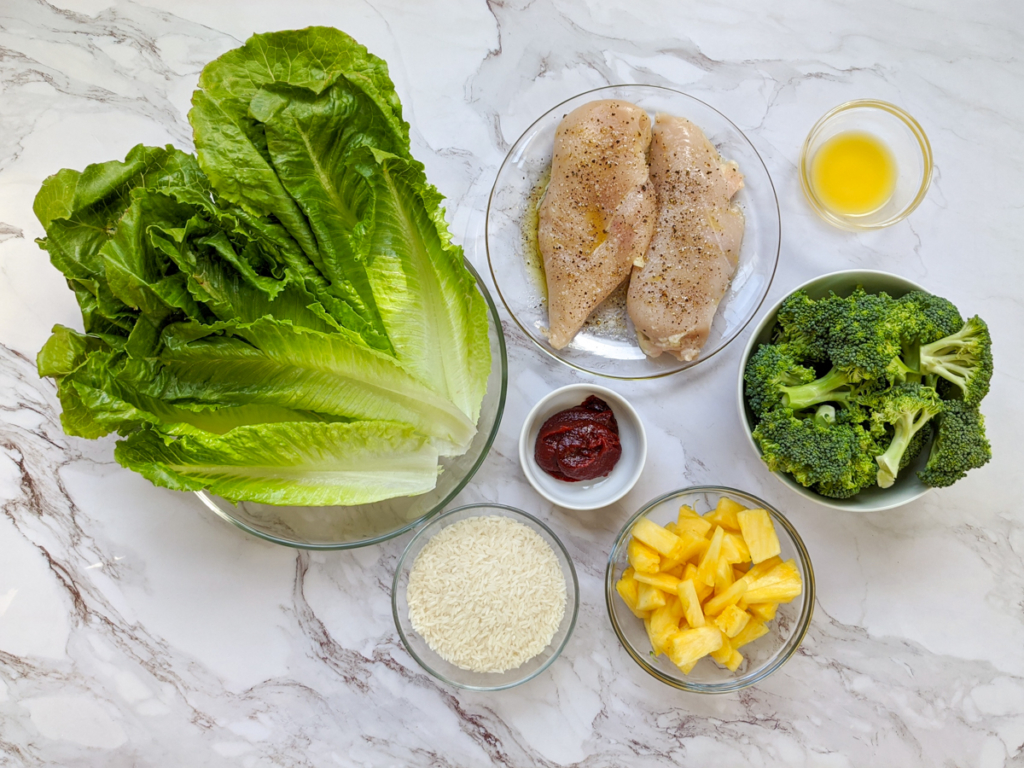 1) Oil and season chicken breasts and vacuum seal (here's our DIY vacuum sealing guide). Place chicken in a Suvie pan and load into upper right cooking zone. Cover with water.
2) Place broccoli and pineapple in a separate Suvie pan and load into upper left cooking zone.
3) Put jasmine rice in a starch pan and load into bottom right zone.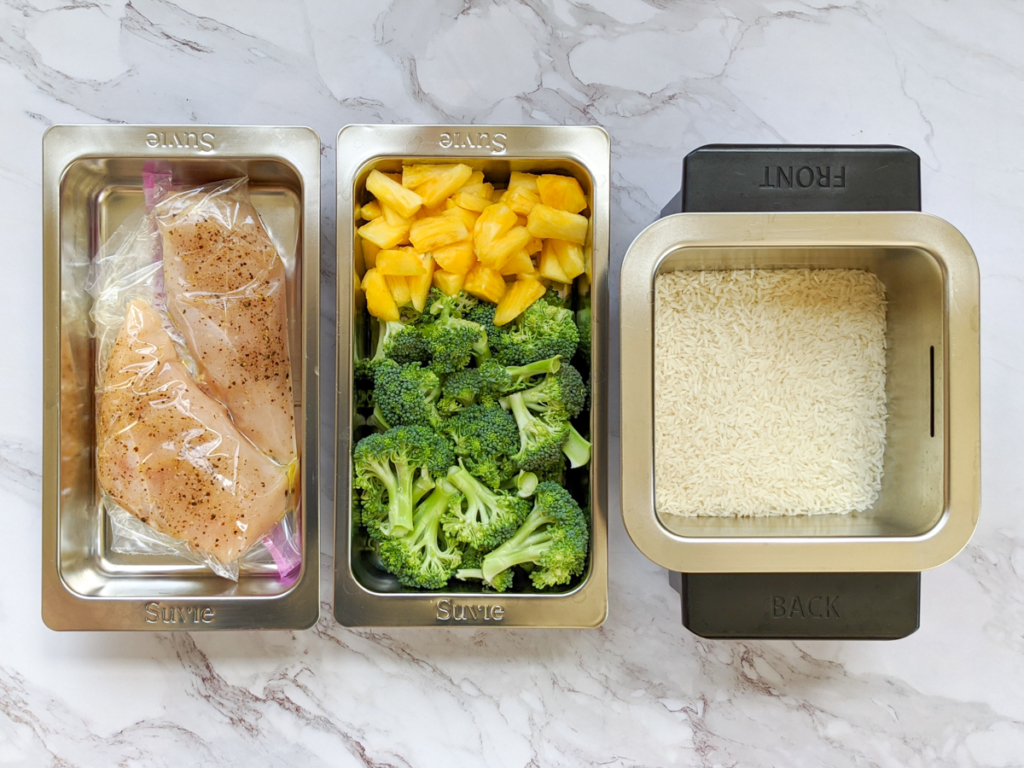 4) Fill reservoir, enter cook settings and Cook Now or Schedule.
My Cook > Multi-Zone Settings
Protein: 150°F, 30 minutes
Vegetable: 10 minutes
Starch: 15 minutes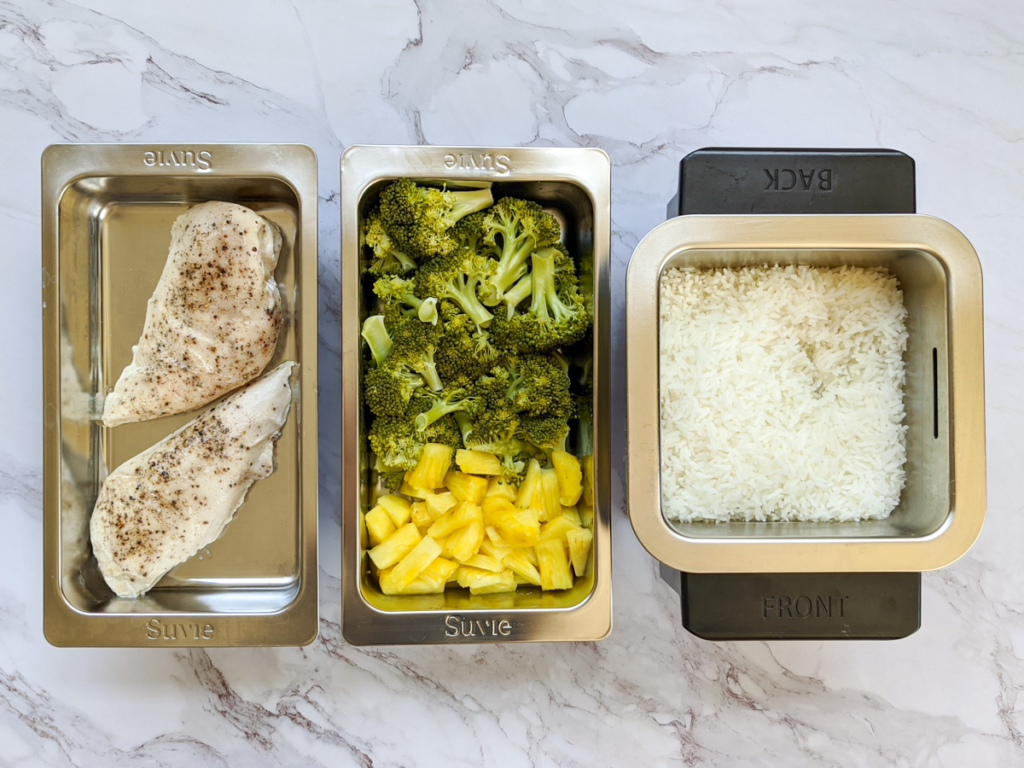 5) After the cook, remove chicken breasts from Suvie pan, pat pan and chicken dry, and return chicken to pan. In a small bowl, mix gochujang and orange juice, and coat chicken in sauce. Return pan to upper right cooking zone.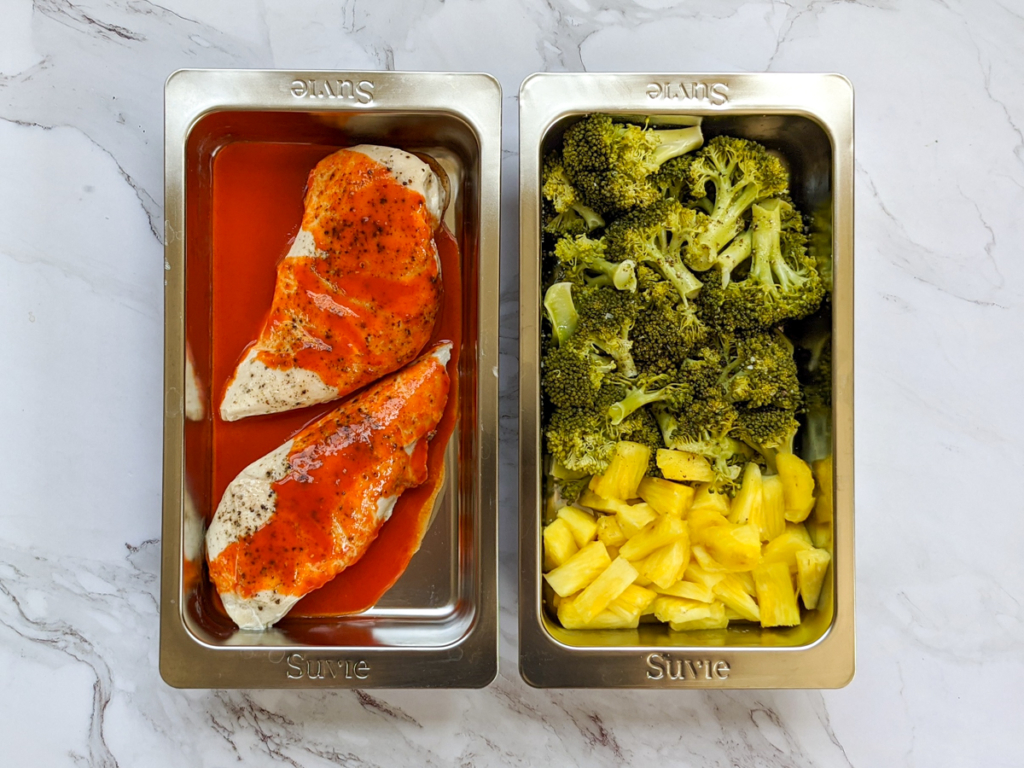 6) Drizzle oil and season only the broccoli with salt and pepper to taste, leaving the pineapple untouched. Return pan to upper left cooking zone. Broil chicken, broccoli, and pineapple 10 minutes.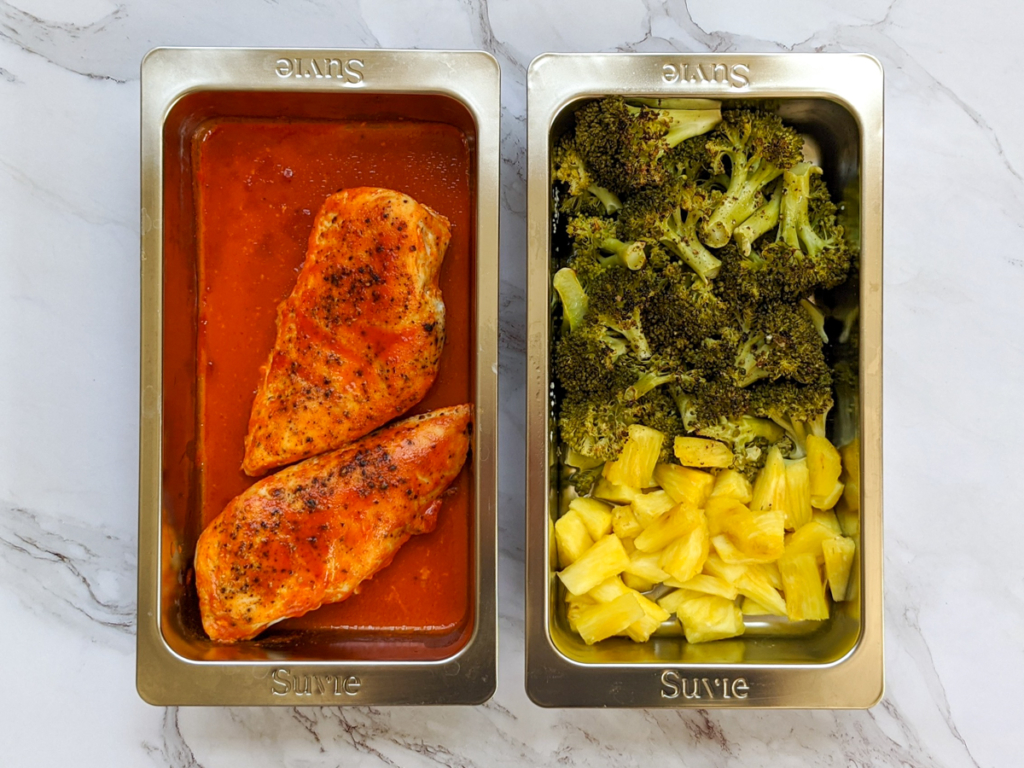 7) After the broil, remove chicken, broccoli, and pineapple from Suvie. Transfer chicken to a cutting board and slice chicken on a bias. Add chicken back into Suvie pan and coat in sauce. Mix pineapple into rice along with 1 tbsp sugar and ½ tsp salt.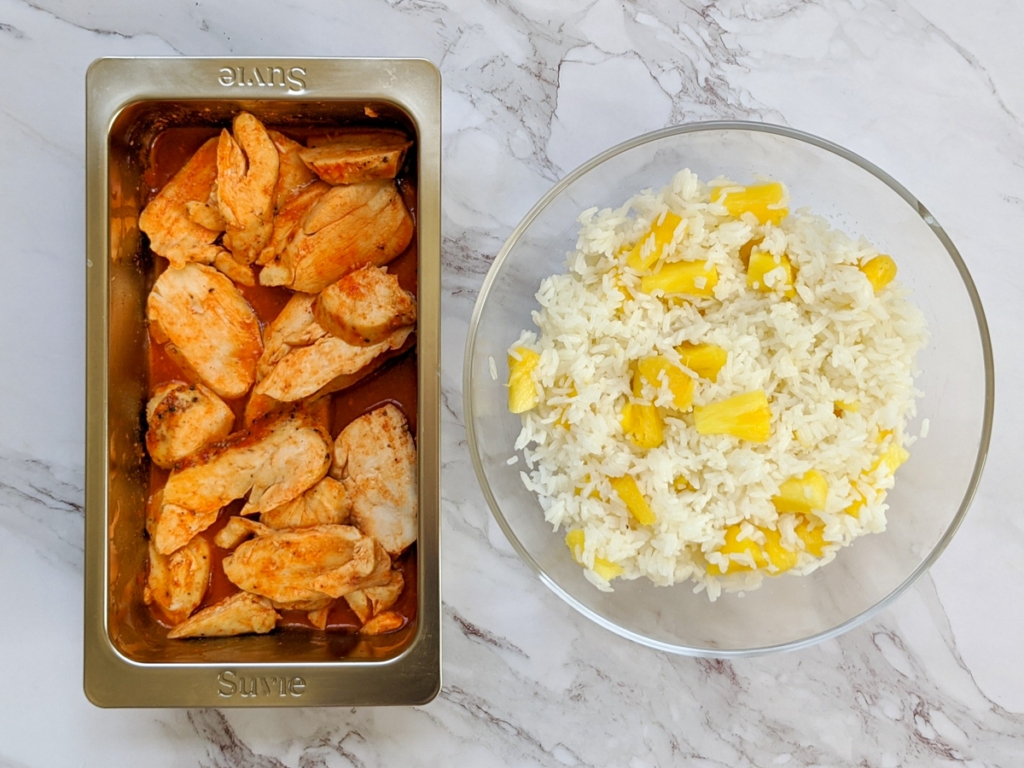 8) To serve, divide pineapple rice, broccoli, and lettuce cups between four plates and fill cups with chicken. Garnish with extra sauce.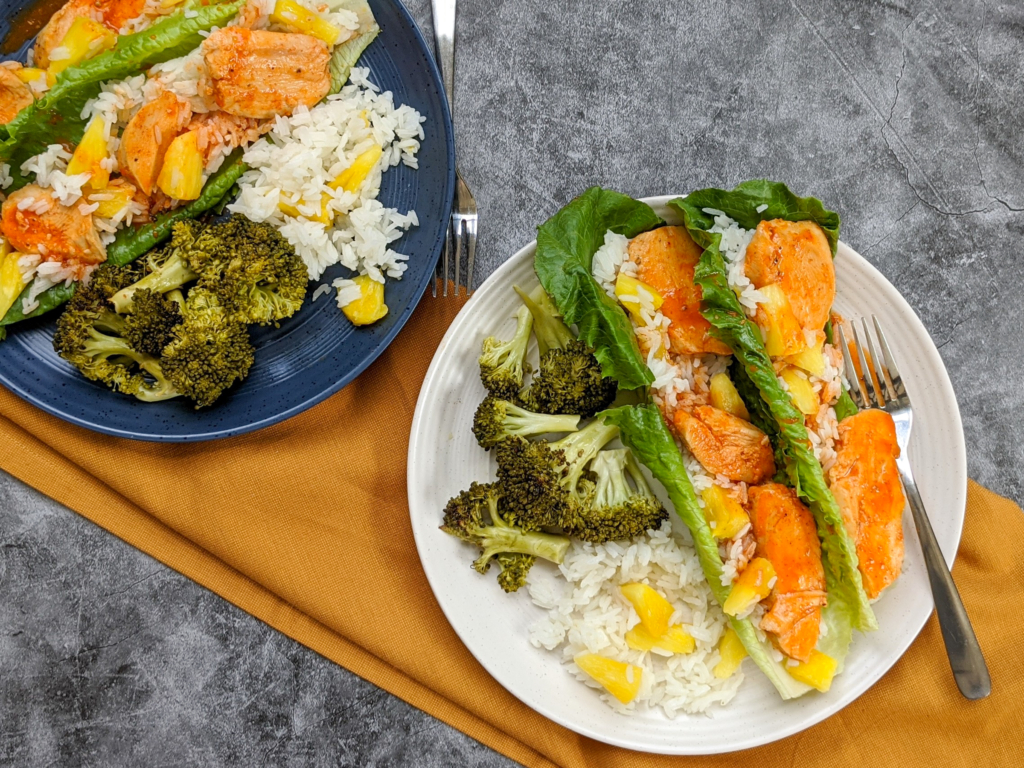 Alternative Cooking Instructions:
Cover a sheet pan with foil and place chicken, broccoli, and pineapple on sheet. Drizzle with olive oil and season with salt and pepper. Bake at 350°F until chicken reaches 165°F with an instant-read thermometer.
Bring 1½ cups water to a boil in a medium pot. Add jasmine rice and ½ teaspoon salt. Stir once, cover, and let simmer on low heat for 20 minutes. Mix in pineapple, sugar, and salt after cooking is complete.
Combine gochujang and orange juice in medium bowl. When chicken is done, slice on a bias and toss in sauce.
Serve with romaine lettuce leaves.
Nutrition
Nutritional Information per serving (4 servings per recipe): Calories 441, Total Fat 5g, Total Carbohydrates 55g, Total Sodium 444mg, Total Protein 42g