This dinner is healthy and delicious. We love using fresh herbs and produce such as tarragon, thyme, and lemon to lend flavor to a dish without piling on extra calories. Add in a perfectly cooked salmon filet topped with crunchy panko paired with nutritious Swiss chard and al dente farro. This meal is ready to check off your healthy and easy boxes.
Tarragon-Panko Salmon with Swiss Chard and Farro
Please always check your food to ensure your food has been cooked to safe serving temperatures. Please see our guide
here
for recommended FDA Time & Temperatures.
Servings: 4
Difficulty: 2 hours and 20 minutes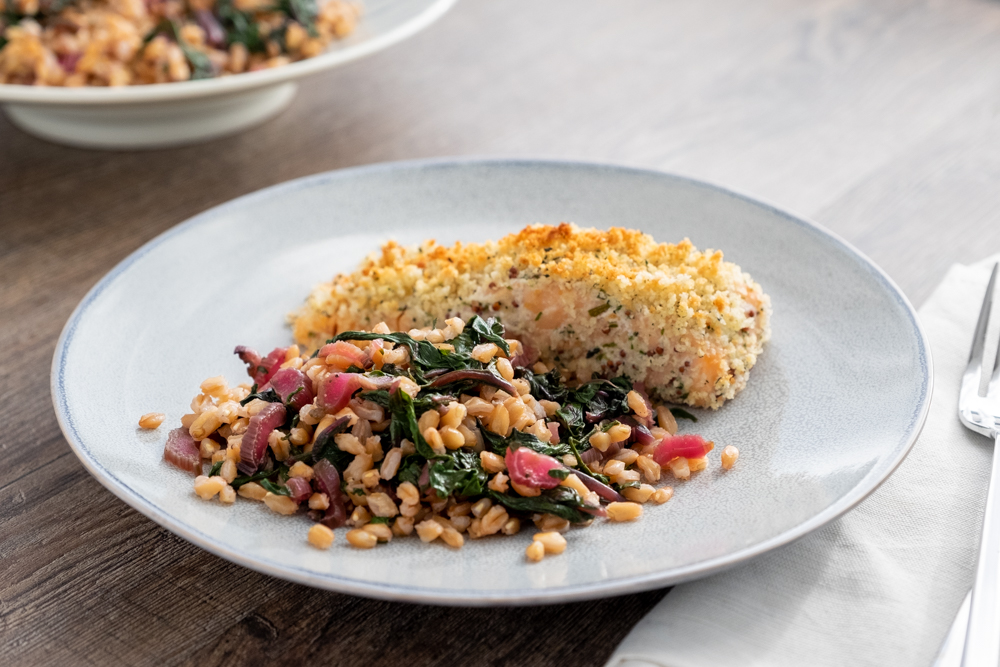 Ingredients
¼ cup chopped fresh tarragon
1 tbsp Dijon mustard
1 ½ tsp mayonnaise
1 tbsp brown sugar
4 (5 oz) skinless salmon fillets
4 stalks Swiss chard
1 cup pearled farro
½ cup panko bread crumbs
1 large egg, beaten
2 teaspoons minced fresh thyme
2 tbsp olive oil
1 lemon
Directions
1) In a small bowl, combine 1/4 cup tarragon, 1 tbsp mustard, 1 1/2 tsp mayo, 1 tbsp brown sugar, 1 tsp salt, and 1/2 tsp ground black pepper. Brush mixture all over the salmon fillets. Vacuum-seal the salmon, place in a Suvie pan, and cover with water. Load pan into the bottom zone of Suvie.
2) Chop Swiss chard into very thin strips and place into another Suvie pan. Load pan into top zone of Suvie. Enter cook settings, and cook now or schedule.
Suvie Cook Settings
Bottom Zone: Sous Vide at 125˚F for 45 minutes
Top Zone: Steam for 35 minutes
3) Place 1 cup farro in the Suvie starch strainer set within the Suvie pasta pot (green handles). Cover pot with lid and place inside the Suvie Starch Cooker, ensuring pot is centered on the hot plate. Input settings and cook now or scehdule.
Suvie Starch Cooker Settings
Grains, Farro, 30 minutes
4) Toward the end of the cook combine 1/2 cup panko bread crumbs, 2 tbsp beaten egg and 2 tsp minced fresh thyme in a small bowl.
5) Once the cook is complete, remove salmon from vacuum seal bags. Place salmon in a clean, dry Suvie pan and spread the panko mixture evenly over the top of the fillets. Drain water from the Swiss chard pan. Drizzle 1 tbsp olive oil over the Swiss chard and season to taste with salt and pepper. Return pans to Suvie. Set salmon to broil to broil for 5 minutes (or until topping is golden brown), and chard to broil for 15 minutes. Watch closely, as this step goes fast!
6) Remove salmon, swiss chard and farro from Suvie. In a large bowl, stir together Swiss chard, farro, 1 tbsp olive oil, and juice from 1 lemon juice. Season to taste with salt and pepper. Distribute farro and chard mixture onto plates and serve alongside the salmon.