Traditionally, teriyaki refers to the Japanese cooking method of grilling or broiling meat glazed with soy sauce, sugar and mirin. In Japan, fish is the main protein used in teriyaki, but the glaze became widely known to Western palates with the inclusion of poultry and red meat. In America, the word "teriyaki" has become synonymous with teriyaki sauce, referring to the flavor profile of the dish as opposed to the cooking method. In this recipe, we've added some non-traditional ingredients such as garlic, ginger, and black pepper to give an extra zing to the teriyaki. This Americanized version of Japanese cuisine is easy to throw together and an all-around crowd-pleaser.
Teriyaki Chicken Thighs
Please always check your food to ensure your food has been cooked to safe serving temperatures. Please see our guide
here
for recommended FDA Time & Temperatures.
Servings: 4
Difficulty: 2 hours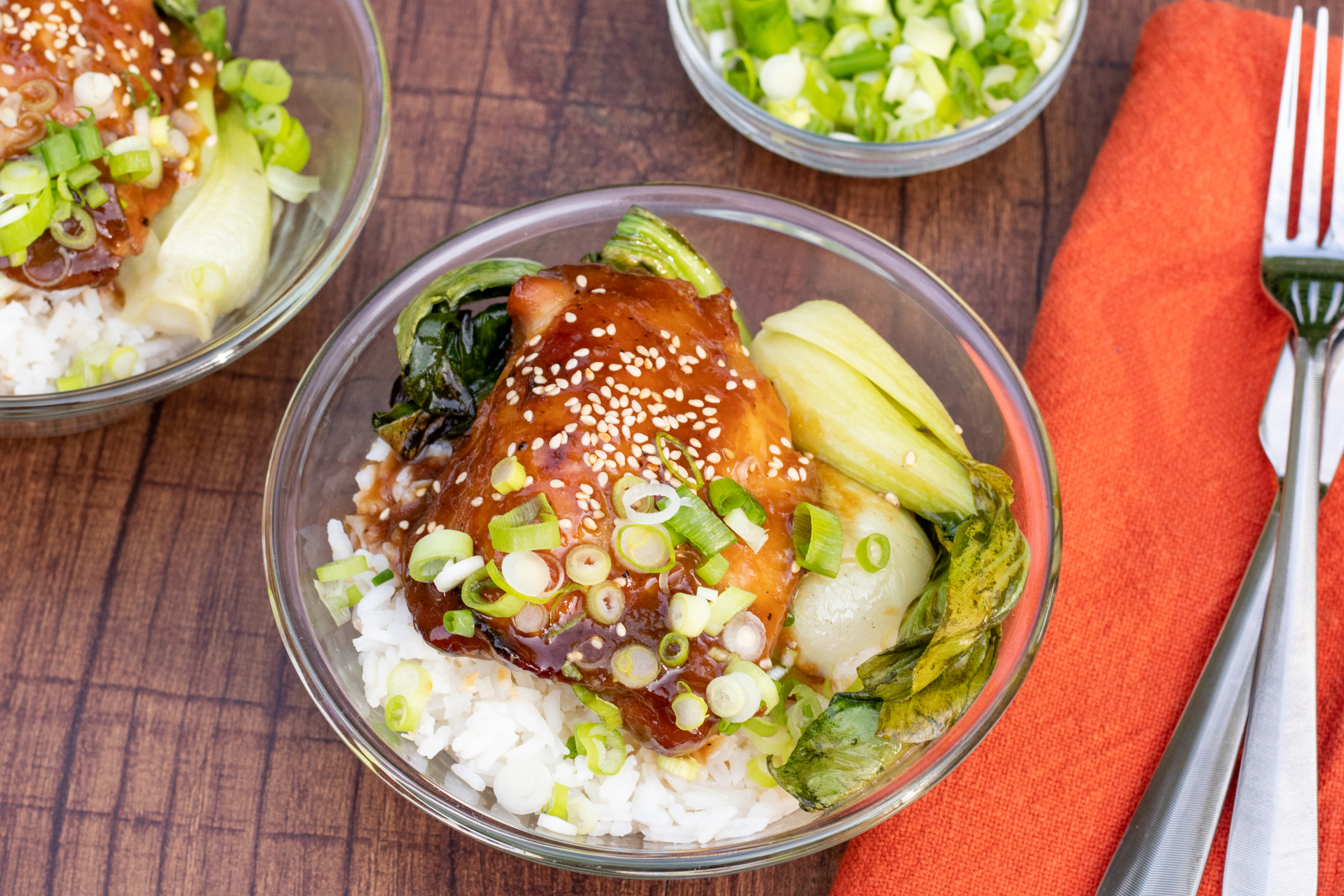 Ingredients
1 tbsp cornstarch
½ cup low sodium soy sauce
½ cup brown sugar
¼ cup mirin
2 cloves garlic, minced
1 tsp fresh ginger, grated
¼ teaspoon ground black pepper
1 lb bone-in, skin-on chicken thighs
10 oz baby bok choy
1 cup jasmine rice
¼ cup scallions, sliced, for garnish
1 tbsp sesame seeds, for garnish
Directions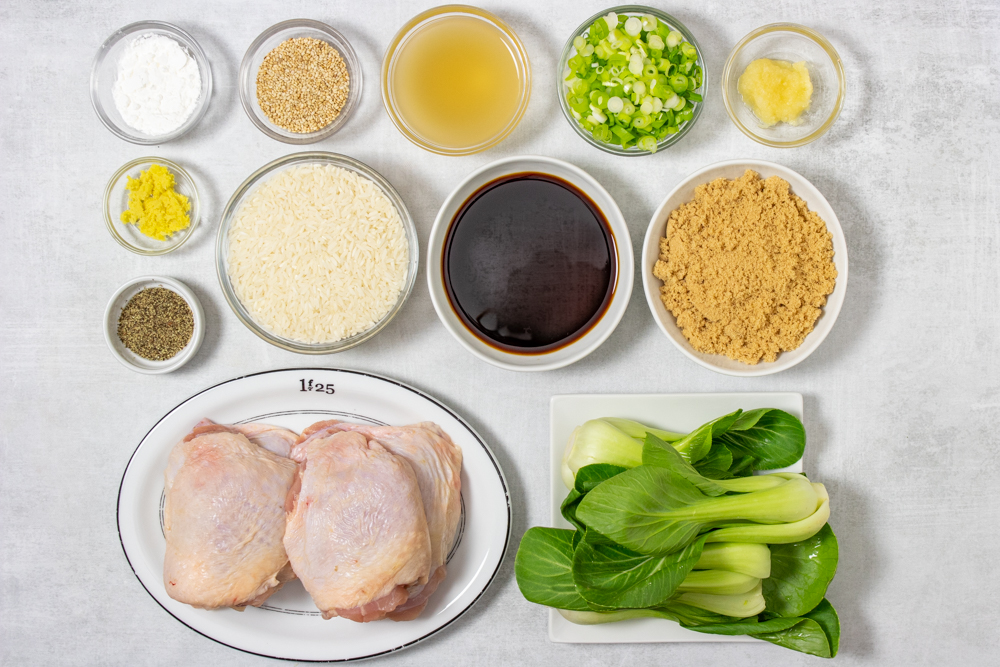 1) In a medium bowl, whisk together 1 tbsp cornstarch and 1/2 cup soy sauce in a medium bowl, ensuring there are no clumps. Whisk in 1/2 cup brown sugar, 1/4 cup mirin, 2 cloves garlic, 1 tsp ginger, and 1/2 tsp black pepper.
2) Season chicken with kosher salt, then place in a vacuum seal bag with the teriyaki sauce. Vacuum seal using the immersion method, then place in Suvie pan and cover with water. Load pan into bottom zone of Suvie.
3) Pour 1/3 cup water into a second Suvie pan and place the Suvie roasting rack in the pan, handle-side down. Arrange bok choy on top of the roasting rack and load into the top zone of Suvie. Enter cook settings and cook now or schedule.
Suvie Cook Settings
Bottom Zone: Sous Vide at 160˚F, 1 hour and 30 minutes
Top Zone: Steam for 18 minutes
4) Place 1 cup jasmine rice in the Suvie rice pot (black handles) and cover pot with lid. Place pot in the Suvie Starch Cooker, ensuring the pot is centered on the hot plate. Input settings and cook now or schedule.
Suvie Starch Cooker Settings
Rice, Long Grain, 1 Cup
5) After the cook remove all pans from Suvie. Pour off water from chicken pan and pat pan dry. Pour marinade and chicken thighs back into the pan. Return the pan to the bottom zone of Suvie.
6) Pour off water from bok chok pan and pat pan dry. Toss bok choy with vegetable oil, salt, and pepper to taste. Arrange on roasting rack and return pan to the top zone of Suvie. Broil chicken thighs for 15-20 minutes and bok choy for 10 minutes, until chicken is well browned. Keep an eye on the chicken thighs so they don't burn.
7) When the broil is complete, remove browned chicken thighs from the pan. The teriyaki sauce should've thickened during the broil, but if it hasn't, broil the sauce alone for 7-10 more minutes. In the meantime, divide the rice and bok choy between four plates, top with chicken thighs and teriyaki sauce. Sprinkle sliced scallions and sesame seeds over each plate and serve.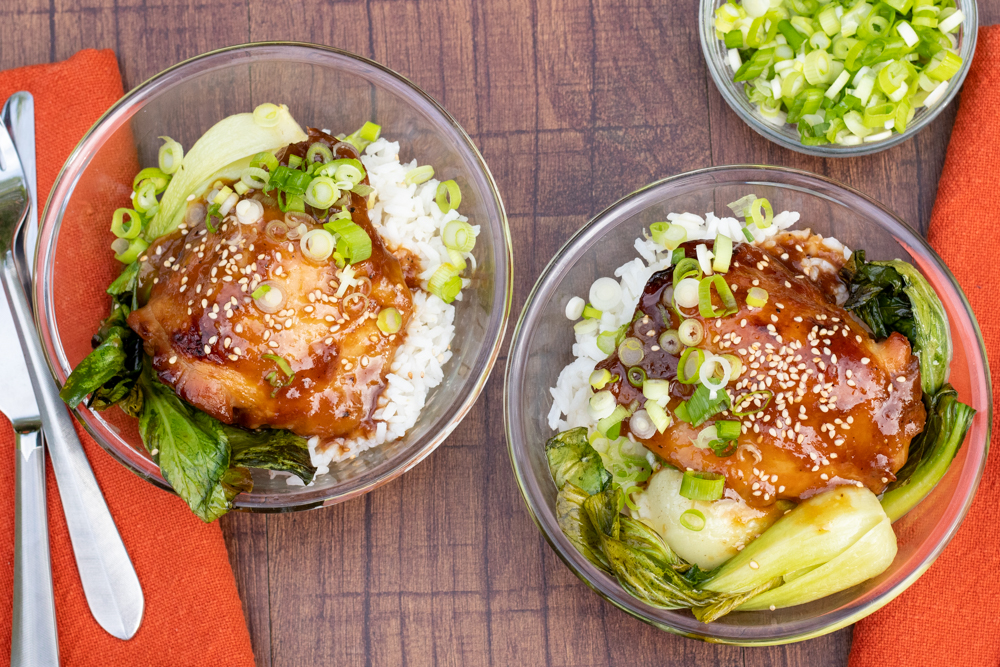 Nutrition
Nutritional Information per serving (4 servings per recipe): Calories 400, Total Fat 4.7g, Total Carbohydrates 66.5g, Total Sodium 210.8mg, Total Protein 22.2g