We think tomato soup is best enjoyed during the cold winter months, when tomatoes are most certainly not in season. Luckily, high quality canned tomatoes have the bright acidity of fresh, ripe summertime tomatoes. The soup gets its body from olive oil and white bread, which help to thicken the soup. We top with crunchy, cheesy croutons for textural contrast. You can omit the gruyere to make this recipe vegan.
Note: If you want to schedule this meal, we recommend roasting the croutons after the soup has finished so that the bread doesn't get too soft.
Tomato Soup with Gruyere Croutons
Please always check your food to ensure your food has been cooked to safe serving temperatures. Please see our guide
here
for recommended FDA Time & Temperatures.
Servings: 4
Difficulty: 50 minutes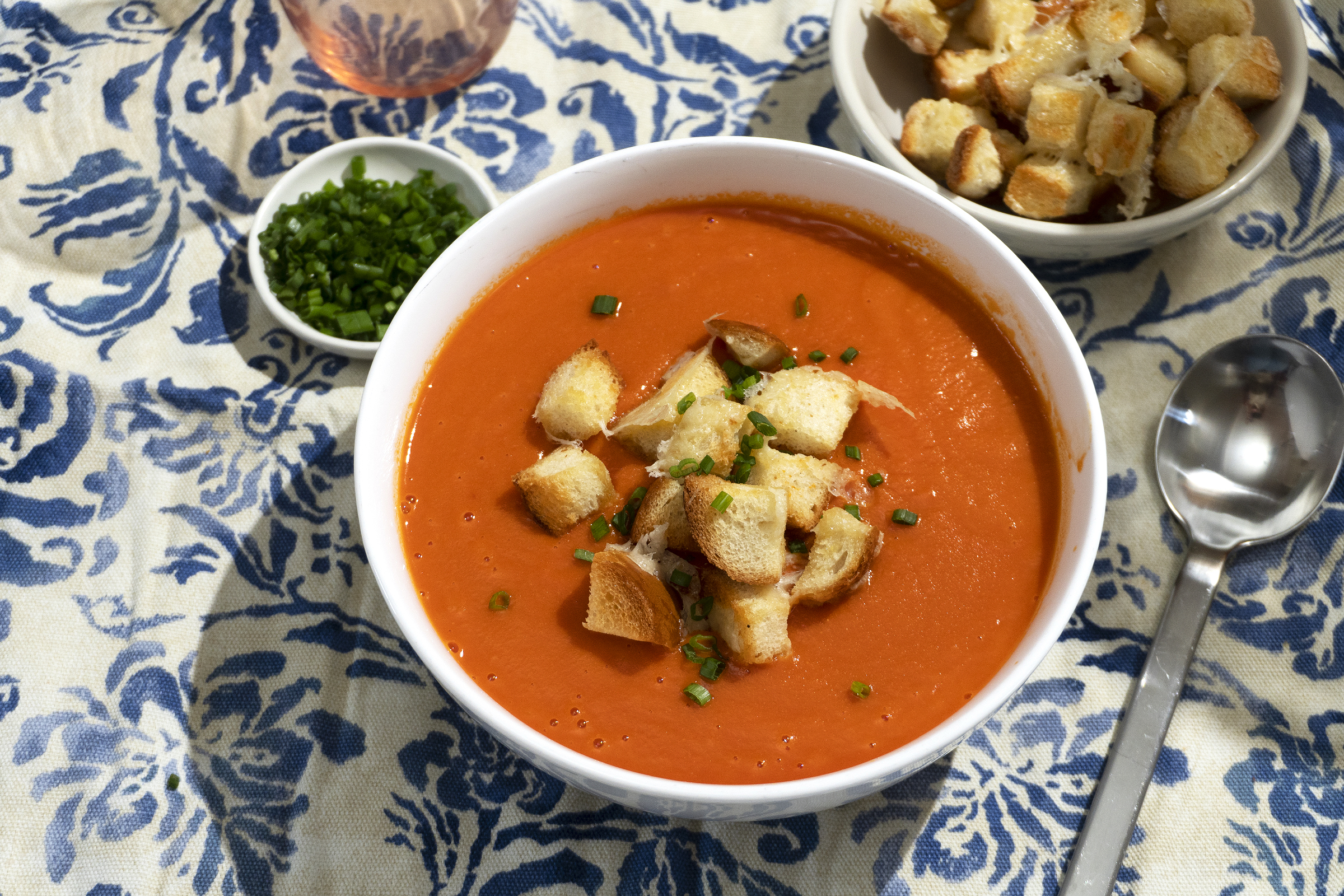 Ingredients
1 tbsp olive oil, plus ¼ cup, divided
1 small onion, thinly sliced
2 garlic cloves, thinly sliced
1 (28 oz) can whole tomatoes
¼ tsp red pepper flakes
4 slices hearty white bread, divided
2 oz Gruyere cheese, shredded
1 tbsp minced chives
Directions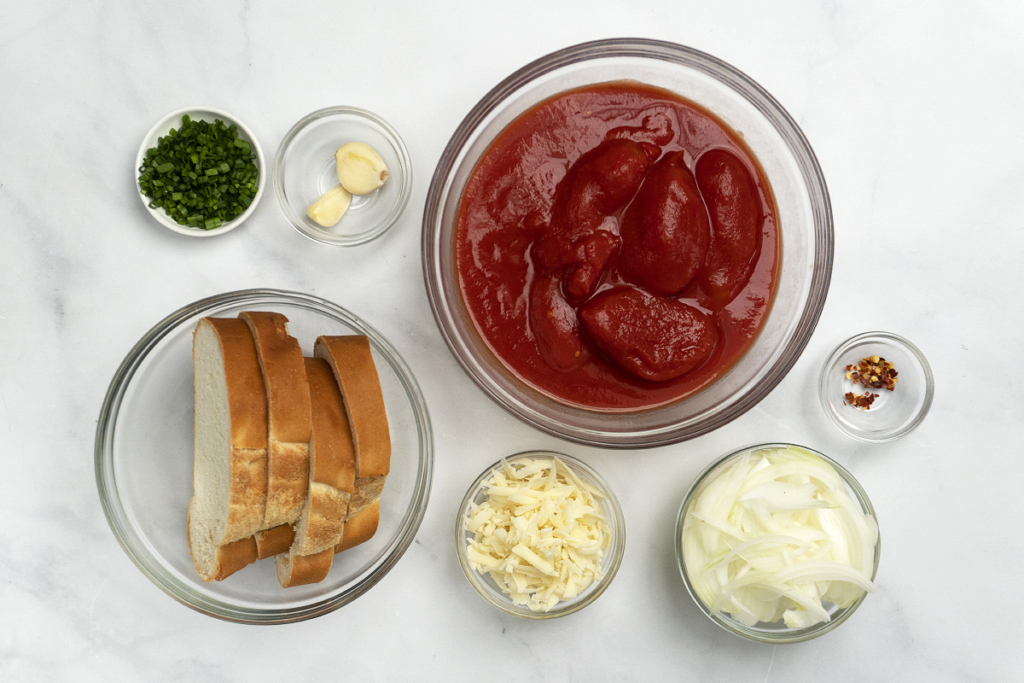 1) In a Suvie pan, stir together 1 tbsp olive oil, 1 sliced onion, and 2 garlic cloves. Place pan in bottom zone of Suvie and Roast at 400°F for 20 minutes until softened and fragrant, stirring occasionally (if you plan to schedule this meal, we recommend sauteing the onions and garlic in a medium skillet over medium heat for 10 minutes instead of cooking in Suvie).
2) Meanwhile, remove and discard crusts from 2 pieces of bread and tear into pieces (you should have about 1 cup). Remove pan from Suvie and stir in 1 can whole tomatoes, 1 cup water, 1 tsp kosher salt, ¼ tsp red pepper flakes, and bread pieces. Crush the tomatoes gently with a spoon or spatula to break up slightly. Return pan to Suvie.
3) Cut remaining pieces of bread into ½-inch cubes. Place cubes in a Suvie pan and drizzle evenly with 2 tsp olive oil. Season lightly with salt and place pan in the top zone of Suvie. Input settings and cook now, stirring bread cubes as needed to ensure even browning.
Suvie Cook Settings
Bottom Zone: Roast at 400°F for 30 minutes
Top Zone: Roast at 325°F for 20 minutes
4) Remove pans from Suvie. Sprinkle croutons with Gruyere and return to Suvie. Broil for 5 minutes or until cheese is melted and golden. Stir to combine.
5) Meanwhile, transfer tomato mixture to a blender. While holding the lid firmly in place, puree on high until smooth, about 30 seconds. Carefully crack the lid while the blender is running and drizzle in ¼ cup olive oil until smooth, about 30 seconds more. Season to taste with salt and pepper. Divide between bowls and top with croutons and chives.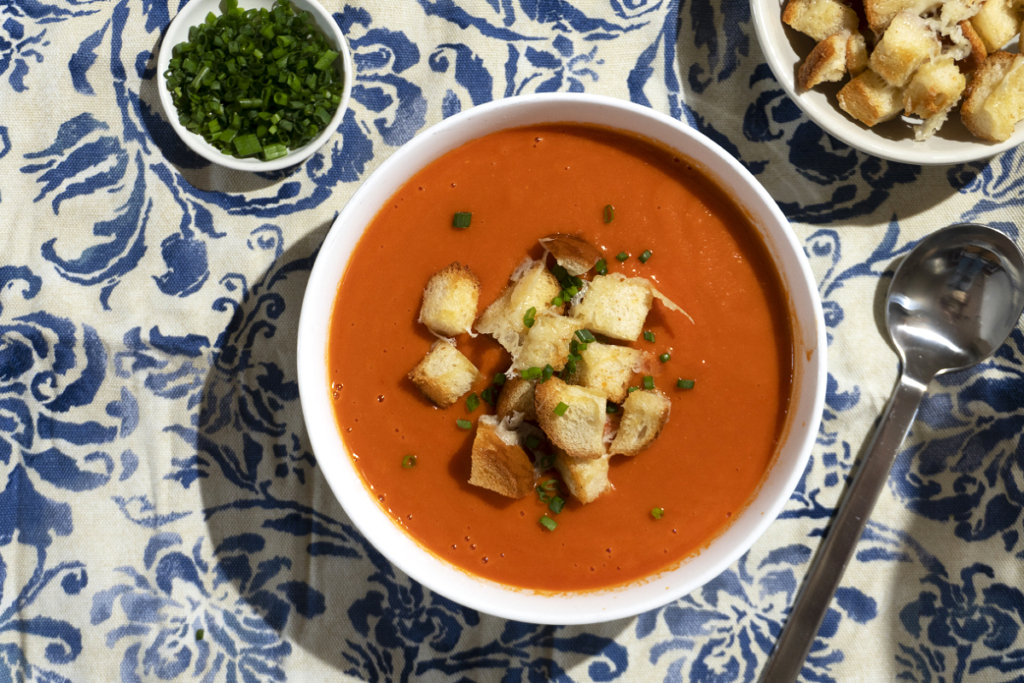 Nutrition
Nutritional Information per serving (4 servings per recipe): Calories 340, Total Fat 23g, Total Carbohydrates 23g, Total Sodium 1070mg, Total Protein 9g.