Forgo the takeout tonight. This easy, flavorful, and veggie-loaded lo mein recipe is sure to satisfy and delight. Bell peppers, mushrooms, snap peas, and baby bok choy are roasted with oodles of garlic and ginger for a delicious and savory saturation of aromatics. The lo mein noodles (you can also substitute with spaghetti) are cooked using the Suvie Starch Cooker and tossed in a simple sauce consisting of low sodium soy sauce, oyster sauce, and sesame oil.      
Vegetable Lo Mein
Please always check your food to ensure your food has been cooked to safe serving temperatures. Please see our guide
here
for recommended FDA Time & Temperatures.
Servings: 2
Difficulty: 45 minutes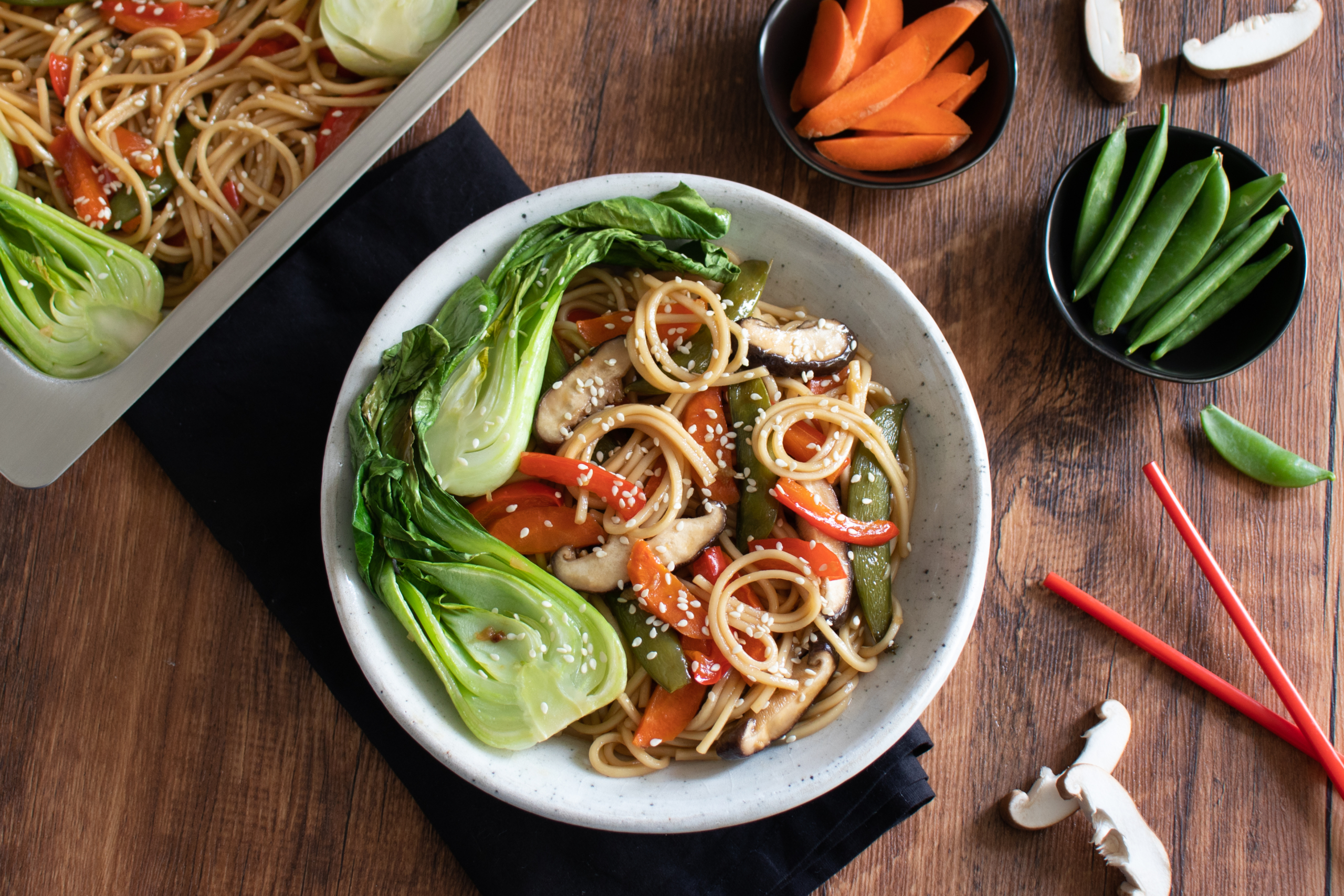 Ingredients
6 oz lo mein egg noodles or spaghetti
2 tbsp rice wine, white wine or shaoxing wine
3 garlic cloves, peeled and minced
2 tsp minced ginger
3 tbsp sesame oil, divided
½ cup sliced red bell pepper
1 cup sliced shiitake mushrooms
1 cup snap peas
3 baby bok choy, halved
2 tbsp low sodium soy sauce
2 tbsp oyster sauce
½ tsp sesame seeds
Directions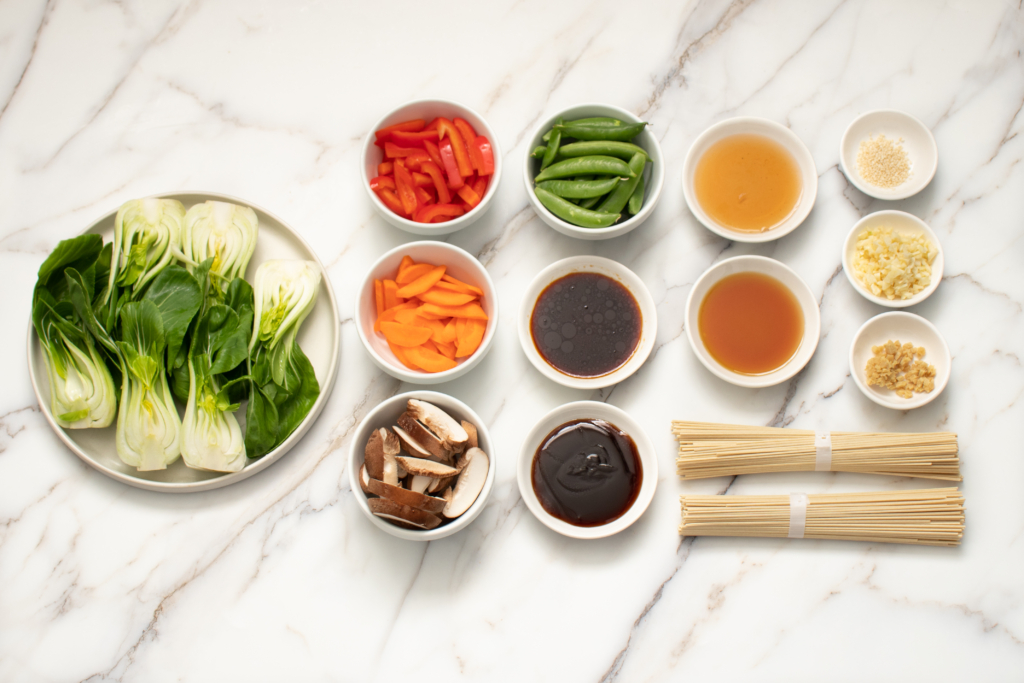 1) Place 6 oz lo mein noodles in the Suvie strainer insert, place strainer insert into the Suvie pasta pot (green handles), and place the pot lid on top. Place the pasta pot inside the Suvie Starch Cooker on the hot plate, close the door, ensure drain tray is in place, and hit "Cook".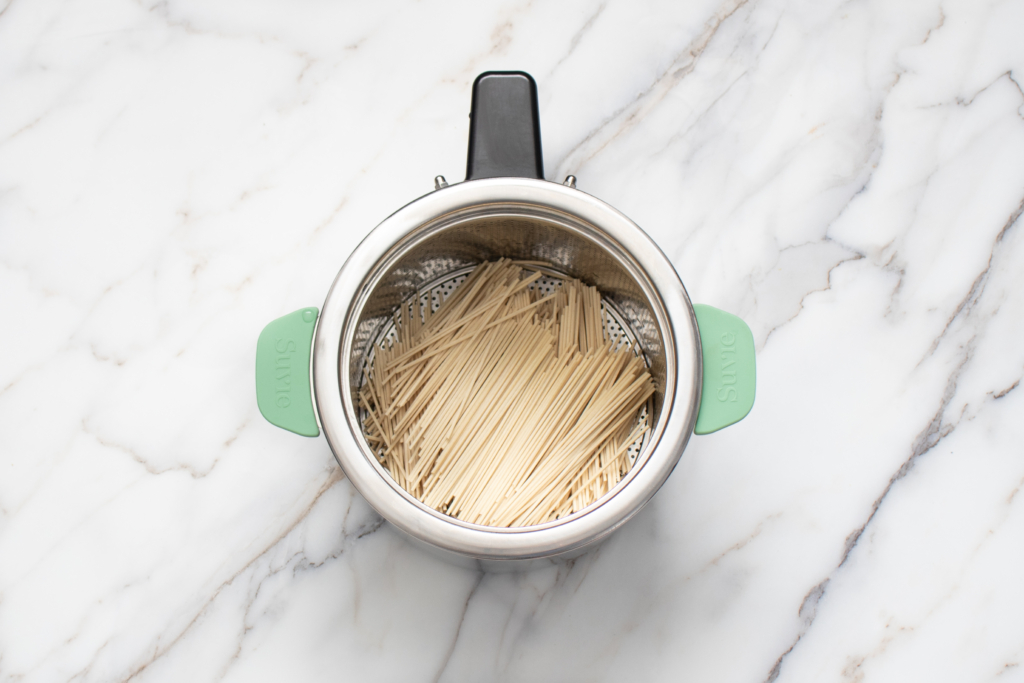 Suvie Starch Cooker Settings:
Pasta, 5 minutes (or longer if necessary, check packaging for cook time)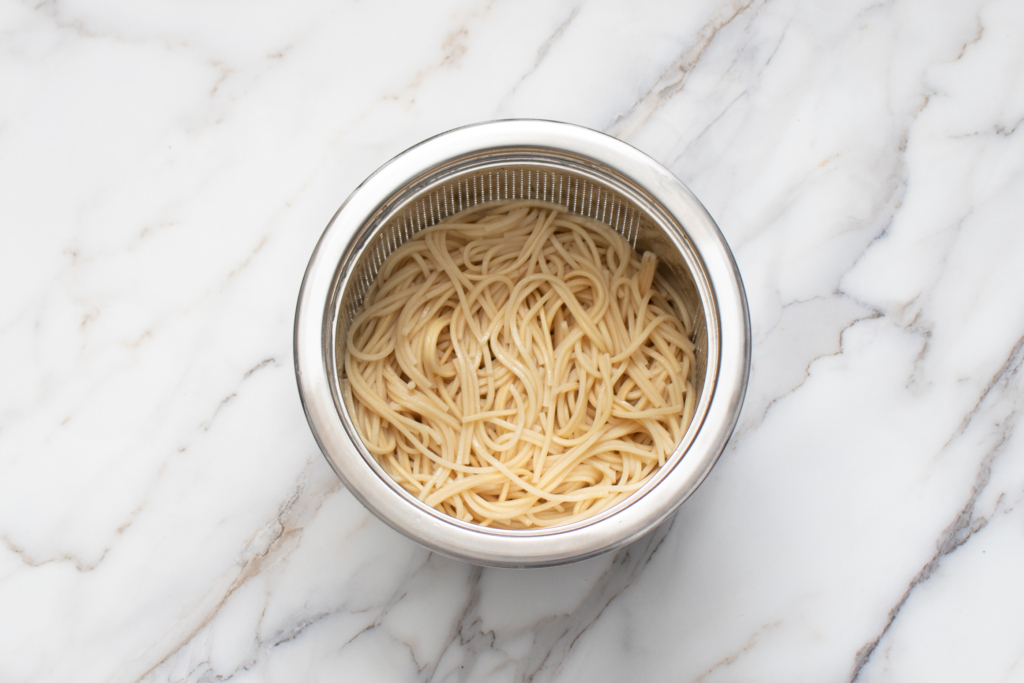 2. While the noodles are cooking, divide 2 tbsp rice wine, 3 minced garlic cloves, and 2 tsp ginger between two Suvie pans, and place in the top and bottom zones of your Suvie. Roast both zones at 375°F for 5 minutes.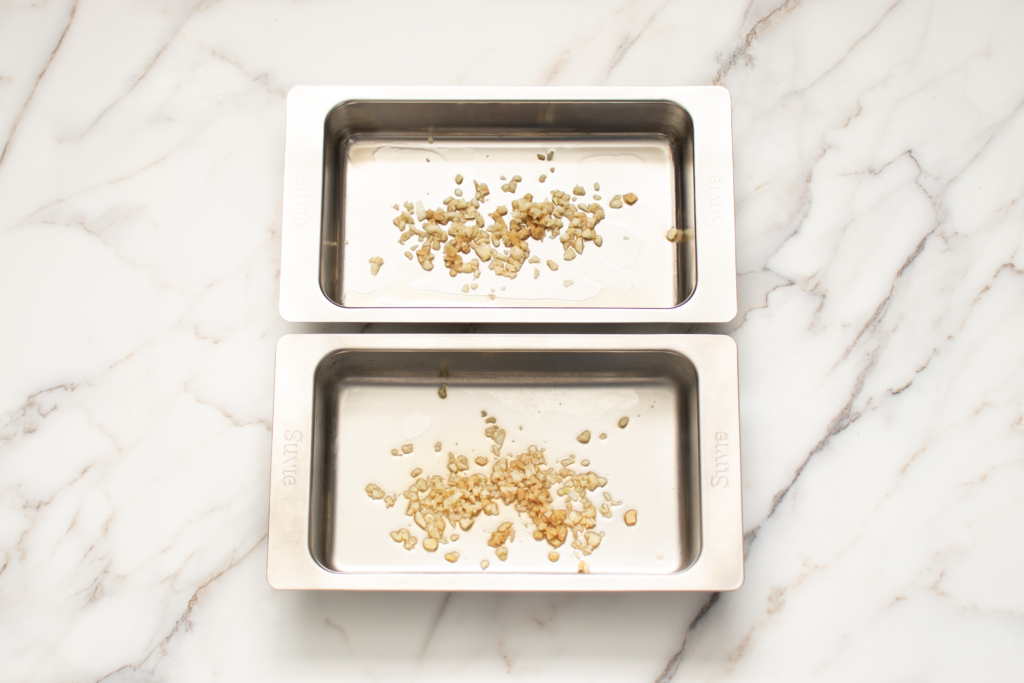 3. After the cook, remove the pans from your Suvie, and drizzle each with 1 tbsp sesame oil (2 tbsp total). Divide ½ cup bell pepper, 1 cup mushrooms, 1 cup snap peas, and 3 halved bok choy between the pans, and stir to combine with the garlic and ginger. Return the pans to your Suvie, input settings, and cook now.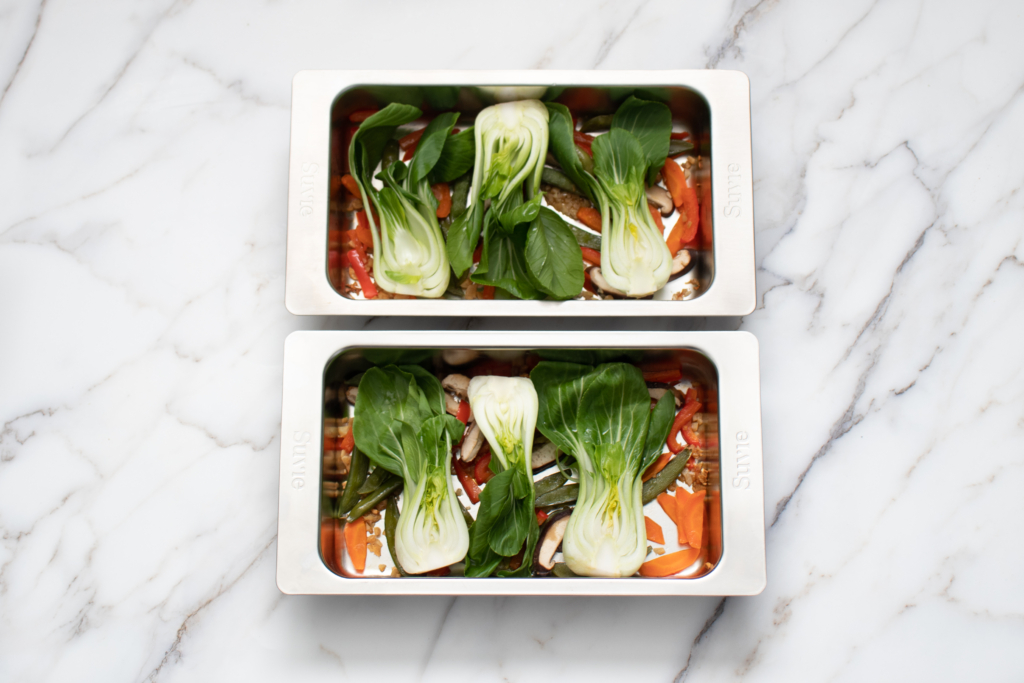 Suvie Cook Settings
Bottom Zone: Roast at 375°F for 15 minutes 
Top Zone: Roast at 375°F for 15 minutes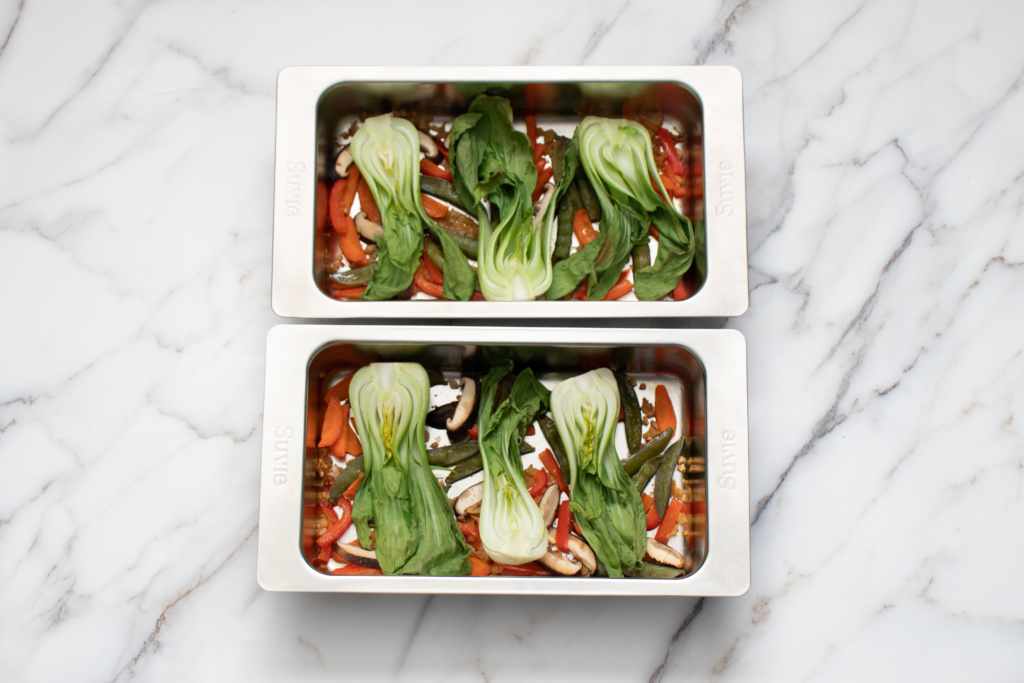 4. While the vegetables are roasting, place 2 tbsp soy sauce, 2 tbsp oyster sauce, and 1 tbsp sesame oil in a small bowl and whisk until blended.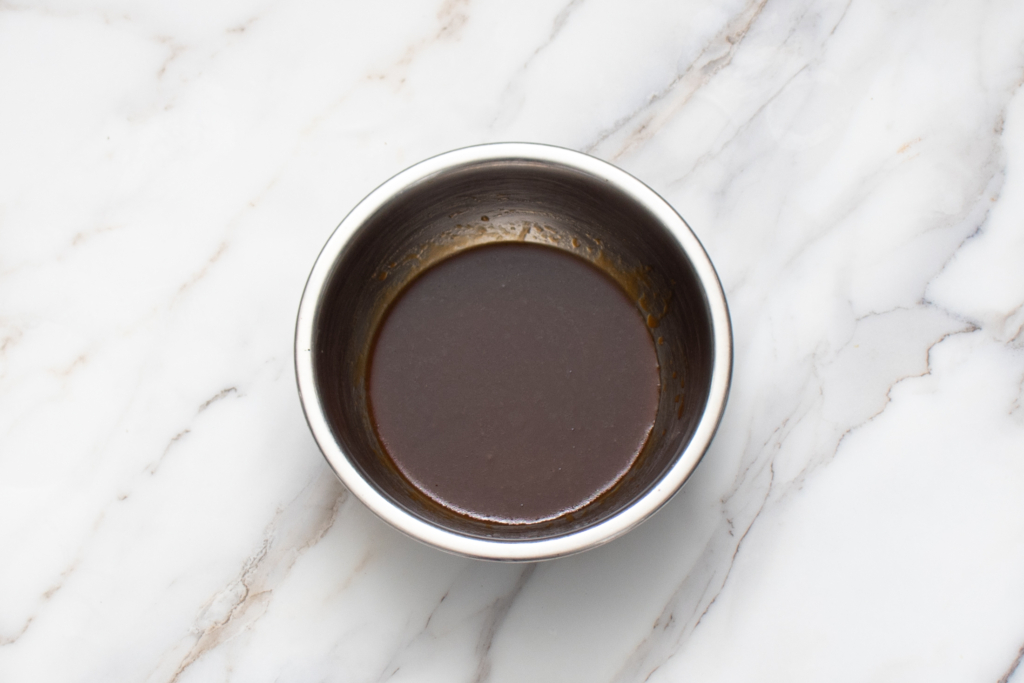 5. After the vegetables have cooked, remove the pans from your Suvie, and transfer the contents to a large bowl.
6. After the pasta has cooked, remove the strainer insert, thoroughly drain the noodles, and transfer to the bowl with the vegetables. Drizzle with sauce and toss to coat and combine.
7. Divide the lo mein between 2 bowls and sprinkle with ½ tsp sesame seeds before serving.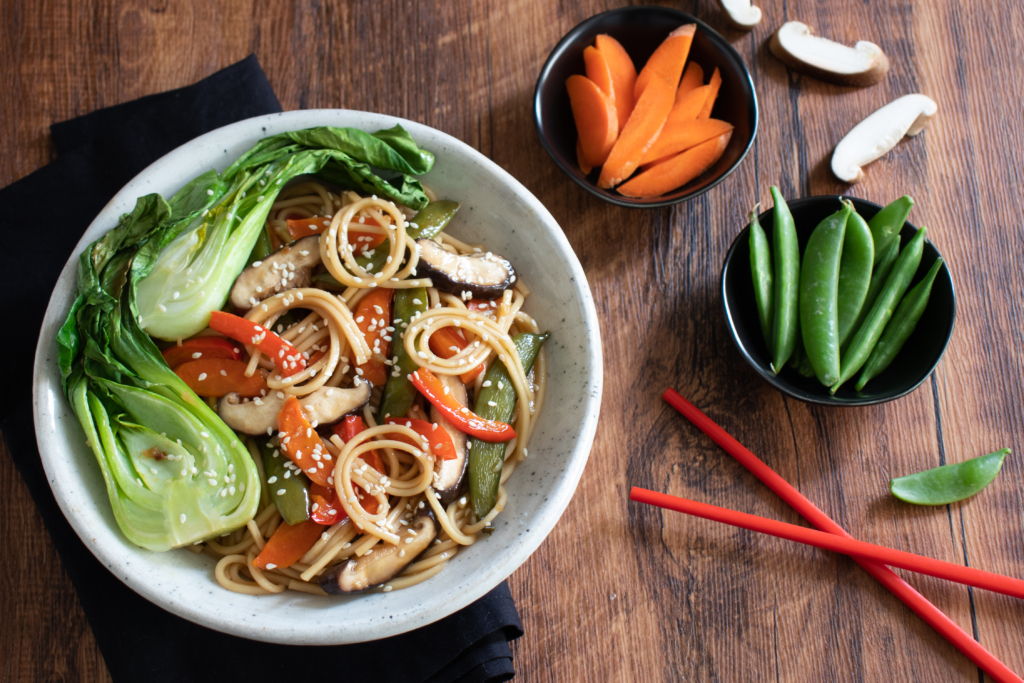 Nutrition
Nutritional Information per serving (2 servings per recipe): Calories 592, Total Fat 23g, Total Carbohydrates 82g, Total Sodium 1062mg, Total Protein 17g.