This yellow chicken curry is mild, yet packed with sweet, savory, and sour elements. Creamy coconut milk is the ideal base for this rich and delicious curry because it can stand up to the pungent flavors of fish sauce, lime, and curry paste, while also imparting its own tropical, coconut vibe to the dish. We like using yellow or massaman curry paste for a flavorful curry that isn't too spicy. For those who would like to increase the heat we recommend serving with sambal oelek or sriracha.
Note: This recipe requires Suvie 2.0 and the Suvie Starch Cooker. To prepare this dish in Suvie 1.0, set the rice to cook for 15 minutes in Step 4. Follow remaining instructions as directed.
Yellow Chicken Curry
Please always check your food to ensure your food has been cooked to safe serving temperatures. Please see our guide
here
for recommended FDA Time & Temperatures.
Servings: 4
Difficulty: 2 hours and 50 minutes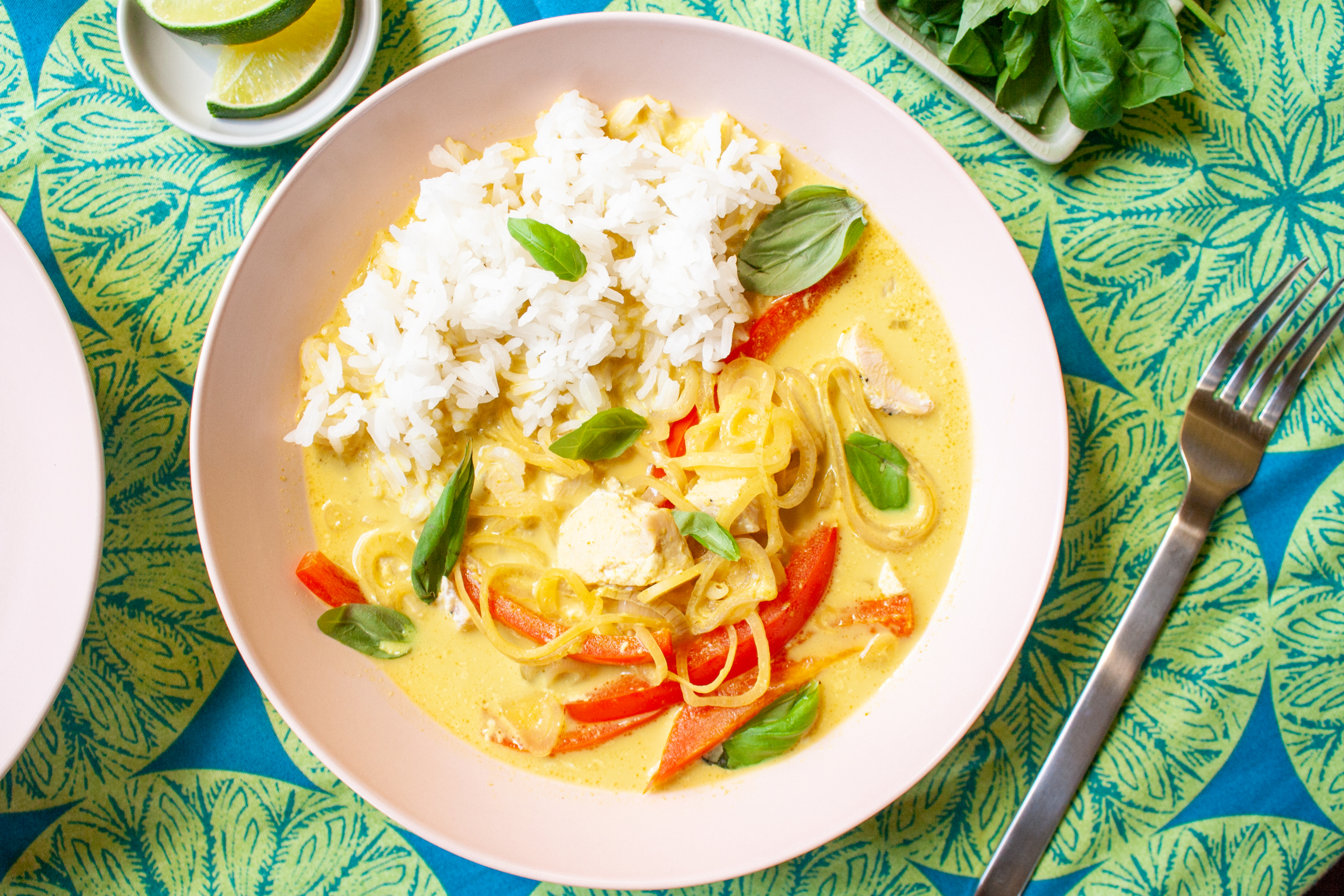 Ingredients
2 large shallots, peeled and thinly sliced
1 red bell pepper, stemmed, seeded, and thinly sliced
2 tsp vegetable oil
1 1/4 lbs boneless skinless chicken breast, vacuum sealed
2 tbsp yellow curry paste or massaman curry paste
2 (14 oz) cans coconut milk
2 tbsp fish sauce or soy sauce
1 tbsp brown sugar
1 tbsp fresh lime juice
1 cup jasmine rice
¼ cup chopped Thai or Genovese basil
Directions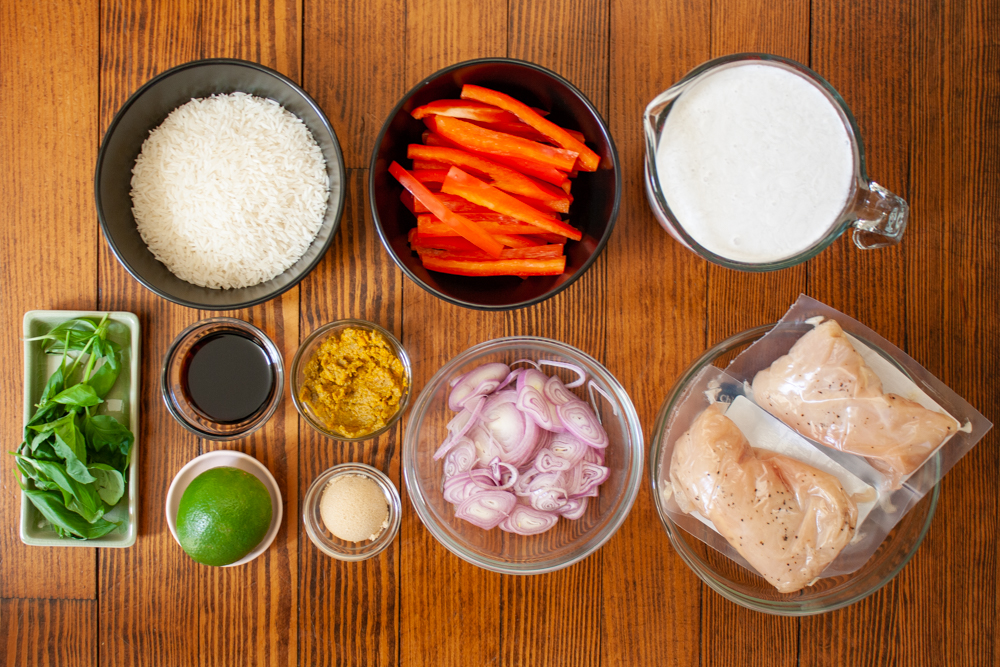 1. In a Suvie pan, stir together 2 shallots, 1 red bell pepper, and 2 tsp vegetable oil.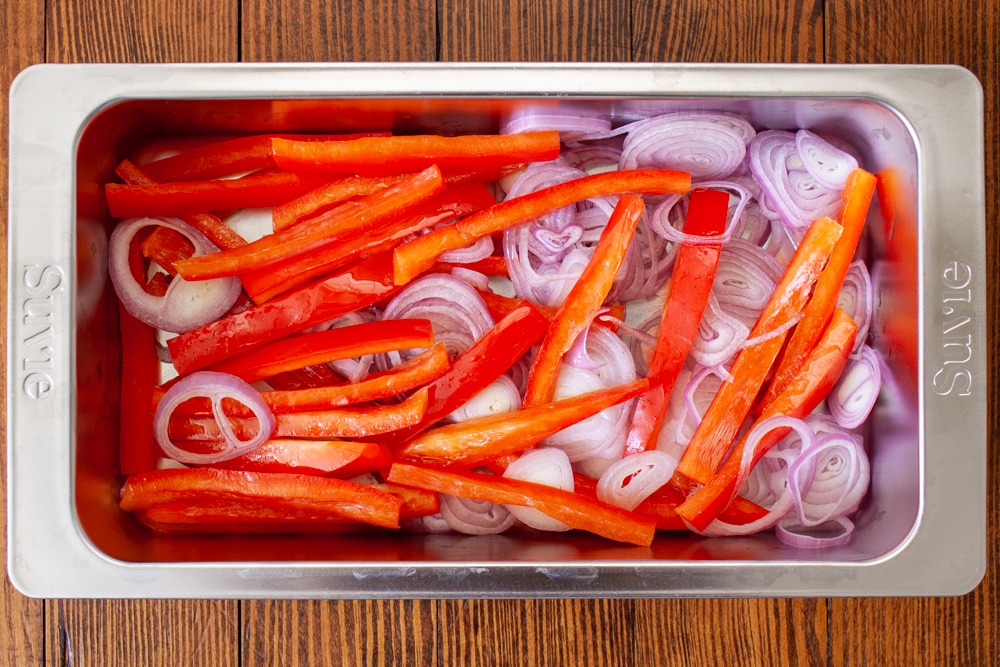 2. Insert pan into the top zone of your Suvie and broil for 20 minutes, stirring halfway through cooking.
3. While the vegetables broil, whisk together the 2 tbsp curry paste, 2 cans coconut milk, 2 tbsp fish sauce, and 1 tbsp brown sugar in a medium bowl until the sugar has dissolved.
4. Remove vegetables from your Suvie and add the coconut milk mixture, stirring to combine. Return pan to your Suvie. Place chicken in a second Suvie pan, cover with water, and insert into the bottom of your Suvie. Input settings below, and cook now or schedule. Place rice in the Suvie rice pot. Insert pot into the Suvie Starch Cooker, input settings for long grain rice, fill reservoir, and schedule.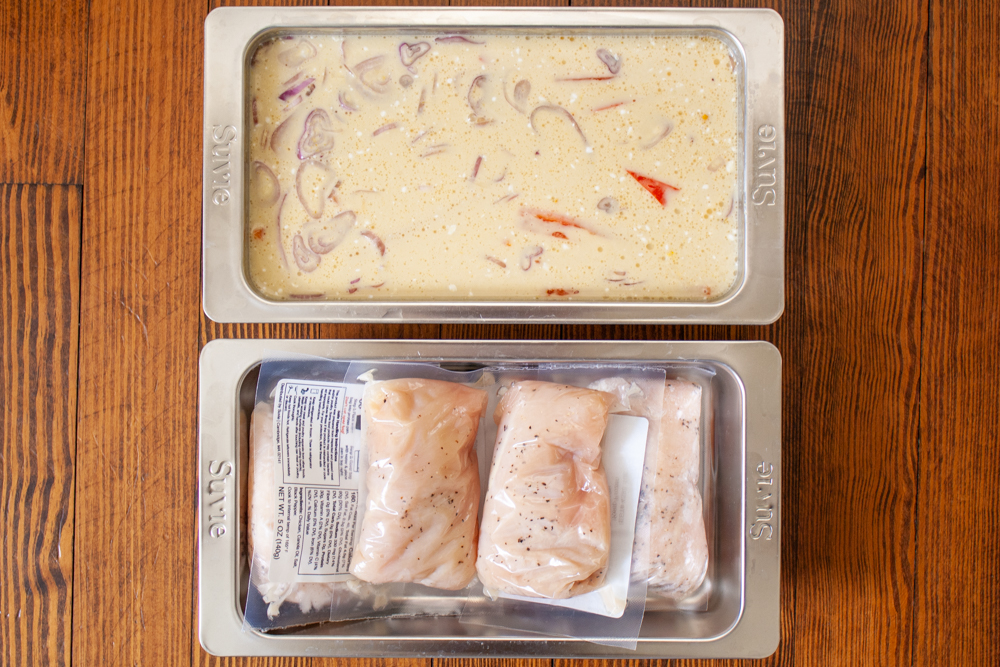 Suvie Cook Settings
Bottom Zone: Sous Vide at 160°F for 1 hour
Top Zone: Sous Vide at 160°F for 1 hour
5. After the chicken has finished cooking, remove all pans from your Suvie. Remove chicken from packaging, cut into bite-size pieces and stir into the coconut mixture. Season coconut mixture to taste with salt and pepper.
6. Fluff rice with a fork and season with salt to taste. Add lime juice to chicken, stirring to incorporate. Divide rice and curry between bowls, garnishing with basil.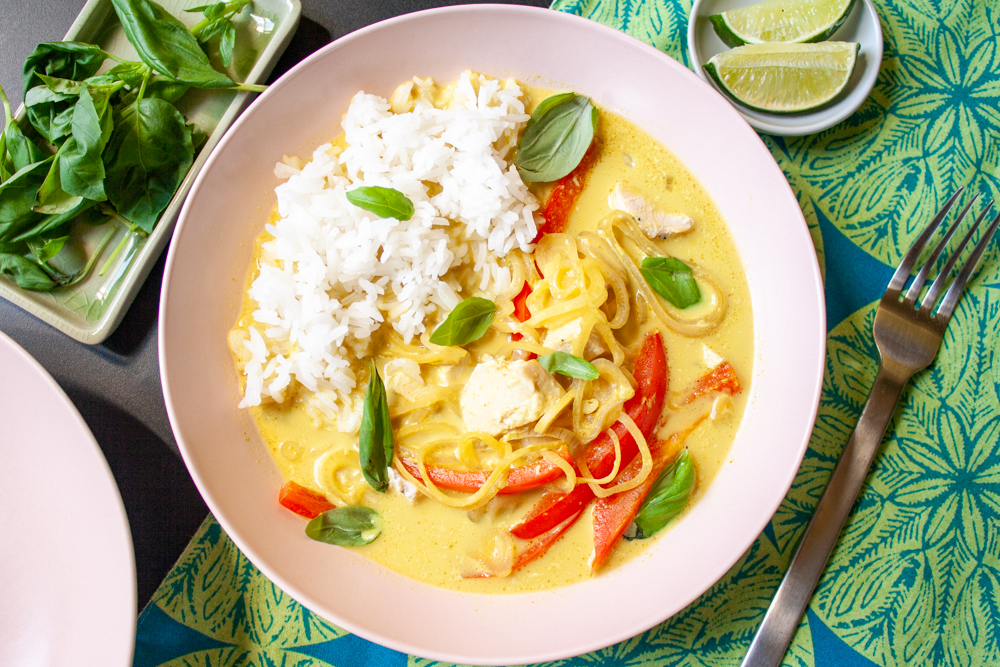 Nutrition
Nutritional Information per serving (4 servings per recipe): Calories 469, Total Fat 20g, Total Carbohydrates 20g, Total Sodium 945mg, Total Protein 49g