Barbacoa is a dish found throughout southern Texas and Mexico, but originally comes from the Arawak and Taíno people of the Caribbean. Generally, this dish consists of meat that has been slow cooked for a long period of time. There are a variety of ingredients and methods for preparing barbacoa, but because this recipe is part of an exploration of Texas barbecue, our version more closely resembles the barbacoa found in the lone star state. Traditionally, barbacoa would be made with parts from the heads of cattle, but we've chosen beef chuck because it is easy to find and simple to prepare. Serve your barbacoa tucked into tortillas with cilantro and chopped onion for the most delicious tacos.
Note: If you would like to schedule this meal, but do not want to wait for the broiler to cool before refrigerating, sauté the onion, garlic, cumin, vegetable oil, 2 tsp salt, and 1 tsp black pepper in a large skillet over high heat until browned, about 9 minutes.
Barbacoa
Please always check your food to ensure your food has been cooked to safe serving temperatures. Please see our guide
here
for recommended FDA Time & Temperatures.
Servings: 6
Difficulty: 6 hours and 30 minutes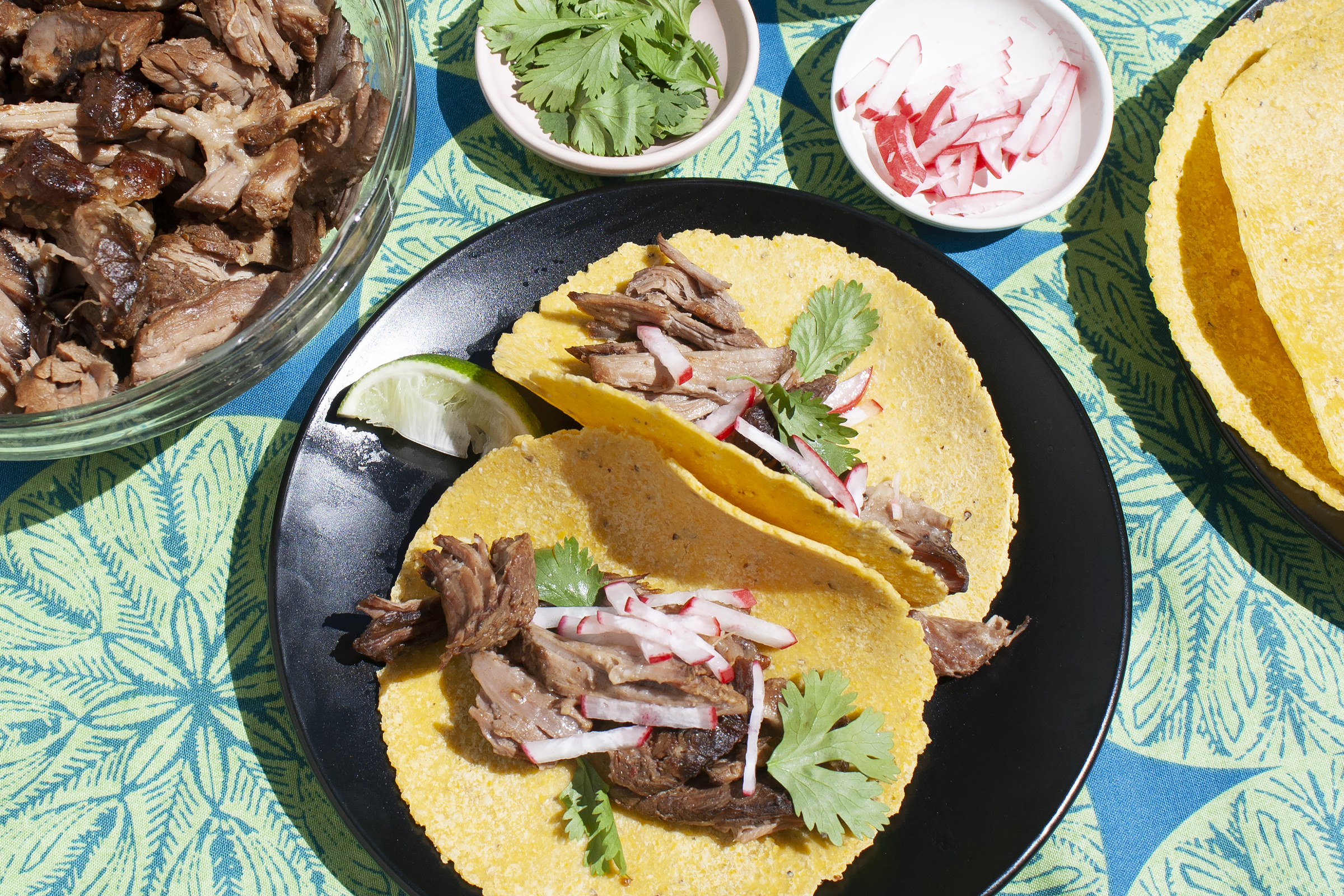 Ingredients
1 large onion, finely chopped
2 garlic cloves, minced
1 tsp cumin
2 tbsp vegetable oil, divided
2-3 lbs beef chuck eye roast or chuck roast, cut into 2-inch cubes
1 whole ancho chile, seeds and stem removed
1 whole guajillo chile, seeds and stem removed
2 cups chicken broth
1 chipotle in adobo, plus 1 tbsp adobo sauce
1 tsp oregano
2 bay leaves
Directions
1) In a Suvie pan, stir together onion, garlic, cumin, and 1 tbsp vegetable oil. Place pan into the bottom zone of Suvie and Roast at 400°F for 15 minutes, stirring onions halfway through.
2) Meanwhile, season beef with 2 tsp salt and 1 tsp black pepper. Heat 1 tbsp vegetable oil in a large heavy bottom skillet or cast iron pan until just smoking. Add the beef and sear for 1 minute on all sides until browned, about 6 minutes.
3) While the onions roast, toast the dried ancho and guajillo chiles. Place chiles on a microwave-safe plate and microwave for 40 seconds, flipping chiles over halfway through cooking. Alternatively, toast chiles in a dry skillet over medium-high heat, stirring constantly until charred and fragrant, about 4 minutes.
4) Transfer chiles to a blender with chicken broth, chipotle chile, adobo sauce, oregano, and onion mixture. Blend on high until smooth, about 1-2 minutes.
5) Transfer half the beef to the pan that previously held the onions and the other half to a clean, dry Suvie pan. Divide chile sauce and bay leaves between both pans. Insert pans into your Suvie, input settings, and cook now or schedule.
Suvie Cook Settings
Bottom Zone: Slow Cook Low for 6 hours
6) Remove pans from Suvie. Transfer meat to a cutting board or bowl and shred.
7) Add a little pan liquid to the meat to reach desired consistency and season to taste with salt and pepper. Serve barbacoa with tortillas, salsa, limes, and cilantro.
Nutrition
Nutritional Information per serving (6 servings per recipe): Calories 340, Total Fat 20g, Total Carbohydrates 3g, Total Sodium 930mg, Total Protein 40g