This classic All-American meal is perfect for a Fourth of July family get together before the fireworks start. Juicy, tender baby back ribs are coated with a mouthwatering rub then slathered with BBQ sauce (click here for our three favorites). Bacony baked beans, fresh corn, and tangy coleslaw accompany the ribs, leaving you wondering if you should just make this meal every week while the warm weather lasts.
BBQ Pork Ribs, Beans, Corn, and Coleslaw
Please always check your food to ensure your food has been cooked to safe serving temperatures. Please see our guide
here
for recommended FDA Time & Temperatures.
Servings: 4
Difficulty: 5 hours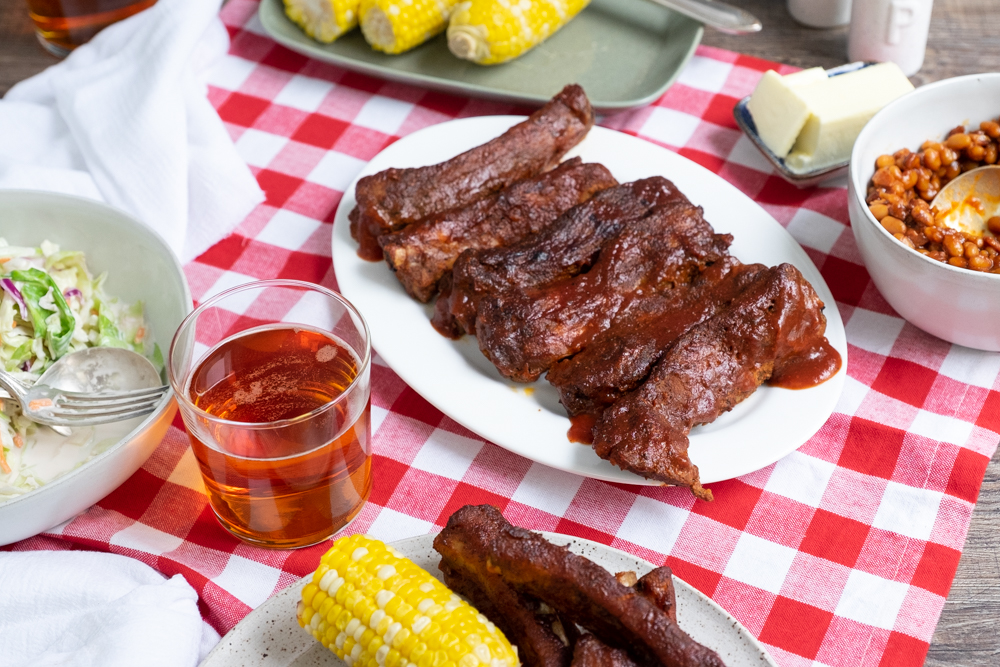 Ingredients
3 slices bacon, diced
½ small yellow onion, finely chopped
¼ cup brown sugar, plus 2 tbsp, divided
4 tsp paprika
1 ½ tsp chili powder
1 tsp dry mustard
1 tsp oregano
1 tsp garlic powder
½ tsp onion powder
1/2 cup BBQ sauce, plus 3/4 cup divided
2 lbs baby back pork ribs, cut to fit in a Suvie pan
1 can navy beans, drained and rinsed
2 tbsp molasses
2 ears of corn, cut in half width-wise
¼ cup white wine or apple cider vinegar
1 tbsp granulated sugar
½ cup mayonnaise
1 (14 oz) bag of coleslaw mix
Directions
1) Combine 1 finely chopped onion and 3 pieces diced bacon in a Suvie pan. Broil for 10-15 minutes, or until the onion is soft and bacon fat is rendered.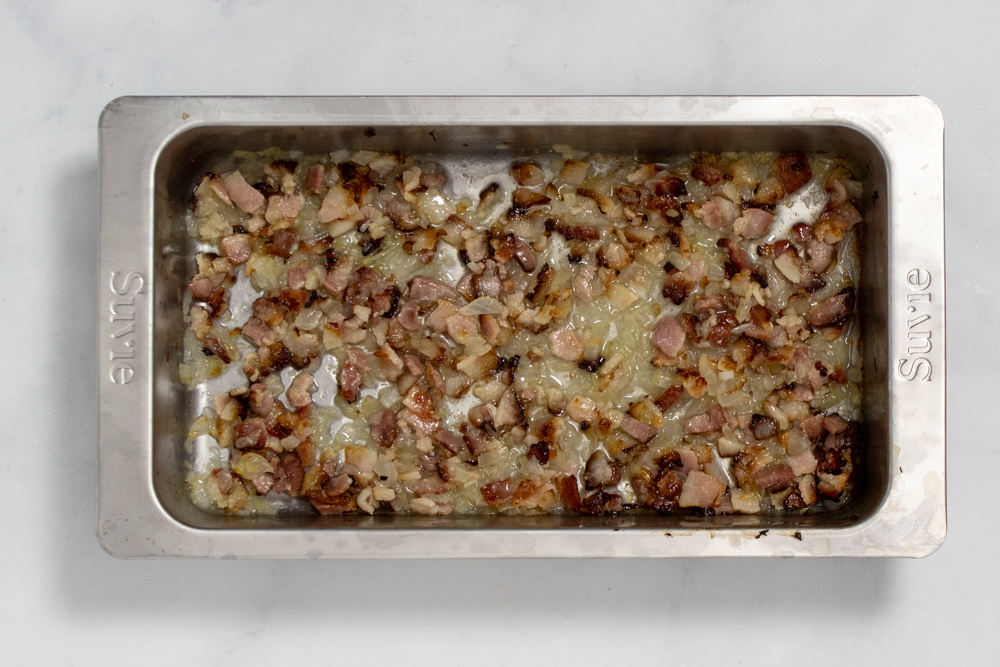 2) Meanwhile, mix together ¼ cup brown sugar, 4 tsp paprika, 1 1/2 tsp chili powder, 1 tsp salt, 1 tsp dry mustard, 1 tsp oregano, 1 tsp garlic powder, 1/2 tsp onion powder and ½ tsp ground pepper. Set aside 1 tbsp of rub for the beans.
3) Remove and discard membrane from pork ribs and trim any excess fat. Cut pork into individual ribs.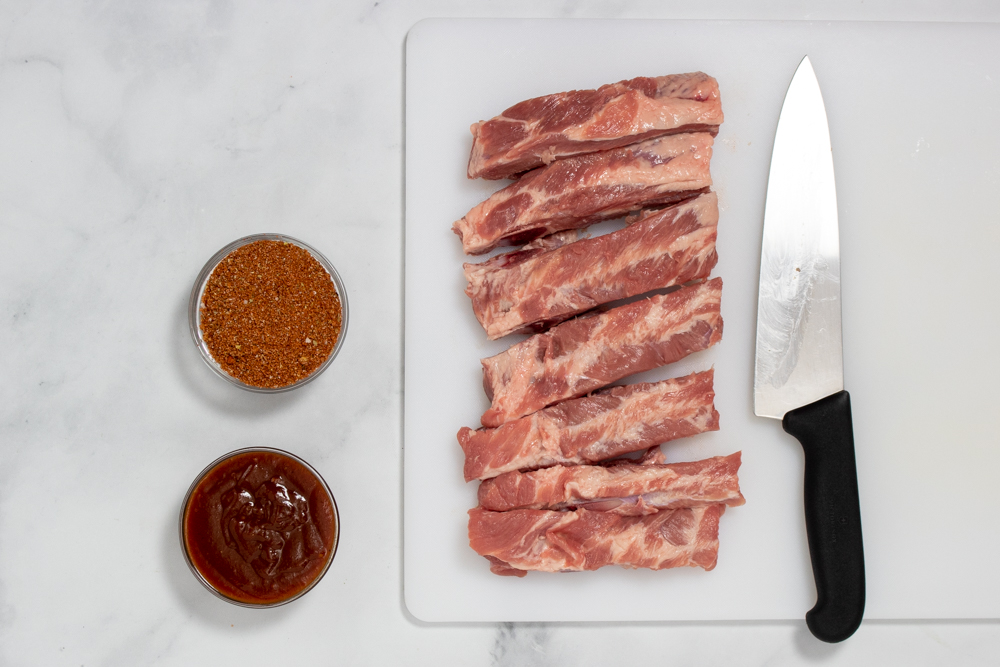 4) Season ribs all over with the spice rub (you should use all or almost all of the rub for a full rack).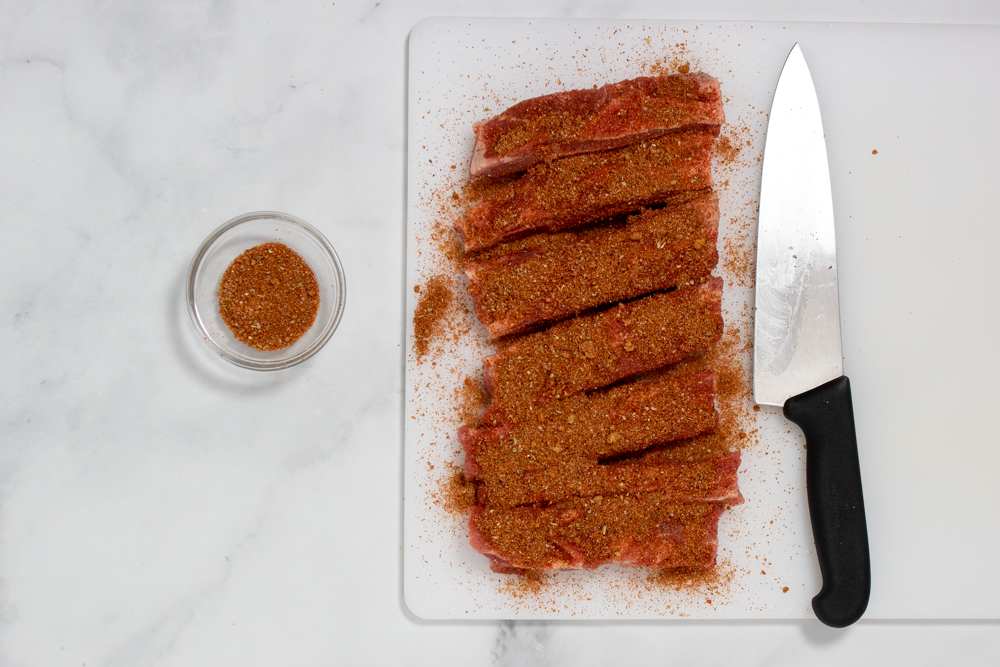 5) Place ribs in a Suvie pan and place in the bottom zone of Suvie.Remove onion-bacon mixture from Suvie. Drain off the fat and discard. Stir in 1 can navy beans, reserved 1 tbsp rib rub, 2 tbsp molasses, 2 tbsp brown sugar and ½ cup BBQ sauce. Place pan in the top zone of Suvie.
6) Input settings, schedule or cook immediately.
Suvie Cook Settings
Bottom Zone: Slow Cook Low for 4 hours
7) Place 2 ears corn in the Suvie starch strainer set within the Suvie pasta pot (green handles). Pour 1/4 cup water into the bottom of the pot. Cover with lid and place inside the Suvie Starch Cooker, ensuring pot is centered on the hot place. Input settings and cook now or schedule.
Suvie Starch Cooker Settings
Steam, 10 minutes
8) Meanwhile, in a large bowl, whisk together 1/4 cup vinegar and 1 tbsp granulated sugar until the sugar dissolves then whisk in 1 tsp salt, and 1/2 cup mayonnaise. Add 1 bag coleslaw mix, tossing to combine. Cover, and place in refrigerator until ready to serve.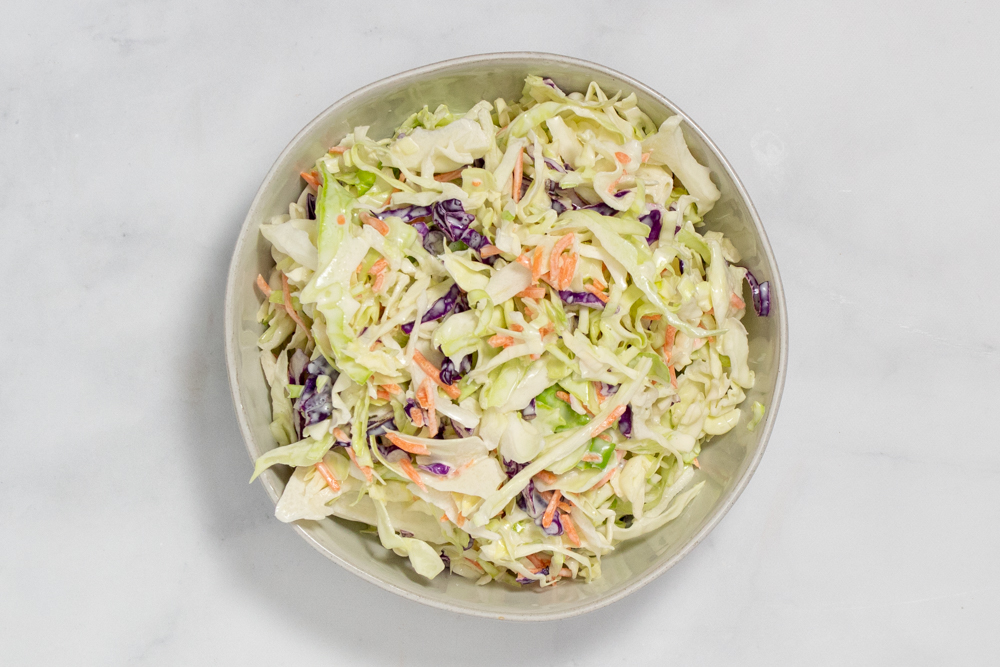 9) After the ribs have finished cooking, remove from pan and pat dry. Pour off excess liquid and dry pan. Return ribs to pan and brush ¾ cup BBQ sauce on all sides of the ribs.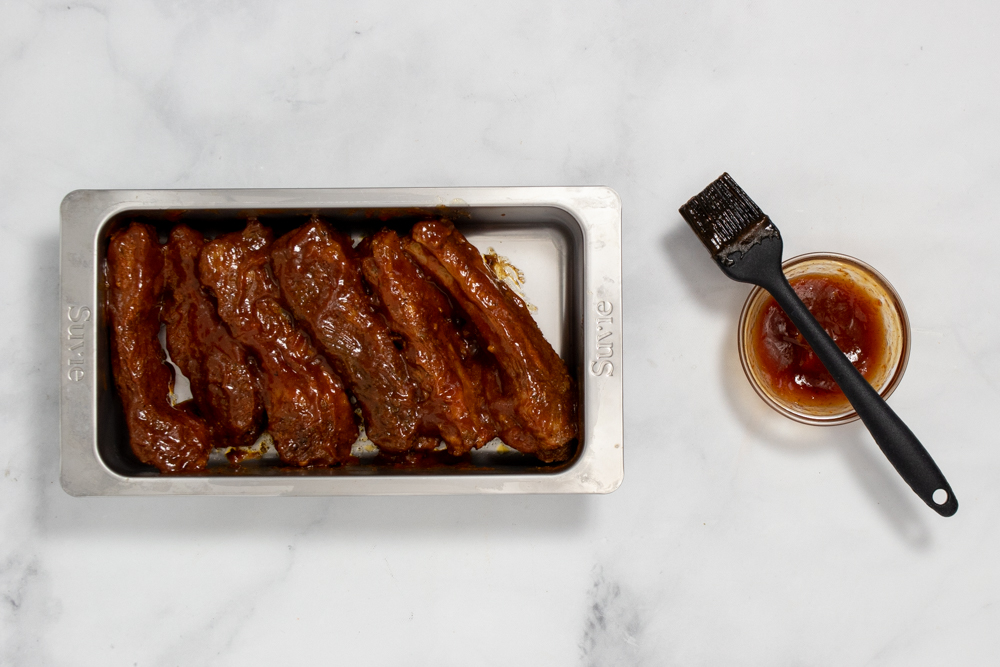 10) Return ribs to your Suvie and broil until browned on each side, about 10 minutes a side.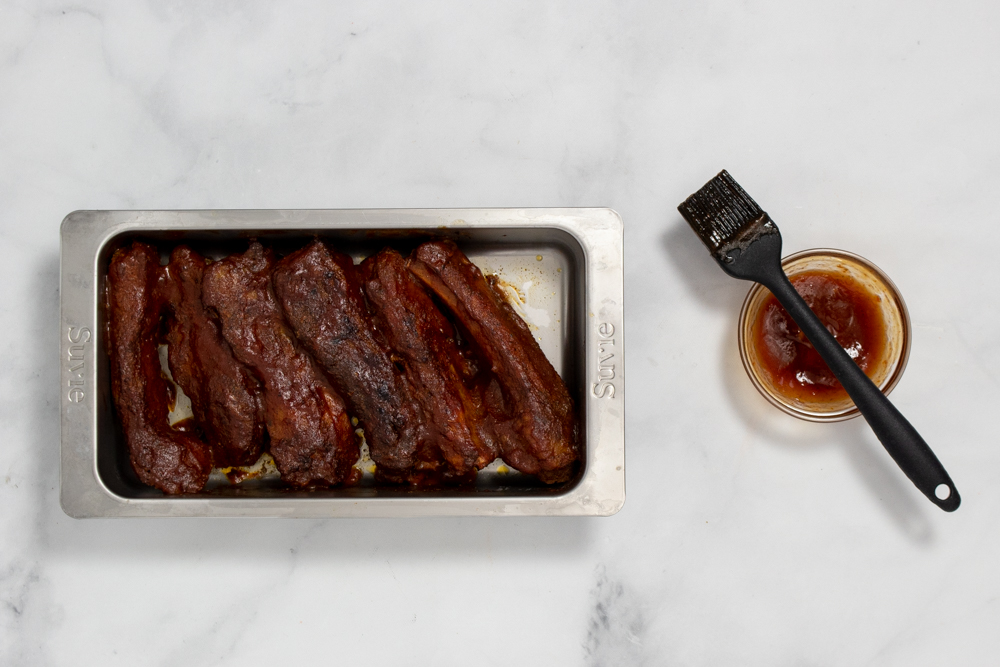 11) Slather corn with butter and salt to taste. Season coleslaw to taste with salt and pepper. Divide ribs, beans, corn, and coleslaw evenly between plates, spooning extra sauce over the ribs. Enjoy!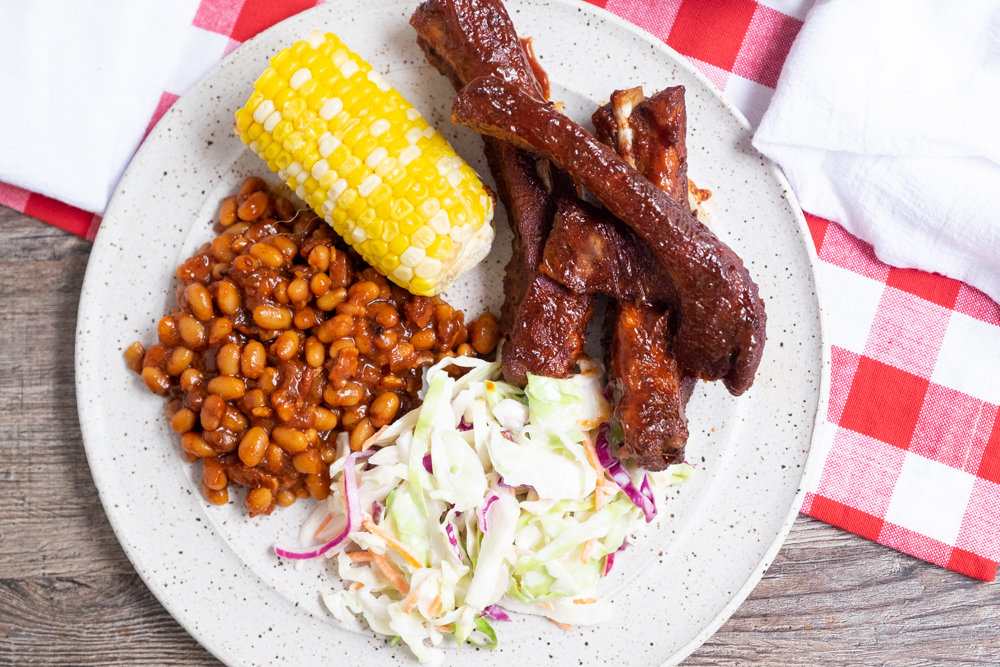 Wine Pairing
There are a number of wines that will pair well with these savory and sweet pork ribs. We recommend either Pinot Noir, Zinfandel, Grenache, or if you're feeling fun, bubbly Prosecco!