Borracho beans (frijoles borrachos in Spanish), or "drunken" beans, is a classic bean stew found on many Tex-Mex restaurant menus. Traditionally, the beans are slow-simmered in a super flavorful beer broth (hence the drunk) and served as a side dish with some corn tortillas for dipping and dunking. We wanted to bring this humble side dish into main entree territory as tostadas! Our borracho beans are still beer broth simmered, but instead of ladling and serving, we mash and spread the beans over crispy tortillas. We've listed some of our favorite tostada toppings but feel free to impart some topping improv with your version.
*Some like it hot, others might not. If you like your Tex-Mex mild, remove or reduce the jalapeños used in this recipe.
Borracho Black Bean Tostadas
Please always check your food to ensure your food has been cooked to safe serving temperatures. Please see our guide
here
for recommended FDA Time & Temperatures.
Servings: 4
Difficulty: 1 hour 30 minutes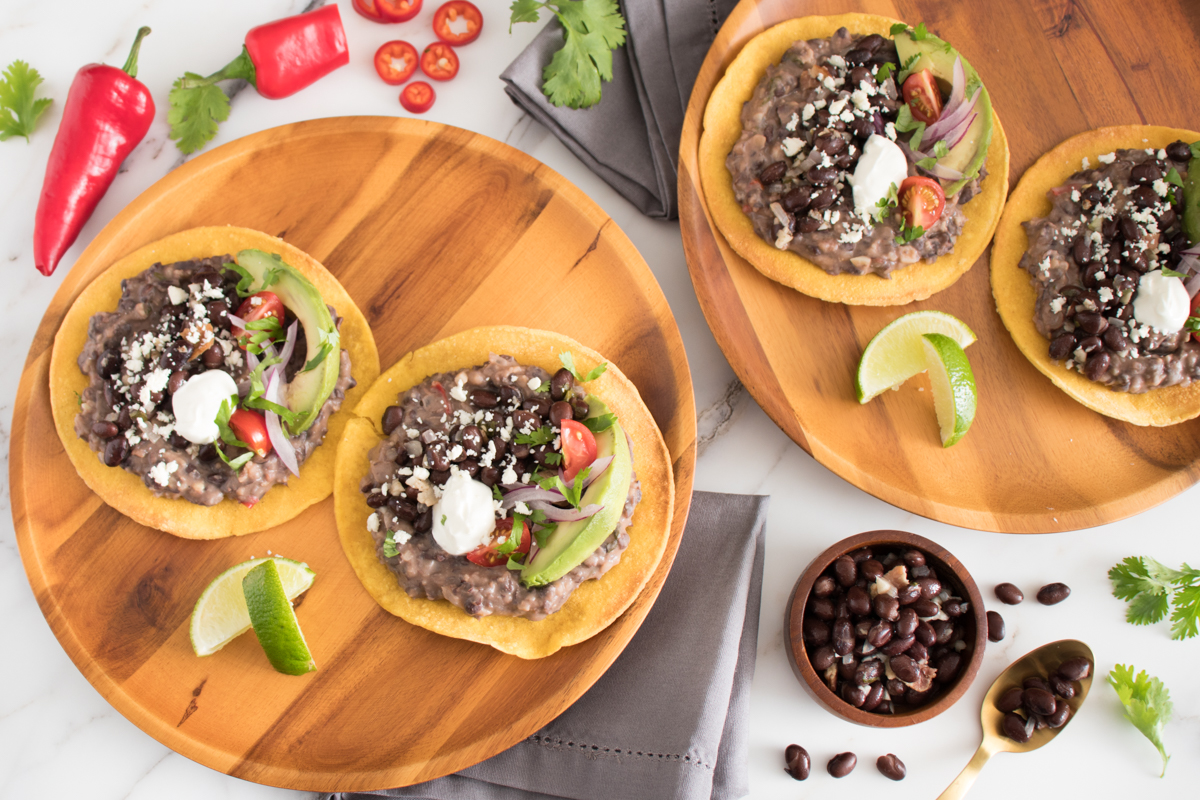 Ingredients
4 slices bacon, diced
2 (15.5 oz) cans black beans
½ cup diced red onions
1 red jalapeño, sliced (optional)
4 garlic cloves, peeled and minced
1 chicken bouillon cube
1 (12 oz) bottle of Mexican lager beer
2 tbsp chopped cilantro
½ tsp cumin
4-8 corn tortillas
1 tbsp olive oil
2 cups optional tostada toppings: lime wedges, sour cream, avocado slices, queso fresco crumbles, chopped cilantro, sliced red onion, and red jalapeño slices.
Directions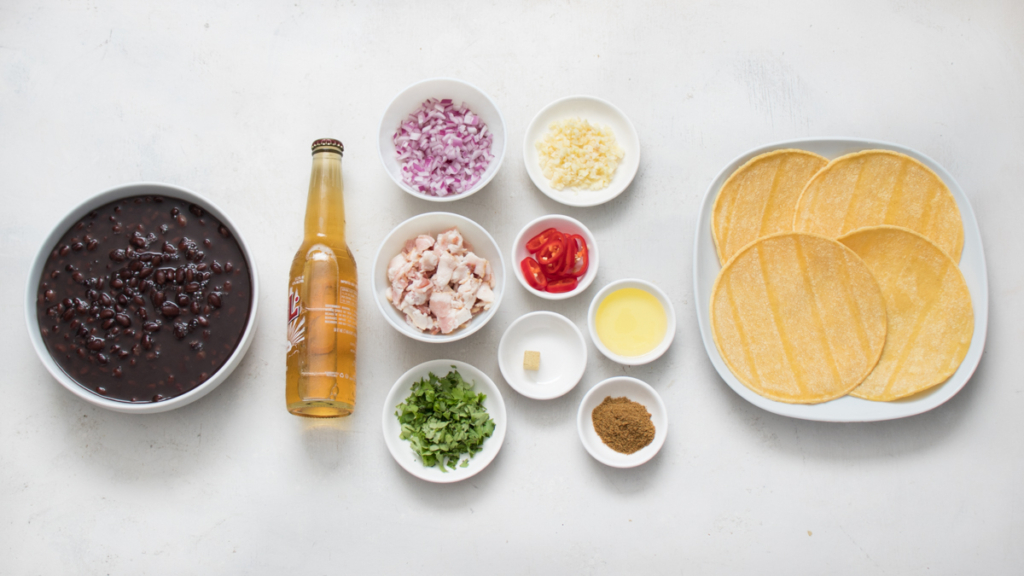 1) Place 4 slices of diced bacon in a Suvie pan and spread out in an even layer. Place the pan in the bottom zone of your Suvie and bake at 400°F for 10-12 minutes or until crisp. Remove the pan from your Suvie.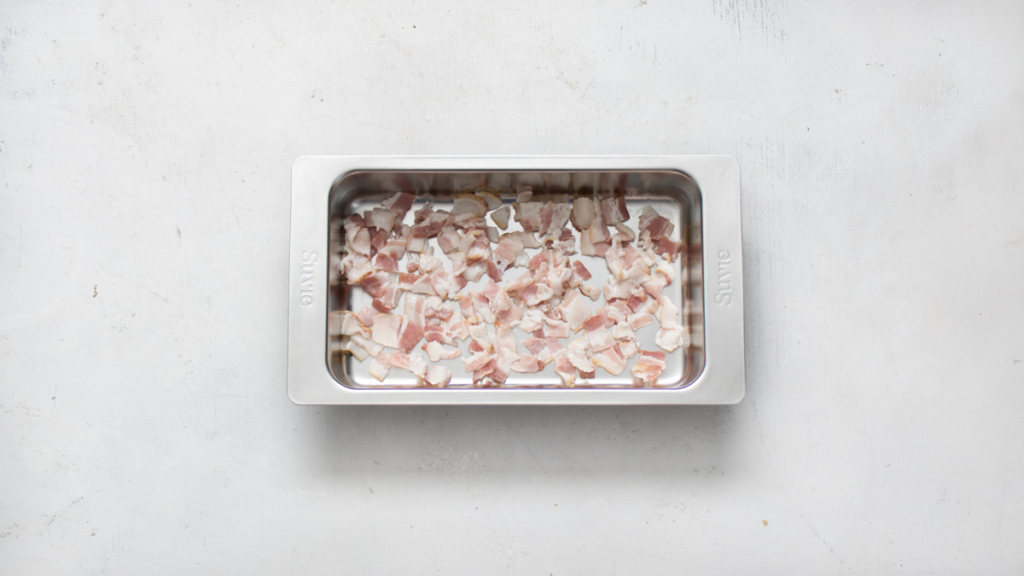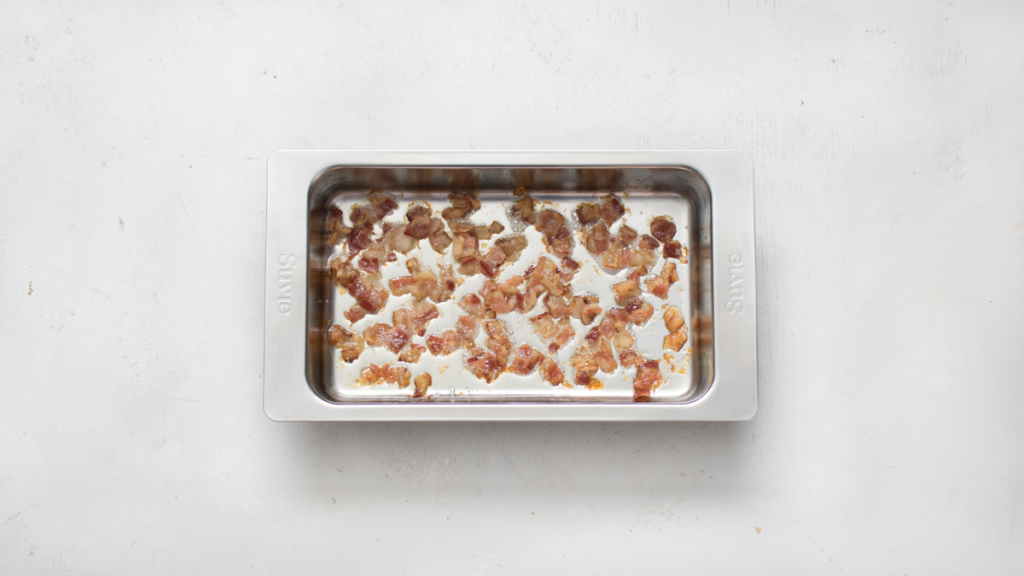 2) Place bacon, 2 cans of black beans (as well as the liquid in the cans), ½ cup red onion, 1 sliced jalapeño, 4 minced garlic cloves, 1 bouillon cube, 1 (12 oz) bottle beer, 2 tbsp cilantro, and ½ tsp cumin in a large bowl, and stir to combine.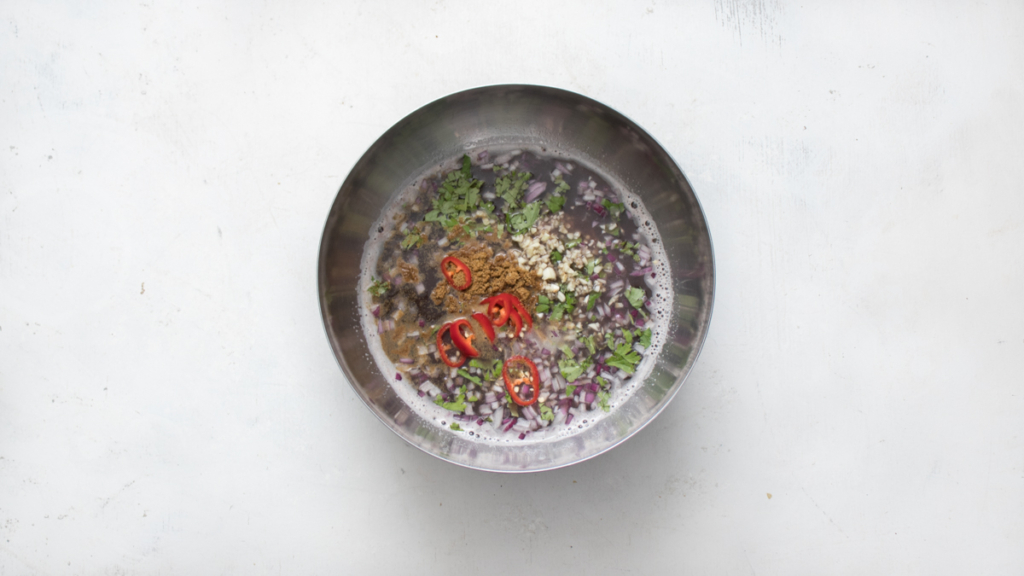 3) Transfer the bean mixture back to the Suvie pan and place the pan in the bottom zone of your Suvie. Input settings and cook now.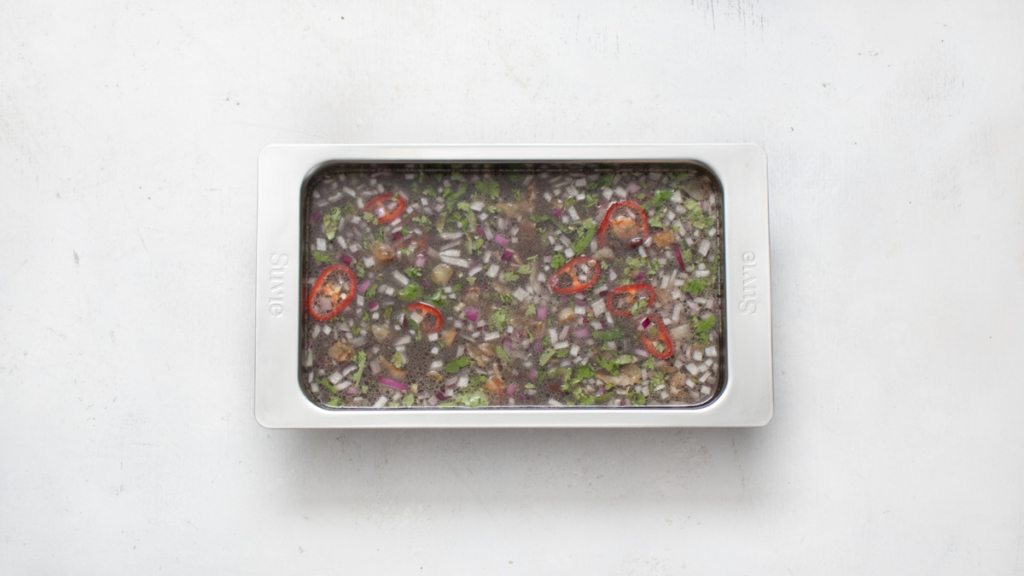 Suvie Cook Settings
Bottom Zone: Roast at 400°F for 1 hour
Top Zone: None
4) After the cook, remove the pan from your Suvie. Using a slotted spoon, transfer the beans to a large bowl, reserving about 1 cup of beans to use as garnish. Discard the cooking liquid. Using a potato masher or fork, mash the beans into a paste, and season to taste with salt and pepper.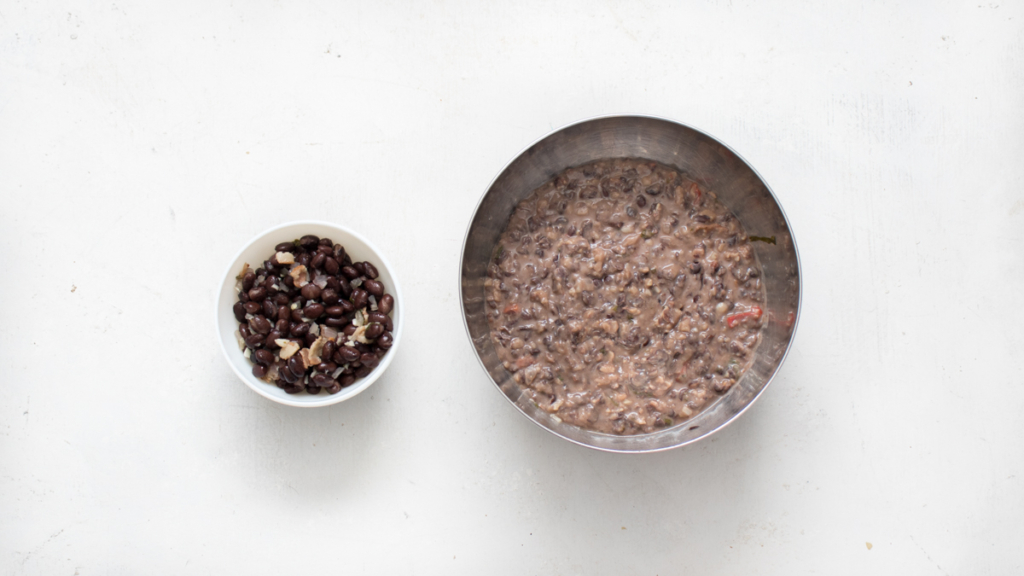 5) Wipe your Suvie pan clean with a towel. Brush 4-8 tortillas with olive oil and divide between two pans (working in batches of 4 if necessary). Place the pans in the top and bottom zones of your Suvie and bake at 400°F for 8-10 minutes or until crisp.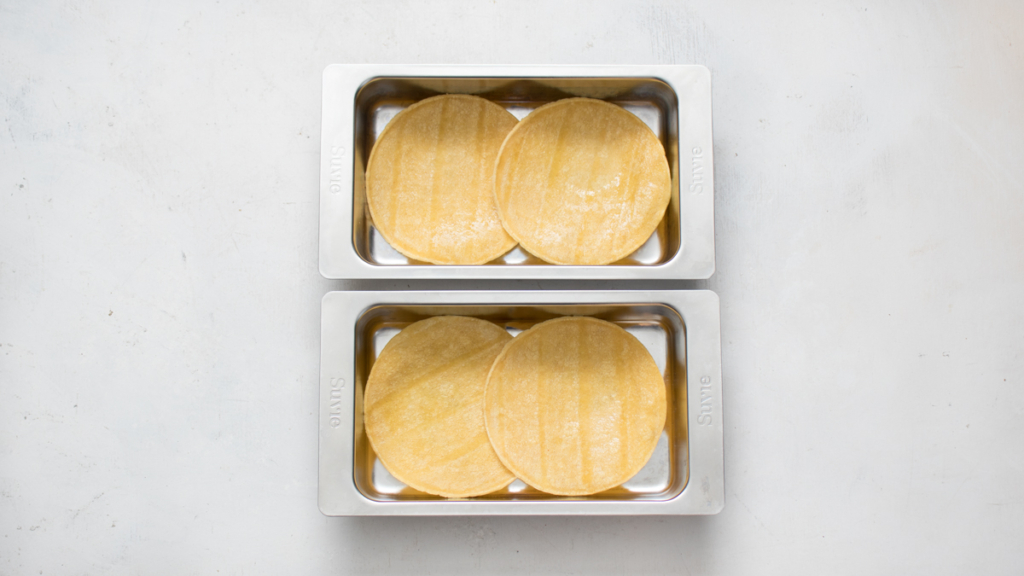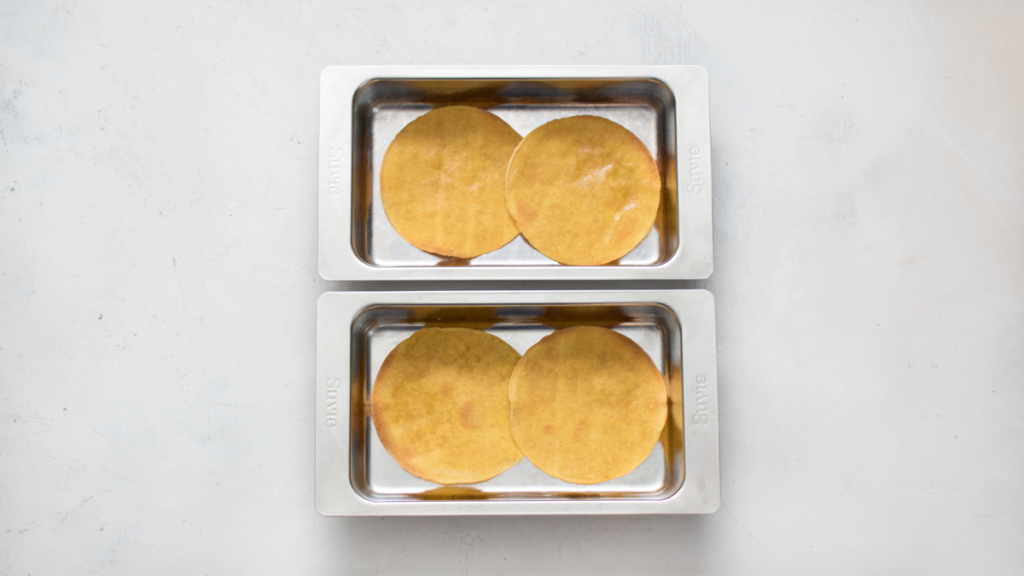 6) Divide bean mash between the tortillas, spread in an even layer, and divide between 4 plates. Top tostadas with reserved beans and some of your favorite tostada toppings before serving.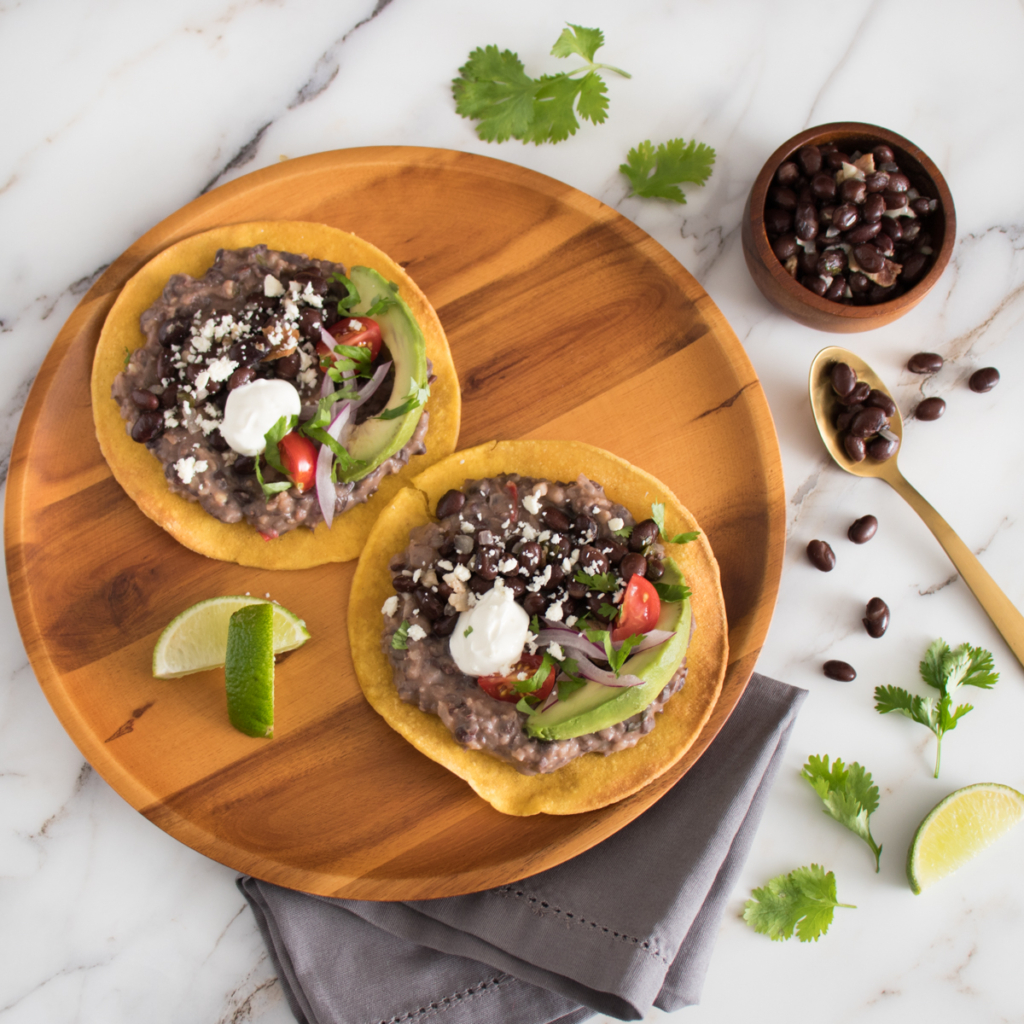 Nutrition
Nutritional Information per serving (4 servings per recipe): Calories 388, Total Fat 14g, Total Carbohydrates 45g, Total Sodium 629mg, Total Protein 18g.