Carne Guisada, which translates to "stewed meat" in Spanish, is any type of slowly simmered dish. In Texas, where cattle is king, this typically means an aromatic stew with beef. There are many iterations of carne guisada even within Texas. Our version has a fair amount of liquid, the meat is cubed, and the overall flavor profile is smoky and warming, but not spicy. This dish may seem simple at first glance, but it is loaded with flavor. This dish is so flavorful we really believe you only need to serve this with a few flour tortillas to let the meat shine. If you want to round out your meal, however, a side of rice or refried beans would be a good place to start.
Note: If you would like to schedule this cook but do not want to wait for the broiler to cool before refrigerating, sauté the beef, vegetable oil, onion, jalapeño, Serrano, garlic, cumin, and chili powder in a large skillet over high heat until browned, about 6 minutes, instead of broiling.
Carne Guisada
Please always check your food to ensure your food has been cooked to safe serving temperatures. Please see our guide
here
for recommended FDA Time & Temperatures.
Servings: 4
Difficulty: 6 hours and 30 minutes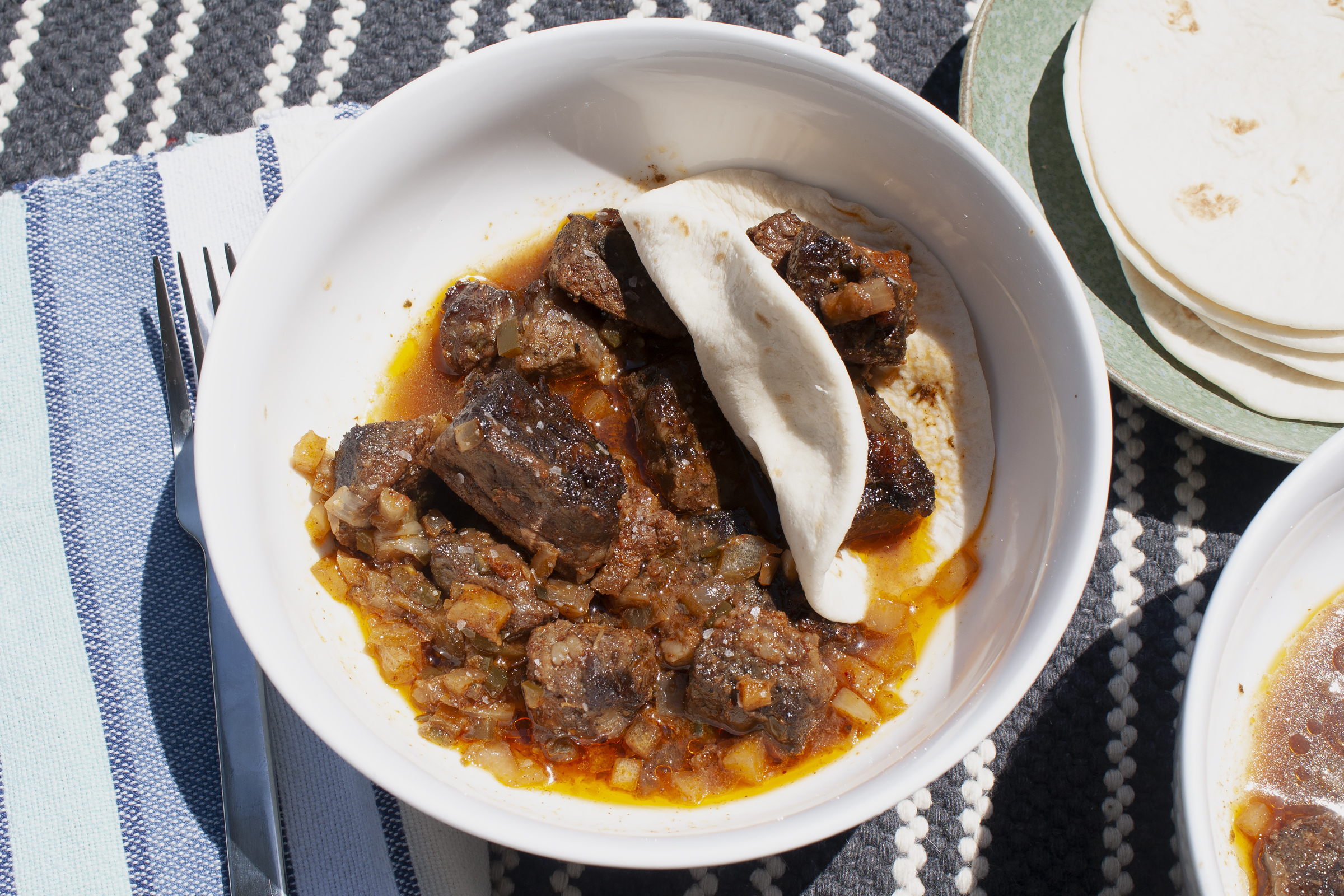 Ingredients
2 lbs chuck roast or bottom round beef
1 tbsp lard or vegetable oil
1 small onion, diced
1 jalapeño, seeded and diced
1 serrano chile
3 cloves garlic, minced
2 tsp cumin
2 tsp chili powder
1 tsp dried oregano
1 tbsp tomato paste
1 ½ cups water
4-6 flour tortillas, for serving
Directions
1) Cut beef into 1-inch cubes. Toss beef, vegetable oil, onion, jalapeno, serrano, garlic, cumin, chili powder, oregano, and 1 tsp salt together in a large bowl and then divide between two Suvie pans.
2) Broil both pans for 10 minutes.
3) Remove pans from your Suvie. Divide tomato paste, and water, between both pans. Insert pans into your Suvie, input settings, and cook now or schedule.
Suvie Cook Settings
Bottom Zone: Slow Cook Low for 6 hours
4) Remove pans from your Suvie. Skim and discard fat from the surface of the pan. Season to taste with salt and pepper. Serve with tortillas.
Note: If you would like to make this recipe in Suvie 1.0, insert pans into the top zones of Suvie, fill reservoir, and set to Slow Cook on Low for 6 hours.
Nutrition
Nutritional Information per serving (4 servings per recipe) without tortillas: Calories 497, Total Fat 31g, Total Carbohydrates 6g, Total Sodium 586mg, Total Protein 47g