One of the most iconic, regional sandwiches in the country is the Chicago Italian beef sandwich. Perfectly cooked, medium-rare roast beef is thinly sliced and doused in rich beef broth. A classic seasoning of Italian herbs, onion, garlic, salt, and celery is generously rubbed over the roast before cooking. Giardiniera pickles (a vinegary combination of celery, carrots, and red peppers) and green bell peppers add a nice punchy bite to this delicious sandwich.
Chicago Italian Beef Sandwiches
Please always check your food to ensure your food has been cooked to safe serving temperatures. Please see our guide
here
for recommended FDA Time & Temperatures.
Servings: 4
Difficulty: 2 hours 30 minutes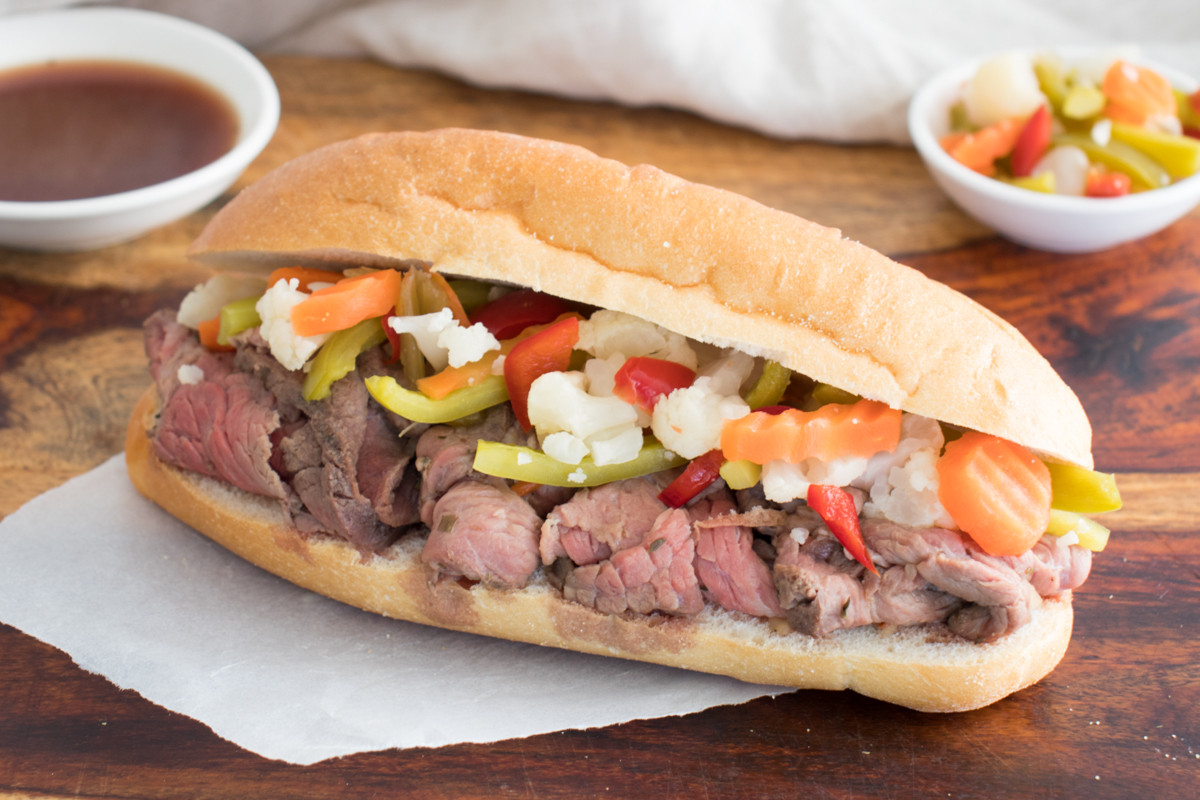 Ingredients
1½ – 2 lbs beef top round or rump roast
1 tsp Italian seasoning
1 tsp dried minced onion
1 tsp dried minced garlic
½ tsp salt
¼ tsp celery seeds
2 cups beef broth
1 cup chopped giardiniera pickles
1 green bell pepper, seeded and sliced
4 hoagie or french rolls, split
Directions
1) Pat the roast dry with paper towels and season, on all sides, with Italian seasoning, minced onion, minced garlic, salt, and celery seeds. Vacuum seal roast using a vacuum sealer or with our DIY vacuum sealing guide. Place sealed roast in a Suvie pan and fill halfway with water.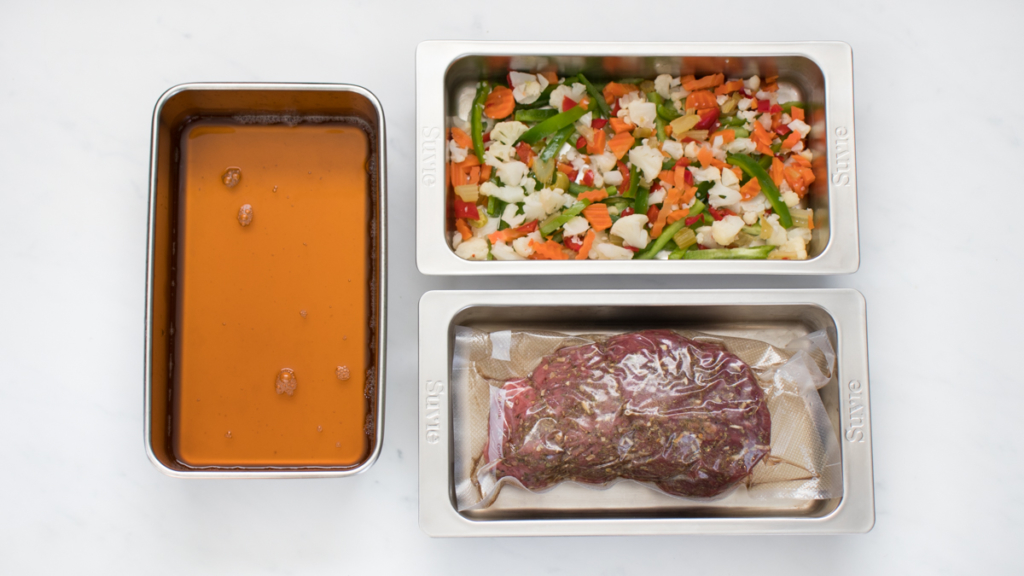 2) Place beef broth in the Suvie sauce pan. Place giardiniera and bell peppers in another Suvie pan. Place the pan with the roast in the top right zone of your Suvie, place peppers and pickles in the top left zone, and place broth in the bottom left zone. Fill reservoir, input settings, and cook now or schedule.
My Cook > Multi-Zone Setting
Protein: 130°F, 1 hour
Vegetable: 10 minutes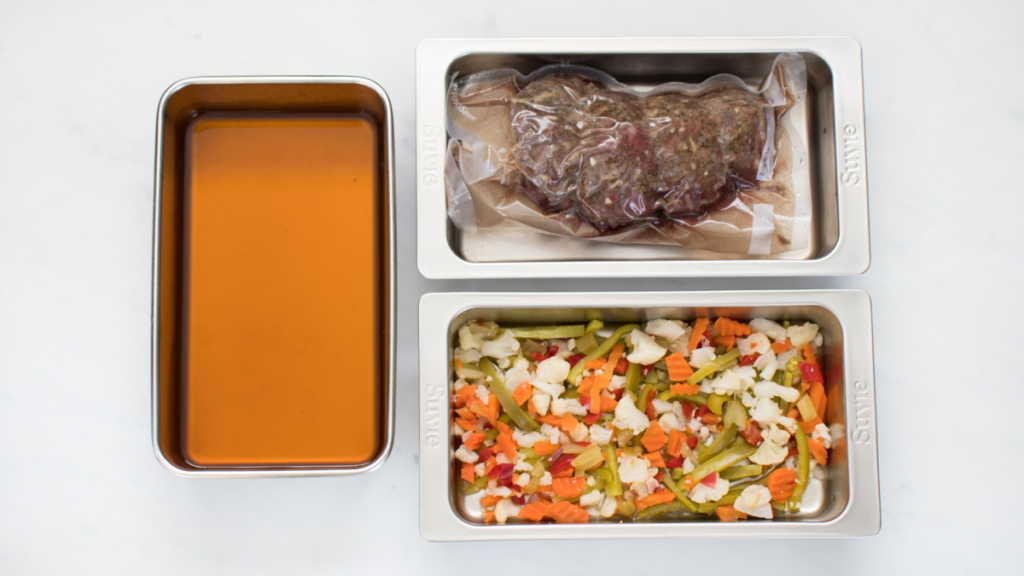 3) After the cook, remove all the pans from your Suvie. Drain excess water from the protein pan, remove roast from vacuum-sealed bag, and thinly slice. Place roast slices, along with any reserved juices from the vacuum bag, into the pan with the broth, stir to incorporate.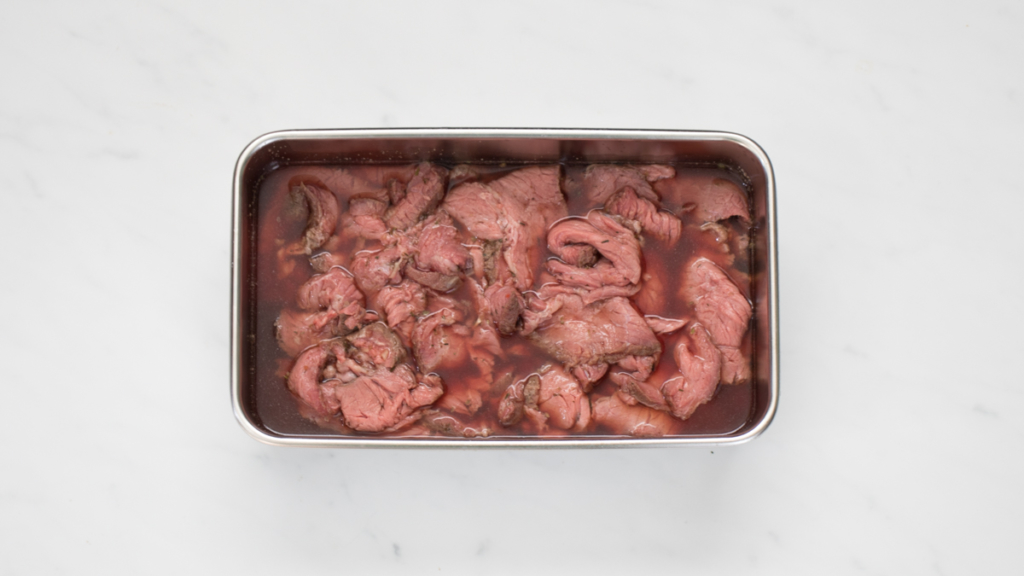 4) Divide slices of beef between hoagie rolls and top with pickles and peppers.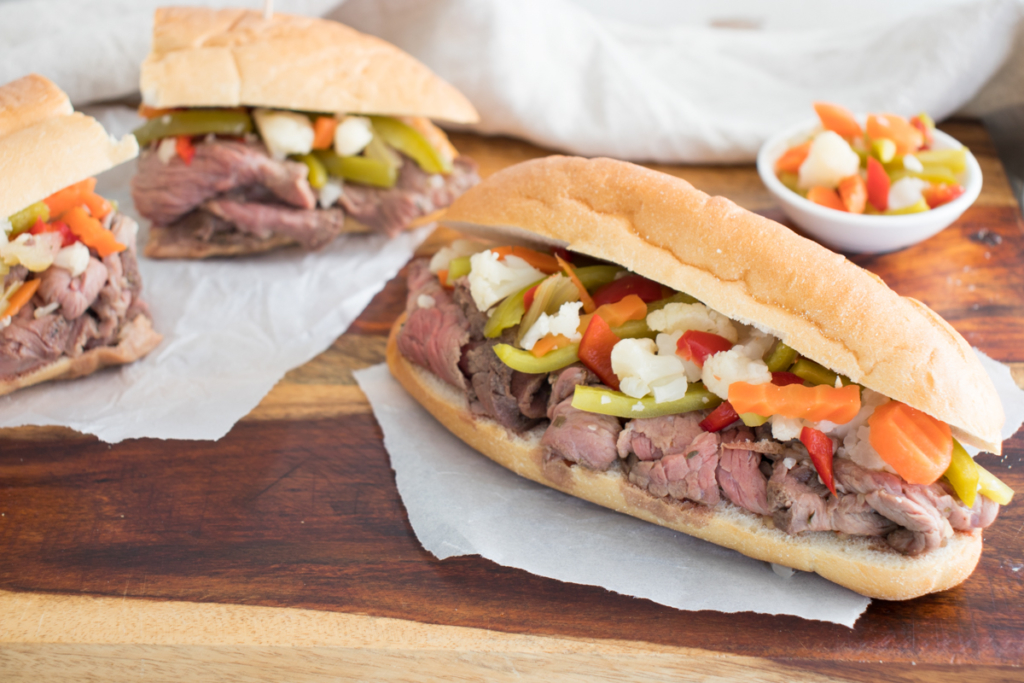 Nutrition
Nutritional Information per serving (4 servings per recipe): Calories 564, Total Fat 14g, Total Carbohydrates 47g, Total Sodium 1346mg, Total Protein 65g