Chicken Cacciatore is a classic Italian stew that refers to a rustic, "hunter-style" preparation. Traditionally a whole chicken is used and cut into pieces, but for our version, we're keeping it simple with chicken drumsticks. A quick broil of the mushrooms, onion and bell pepper helps release some liquid and add some of the browning you would typically get during the searing step on the bottom of your pot (known as the fond). A few sprigs of fresh thyme and rosemary add earthiness and depth to the stew and a final broil step crisps up the fat on the chicken. Serve over farfalle pasta for a hearty, rib-sticking meal.
Note: This recipe requires Suvie 2.0 and the Suvie Starch Cooker. To prepare this dish in Suvie 1.0, set the pasta to cook for 10 minutes in Step 4. Follow remaining instructions as directed.
My Cook: Chicken Cacciatore
Please always check your food to ensure your food has been cooked to safe serving temperatures. Please see our guide
here
for recommended FDA Time & Temperatures.
Servings: 4
Difficulty: 3 hours and 30 minutes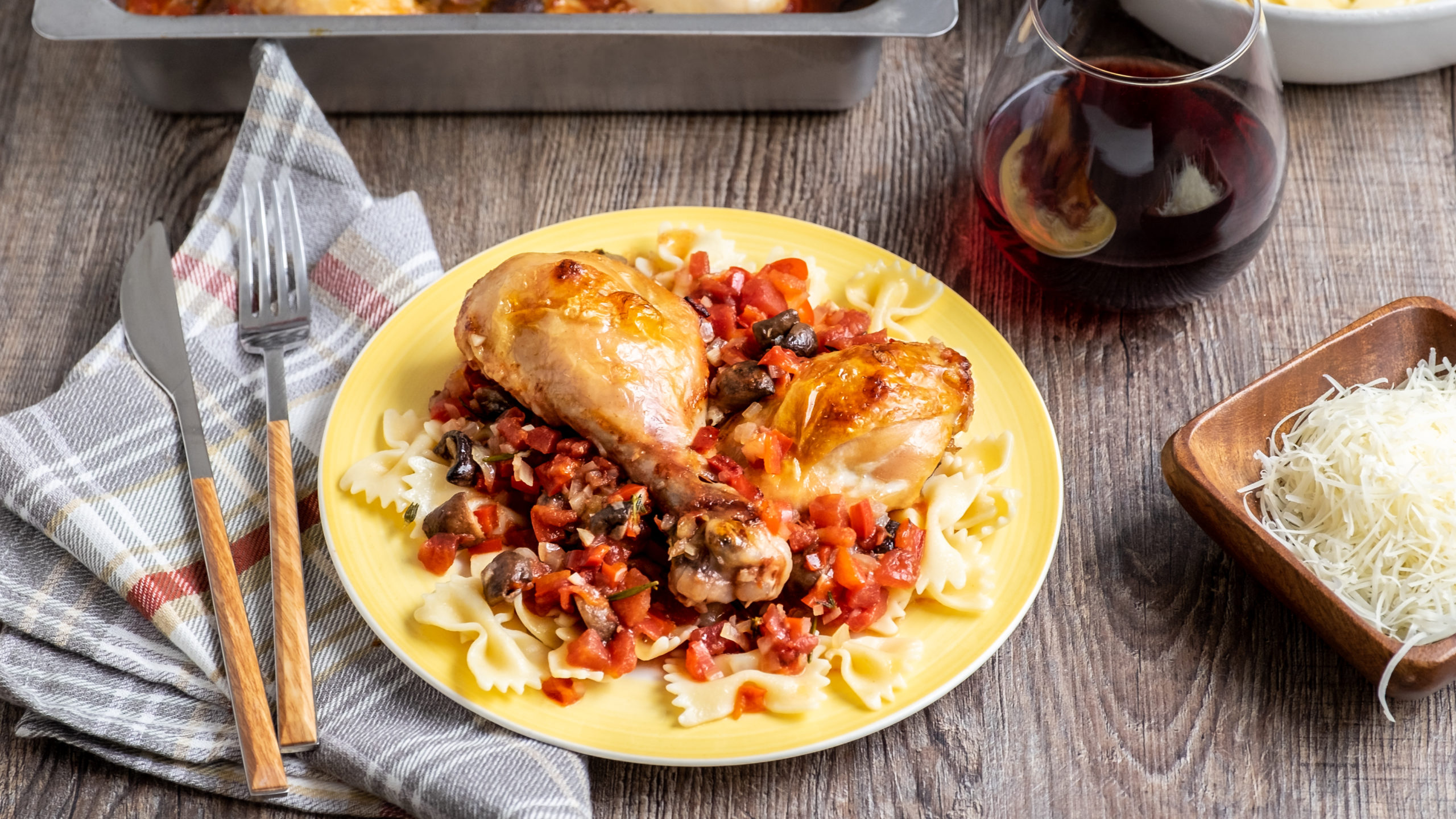 Ingredients
8 oz cremini mushrooms, quartered
2 tsp olive oil, divided
1 small onion, diced
1 red bell pepper, stemmed, seeded, and diced
8 chicken drumsticks
1 (14.5 oz) can diced tomato
2 sprigs rosemary
2 sprigs thyme
¼ tsp red pepper flakes
8 oz farfalle
2 oz grated Parmesan cheese, to serve
Directions
Arrange 8 oz cremini mushrooms in an even layer in a Suvie pan. Drizzle with 1 tsp olive oil, 1/4 tsp salt and pepper, and place in the top zone of Suvie. In a second Suvie pan, combine 1 diced onion, 1 diced red bell pepper, remaining 1 tsp olive oil, 1/4 tsp salt and pepper. Remove the rosemary and thyme leaves from the stems and add to onion mixture. Place the pan in the bottom zone of Suvie.

Set both zones to broil for 15 minutes, stirring halfway through cooking.

After the broil, drain off mushroom liquid. In a large bowl, stir together mushrooms, onion mixture, 1 (14.5 oz) can diced tomatoes, and 1/4 tsp red pepper flakes. Divide the mixture evenly between the two Suvie pans. Season chicken with salt and pepper and divide between the two Suvie pans.

Insert pans into Suvie and input settings listed below. Place 8 oz farfalle and 2 tsp kosher salt in the Suvie pasta strainer set inside the Suvie starch pot. Insert pot into the Suvie Starch Cooker, input settings, fill reservoir, and schedule.

Suvie Cook Settings

Bottom Zone: Slow Cook, High, 2 hours

Top Zone: Slow Cook, High, 2 hours

After slow cooking, broil the chicken for 7-10 minutes until the skin is browned and crisp.

Serve the cacciatore over the farfalle pasta and garnish with parmesan cheese. Enjoy!

Wine Pairing

While chicken is traditionally served with white wine, the rich tomato sauce and hearty flavors of this dish demand something a little more robust. We recommend pairing this meal with either a fruit-forward Merlot or a Sangiovese.