Cassoulet is a rich and hearty dish that originates in the south of France and whose name derives from the vessel in which it is cooked: the cassole. Nearly all cassoulets contain meat and white beans. For this recipe, we liked the richness of chicken thighs in tandem with chicken sausage to go alongside the white beans, but feel free to use pork sausage if you prefer. To finish our cassoulet we sprinkle the top with panko and broil until crisp, which is the ideal contrast for the creamy beans and savory chicken.
Note: If you would like to schedule this meal but do not want to wait for the broiler to cool before refrigerating, you can sear the chicken in a large skillet with 1 tbsp olive oil over medium-high heat until browned instead of broiling. Remove chicken and sauté mirepoix and garlic until vegetables are soft, about 6 minutes.
Chicken Cassoulet
Please always check your food to ensure your food has been cooked to safe serving temperatures. Please see our guide
here
for recommended FDA Time & Temperatures.
Servings: 6
Difficulty: 2 hours and 30 minutes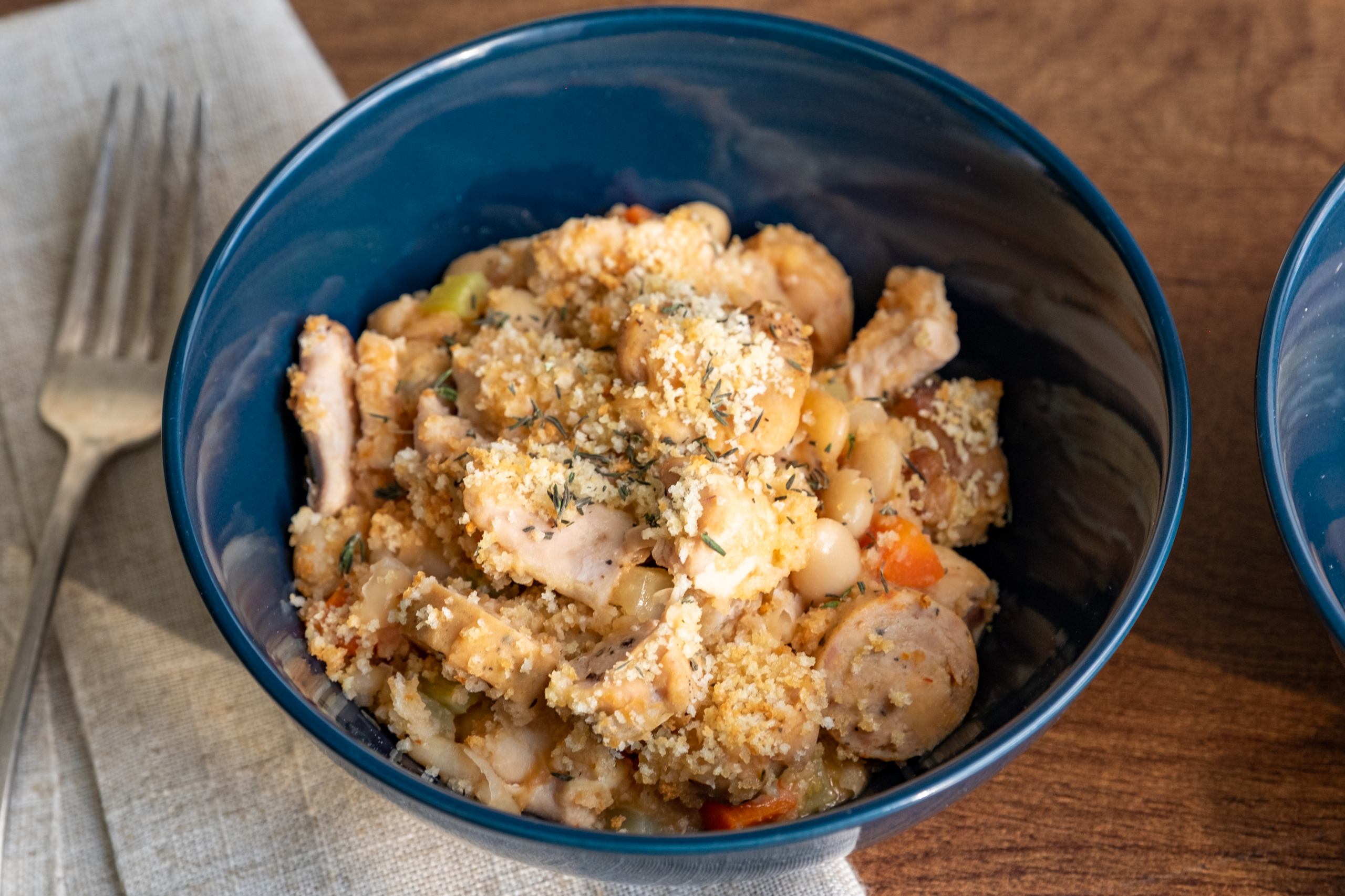 Ingredients
1 lb boneless, skinless chicken thighs, cut into 1-inch pieces
8 ounces mild chicken or pork sausage, cut into rounds
2 cups mirepoix (2 diced celery stalks, 2 diced carrots, and 1 small diced onion)
3 tbsp olive oil, separated
4 garlic cloves, minced
2 tbsp tomato paste
¼ cup dry white wine
2 (14.5 ounce) cans of white beans, such as great northern, cannellini, or navy, undrained
2 bay leaves
2 sprigs fresh thyme, plus 1 tsp minced leaves
1 cup panko bread crumbs
Directions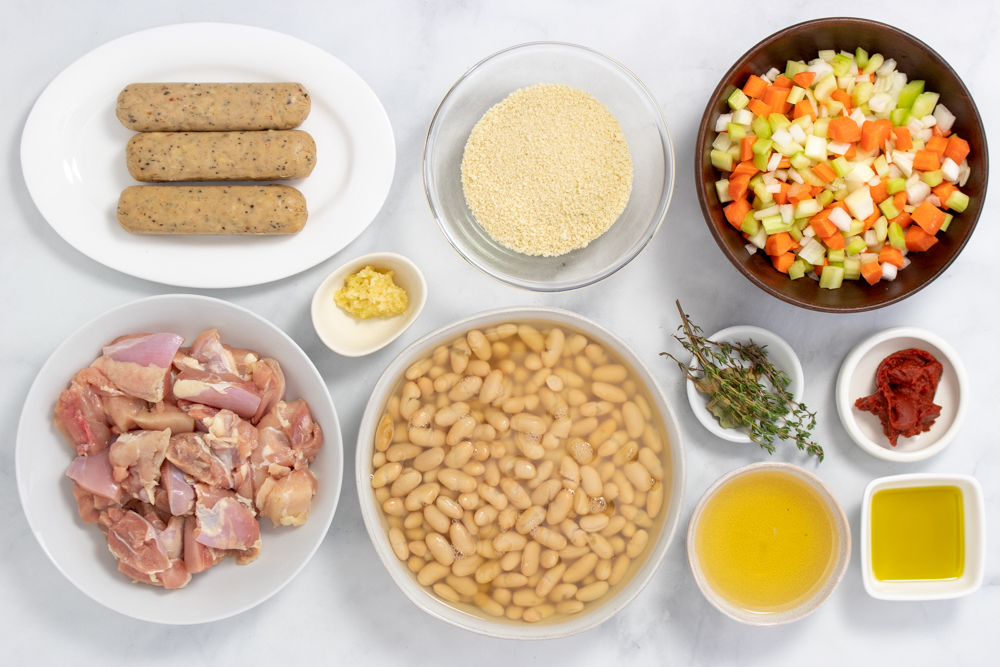 1) Stir mirepoix, garlic, and 1 tbsp olive oil together in a Suvie pan. Season chicken liberally with salt and pepper, and place in a second Suvie pan with 1 tbsp olive oil, stirring to coat. Insert both pans into your Suvie and broil for 10-15 minutes, or until softened, stirring both pans halfway through cooking.
2) While the chicken and vegetables broil, rinse and drain one can of white beans, then transfer to a large bowl and mash thoroughly with a fork or potato masher until pasty and thick. Add the remaining beans (with liquid), tomato paste, white wine, and sliced sausage to the bowl with the mashed beans.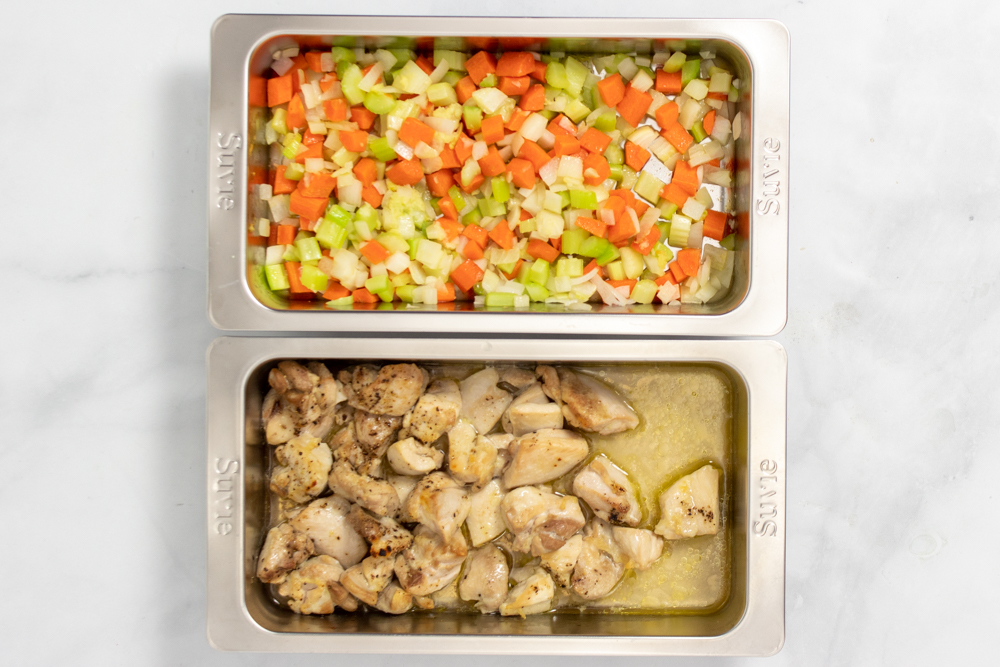 3) Once the broil has finished, remove both pans from your Suvie. Transfer broiled vegetables and chicken to the bowl with the beans, stirring to fully incorporate. Divide the mixture, bay leaves, and thyme between the two now-empty Suvie pans. Insert pans into your Suvie, input settings, and cook now or schedule.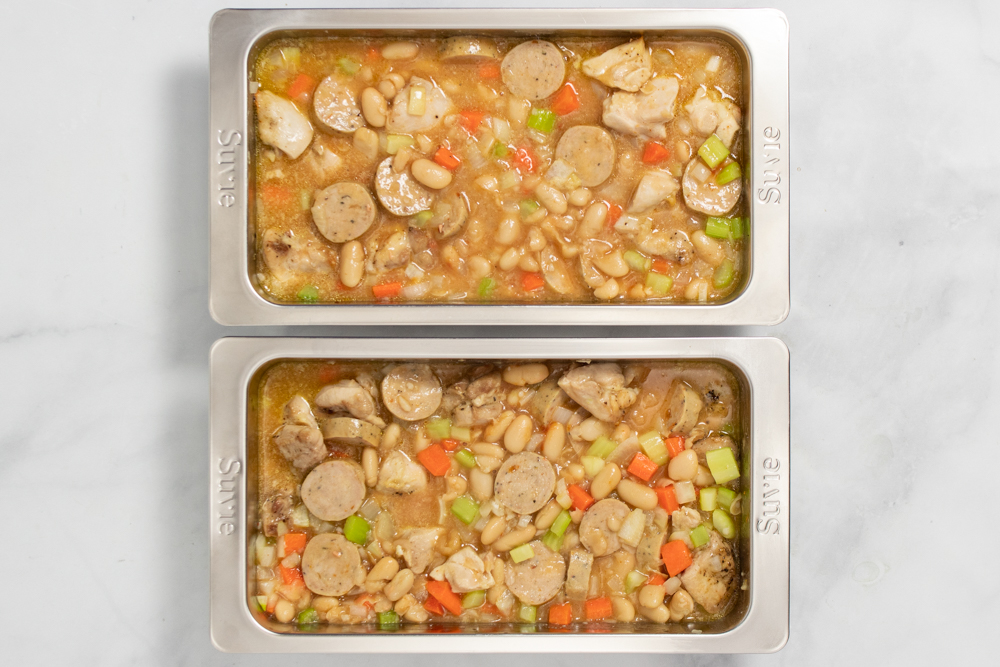 Suvie Cook Settings
Bottom Zone: Slow Cook High for 2 hours
4) After the cassoulet has finished cooking, remove both pans from your Suvie.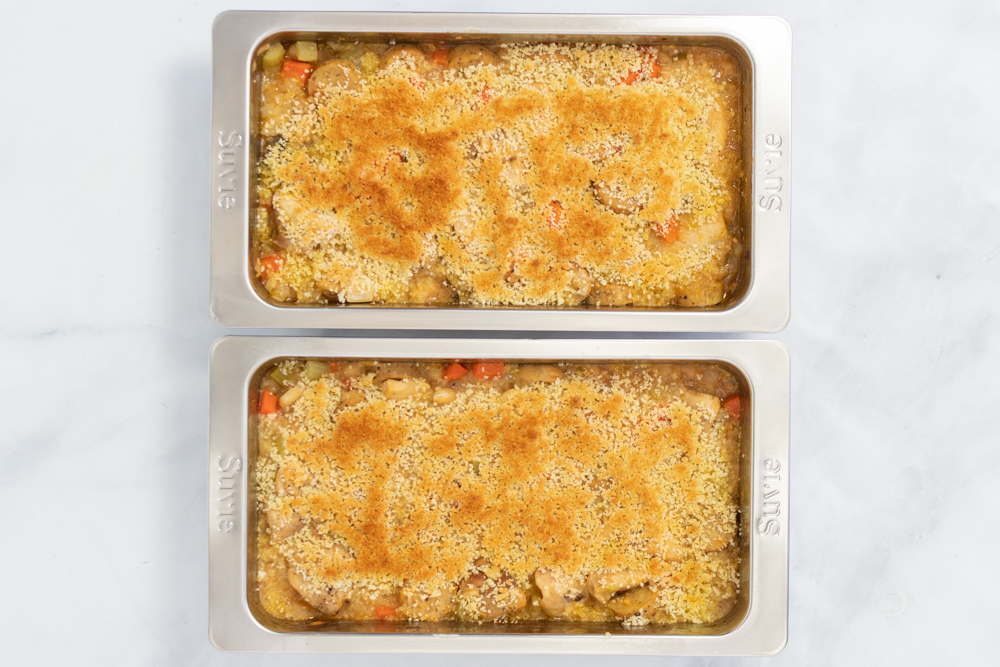 5) Discard bay leaf and thyme. Season cassoulet to taste with salt and pepper. In a small bowl, mix together the panko and the remaining olive oil and a large pinch of salt. Divide panko evenly on top of both pans. Reinsert pans into your Suvie and broil for 5-8 minutes, or until toasted and fragrant – watch closely as this can go from golden to burnt quick! To serve, divide cassoulet between bowls and sprinkle with reserved thyme.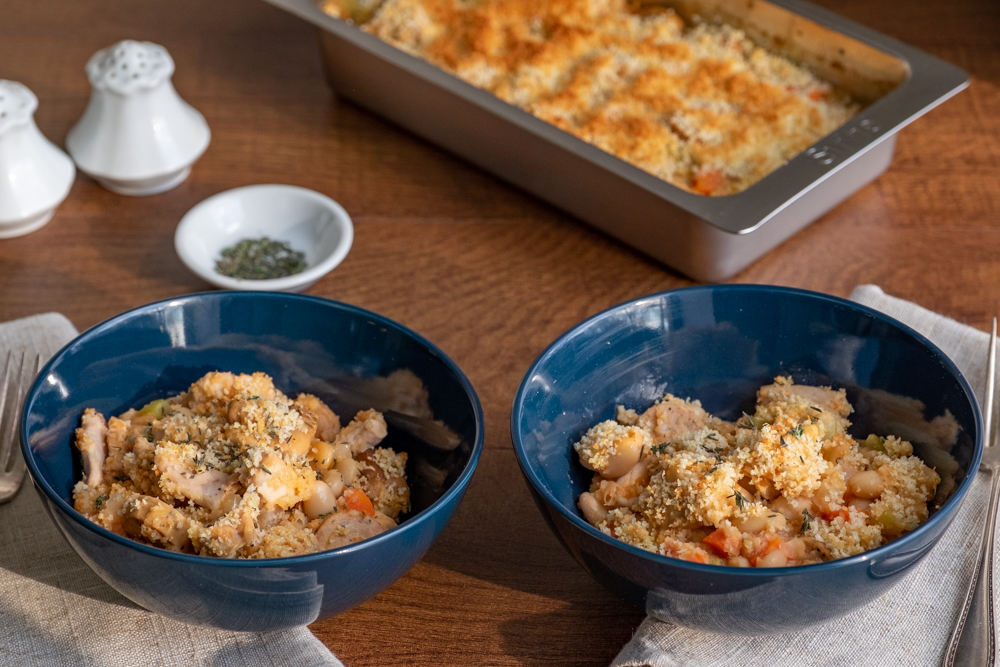 Note: If you would like to make this recipe in Suvie 1.0, insert pans into the top zones of Suvie, fill reservoir, and set to Slow Cook on High for 2 hours.
Nutrition
Nutritional Information per serving (6 servings per recipe): Calories 422, Total Fat 14g, Total Carbohydrates 40g, Total Sodium 420 mg, Total Protein 32g