Most chicken enchilada recipes require you to have pre-cooked chicken. With Suvie you can pump up the flavor of the enchilada sauce by slow cooking the juicy chicken thighs with the sauce while you're at work, then come home to perfectly tender chicken that's ready to be shredded and mixed in with shredded cheese and sauce. Then simply roll up the fillings with the flour tortillas, cover with more of the enchilada sauce and cheese and you've got flavorful, fresh, homemade enchiladas.
Chicken Enchiladas with Black Beans and Rice
Please always check your food to ensure your food has been cooked to safe serving temperatures. Please see our guide
here
for recommended FDA Time & Temperatures.
Servings: 4
Difficulty: 5 hours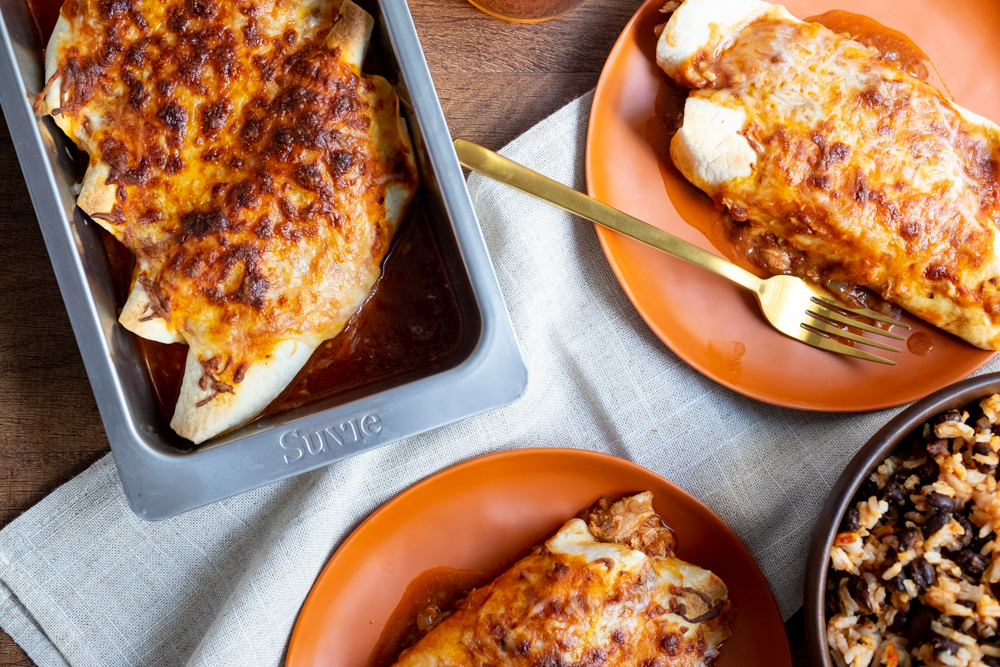 Ingredients
1 1/2 lbs boneless, skinless, chicken thighs
1 small yellow onion, minced
2 cloves garlic, minced
1 chipotle in adobo, chopped, plus 1 tbsp sauce
2 tsp ground cumin
1 tsp smoked paprika
1 tsp ground coriander
1 (14.5 oz) can tomato sauce
1 cup long white grain rice
1 (15.5 oz) can black beans, drained and rinsed
1 Sazon seasoning packet
8 small flour tortillas, warmed
2 cups shredded Mexican cheese, divided
Directions
1) In a Suvie pan, combine 1 minced onion, 2 minced garlic cloves, 1 chopped chipotle pepper, 1 tbsp vegetable oil, 2 tsp cumin, 1 tsp smoked paprika, 1 tsp coriander, 1 tsp salt, and 1/2 tsp ground black pepper.
2) Transfer pan to bottom zone of Suvie and broil for 15-20 minutes until the onion is softened and fragrant.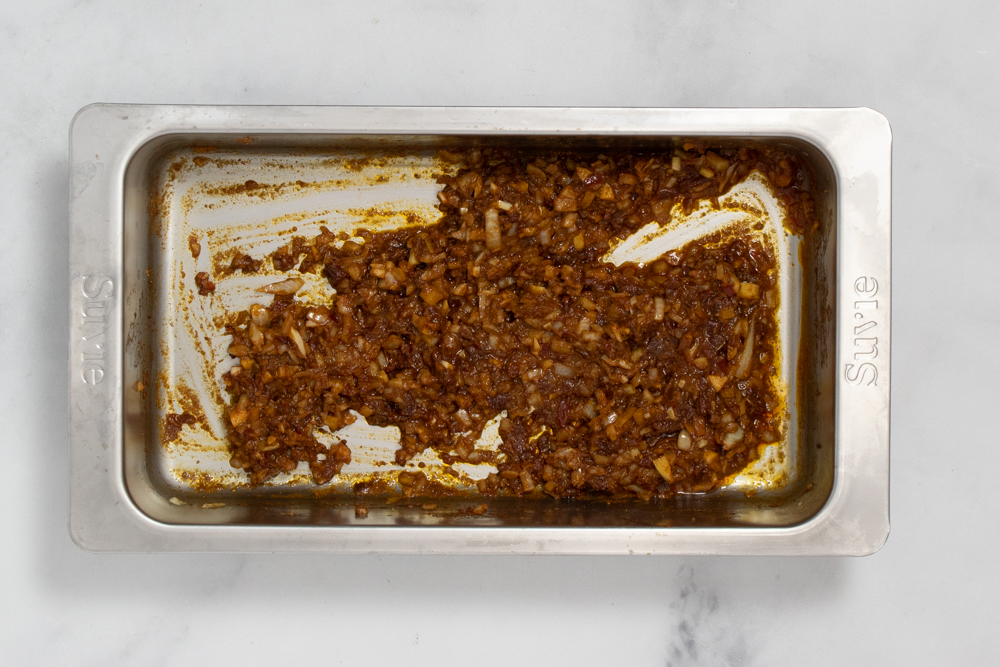 3) Remove pan from Suvie and add 1 cup tomato sauce, 1 tbsp adobo sauce from the chipotle peppers, and 1 1/2 lbs chicken thighs, stirring to combine. Insert pan into the bottom zone of Suvie.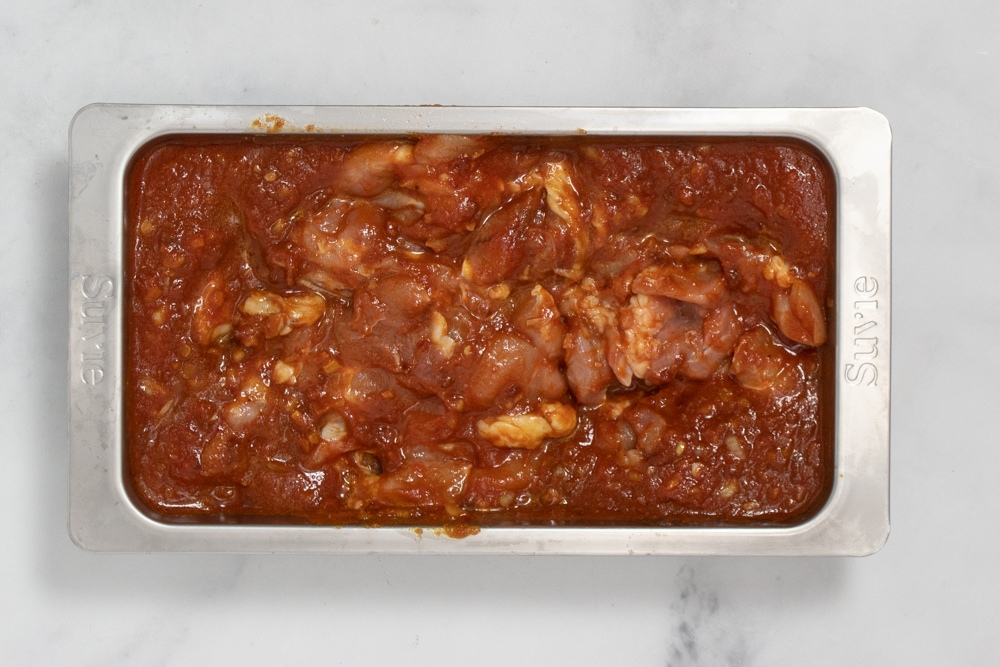 4) In a second Suvie pan, stir together 1 can black beans, remaining 1/3 cup tomato sauce, 1 packet of Sazon seasoning, and ¼ cup of water. Place pan in the top zone of Suvie. Input settings and cook now or schedule.
Suvie Cook Settings
Bottom Zone: Slow Cook, Low for 3 hours
5) Place jasmine rice and 1 tsp salt in the Suvie rice pot (black handles) and insert into your Suvie Starch Cooker, ensuring pot is centered on the hot plate. Input settings and cook now or schedule.
Suvie Starch Cooker Settings
Rice, Long Grain, 1 Cup
6) After the cook is complete, remove the black beans and rice from Suvie and stir together. Season to taste with salt and pepper, and cover to keep warm.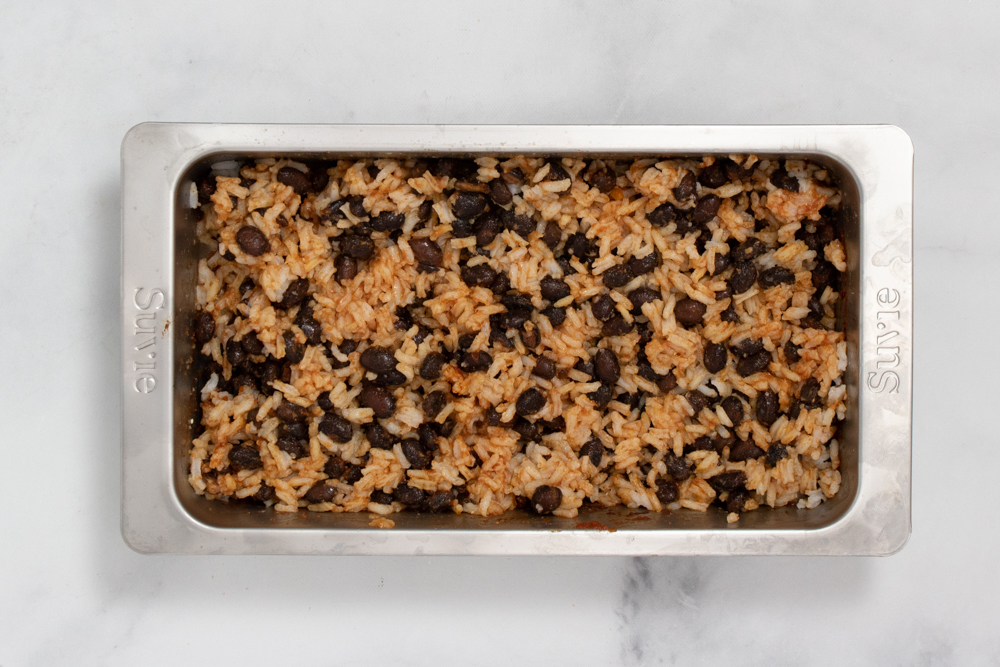 7) Remove the chicken thighs from Suvie, and pour the sauce into a bowl or large measuring cup (there should be about 2 cups of sauce). Use two forks to shred the chicken thighs into bite-size pieces.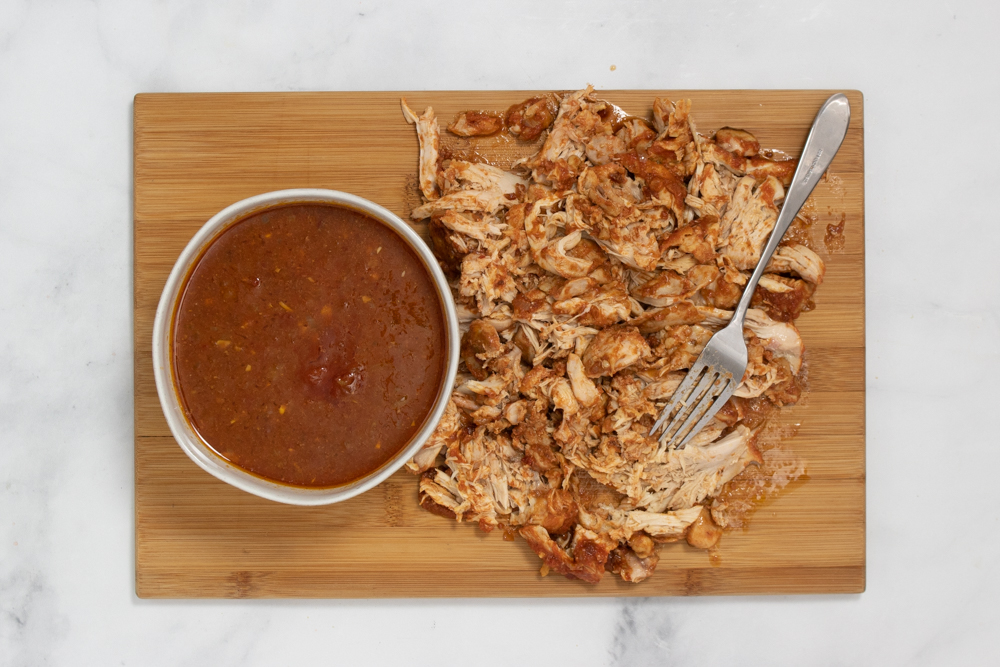 8) In a large bowl, combine chicken, 1 cup shredded cheese, and ½ cup of the reserved sauce, stirring to combine. Season to taste with salt and pepper.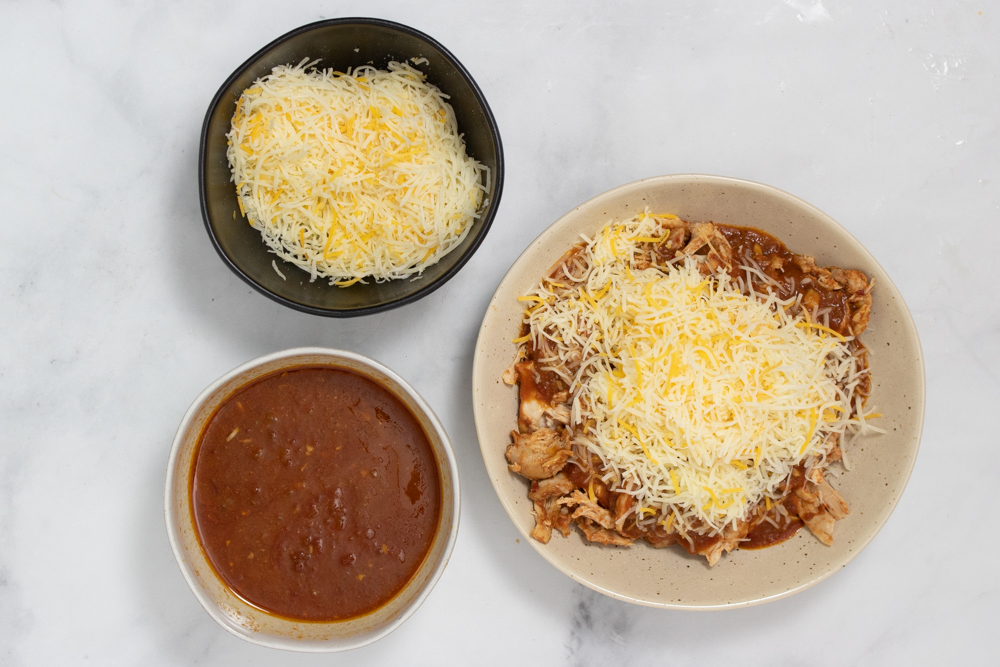 9) Divide ½ cup of the reserved enchilada sauce between two Suvie pans. Spoon a scant ¼ cup of the chicken into each warmed flour tortilla, roll up, and place seam-side down in the pans.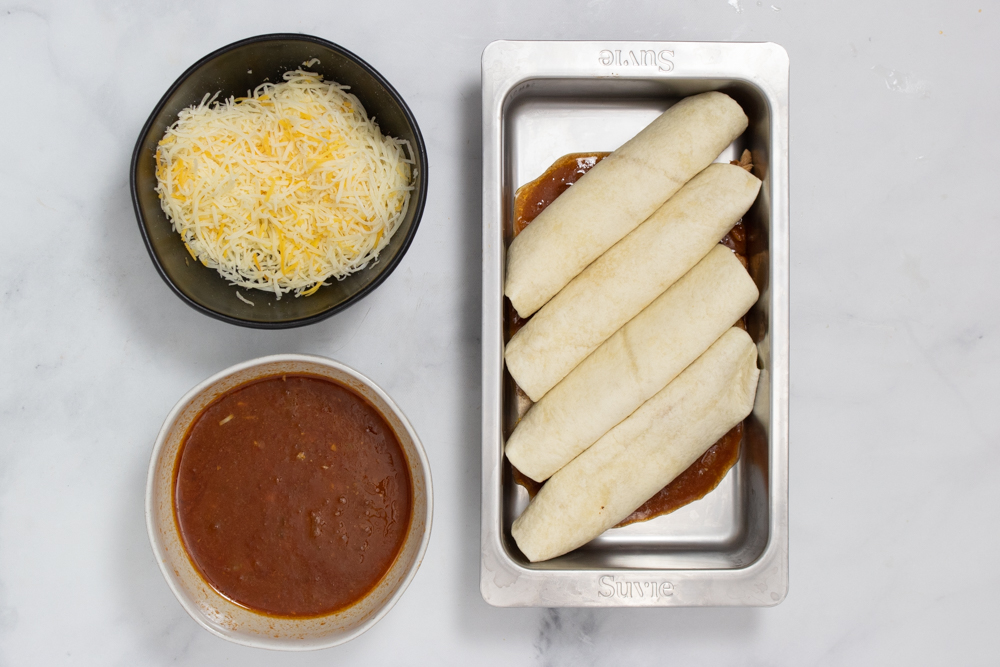 10) Cover the tortillas with the remaining enchilada sauce and sprinkle evenly with the remaining shredded cheese.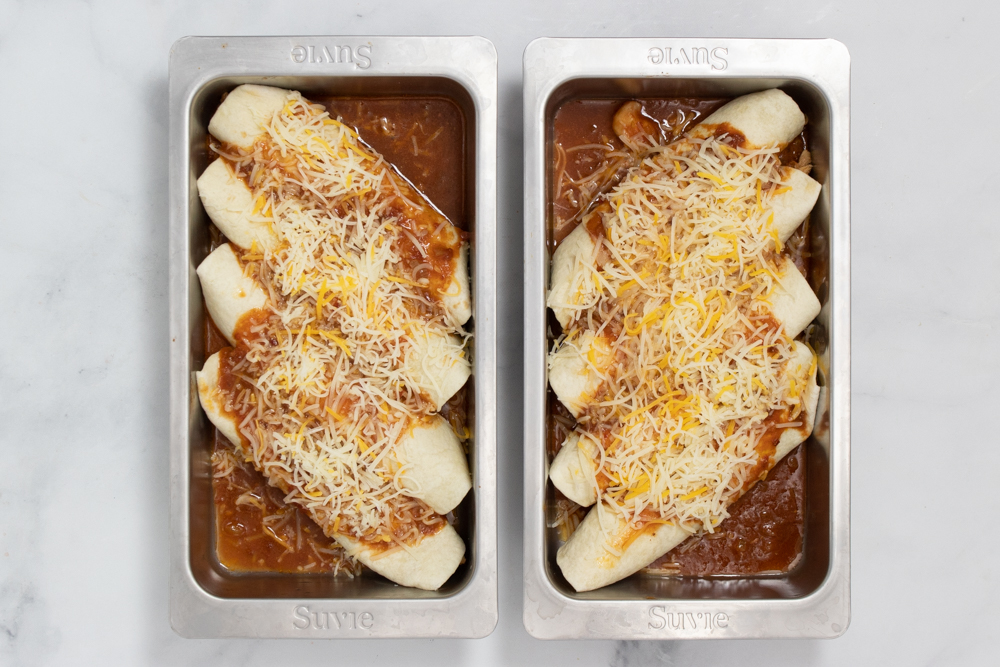 11) Place pans in Suvie and broil for 7-10 minutes or until cheese is browned and crispy.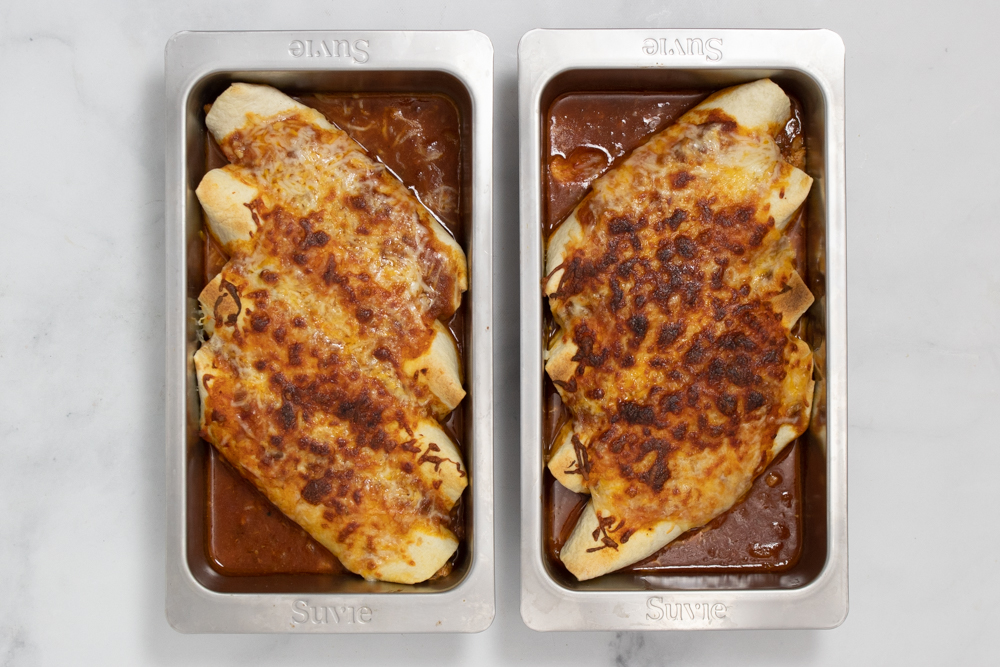 12) Remove enchiladas from Suvie and serve with the black beans and rice.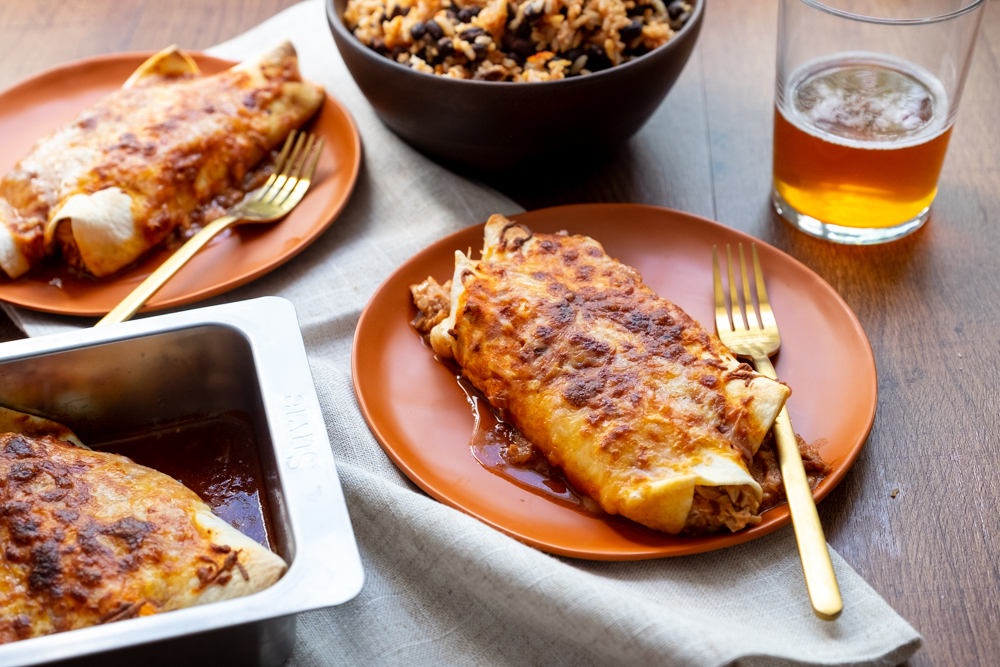 Wine Pairing
The pairing of chicken, Mexican spices, gooey cheese, and tomato-based sauce make this an easy meal to pair. Both white and red wines will pair with this dish so pick your favorite and enjoy. If you still need a recommendation try an oak-aged Chardonnay, a good quality Rosé , or a Merlot.