Larb is a Laotian dish that consists of seasoned ground meat and a plethora of fresh vegetables. Larb can be made with any variety of meat, but we chose to use ground chicken, which is mild enough to let the sauces and toppings really shine. Feel free to use ground pork, beef, or even pressed, crumbled tofu if you prefer. While the chicken and rice cook, we've included a simple recipe for pickled vegetables to top the chicken. If you're game for a little heat be sure to include thinly sliced jalapeno or omit it to tame the flames. Additionally, a simple sauce of lime juice and fish sauce comes together in no time and is the perfect addition to the savory larb. Garnish everything with a mountain of fresh herbs to drive home the bright, fresh flavor that makes Laotian larb so delicious.
Chicken Larb Lettuce Cups
Please always check your food to ensure your food has been cooked to safe serving temperatures. Please see our guide
here
for recommended FDA Time & Temperatures.
Servings: 4
Difficulty: 2 hours and 15 minutes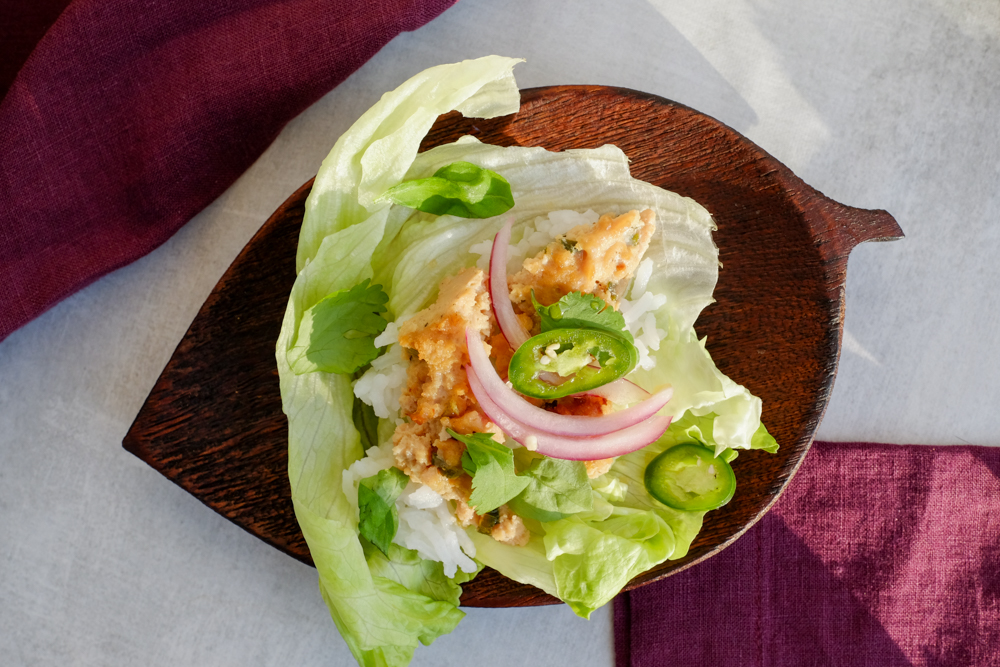 Ingredients
1 lb ground chicken
2 garlic cloves, minced
3 scallions, thinly sliced
2 tbsp vegetable oil
2 tbsp soy sauce
1 tsp plus 1 tbsp fish sauce, separated
2 tsp sambal oelek or sriracha
1 tbsp brown sugar
1 cup white rice
1 tbsp fresh lime juice
½ small red onion, thinly sliced
3 tbsp rice wine vinegar
1 small jalapeno or Thai chili, thinly sliced (optional)
1 head Boston bibb or butter lettuce
1 cup cilantro or mint leaves
1 cup basil leaves
Directions
1) In a Suvie pan, stir together 2 minced garlic cloves, 3 sliced scallions, 2 tbsp vegetable oil, ½ tsp salt, 1/2 tsp ground black pepper, 2 tbsp soy sauce, 1 tsp fish sauce, 2 tsp sambal oelek, and 1 tbsp brown sugar. Add 1 lb ground chicken and stir to incorporate.
2) Place Suvie pan in the bottom zone of Suvie, input settings and cook now or schedule.
Suvie Cook Settings
Bottom Zone: Slow Cook on Low for 1 hour
3) Place 1 cup white rice in the Suvie rice pot (black handles). Cover pot with lid and place inside the Suvie Starch Cooker, ensuring pot is centered on the hot plate. Input settings and cook now or schedule.
Suvie Starch Cooker Settings
Rice, White Rice, 1 Cup
4) Meanwhile, in a small bowl stir together the remaining 1 tbsp fish sauce and 1 tbsp lime juice; set aside. In a separate small bowl, stir together the sliced red onion, rice wine vinegar, sliced jalapeno, and a pinch of salt; set aside, stirring occasionally to soften.
5) Break the chicken up into bite-sized pieces, then return the pan to Suvie, and broil for 10 minutes or until chicken has browned.
6) Fluff rice with a fork. Once the chicken has finished broiling, spoon rice and chicken into lettuce cups. Top your lettuce cups with cilantro, basil, pickled vegetables, and a splash of the lime-fish sauce mixture.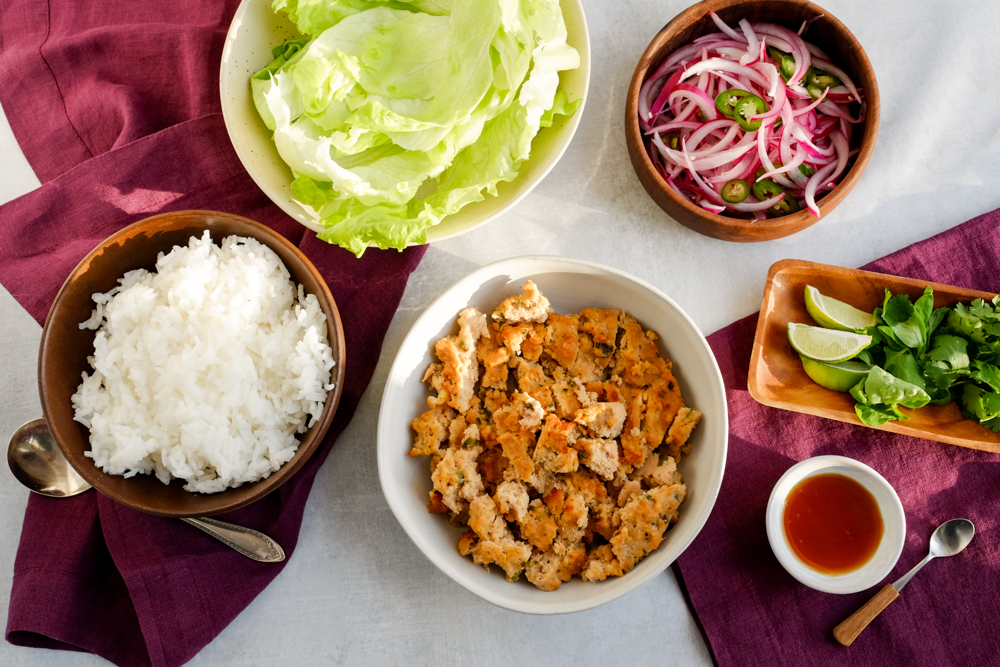 Nutrition
Nutrition Information per Serving: Calories 436, Fat 19.5g, Sodium 875mg, Carbs 42g, Protein 27g