Saltimbocca translates to "jump in the mouth" and our Suvie version is no exception. Succulent chicken breast are topped with a fragrant sage leaf and then wrapped up in a blanket of salty, savory, sliced prosciutto. Cooking the chicken sous vide means we concentrate the flavor of the prosciutto and sage without having to worry about dry, stringy chicken breasts. A final broil step crisps up the prosciutto, and we whip up a simple lemon and wine sauce while you wait. Farro is an ancient Italian grain with a nutty flavor that pairs well with the prosciutto and asparagus. A little prep goes a long way to making this classic meal a cinch to put together on any busy weeknight.
Chicken Saltimbocca
Please always check your food to ensure your food has been cooked to safe serving temperatures. Please see our guide
here
for recommended FDA Time & Temperatures.
Servings: 2
Difficulty: 2 hours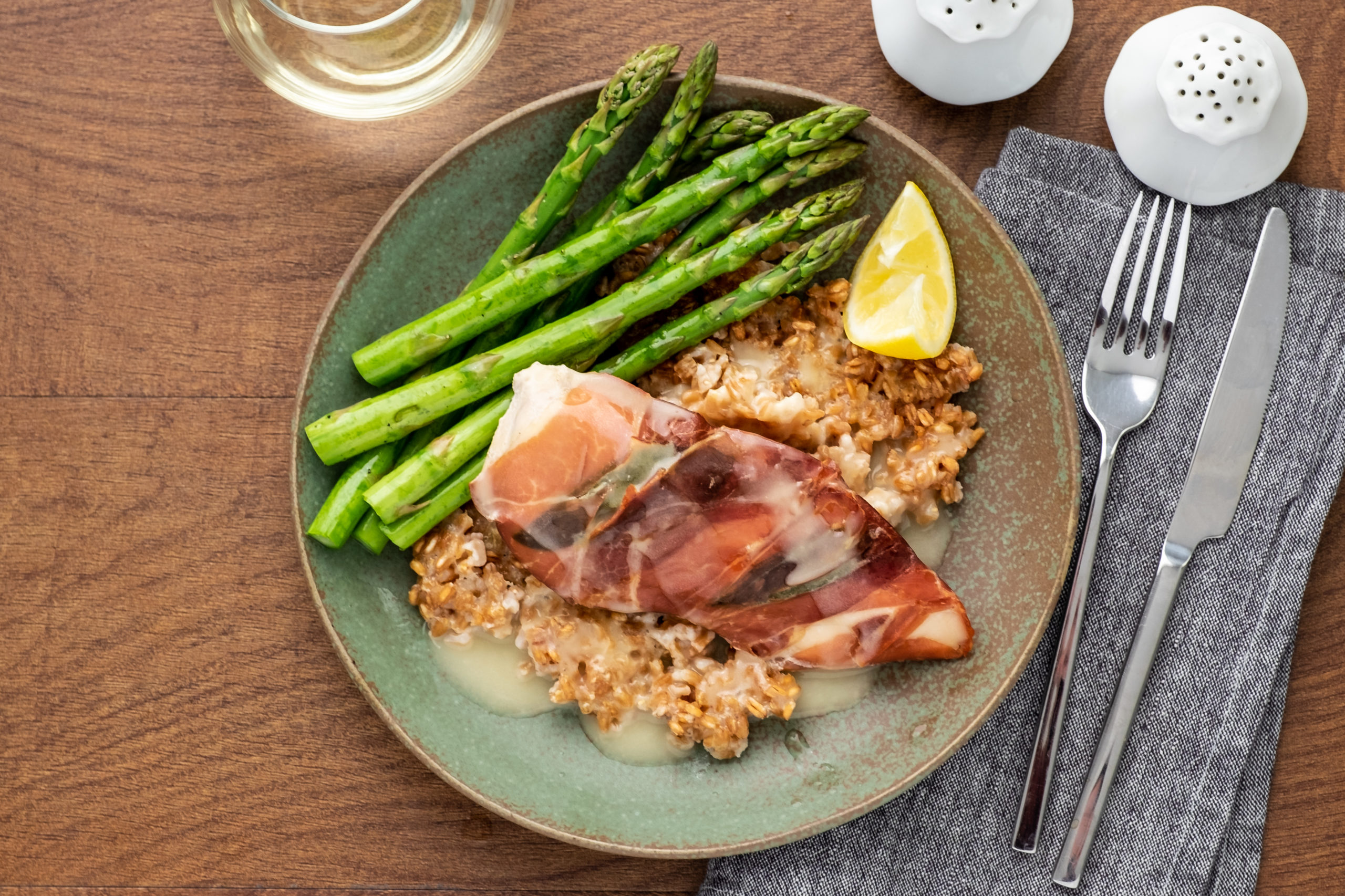 Ingredients
2 boneless, skinless chicken breasts
4 pieces thinly sliced prosciutto
4 fresh sage leaves
2 tbsp unsalted butter
2 tbsp flour
¼ cup dry white wine
½ cup chicken stock
1 lemon, juiced
2 tbsp toasted almonds
8 oz asparagus
4 oz farro
Directions
1) Season chicken breasts with salt and pepper and top each chicken breast with two fresh sage leaves.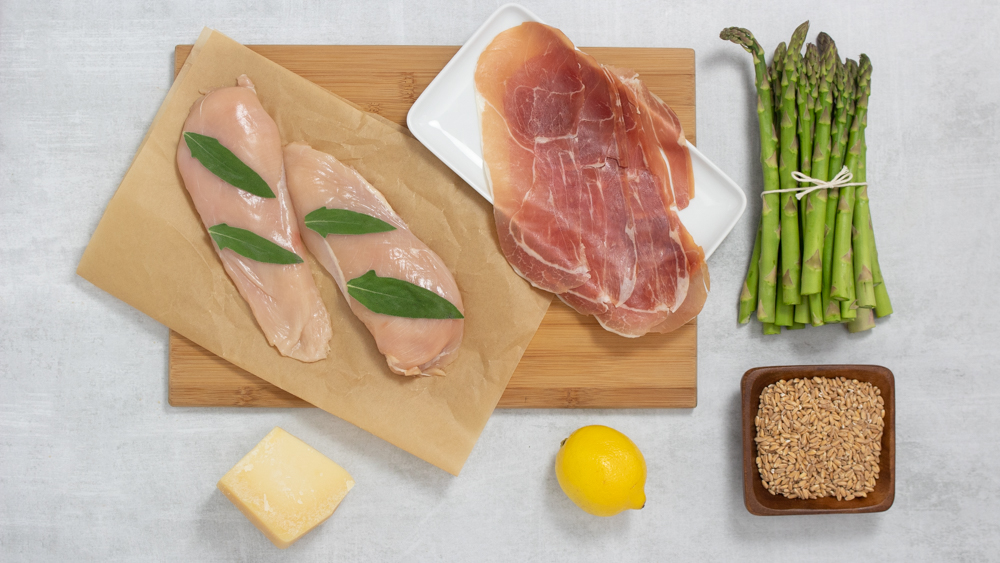 2) Wrap each breast with two pieces of thinly sliced prosciutto so that they are completely covered. Vacuum seal the chicken breasts, place in a Suvie pan, cover with water and place in the bottom zone of Suvie.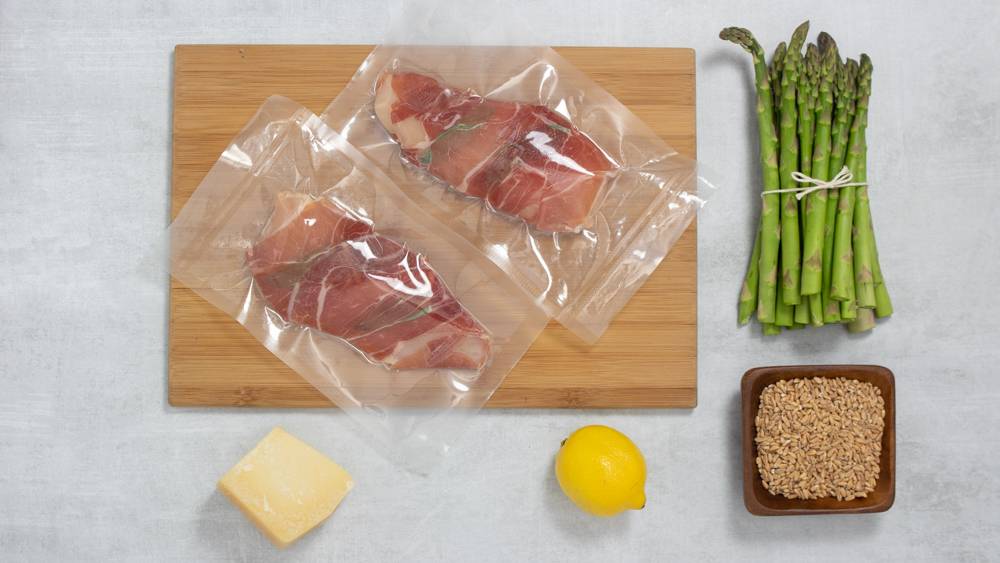 3) Place asparagus in a second Suvie pan and place in the top zone of Suvie. Input settings and cook now or schedule.
Suvie Cook Settings
Bottom Zone: Sous Vide at 150˚F for 1 hour
Top Zone: Sous Vide at 150°F for 1 hour
4) Place 4 oz farro in the Suvie starch strainer set within the Suvie pasta pot. Place pot in the Suvie Starch Cooker, ensuring pot is centered on the hot plate. Close door, input settings, and cook now or schedule.
Suvie Starch Cooker Settings
Grains, Farro, 35 minutes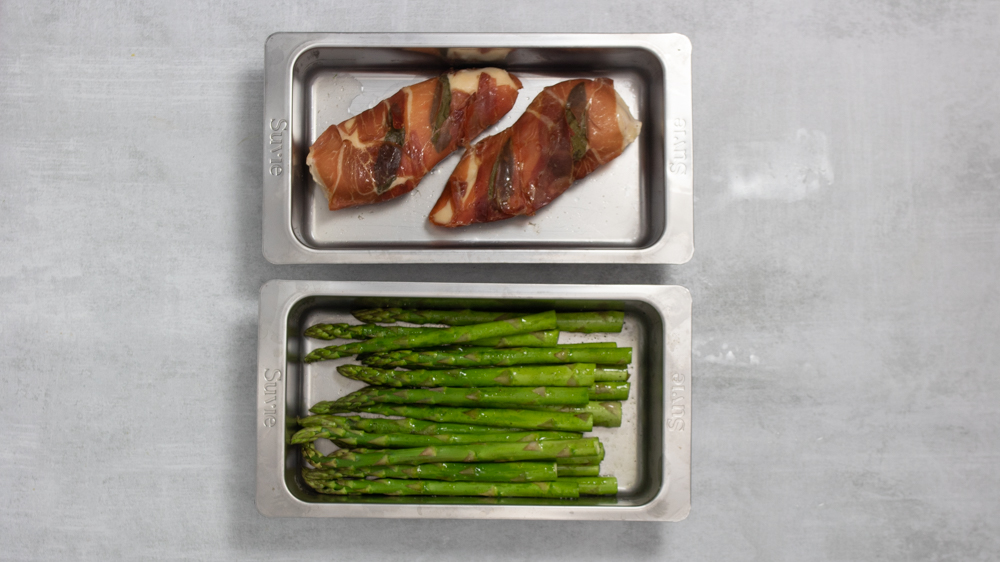 5) After cooking, remove the chicken from the packaging. Wipe the pan dry and return the chicken to the pan. Season the asparagus with 1 tbsp olive oil, and salt and pepper to taste; return pan to Suvie. Broil both pans until browned, about 7-10 minutes.
6) Drain farro and transfer to a bowl with ½ cup shredded parmesan cheese, stirring to combine.
7) While the chicken and asparagus broil, prepare the sauce. Melt the butter in a small saucepan over medium heat. When the butter begins to get frothy add the flour and whisk to combine. Cook for 1 minute stirring frequently until it looks slightly brown and smells nutty. Add the white wine and cook for 30 seconds until reduced, then stir in the chicken stock and lemon juice. Season to taste with salt and pepper and simmer on low for 1-2 minutes until thickened. Cover to keep warm.
8) To serve, divide the farro between two plates and serve with the chicken and asparagus. Pour the sauce over the chicken.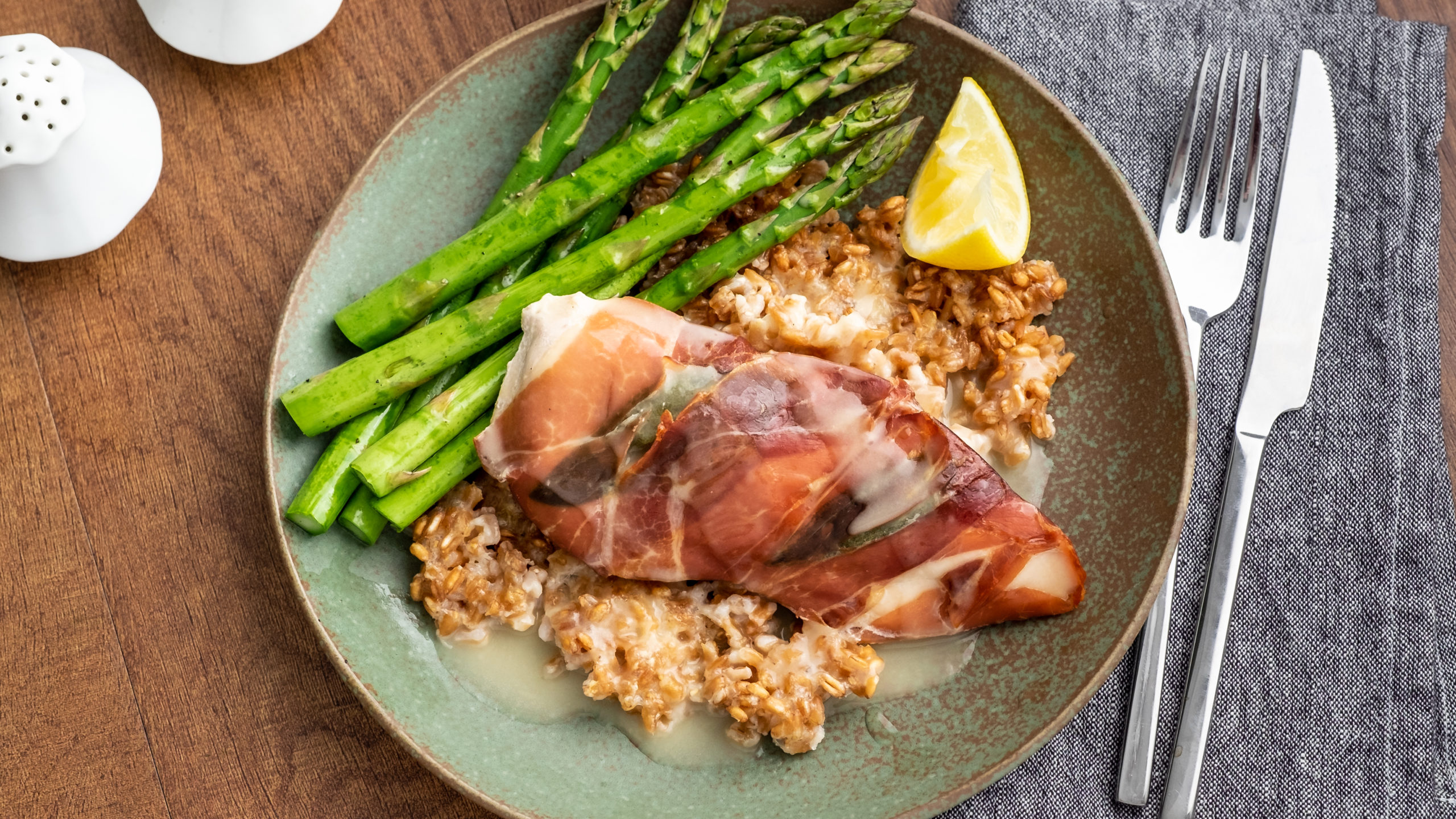 Wine Pairing
Crisp and zesty Pinot Grigio goes well with both chicken and cured meats which makes it the perfect pairing for this recipe.