This chicken satay bowl is the perfect weeknight meal: it's quick, easy, and delicious. In Southeast Asian cuisine, satay generally refers to any meat grilled on a skewer and served with a spicy, peanut-based sauce. We use Suvie's powerful broiler to mimic the char from a grill without having to fire up the barbeque. We coat the chicken in a rich and creamy peanut sauce and serve it on top of fluffy white rice. Alongside, a simple cucumber salad provides a crisp, fresh contrast to the rich chicken.
Note: This recipe requires Suvie 2.0 and the Suvie Starch Cooker. To prepare this dish in Suvie 1.0, set the rice to cook for 15 minutes in Step 1. Follow remaining instructions as directed.
Chicken Satay Bowls
Please always check your food to ensure your food has been cooked to safe serving temperatures. Please see our guide
here
for recommended FDA Time & Temperatures.
Servings: 4
Difficulty: 2 hours and 40 minutes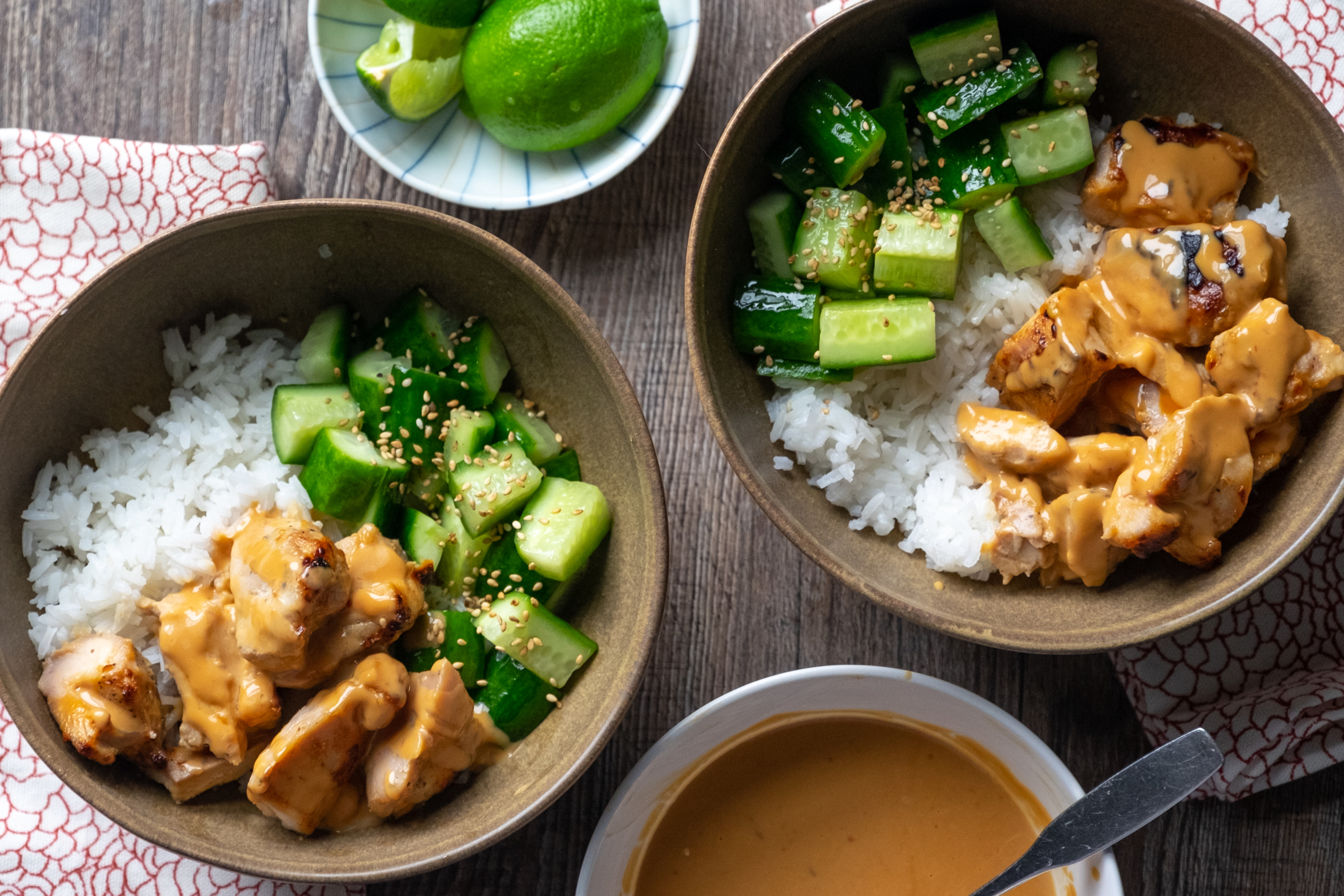 Ingredients
1 lb boneless, skinless chicken thighs
1 tbsp sesame oil, plus 1 tsp
½ cup creamy peanut butter
3 tbsp soy sauce
1 tbsp maple syrup or honey
1 tsp sriracha or sambal olek
3 tbsp fresh lime juice or rice wine vinegar
2 tbsp warm water
1 cup jasmine rice
4 small cucumbers
1 tbsp toasted sesame seeds (optional)
Directions
1. Season 1 lb chicken thighs with salt and pepper, and then vacuum seal with 1 tbsp sesame oil. Place chicken in a Suvie pan, cover with water, and insert into the bottom zone of your Suvie. Input the settings below, and cook now or schedule. Place jasmine rice in a Suvie rice pot and insert into your Suvie Starch Cooker. Input settings for long grain rice, fill reservoir, and schedule.
Suvie Cook Settings
Bottom Zone: Sous Vide at 175°F for 1 hour
Top Zone: Sous Vide at 175°F for 1 hour
2. While the chicken cooks, cut the cucumber into 1-inch pieces. Set aside in the fridge until ready to plate.
3. Whisk 1/2 cup peanut butter, 3 tbsp soy sauce, 1 tbsp maple syrup, 1 tsp sriracha, 3 tbsp lime juice, and 2 tbsp warm water together in a medium bowl. Season peanut sauce with salt and pepper to taste; set aside.
4. After the chicken has finished cooking, remove from bags, pat dry, and cut into 1-inch pieces. Remove rice from Suvie Starch Cooker and fluff with a fork. Place chicken in a clean, dry Suvie pan and drizzle with ¼ cup of peanut sauce.
5. Insert pan into top of Suvie and broil for 15 minutes, stirring halfway through until fragrant.
6. Drizzle remaining 1 tsp sesame oil over the peeled cucumbers and season to taste with salt and pepper. Divide rice between shallow bowls, top with chicken and cucumber salad. Drizzle peanut sauce over each serving and garnish with sesame seeds, if using.
Nutrition
Nutritional Information per serving (4 servings per recipe): Calories 484, Total Fat 28g, Total Carbohydrates 50g, Total Sodium 922mg, Total Protein 31g