Cobb salad is a classic American dish with as many iterations as there are stories of its origin. Was it the owner of the Hollywood Brown Derby, Robert Cobb, who invented the salad? Or was it the restaurant's chef who created it in honor of his boss? We may never know, but luckily we can still enjoy this delicious meal despite not knowing its full history. For this version we have kept it pretty classic with tomato, bacon, eggs, chicken, avocado, and cheese, but we did add some green beans to flex the power of Suvie's steamer. Luckily, the eggs and the chicken cook at the same temperature, so they can go in the same pan to streamline the process. Feel inspired to swap ingredients in or out depending on your preferences.
Cobb Salad
Please always check your food to ensure your food has been cooked to safe serving temperatures. Please see our guide
here
for recommended FDA Time & Temperatures.
Servings: 4
Difficulty: 2 hours and 50 minutes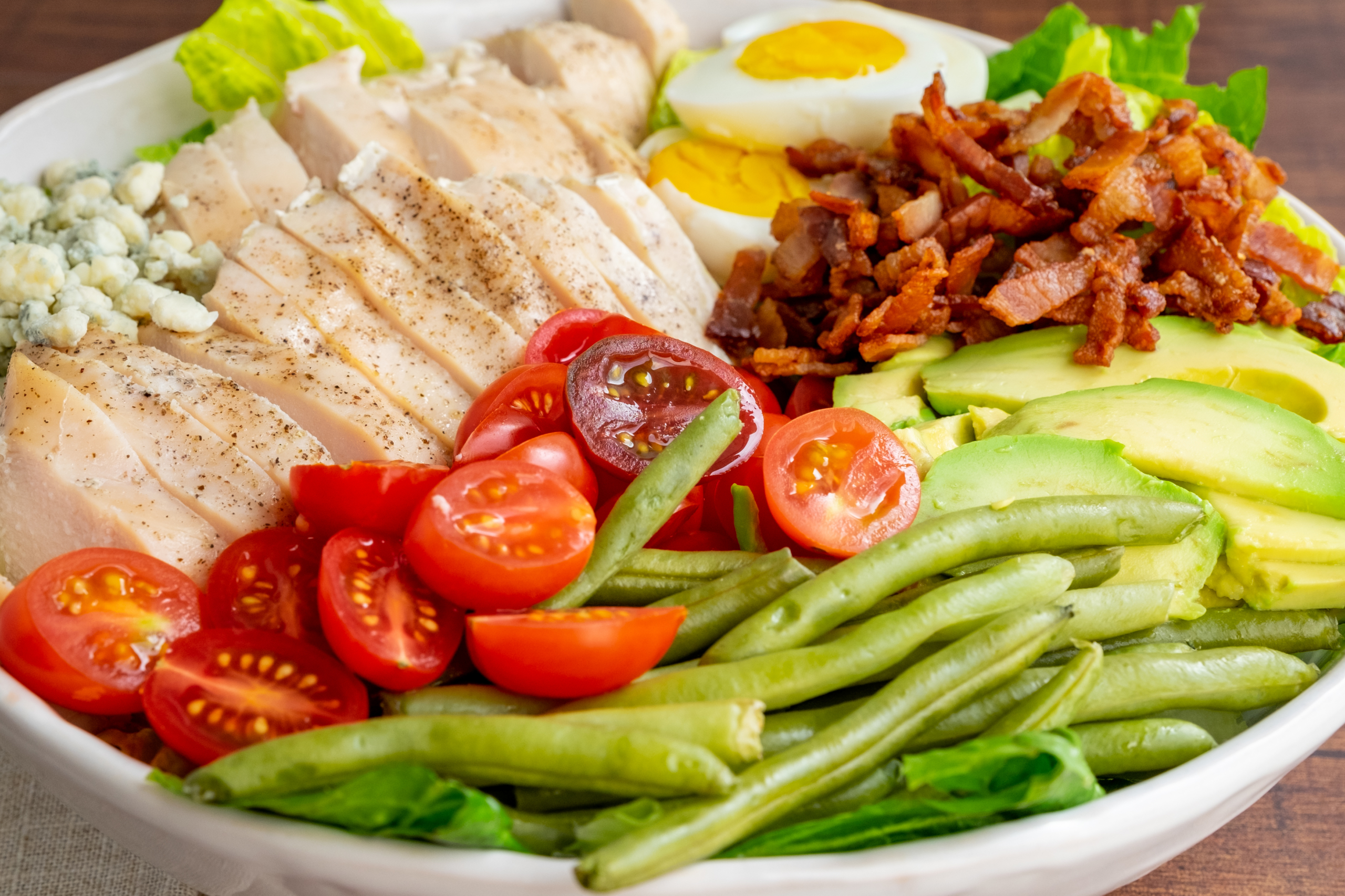 Ingredients
1 lb boneless skinless chicken breasts
¼ cup extra-virgin olive oil, plus 1 tbsp, separated
2 large eggs
8 oz green beans 
2 tbsp red wine vinegar
4 strips bacon, roughly chopped
6 ounces romaine or red leaf lettuce, torn
1 ripe avocado, peeled, pitted, and chopped
2 cups cherry tomatoes, halved
⅓ cup crumbled blue cheese
Directions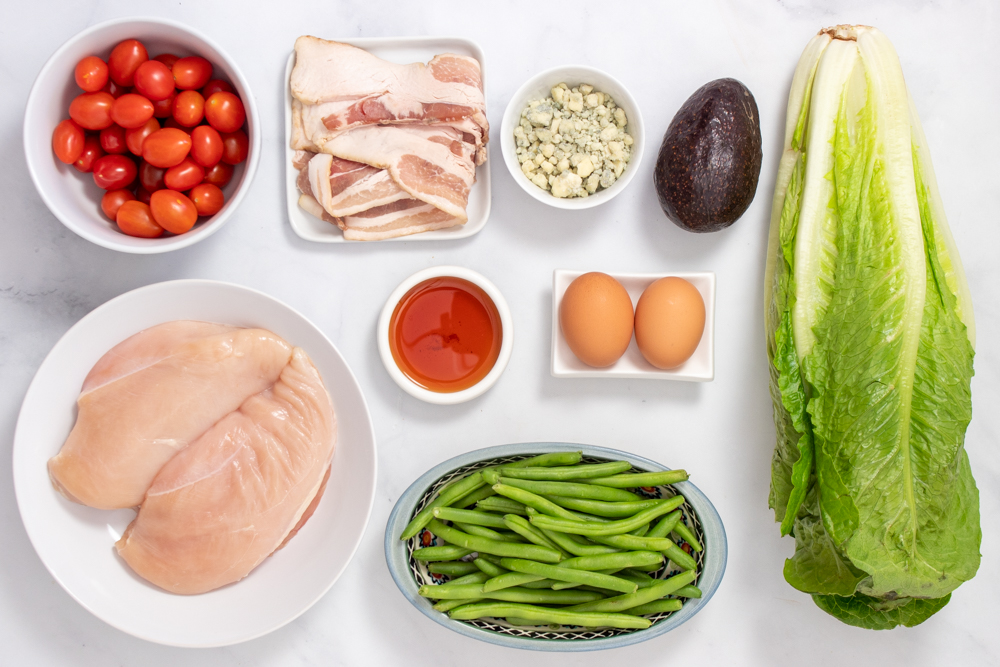 1) Pat 1 lb chicken dry, season with salt and pepper, and vacuum seal with 1 tbsp olive oil. Place chicken and eggs in a Suvie pan, cover completely with water, and insert into the bottom zone of Suvie. Place green beans in a second Suvie pan and place in the bottom zone of Suvie. Input settings and cook now or schedule.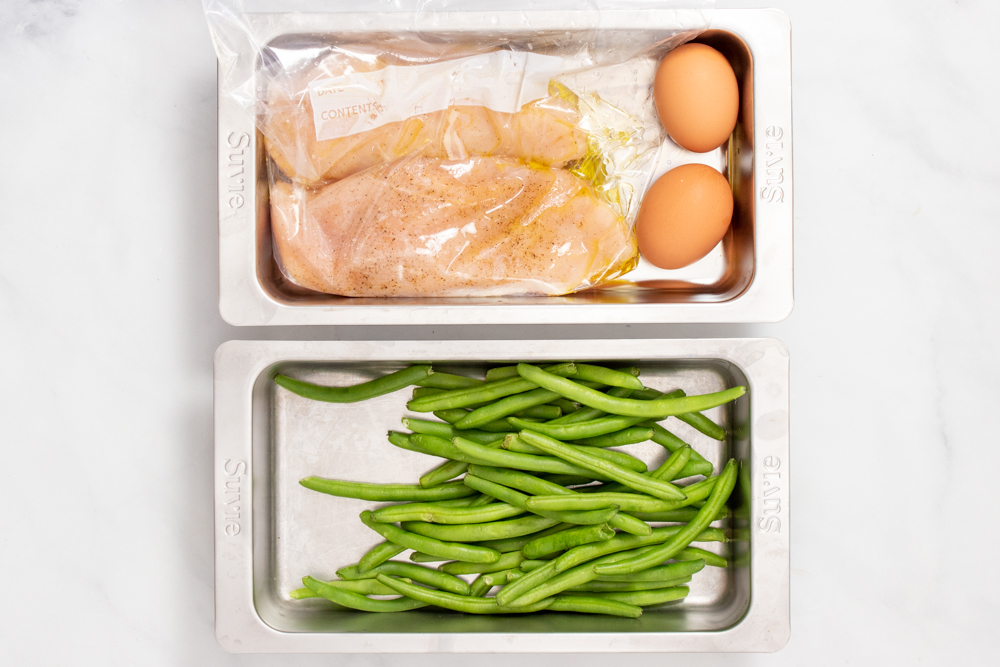 Suvie Cook Settings
Bottom Zone: Sous Vide at 160°F for 1 hour 15 minutes
Top Zone: Sous Vide at 160°F for 1 hour 15 minutes
2) After the cook, remove chicken, eggs, and beans from your Suvie. Drain water from the beans, pat dry, and drizzle with olive oil. Return pan to Suvie. Transfer bacon to a clean, dry Suvie pan. Place pan in the bottom zone of Suvie. Broil both pans for 15-20 minutes until rendered and crisp, stirring occasionally.
3) Remove bacon from Suvie and transfer to a paper towel lined plate. In a large bowl, whisk together ¼ cup extra-virgin olive oil, 2 tbsp red wine vinegar, ½ tsp salt, and ¼ tsp pepper until smooth.
4) Remove chicken from bags, pat dry, and cut into ½"-thick slices. Peel and halve hard-boiled eggs. Arrange lettuce, green beans, tomatoes, hard-boiled eggs, bacon, avocado, and blue cheese on a serving platter. Season green beans, eggs, and avocado with salt. Drizzle all components with dressing and serve.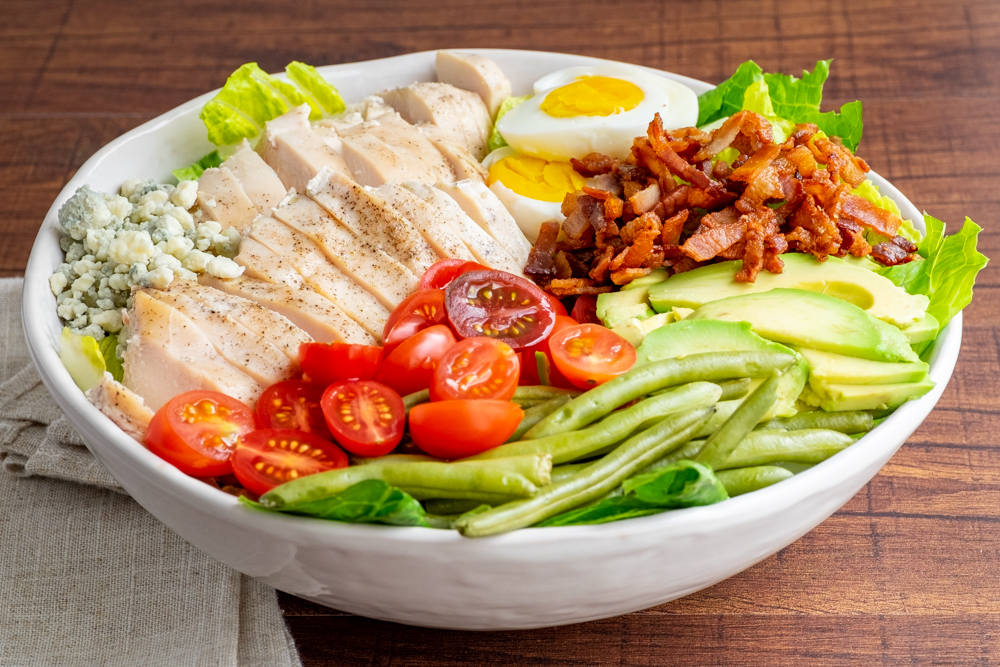 Nutrition
Nutritional Information per serving (4 servings per recipe): Calories 525, Total Fat 38g, Total Carbohydrates 10g, Total Sodium 1018mg, Total Protein 40g