Creamy, rich coconut milk is the perfect pantry ingredient to have on hand. This tropical ingredient can be used for both sweet and savory applications across a multitude of cuisines. Read on to learn more about this all-star ingredient.
What is Coconut Milk?
There are a few different types of coconut milk that you can find in your local grocery store. The first type and most readily available is canned coconut milk. The second is refrigerated coconut milk, which is often found alongside other alt milks such as oat or almond milk. The third type of coconut milk is shelf stable and is often found in boxes alongside soy milk. Often, boxed coconut milk (both refrigerated and shelf stable) have water added to them which dilutes their flavor.
For cooking we like full-fat, canned coconut milk best. There are "light" options, but we find it more economical and flexible to simply thin full-fat coconut milk with water at home. Canned coconut milk is made by extracting the liquid from the pulp of ripe coconuts. This liquid is usually ivory in color with a rich mouthfeel thanks to ample amounts of fat found naturally in coconuts.
How to Use Coconut Milk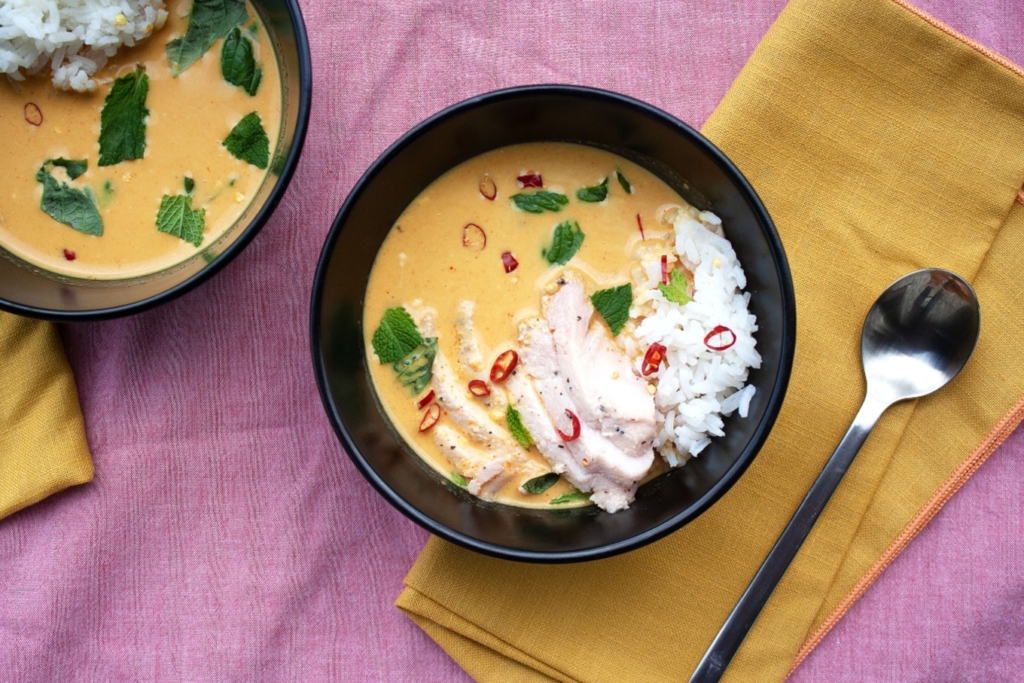 Coconut milk can be used in nearly any recipe that calls for cow's milk or cream. For sweet applications we love this recipe for Coconut Turmeric Oatmeal, which uses coconut milk in addition to water for a creamy, rich flavor with subtle sweetness. Or try our recipe for Chocolate Beet Cake, which we finish with a white chocolate coconut glaze. Feeling more fruity? This recipe for Rice Pudding with Strawberries Toasted Almonds uses coconut milk for richness in contrast with the tanginess of lemon zest and strawberries. 
Coconut milk is perhaps best known for its savory applications. Yellow Chicken Curry, Caribbean Plantain Curry, or Spicy Pork Curry all utilize coconut milk for rich creaminess that perfectly balances the herbaceous spiciness of the curry. For something a little lighter, this recipe for Coconut Shrimp Soup uses a blend of coconut milk and coconut water for all that delicious tropical flavor. 
Next time you're at the store be sure to pick up a couple cans of coconut milk. Unlike dairy products, which have a relatively short shelf life, coconut milk can keep for years. So next time you're out of cow's milk or cream, try substituting with coconut milk for rich creaminess that lasts.
Feature Image: Tijana Drndarski from Pexels