We've figured out the perfect way to prepare zucchini noodles (or zoodles) in your Suvie. While we experimented with slow cooking and using the starch zone, we found the best way to ensure perfectly cooked, non-mushy zucchini noodles in the Suvie is to broil them while completing the finishing touches on the rest of the meal. This dish is creamy, savory and bursting with flavor from the spinach-tomato cream sauce we slow cook alongside the chicken. This keto-friendly dish is perfect for anyone looking for a low-carb meal but feel free to add a starch to the starch zone if you're making this meal for picky eaters or kids.
Note: If you would like to schedule this meal but do not want to wait for the broiler to cool before refrigerating, sauté garlic and butter in a small skillet over medium heat until fragrant, about 4 minutes, instead of broiling.
Creamy Spinach-Tomato Chicken with Zoodles
Please always check your food to ensure your food has been cooked to safe serving temperatures. Please see our guide
here
for recommended FDA Time & Temperatures.
Servings: 4
Difficulty: 2 hours and 20 minutes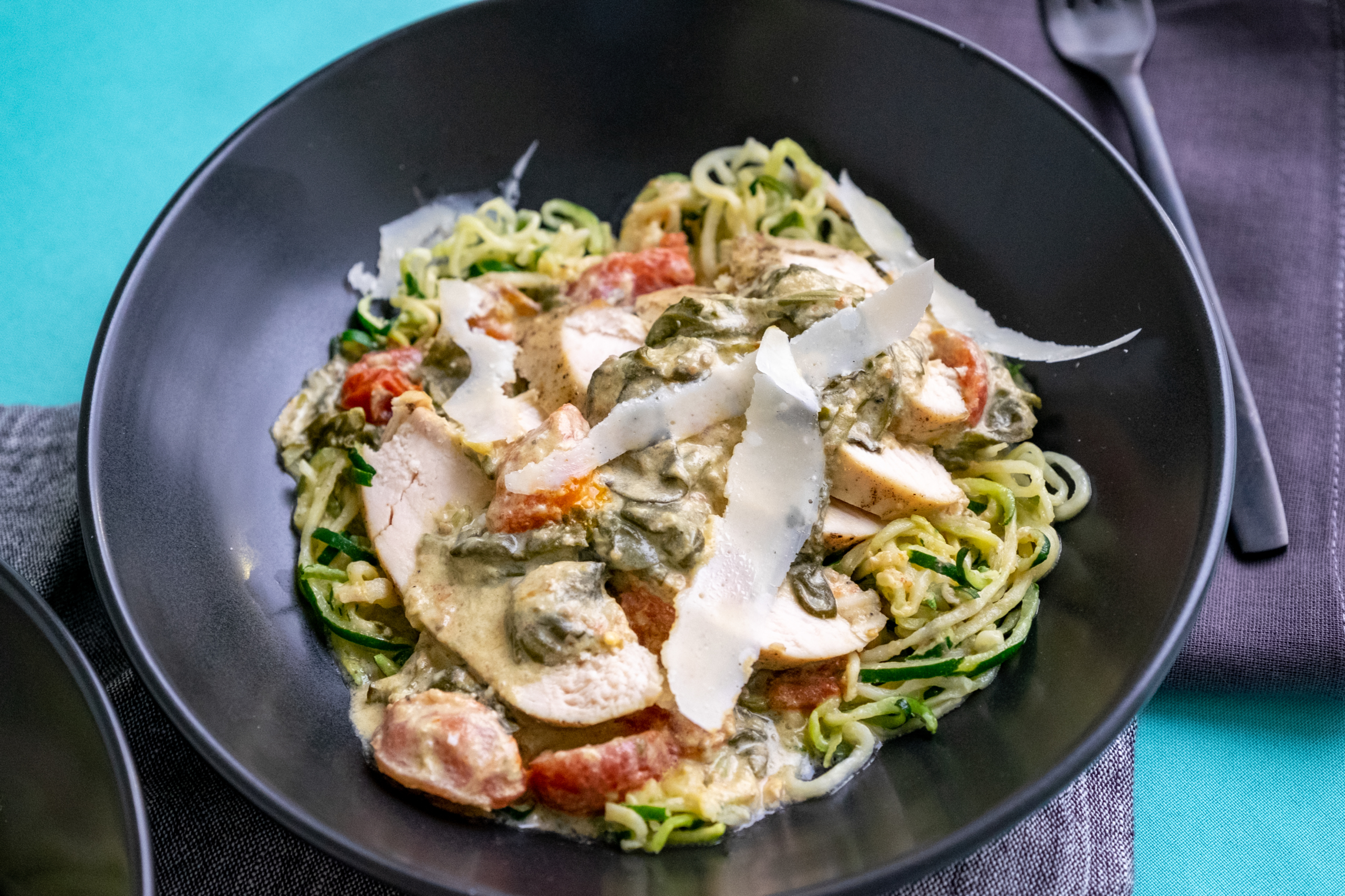 Ingredients
3 cloves garlic, minced
3 tbsp butter, melted
2 tbsp extra-virgin olive oil
1 lb boneless skinless chicken breasts
1 tsp dried oregano
1/2 cup heavy cream
1 1/2 cups cherry tomatoes, halved
3 cups baby spinach
12 oz (approx 2½ cups) zucchini noodles
¼ cup freshly grated Parmesan
2 sprigs parsley, for serving
Directions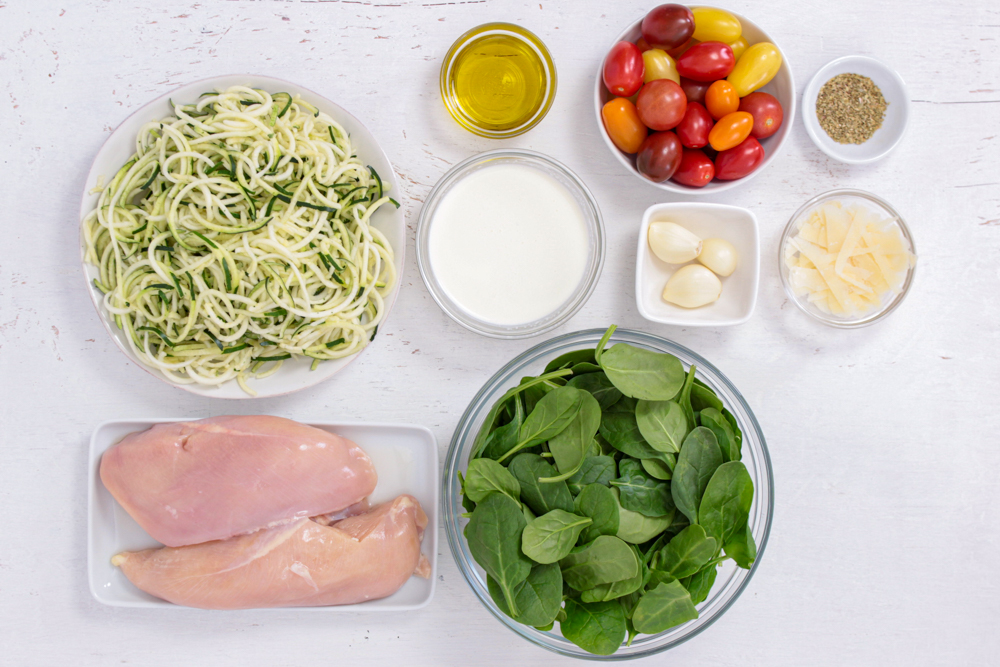 Combine garlic and 3 tbsp butter in a Suvie pan. Broil for 7 minutes. Do not fill reservoir before broiling.
Season chicken breasts with salt and pepper, coat in 1 tbsp olive oil and place in another Suvie pan.
Combine oregano and heavy cream with the broiled garlic in the Suvie pan then toss the tomatoes and spinach with the cream sauce.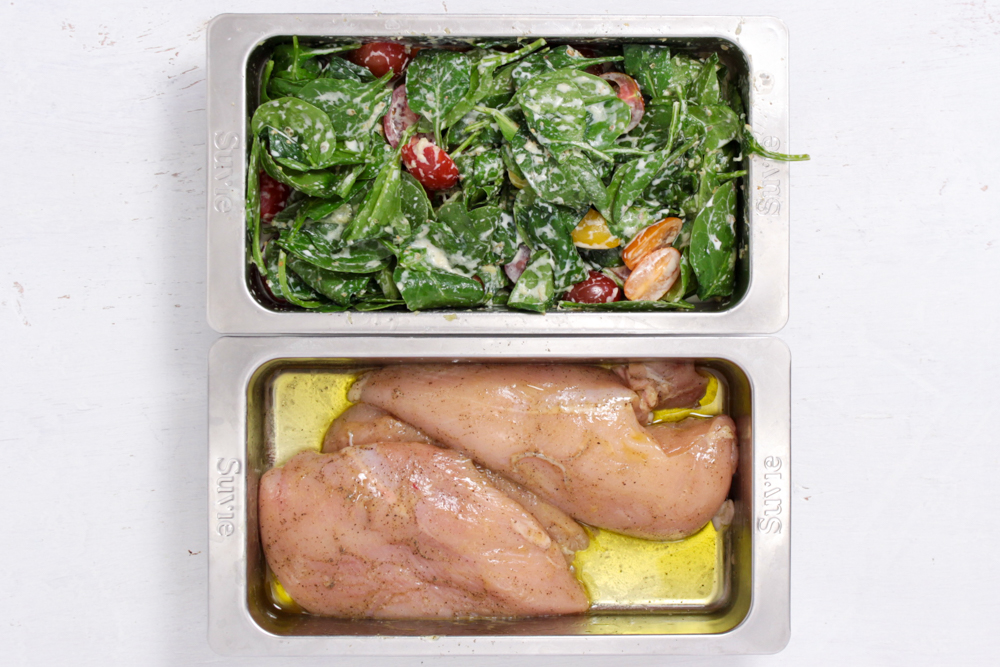 Insert pans into your Suvie, input settings, and cook now or schedule.
Suvie Cook Settings
Bottom Zone: Slow Cook Low for 1 hour
During the cook, toss the zucchini noodles with 1 tsp salt and place in a strainer over a bowl in the fridge. This will help release excess water from the zucchini noodles making them less soggy when broiling.
After the cook, remove the pans from Suvie.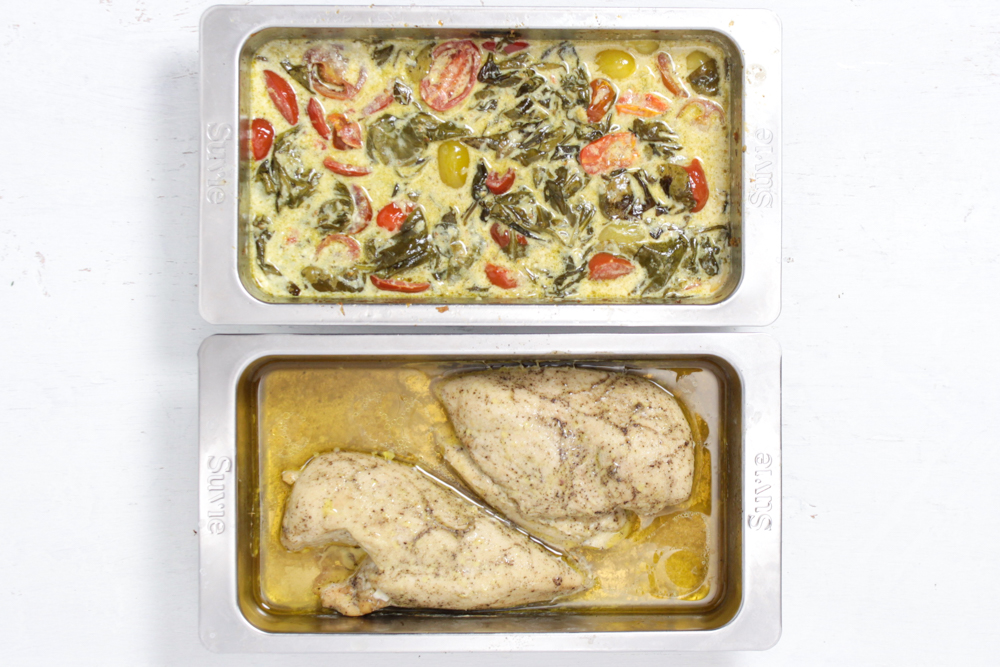 Drain excess liquid from the chicken pan, move the breasts to a cutting board and pat dry. Take the zucchini noodles from the fridge and squeeze excess water from them. Toss with 1 tbsp olive oil and place in a dry Suvie pan. Broil for 8 minutes tossing halfway through.
While the zucchini noodles are broiling, slice the chicken against the grain.
Optional step: remove tomato skins as they will often loosen or separate from the tomato flesh during the cook becoming tough to eat.
Add the sliced chicken to the cream sauce and toss to coat. Taste and adjust seasonings.
After the broil, remove the zucchini noodles from Suvie. Place noodles in a large bowl, then top with the creamy chicken. Garnish with the freshly grated parmesan, sprinkle with parsley and serve.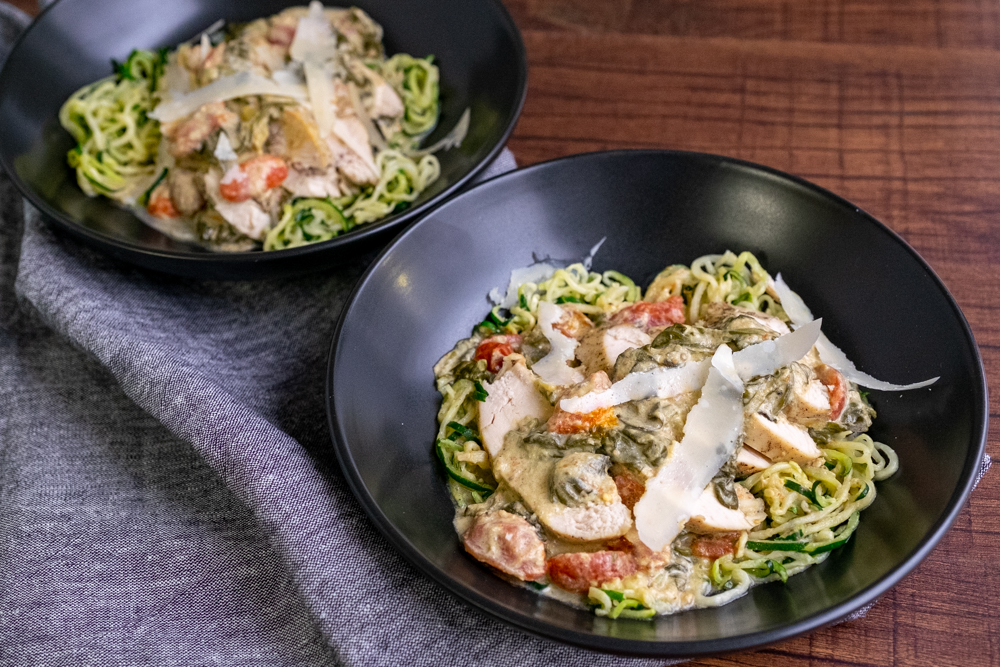 Note: If you would like to make this recipe in Suvie 1.0, insert pans into the top zones of Suvie, fill reservoir, and set to Slow Cook on Low for 1 hour.
Nutrition
Nutrition Info (per 1 serving, 4 servings per recipe): Calories 488, Total Fat 34.1g, Sodium 554.9mg, Total Carbs 8.9g, Fiber 2.1g, Protein 36.1g