When you think of barbeque, you're probably imagining Kansas City style barbeque. It's characterized by its thick, sweet sauce that coats all of Kansas City style barbeque dishes from ribs and steak tips to pit beans. This style is different from Memphis, the Carolinas, and Texas primarily because the sauce is sweet more than anything else. You'll be able to find Kansas City style barbeque sauce in any grocery store and you can probably pick up a Kansas City style premade rib rub as well if you want to skip making your own. These ribs are classic, fall of the bone, finger-licking good.
Kansas City Ribs
Please always check your food to ensure your food has been cooked to safe serving temperatures. Please see our guide
here
for recommended FDA Time & Temperatures.
Servings: 3-4
Difficulty: 4 hours and 35 minutes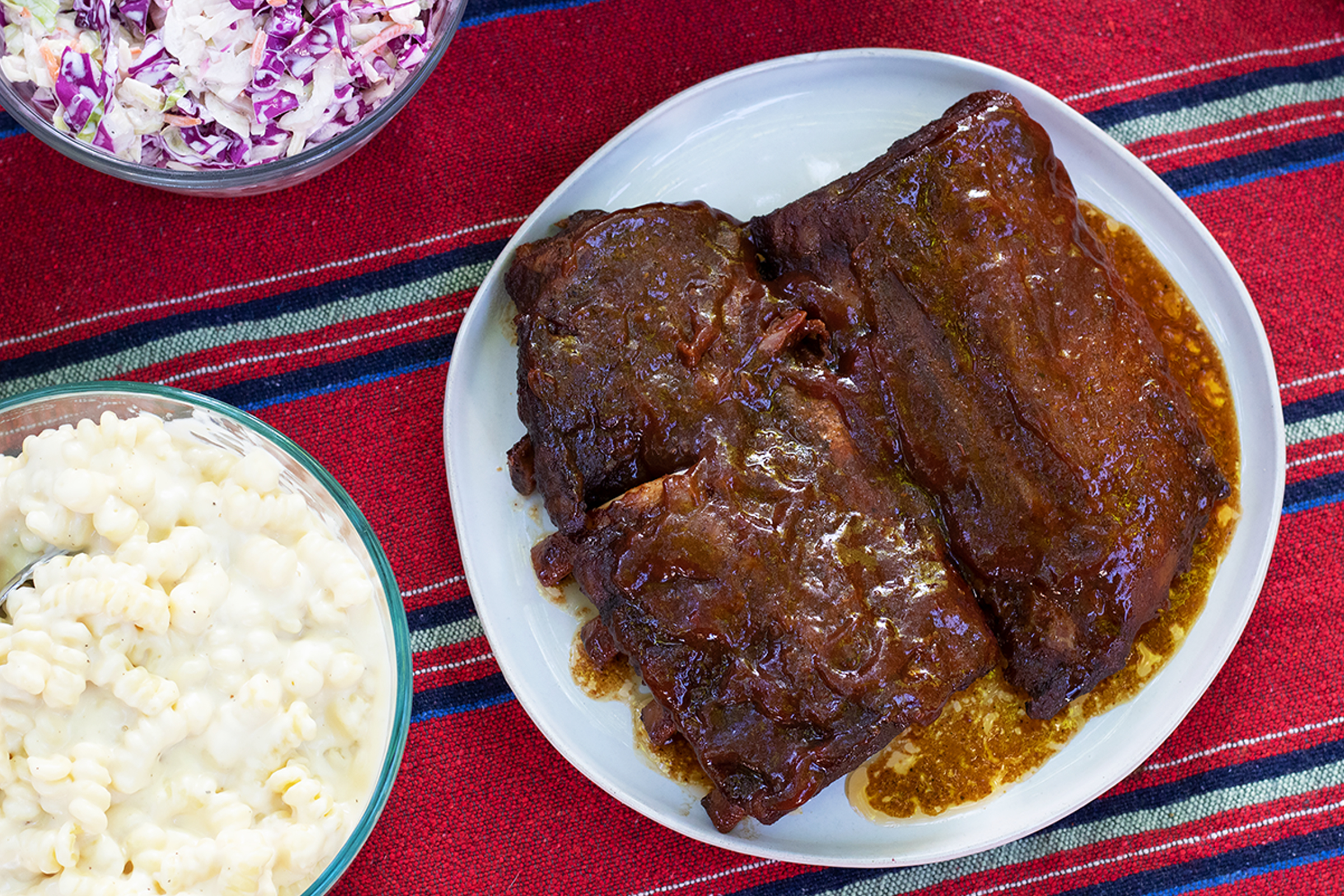 Ingredients
¼ cup brown sugar
1 tbsp dry mustard
1 tsp smoked paprika
1 tsp chili powder
1 tsp garlic powder
1 tsp onion powder
1 tsp salt
½ tsp cayenne pepper
½ tsp freshly ground black pepper
1 rack baby back ribs
1 cup Kansas City Style BBQ sauce
Directions
Combine the brown sugar, mustard, paprika, chili powder, garlic powder, onion powder, salt, cayenne pepper, and black pepper. Cut ribs into two sections. Liberally coat the ribs with the rub. Place the ribs in a Suvie pan and cover with BBQ sauce.
Insert pan into your Suvie, input settings, and cook now or schedule.
Suvie Cook Settings
Bottom Zone: Slow Cook High for 3 hours
After the cook remove the ribs from Suvie. Slather with more BBQ sauce and serve.
Note: If you would like to make this recipe in Suvie 1.0, insert pan into the top zone of Suvie, fill reservoir, and set to Slow Cook on High for 3 hours.
Nutrition
Nutritional Information per serving (3 servings per recipe): Calories 574, Total Fat 22.1g, Total Carbohydrates 69.9g, Total Sodium 1446mg, Total Protein 42.4g