The food that needs no introduction, but we'll give it one anyway: mac and cheese, ladies and gentlemen! We're passionate about food here at Suvie HQ and mac and cheese is a hotly contested topic. Some people want it creamier, some cheesier, more bacon, less goopy, the list goes on and on. We banished all other foods from our test kitchen for three weeks to solely devote ourselves to find you the perfect blend of cheesy, creamy, crunchy and comforting. We finally found the solution with office fan favorite: American cheese. It melts without separating, its creamy and it helps its buddy, cheddar cheese stay together. Less than 10 ingredients, quick prep time, minimal stirring and maximum yumminess make this the ultimate winner of our mac and cheese hearts and minds and hopefully yours as well.
Mac and Cheese
Please always check your food to ensure your food has been cooked to safe serving temperatures. Please see our guide
here
for recommended FDA Time & Temperatures.
Servings: 4
Difficulty: 2 Hours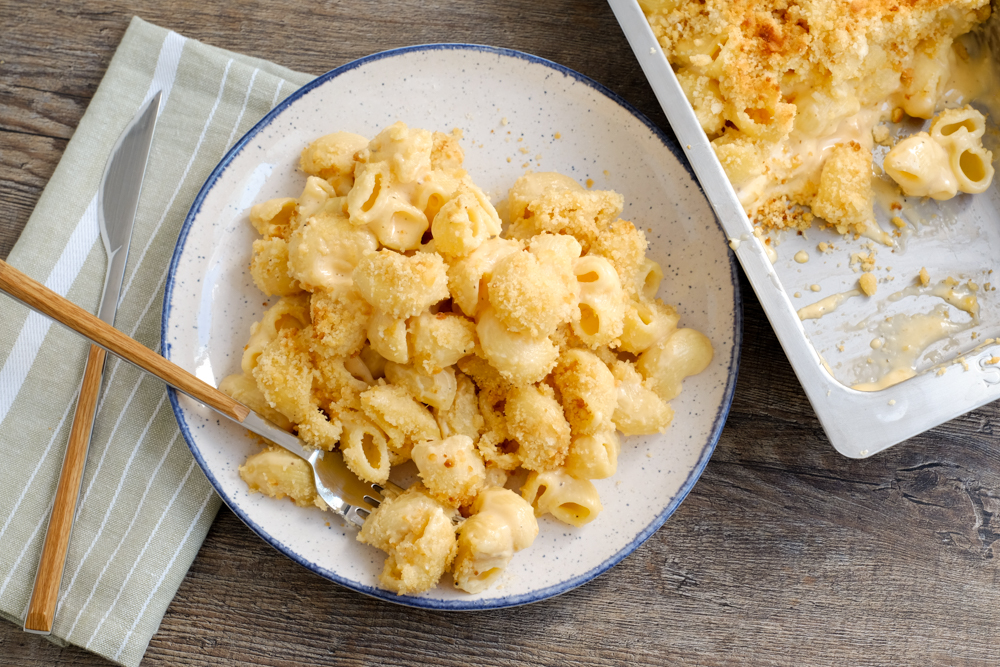 Ingredients
1 tsp garlic powder
1 cup whole milk
1.5 cups (6 oz) shredded cheddar cheese, divided
1 cup (4 oz) American cheese, shredded or finely chopped, divided
3 tsp salt, divided
½ tsp freshly ground black pepper
10 oz shell pasta (or any other)
½ cup crushed Ritz crackers or panko bread crumbs
1 tbsp butter, melted
Directions
Instructions
Combine garlic powder, milk, cheddar and American cheeses, 1 tsp salt, and pepper in a Suvie pan. Mix until well combined. Place in upper right zone of your Suvie.
Pour pasta into strainer and add 2 tsp salt. Place into starch pan and load into lower right zone of your Suvie.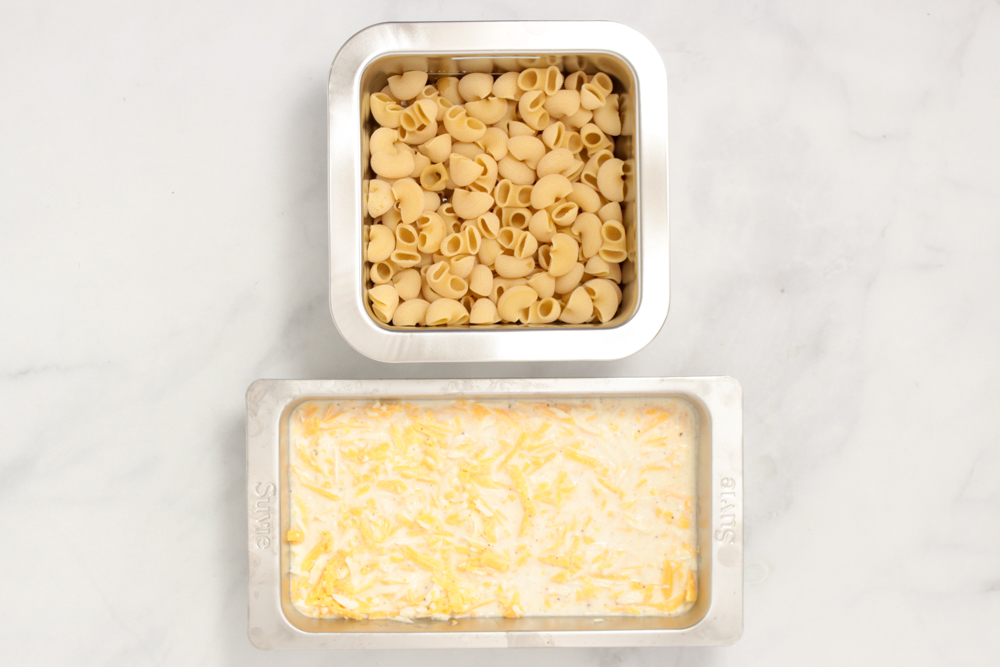 Fill Suvie reservoir, enter My Cook settings, and cook now or schedule.
My Cook Settings
Protein: 175 degrees, 20 minutes
Veggie: 0 minutes
Starch: 10 minutes
During the cook, combine the crushed crackers and melted butter in a small bowl, set aside.
After the cook, remove the cheese sauce from Suvie and whisk until all the cheese is incorporated and smooth.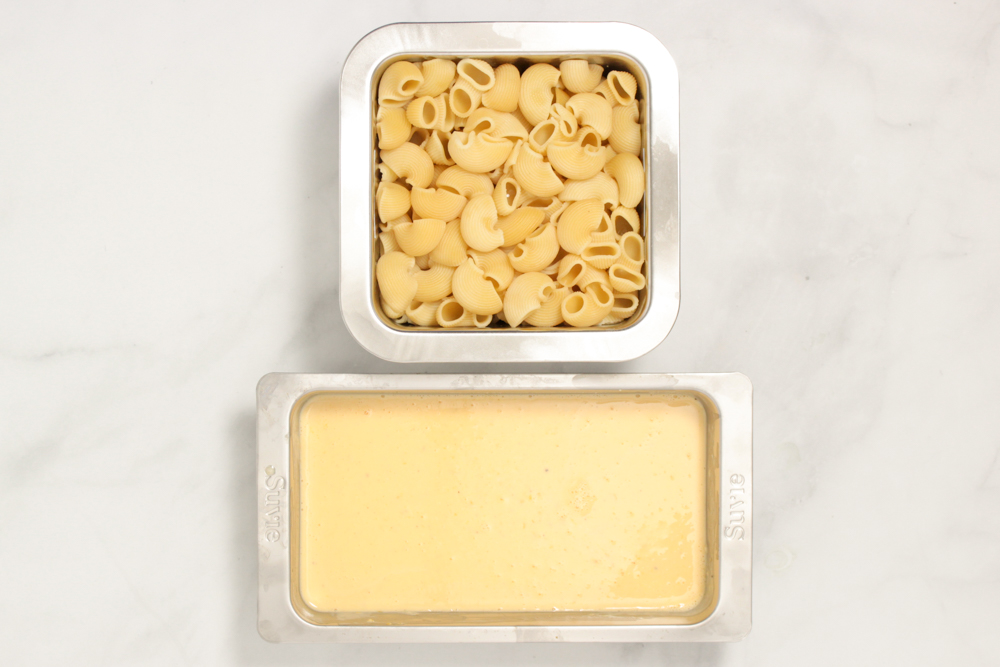 Add pasta to the cheese sauce, mix to coat and season to taste with salt and pepper. Return to a Suvie pan and spread into an even layer.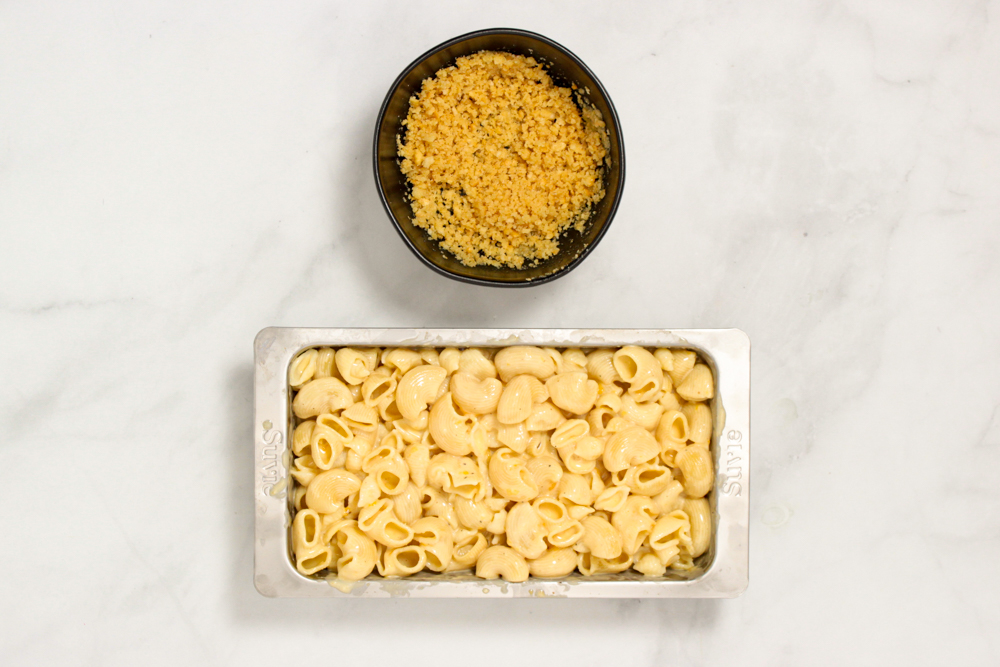 Top the mac and cheese with the cracker-butter mixture. Return to Suvie and broil for 5 minutes or until topping is golden brown, rotating pan halfway through broil time.
To avoid overcooking: do not leave mac and cheese unattended during this step!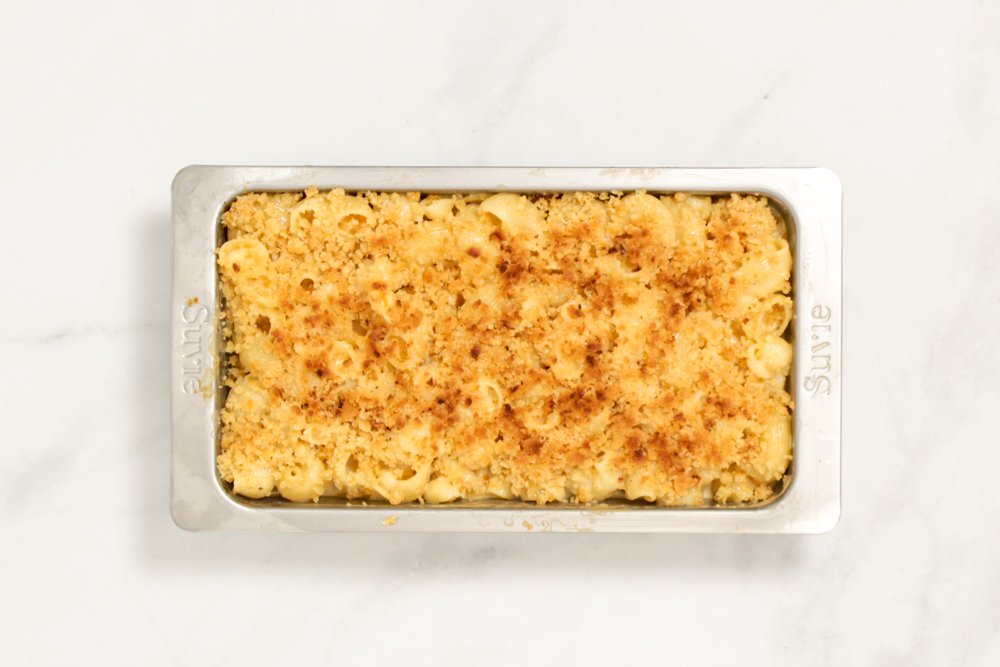 Divide among four plates and enjoy!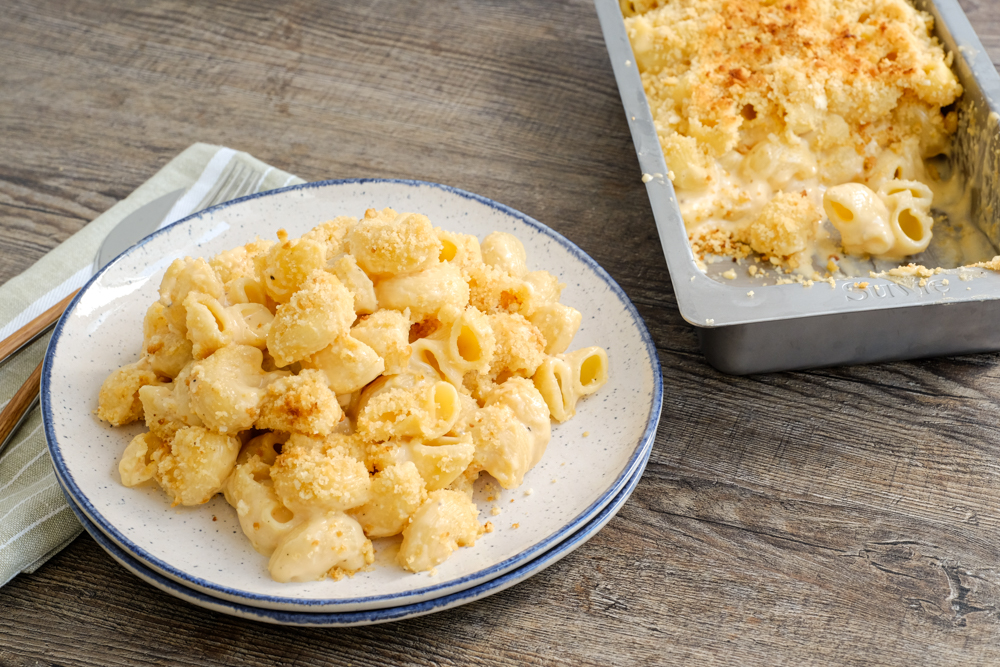 Wine Pairing
Mac and cheese is wonderfully versatile and will pair with pretty much any white wine. Your safest bet is a glass of dry Chardonnay. We find that the dry and lean qualities of unoaked Chardonnay work best when paired with rich and creamy cheese sauce so avoid the oak-aged bottles if you can. If you want to experience a more adventurous pairing try serving this meal with a White Pinot Noir.