Our creamy, dreamy cheesecake sits atop a buttery graham and coconut crust and is punctuated with a bright swirl of berry filling. We used a mix of wild blueberries, raspberries, and blackberries, but you can use any combination of fruit. For clean, even slices of cheesecake, wipe the knife between cuts in Step 7. 
Mixed Berry Cheesecake with Coconut Crust
Please always check your food to ensure your food has been cooked to safe serving temperatures. Please see our guide
here
for recommended FDA Time & Temperatures.
Servings: 6
Difficulty: 3 hours, plus chilling time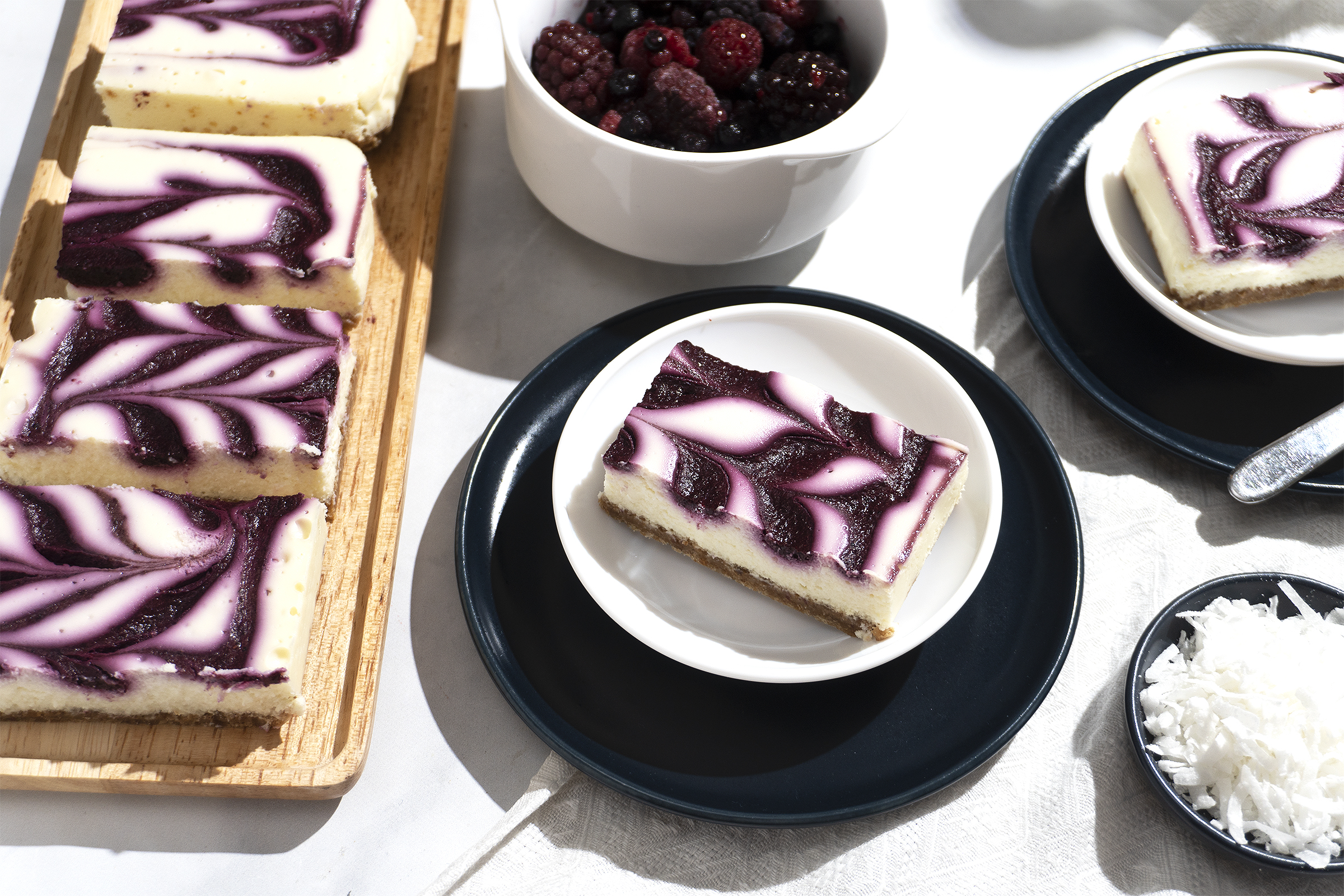 Ingredients
4 tbsp (½ stick) unsalted butter, melted
7 graham cracker sheets
¼ cup shredded, sweetened coconut flakes, toasted
1 pinch kosher salt
12 oz cream cheese, room temperature
4 oz fresh goat cheese, room temperature
2 tsp vanilla extract
⅔ cup granulated sugar, plus 1 tsp, separated
2 large eggs
1 cup mixed berries, fresh or frozen
Directions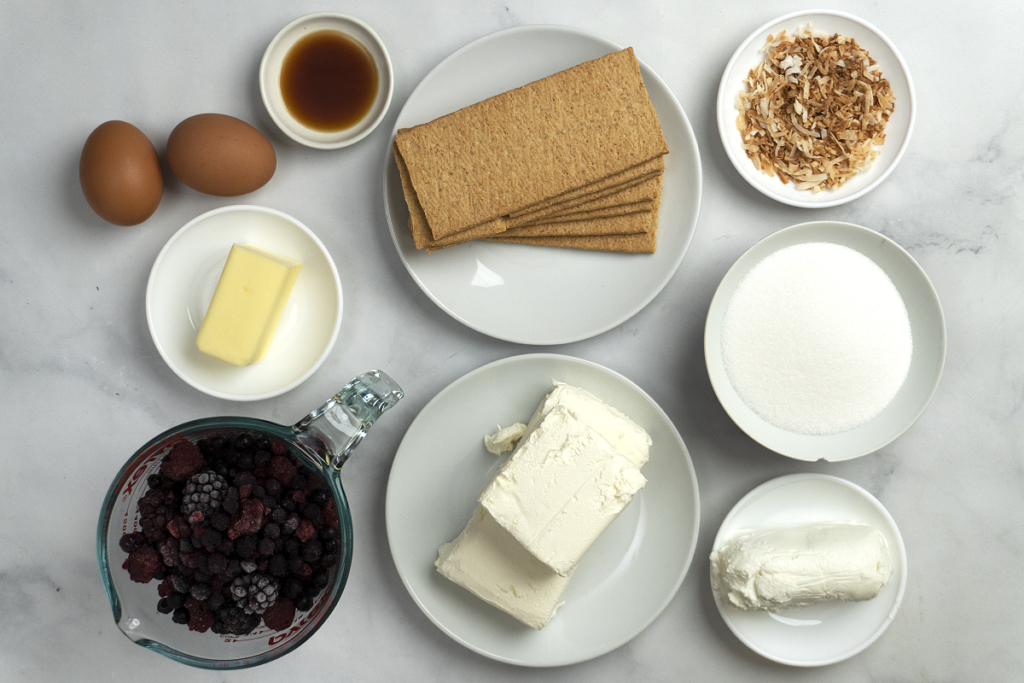 1) Spray a Suvie pan with cooking spray and line with aluminum foil so that the long edge of the foil extends over the edge of the pan. Spray foil. In the bowl of a food processor, combine 7 graham crackers, ¼ cup shredded coconut, and pinch of kosher salt. Process until sandy and coarse, about 1 minute. With motor running, stream in 4 tbsp melted butter and process until combined, about 30 seconds. Set food processor bowl aside for Step 5.
2) Transfer mixture to prepared pan and press into an even layer. Place pan in the bottom zone of Suvie. Input settings and cook now, rotating the pan halfway through cooking, and watching closely to avoid burning.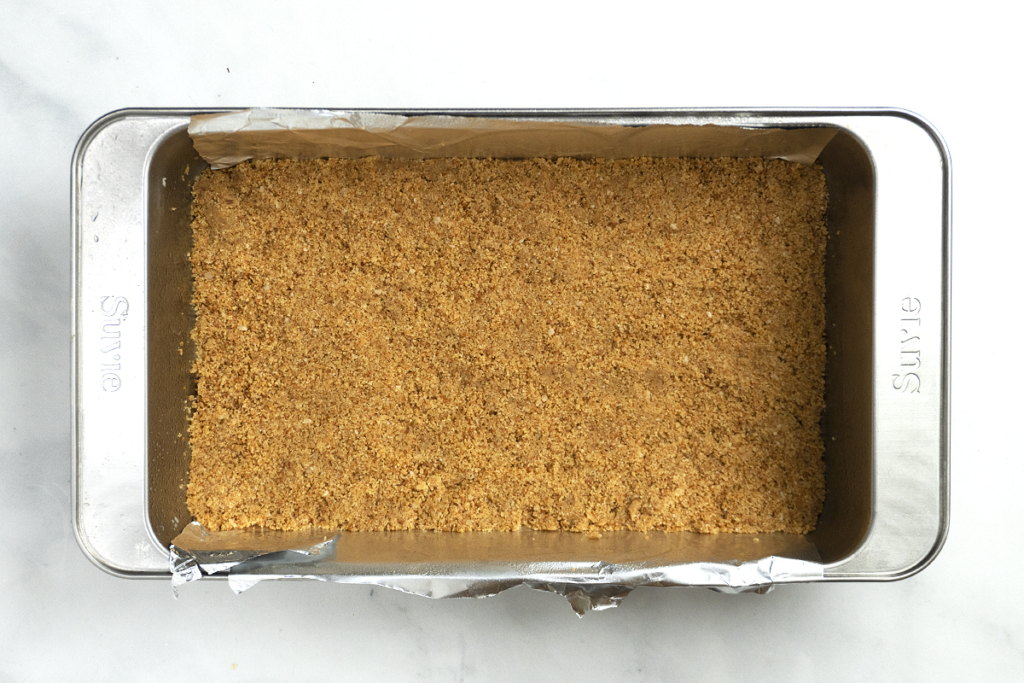 Suvie Cook Settings
Bottom Zone: Roast at 400°F for 10 minutes
Top Zone: None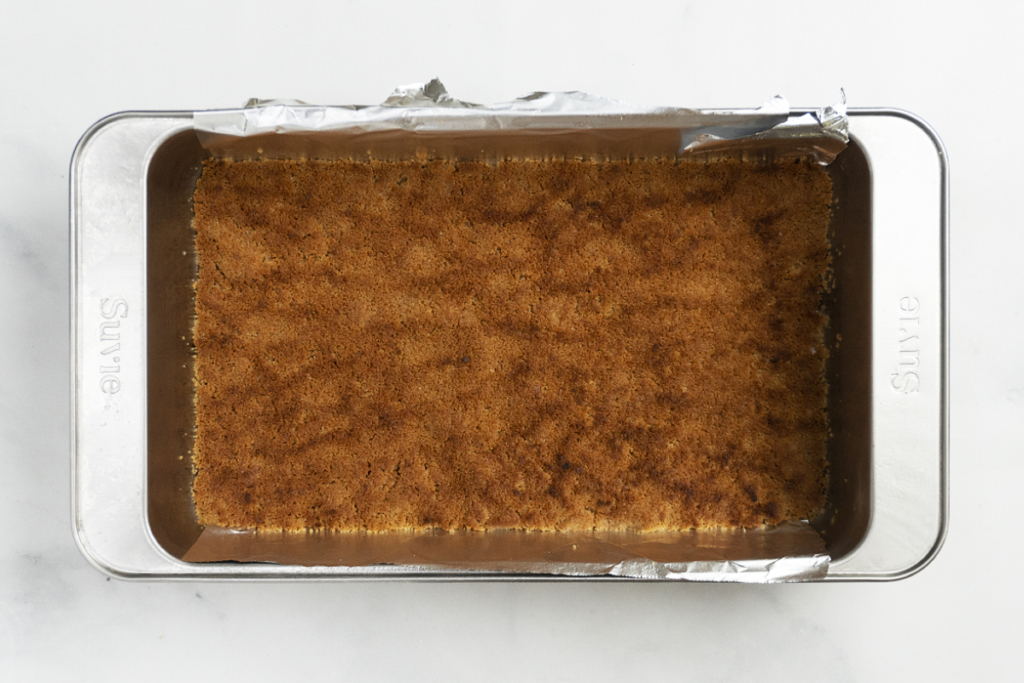 3) Remove pan from Suvie and allow to cool while preparing the filling. In the bowl of a stand mixer fitted with a paddle attachment, combine 12 oz cream cheese, 4 oz goat cheese, and 2 tsp vanilla extract. Beat on low until combined, and then increase speed to medium and beat until smooth, about 5 minutes, scraping down the bowl as needed.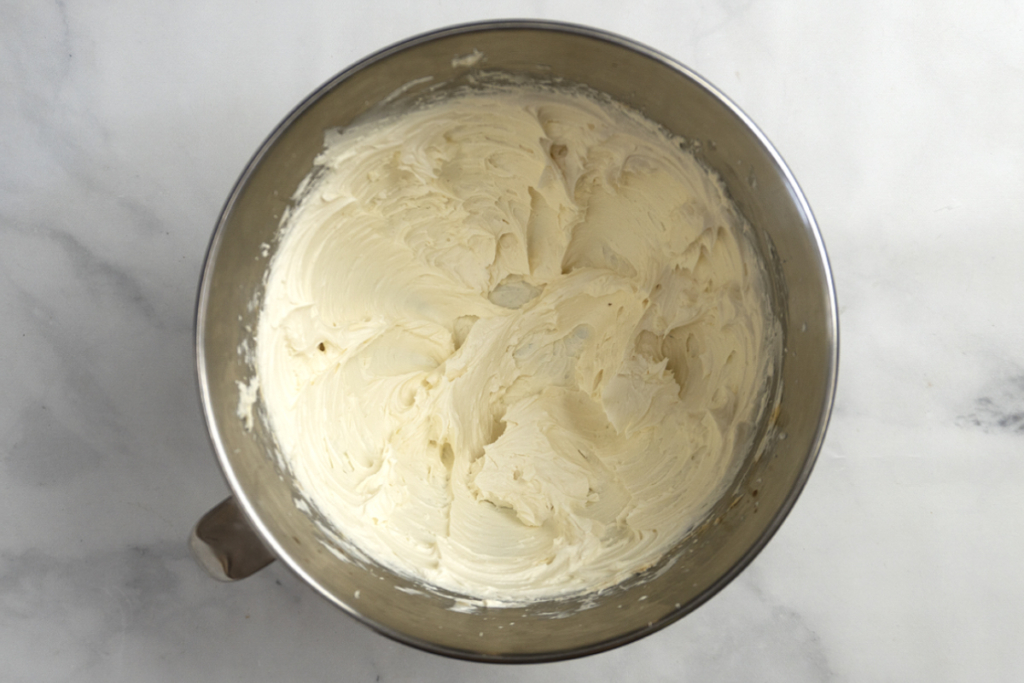 4) With the mixer running, add ⅔ cup sugar and mix until just combined, about 30 seconds. Add the eggs one at a time, and beat until combined, about 1 minute more. Scrape down the sides and bottom of the bowl.
5) In the bowl of a food processor, combine 1 cup mixed berries and remaining 1 tsp sugar. Puree until smooth, about 1 minute. Strain mixture through a fine mesh sieve into a medium bowl, pressing on the pulp to extract as much liquid as possible; discard solids.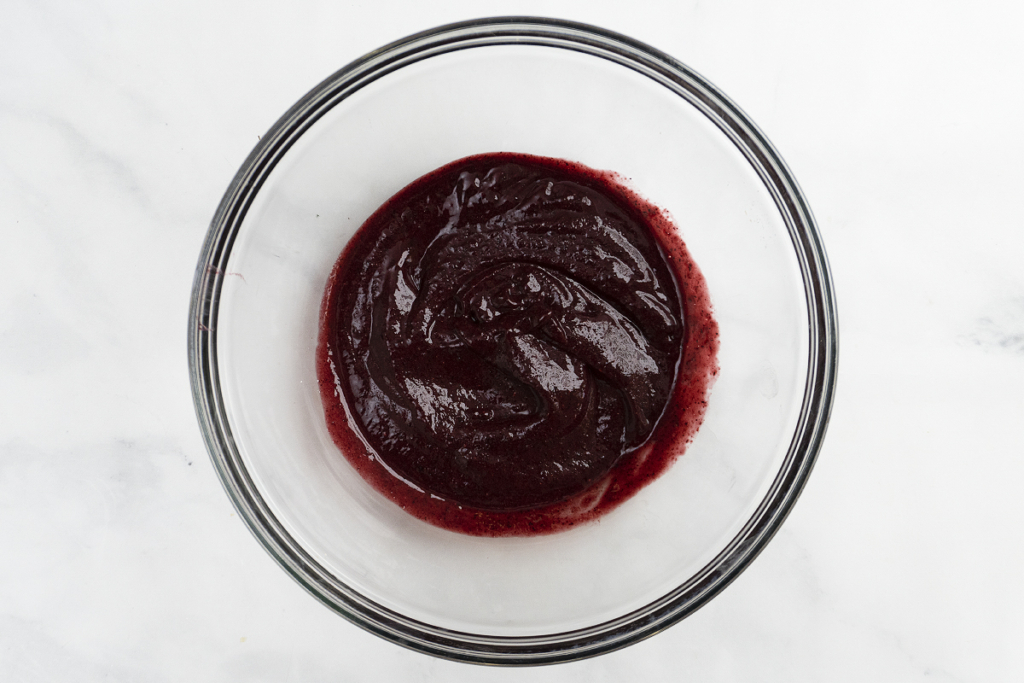 6) Pour cheesecake batter over the cooled crust and tap the pan a few times on the counter to remove bubbles. Drizzle fruit puree over the batter in long horizontal lines and then create a swirl pattern by drawing a skewer or chopstick vertically through the fruit puree from top to bottom and then from bottom to top. Transfer pan to Suvie, input settings, and cook now.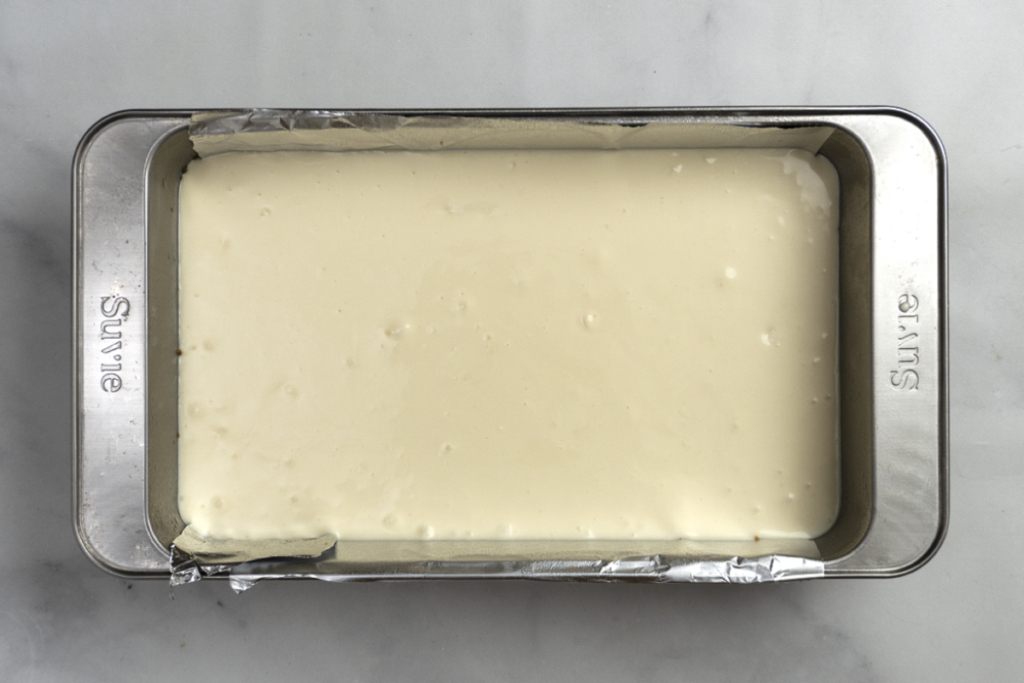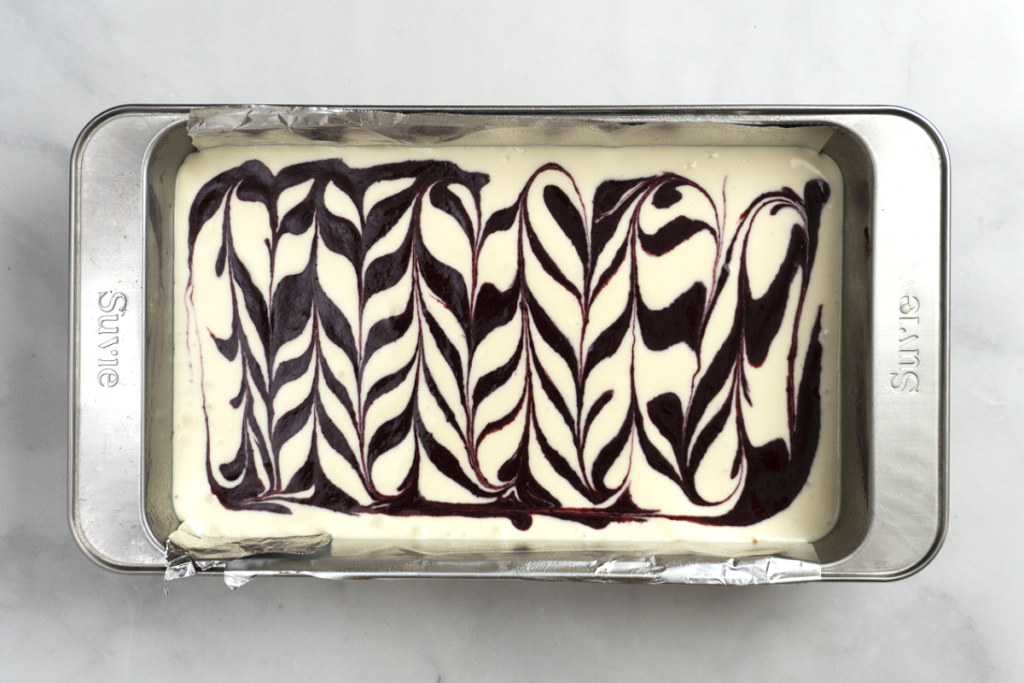 Suvie Cook Settings
Bottom Zone: Slow Cook on Low for 2 hours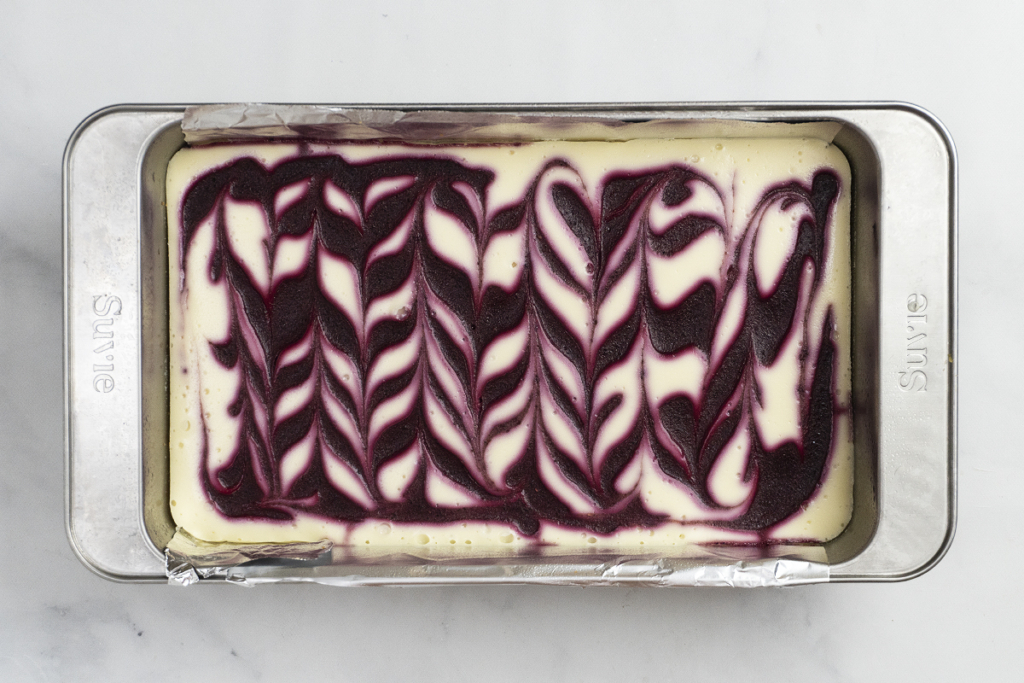 7) Remove cheesecake from Suvie and let cool 1 hour at room temperature before transferring to the refrigerator to cool completely, 6 hours or overnight. When ready to serve, remove cheesecake with foil sling, cut into squares, and serve.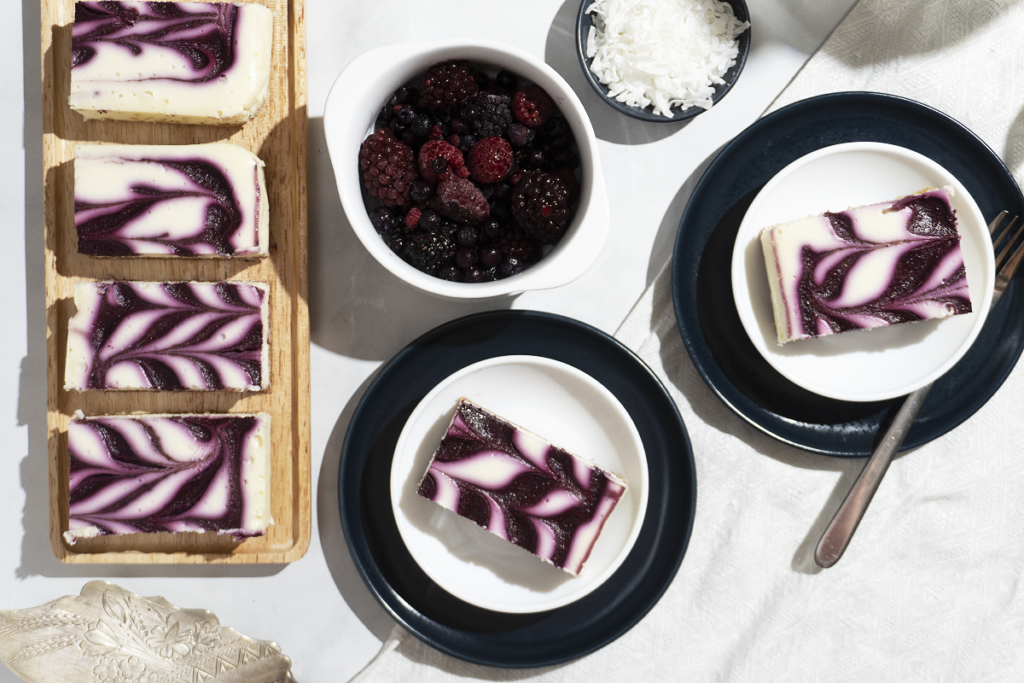 Nutrition
Nutritional Information per serving (6 servings per recipe): Calories 520, Total Fat 35g, Total Carbohydrates 43g, Total Sodium 450mg, Total Protein 11g.