Nothing drives away the chill of winter like warm bowl of smoky, spicy, beefy chili. Thanks to the Suvie Slow Cook mode you can let this chili cook all day long for the best, most tender pieces of beef. We use whole pieces of chuck beef for a Texas-style chili that's slow cooked with smoky chipotle pepper, tomato, cumin, lots of garlic, and kidney beans. If you want to dial back the heat you can omit the chipotle pepper, but feel free to add some smoked paprika to mimic the smokiness without all of the heat. Served over a bowl of white rice and garnish with sour cream and scallions.
Seared Beef Chili
Please always check your food to ensure your food has been cooked to safe serving temperatures. Please see our guide
here
for recommended FDA Time & Temperatures.
Servings: 4
Difficulty: 8 hours 30 minutes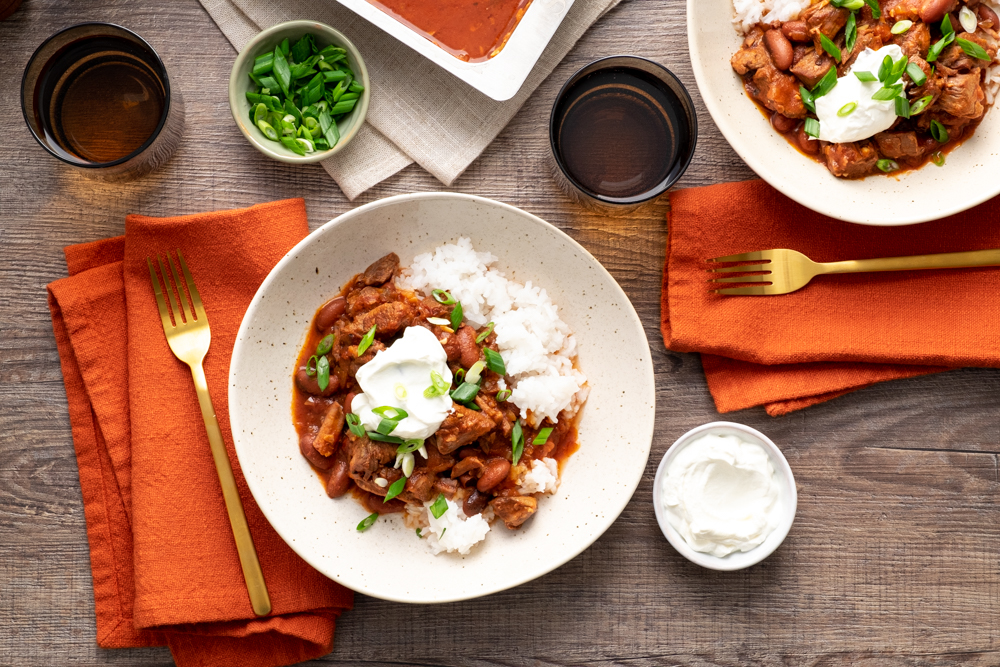 Ingredients
1 1/2 lbs chuck beef, cubed
1 small onion, diced
4 cloves garlic, minced
1 chipotle in adobo, minced (or substitute 2 tsp smoked paprika)
2 tsp ground cumin
1 tsp dried oregano
1 cup tomato puree
1 (14.5 oz) can red kidney beans, drained and rinsed
½ cup water or beef stock
1 cup white rice
2 scallions, thinly sliced
2 tbsp sour cream
Directions
1) Pat 1 1/2 lbs beef dry with paper towels and season generously with salt. Heat 1 tbsp vegetable oil in a large skillet over medium-high heat until shimmering. Add the beef in an even layer and cook, without moving, for 2-3 minutes per side until browned.
2) Transfer the beef to a Suvie pan. Reduce heat to medium and add 1 diced onion, 4 garlic cloves, and 1 chipotle in adobo. Cook, stirring frequently for 2-3 minutes, scraping the bottom of the skillet.
3) Add 2 tsp cumin and 1 tbsp dried oregano. Cook for 30 seconds until fragrant, then add 1/2 cup beef stock or water to deglaze the pan and remove skillet from heat.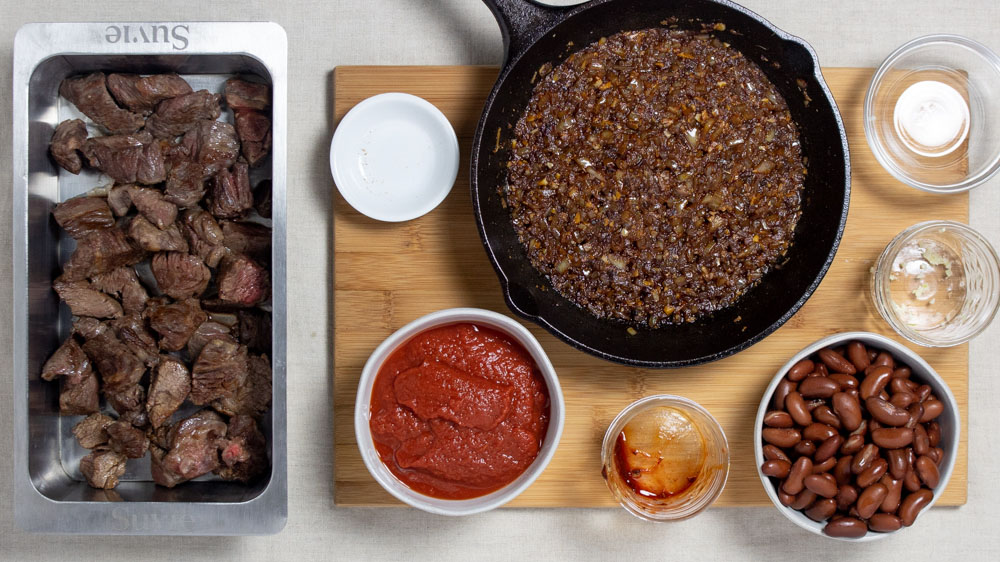 4) Add 1 can kidney beans, 1 cup tomato puree, and onion mixture to the beef stirring to combine. Place the chili into the bottom zone of your Suvie. Enter the settings below and cook now or schedule.
Suvie Cook Settings
Bottom Zone: Slow Cook on Low for 8 hours
5) Place 1 cup white rice and 1/2 tsp salt in the Suvie Rice pot (black handles). Place pot in the Suvie Starch Cooker, ensuring pot is centered on the hot plate. Input settings and schedule or cook now.
Suvie Starch Cooker Settings
Rice, Long Grain, 1 Cup
6) Once the cook is complete, fluff the rice and adjust seasoning to taste. Stir chili to reincorporate and season to taste with salt and pepper. Divide the rice evenly between bowls and top with the beef chili. Garnish with scallions and sour cream.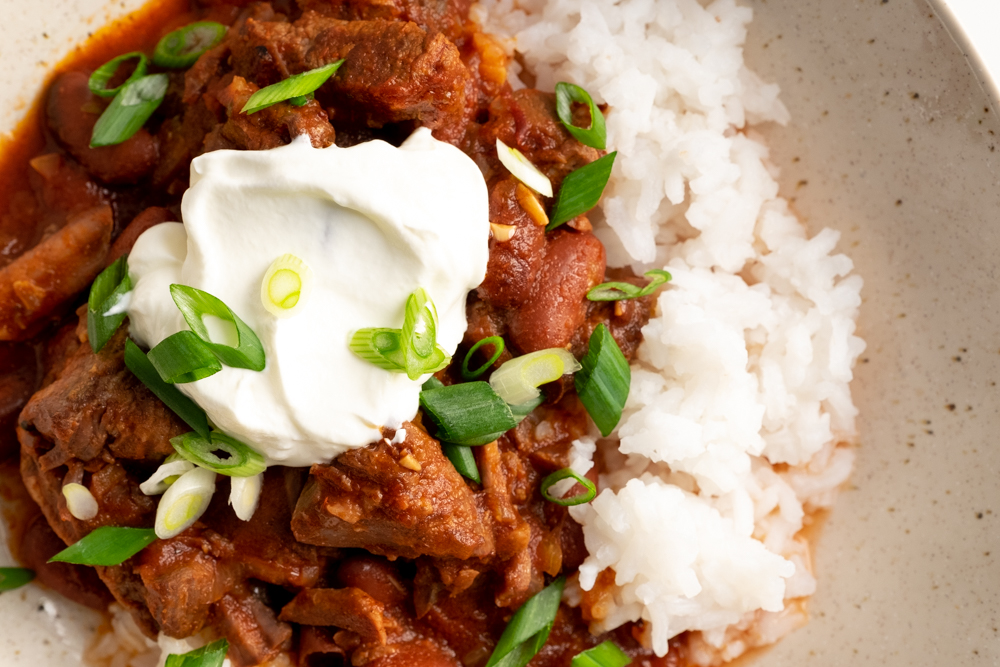 Wine Pairing
This rich and robust Chili should be pairing with a suitably muscular wine. Argentina Malbec is the perfect compliment to this dish. The wine works best when paired with umami rich foods and it will really bring out the smokey and earthy notes in the Chili.