Cooking beets can be a messy and labor intensive endeavor, but their sweet flavor and rich texture make them worth the challenge. Luckily, Suvie's low and slow cooking method brings out the best in the beets. Blue cheese adds savory funkiness to this salad and the walnuts add a nice textural contrast. Tying it all together is a simple warm vinaigrette made with olive oil poached shallots.
Beet, Barley, and Blue Cheese Salad
Please always check your food to ensure your food has been cooked to safe serving temperatures. Please see our guide
here
for recommended FDA Time & Temperatures.
Servings: 2
Difficulty: 3 hours, 30 minutes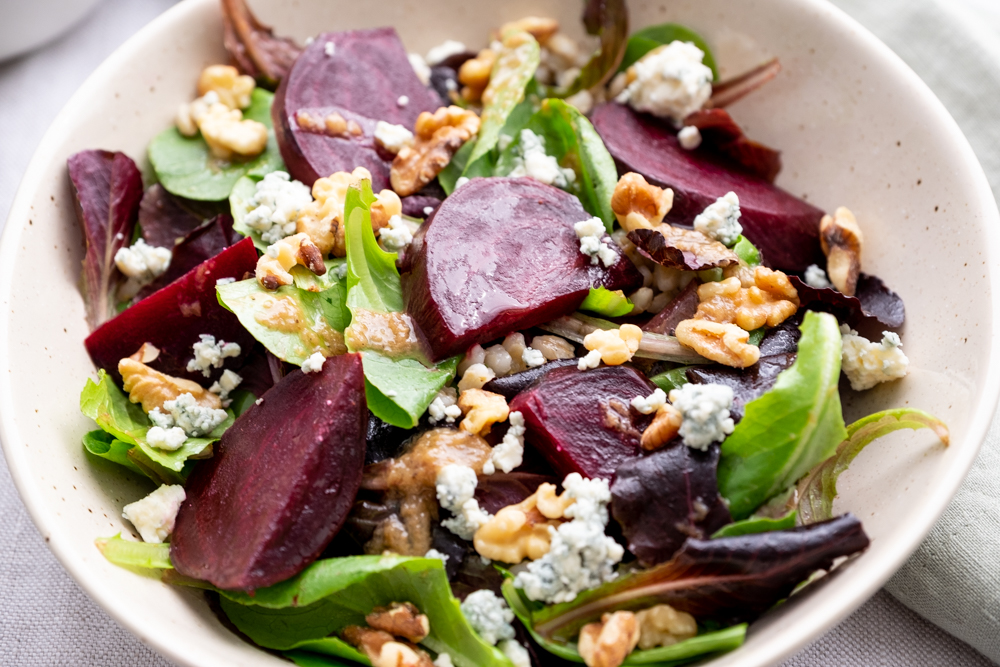 Ingredients
2 medium red beets, peeled and quartered
2 sprigs fresh thyme
1 lemon
2 tbsp olive oil, plus 1/3 cup, divided
1 shallot, thinly sliced
1/2 cup pearled barley
1 tsp Dijon mustard
¼ cup sherry or red wine vinegar
2 oz blue cheese, crumbled
4 oz baby greens or mesclun mix
¼ cup toasted walnuts
Directions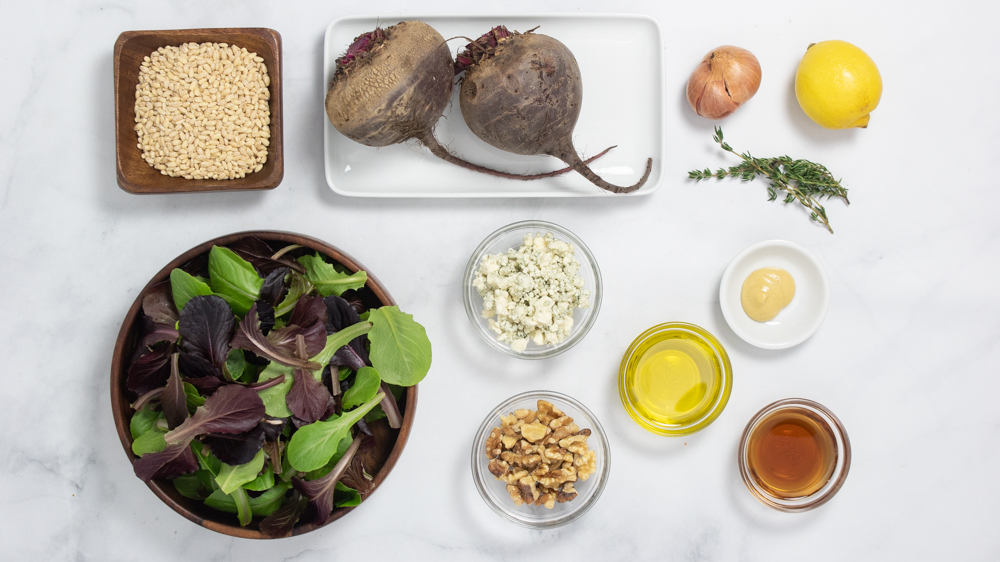 1) Arrange beets an even layer in a Suvie pan. Peel lemon to yield four 2-inch long strips. Add to beets along with juice from one lemon half, 2 sprigs fresh thyme, 2 tbsp olive oil, 1/2 tsp kosher salt, and 1/4 tsp black pepper. Place pan in the bottom zone of Suvie.
2) Combine remaining 1/3 cup olive oil and thinly sliced shallot in a second Suvie pan. Place pan in the top zone of Suvie. Input settings and cook now or schedule.
Suvie Cook Settings
Bottom Zone: Slow Cook on High for 3 hours
3) Place 1/2 cup pearled barley in the Suvie starch strainer set within the Suvie pasta pot. Cover pot with lid and place inside the Suvie Starch Cooker, ensuring pot is centered on the hot plate. Input settings, and cook now or schedule (check package instructions for your barley and adjust the time as needed).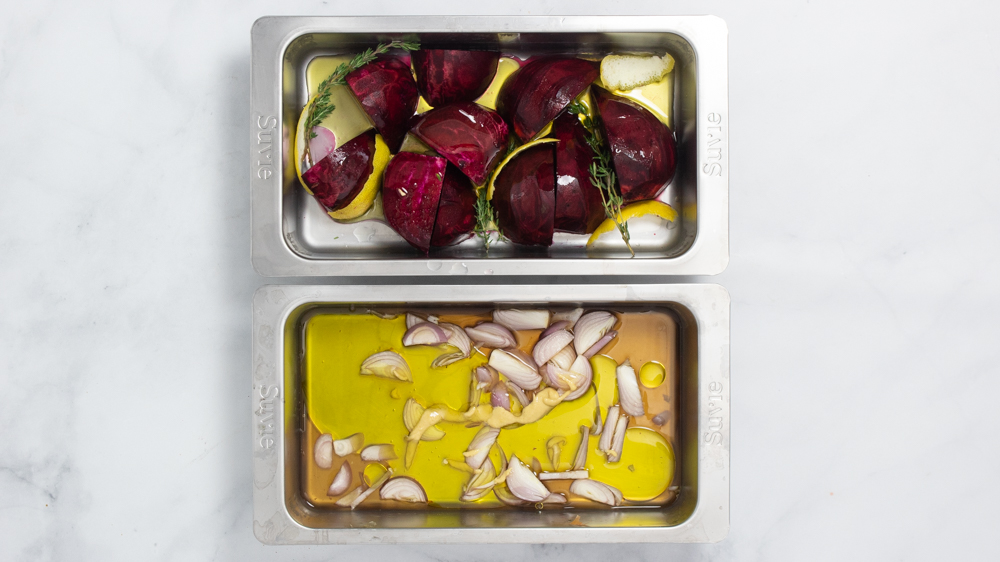 Suvie Cook Settings
Pasta, 1 cup, 15 minutes
4) After the cook, remove the olive oil and shallot from your Suvie and transfer to a food processor or blender with ¼ cup sherry vinegar and 1 tsp dijon mustard. Blend on Hugh until smooth. Season to taste with salt and pepper. Add more olive oil to mellow out the vinaigrette or add more sherry vinegar to make it more acidic.
5) Slice the beets into bite-size pieces, fluff the barley with a fork and adjust seasoning to taste. Toss the baby greens with the barley and warm vinaigrette. Divide between two plates and arrange the beets, blue cheese, and walnuts on top.