This recipe has everything we want in a weeknight meal: 5 key ingredients, a big ol' serving of veggies, pasta, cheese, and protein, and the prep time is under 10 minutes. If you've ever made chicken parm at home before you know it can be a ton of work and use almost every dish in your kitchen. In this recipe we're not dicing, breading, frying or splattering your ceiling with anything. Weeknights deserve to be simple and tasty and Suvie's chicken parm is exactly that. Kids love this recipe and you'll love the minimal prep and clean up for an easy, cheesy dinner for four.
Note: If you're feeling like switching it up, you can replace the pasta with sub rolls and turn this chicken parm into a delicious sandwich.
My Cook: Chicken Parm
Please always check your food to ensure your food has been cooked to safe serving temperatures. Please see our guide
here
for recommended FDA Time & Temperatures.
Servings: 4
Difficulty: 2 hours and 15 minutes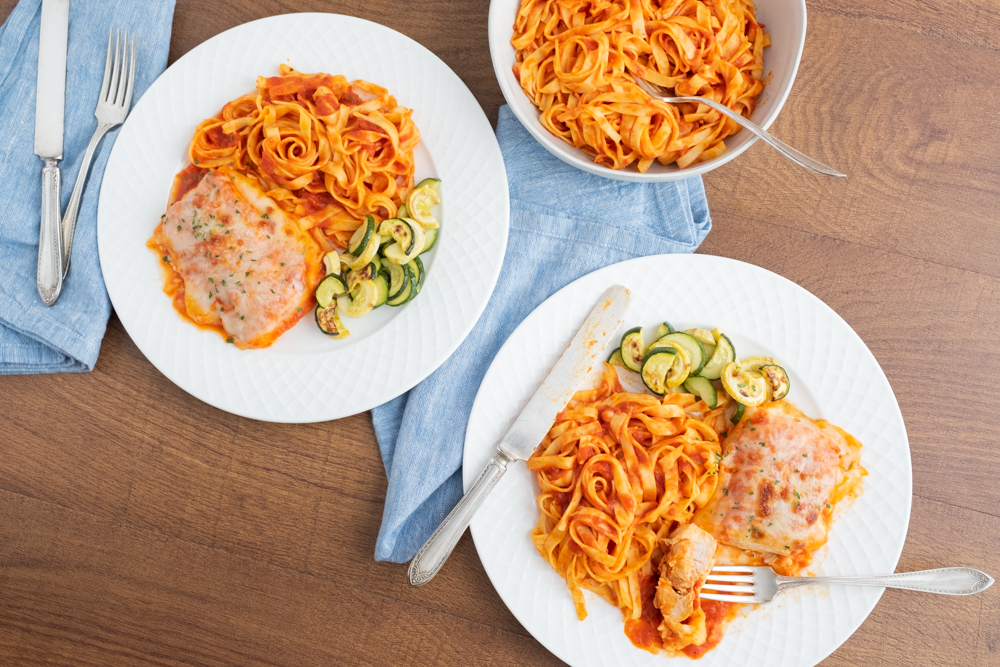 Ingredients
1 lb boneless, skinless chicken breasts
8 oz tagliatelle or pappardelle nests, or linguine broken in half
10 oz zucchini cut into half-moons
24 oz marinara sauce, warmed
1 cup shredded mozzarella
1/2 cup grated Parmesan
1 tbsp olive oil
Directions
1) Season chicken with salt and pepper, then vacuum seal. Place chicken in a Suvie pan, cover completely with water, and load into bottom zone of Suvie. Enter cook settings and cook now or schedule.
Suvie Cook Settings
Bottom Zone: Sous Vide at 155°F for 1 hour
Top Zone: None
2) Place 8 oz tagliatelle nests in the Suvie starch strainer set within the pasta pot. Cover pot with lid and place inside the Suvie Starch Cooker, ensuring the pot is centered on the hot plate. Input settings and cook now or schedule.
Suvie Starch Cooker Settings
Pasta, 4 cups, 10 minutes
3) After the cook, remove the chicken breasts from the Suvie pan, pat pan and chicken dry, and return chicken to pan. Pour half (12 oz) of marinara over the chicken breasts then top with mozzarella and Parmesan. Return pan to Suvie.
4) Place sliced zucchini in a second Suvie pan and toss with 1 tsp salt, 1 tbsp olive oil, and load into the top zone. Set zucchini to Roast at 400°F for 18 minutes and chicken to Broil for 10-12 minutes, or until mozzarella is melted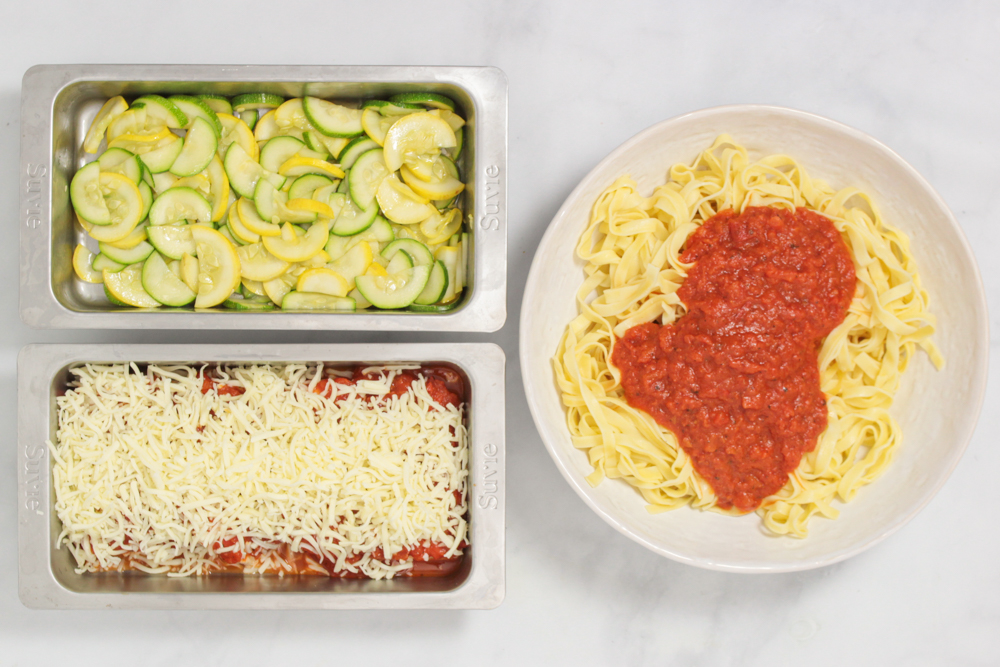 5) During the broil, toss the remaining marinara with the pasta in a large bowl until evenly coated. Season to taste with salt and pepper. After the broil, remove the chicken and zucchini from Suvie.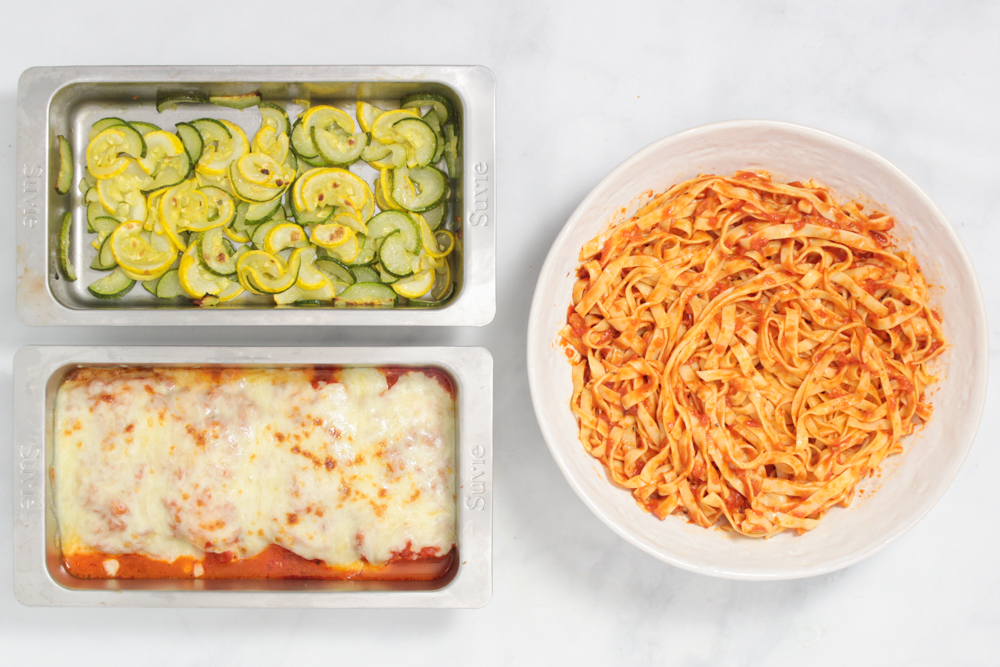 6) To serve, divide pasta between four plates, top with a chicken breast and extra sauce. Serve zucchini alongside pasta. Enjoy!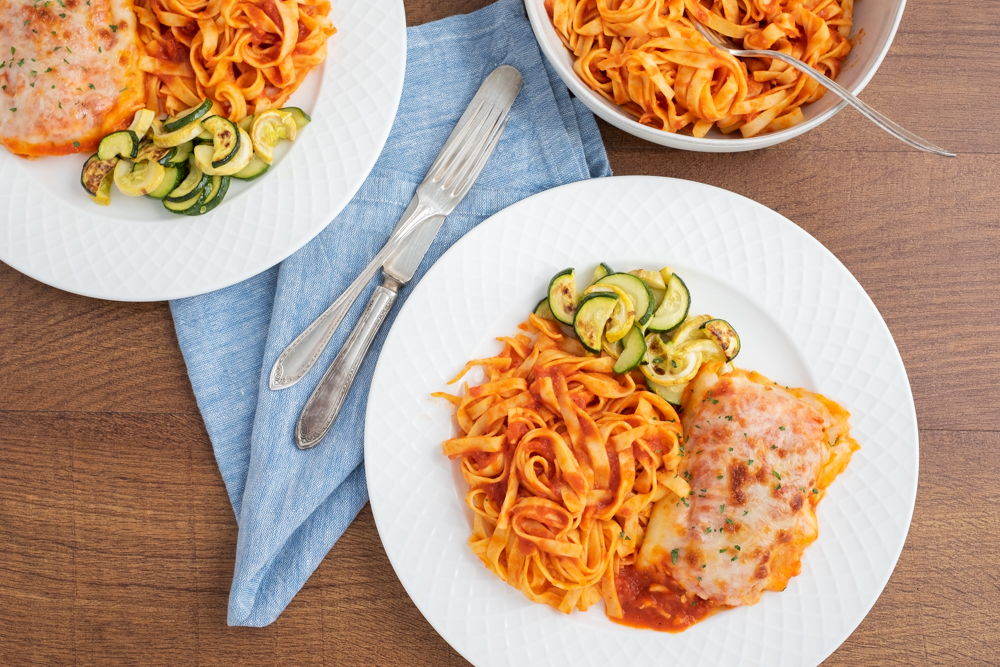 Wine Pairing
Chicken breast is often best served with white wines, but the combination of breadcrumbs, mozzarella, and rich marinara sauce demands something a little more robust. We recommend serving this meal with a juicy glass of Italian Barbera.