Fresh, light and citrusy, fish tacos are the perfect summer dish. We paired our fish tacos with an elote corn salad which is traditionally served on the cob slathered with crema and cotija cheese as Mexican street food. The fish is the star of the show in this dish, so we recommend asking your local seafood counter for their freshest white fish catch to ensure maximum deliciousness. If you're looking to make your life a little easier, the homemade spice mix can be substituted for 3 tbsp of chile-lime, or any other Mexican inspired spice blend. While you're at it, buy a few more limes, rim a glass with the spice mix and fix yourself a fresh margarita. Cheers!
Note: If you would like, add 1-2 tsps homemade Taco Seasoning to add even more flavor to this delicious meal.
Fish Tacos
Please always check your food to ensure your food has been cooked to safe serving temperatures. Please see our guide
here
for recommended FDA Time & Temperatures.
Servings: 4
Difficulty: 1 hour and 30 minutes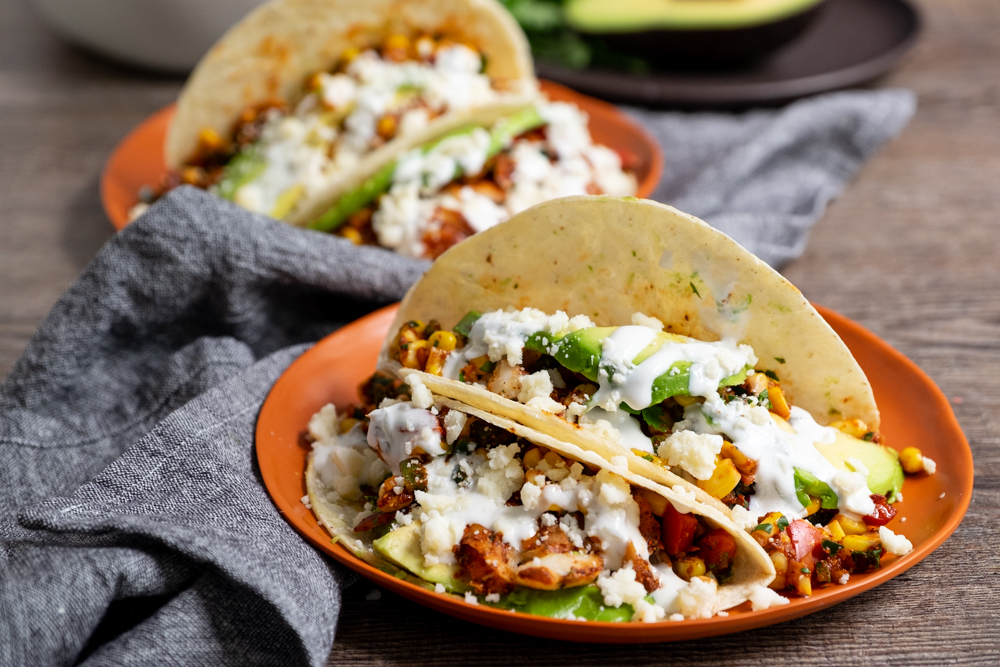 Ingredients
1 lb white fish, we used cod 
1 poblano pepper, seeded and diced
2 cups frozen corn kernels 
8 (6-inch) corn tortillas
¼ cup lime juice, plus 3 tbsp, divided
2 tsp ground cumin
1 ¼ tsp smoked paprika
1 tbsp, chili powder, plus 1 tsp, divided
1/4 tsp cayenne pepper
1/2 tsp oregano
¼ cup minced red onion
1/4 cup chopped cilantro
1 large tomato, diced
1 tbsp vegetable oil
¼ cup crema (or sour cream)
1 avocado
½ cup crumbled cotija cheese
Directions
Remove seeds and dice the poblano pepper. Put frozen corn and diced poblano into a Suvie pan and load into the upper left zone of Suvie.
Salt and pepper fish to taste then vacuum seal using your vacuum sealer or our DIY vacuum sealing guide. Place into Suvie pan, load into upper right zone and cover with water.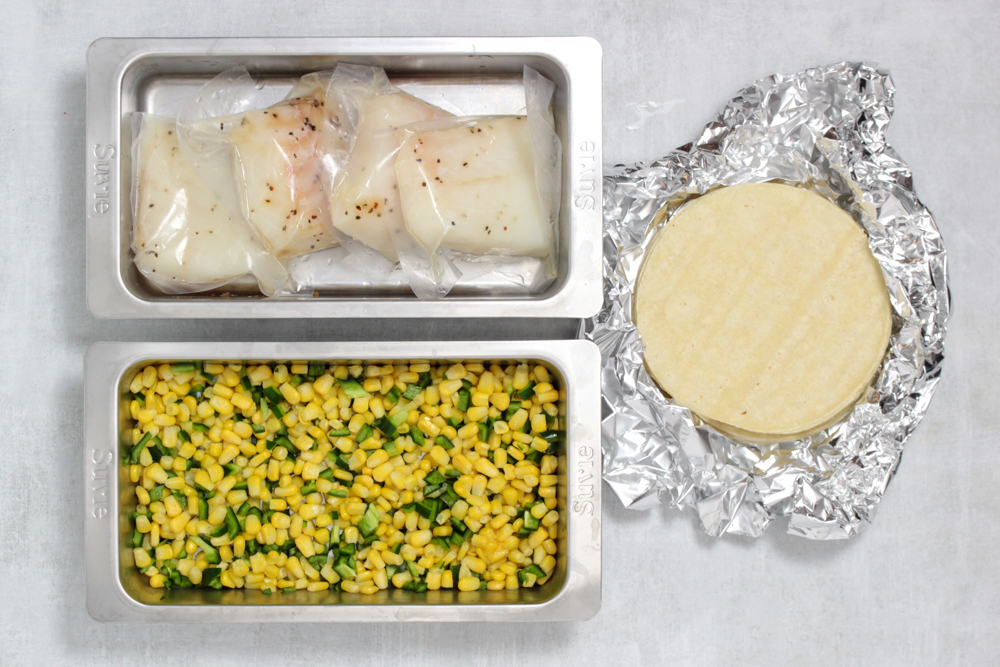 Wrap tortillas in foil and place in the lower left zone in Suvie.
Fill Suvie reservoir, enter the My Cook settings and cook now or schedule.
My Cook Settings
Protein: 125 degrees, 30 minutes
Vegetable: 10 minutes
During the cook, add red onion, chopped cilantro, and diced tomato to a medium bowl. In a separate bowl combine cumin, smoked paprika, chili powder, cayenne pepper, oregano, black pepper and salt in a small bowl. Place 2 tbsp of the spice mix into a bowl with the onion, cilantro, and tomato.
In the bowl with the remaining spice mix, add 3 tbsp lime juice and 1 tbsp oil. Combine to create a paste.
Add ¼ cup crema, ¼ cup lime juice to a separate small bowl, mix to combine. Thinly slice avocado and set aside.
After the cook, drain the water from the fish Suvie pan. Pat fish dry and brush the spice, lime juice, and oil paste onto each fillet.
Add corn and poblano pepper mix to the medium bowl with the red onion, cilantro, tomato, and spices. Toss to combine.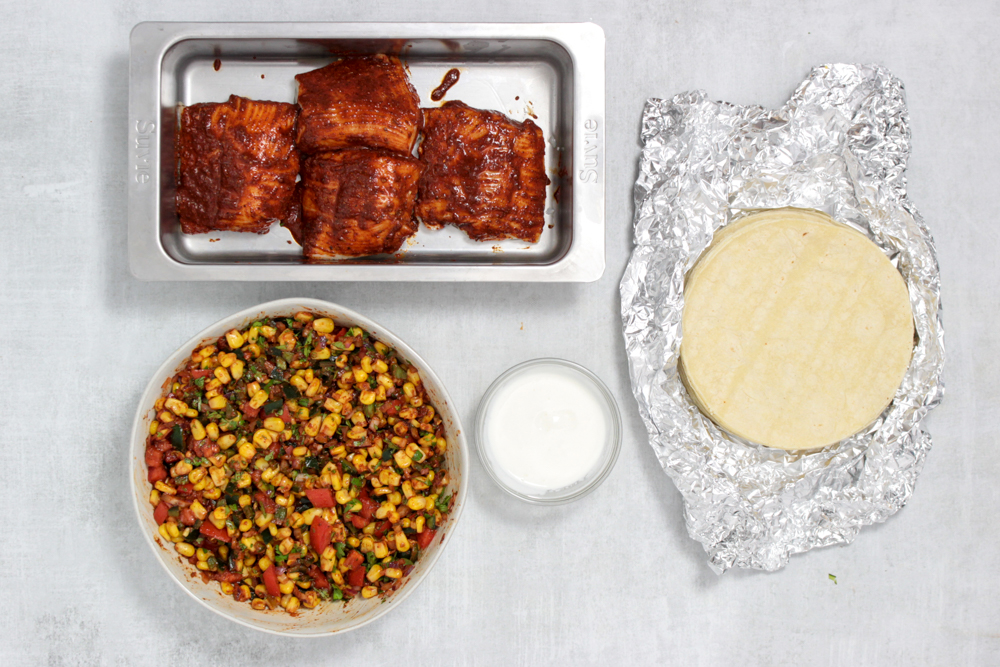 To assemble: Divide tortillas between four plates. Fill each tortilla with ⅛ of the fish, a spoonful of corn-poblano salad, ⅛ of the avocado, a tbsp of the crumbled cotija cheese and a dollop of the lime crema. Enjoy!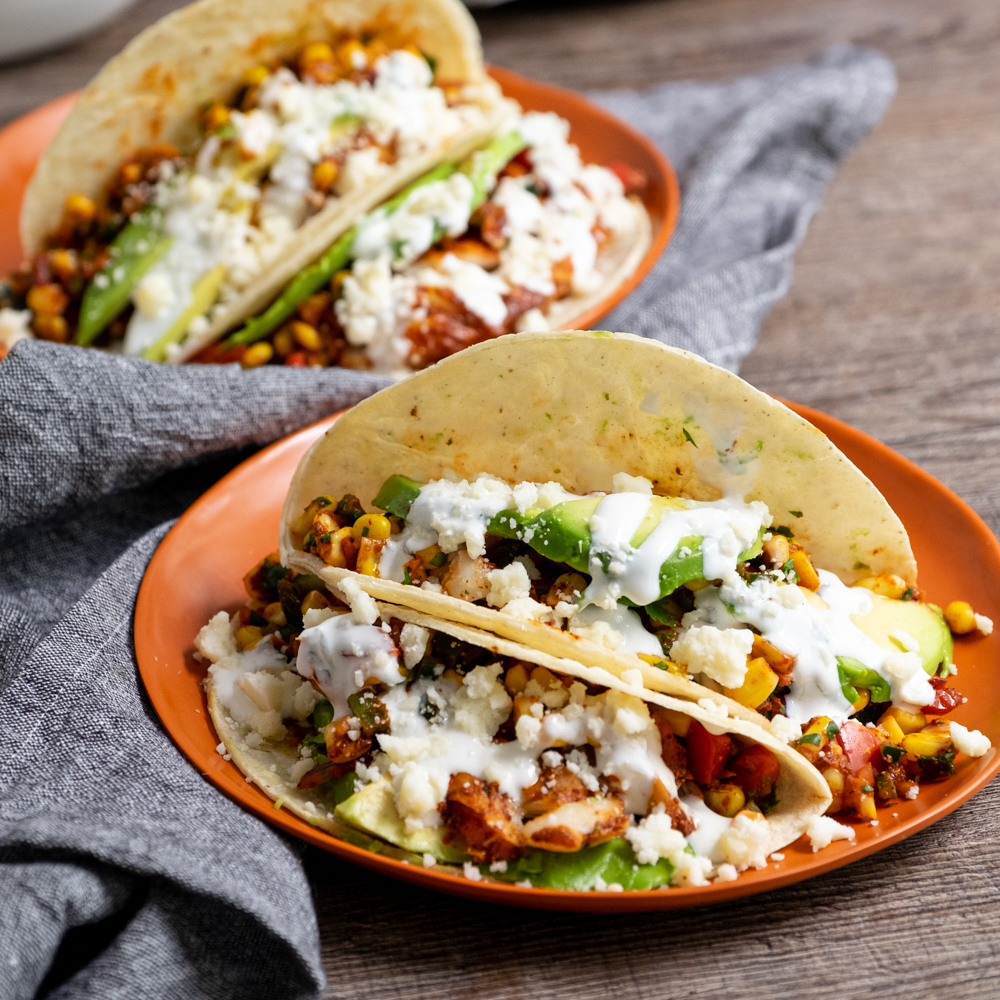 Wine Pairing
Light and zesty white wines with high acidity and citrus notes will pair wonderfully with these fish tacos. We recommend either a Sauvignon Blanc or a Vinho Verde.