We're always looking for healthy options that excite the palate and take us on a culinary adventure. This Mediterranean inspired dish uses tzatziki which is a Greek yogurt-based sauce with cucumbers, garlic, salt, olive oil, lemon juice and occasionally dill. We love this sauce because it's good for you, and gives you a burst of freshness like you just went to an exclusive spa. The chicken is marinated in a garlic-lemon blend giving it a fresh zingy taste. Top the chicken off with crunchy cucumbers, juicy tomatoes, crisp romaine, and savory zucchini and this pita is ready to satisfy that souvlaki craving you didn't know you had.
My Cook: Mediterranean Pita Pockets
Please always check your food to ensure your food has been cooked to safe serving temperatures. Please see our guide
here
for recommended FDA Time & Temperatures.
Servings: 4
Difficulty: 2 hours 15 minutes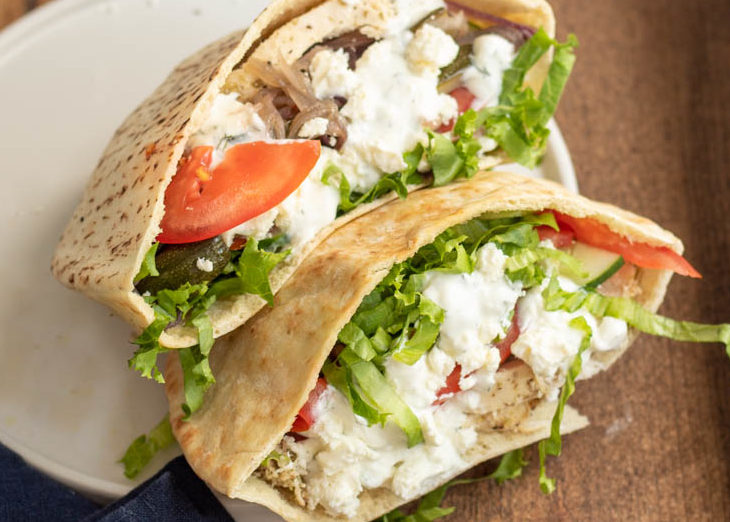 Ingredients
5 garlic cloves, peeled and crushed
1 tbsp dried oregano
2 tsp salt and freshly ground black pepper
2 tbsp olive oil + more for seasoning
2 tbsp lemon juice
1 lb chicken breast
½ medium red onion, thinly sliced
1 zucchini or summer squash, cut into 2" long strips
2 pita cut in half
1 cucumber
2 tomatoes
1 head of romaine lettuce
¼ cup tzatziki sauce
¼ cup crumbled feta (optional)
Directions
In a small bowl combine the garlic cloves, oregano, 1 tsp salt, pepper olive oil, and lemon juice. Place chicken breasts into a bag for vacuum sealing, then pour marinade over the chicken. Vacuum seal chicken breast. (Here's our DIY vacuum sealing guide). Place the chicken in a Suvie pan and load into upper right cooking zone. Cover with water.
Place sliced zucchini and red onion in another Suvie pan and toss with 1 tsp salt (this will draw out the water in the zucchini during the cook). Load into the upper left cooking zone.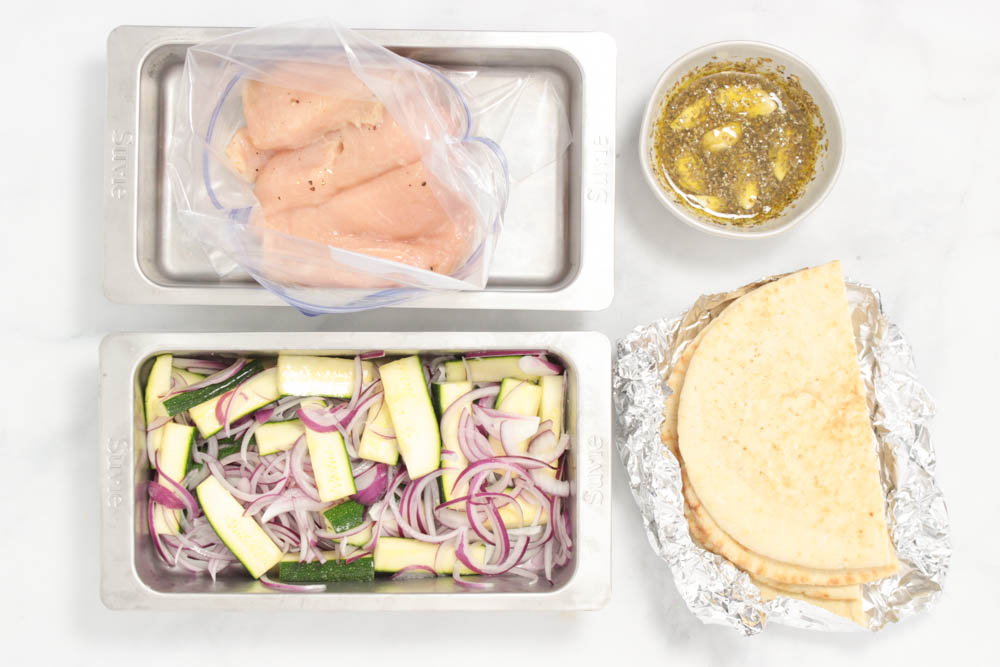 Wrap pita in aluminum foil and load into lower left zone. Enter My Cook Settings, fill the reservoir, and cook now or schedule.
My Cook Settings
Protein: 150°F for 1 hour
Vegetable: 10 minutes
Starch: 0 minutes
During the cook, chop the cucumber, tomatoes, and romaine into thin slices.
After the cook, remove the chicken breast from Suvie pan, pat pan and chicken dry, and return chicken to pan. Drain excess water from the zucchini and onions pan. Pat dry, season with olive oil and pepper to taste.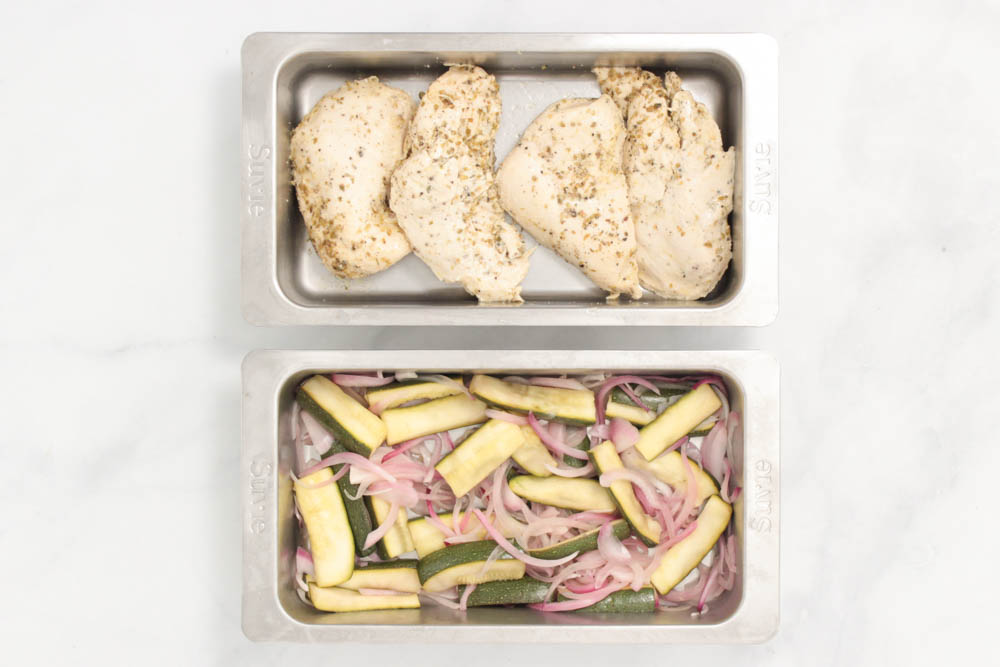 Broil the zucchini, onions, and chicken, for 10 minutes, flipping halfway through. Remove when browned. Also, remove the pita from Suvie at this time.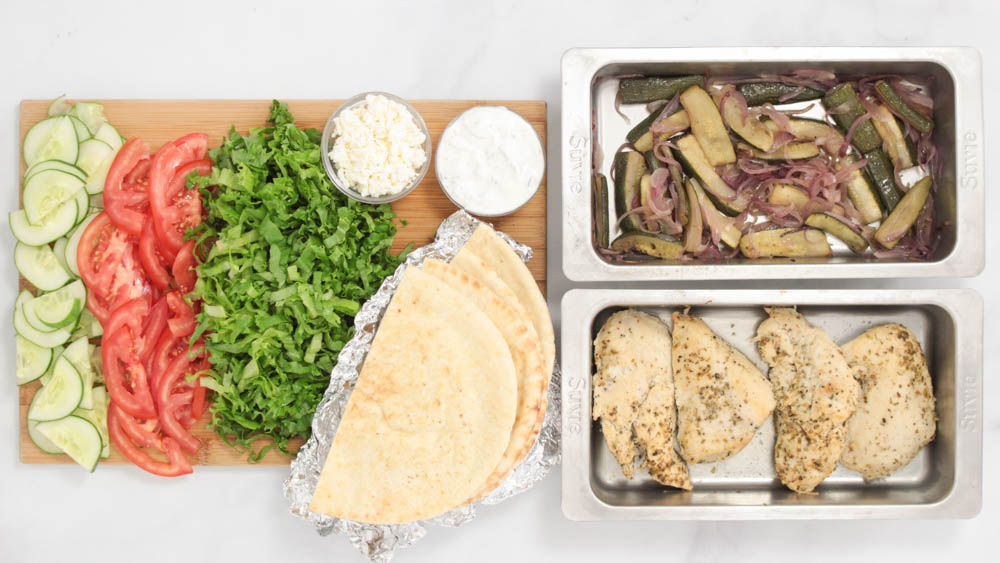 Cut chicken against the grain into slices. Divide chicken and zucchini amongst the four pita halves. Top with cucumber, tomato, and romaine. Drizzle with 1 tbsp tzatziki sauce into each pita then top with 1 tbsp feta. Enjoy!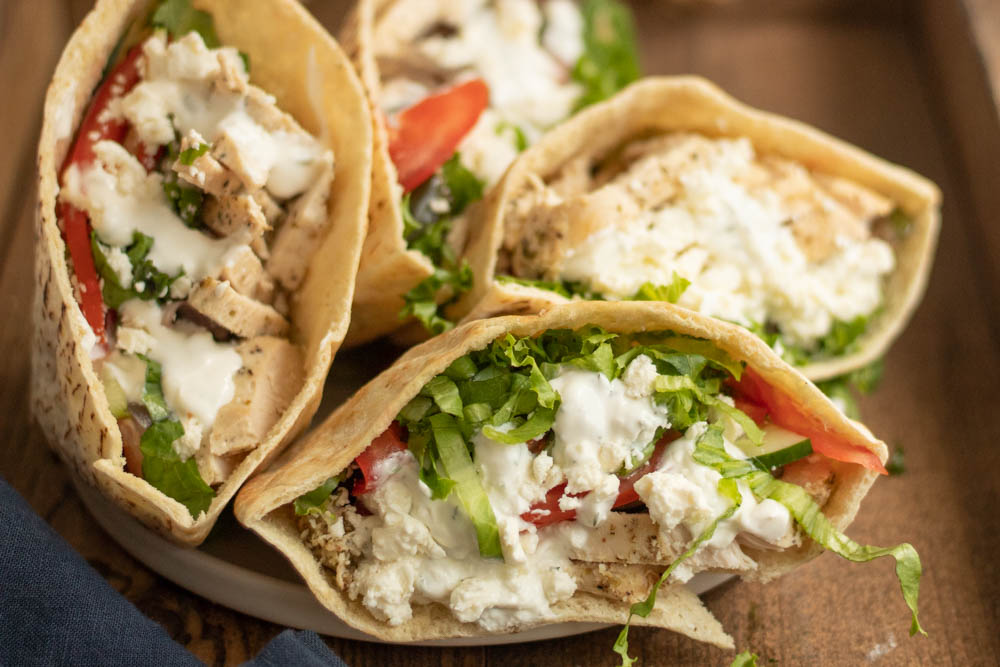 Wine Pairing
A good quality dry Pinot Grigio will really elevate this meal and bring out the Mediterranean flavors.