Shrimp is a tasty and healthy way to get a large amount of protein that's relatively low fat, leaving you satisfied and full for hours. Pair the shrimp with a sauce of tomatoes, onions, red bell pepper with just a bit of spice for a delicious dinner you can feel good about. If you're living a low-carb lifestyle feel free to omit the orzo and replace it with a bed of spinach leaves.
Note: This recipe requires Suvie 2.0 and the Suvie Starch Cooker. To prepare this dish in Suvie 1.0, set the orzo to cook for 12 minutes in Step 3. Follow remaining instructions as directed.
My Cook: Mediterranean Shrimp with Orzo
Please always check your food to ensure your food has been cooked to safe serving temperatures. Please see our guide
here
for recommended FDA Time & Temperatures.
Servings: 4
Difficulty: 2 hours and 20 minutes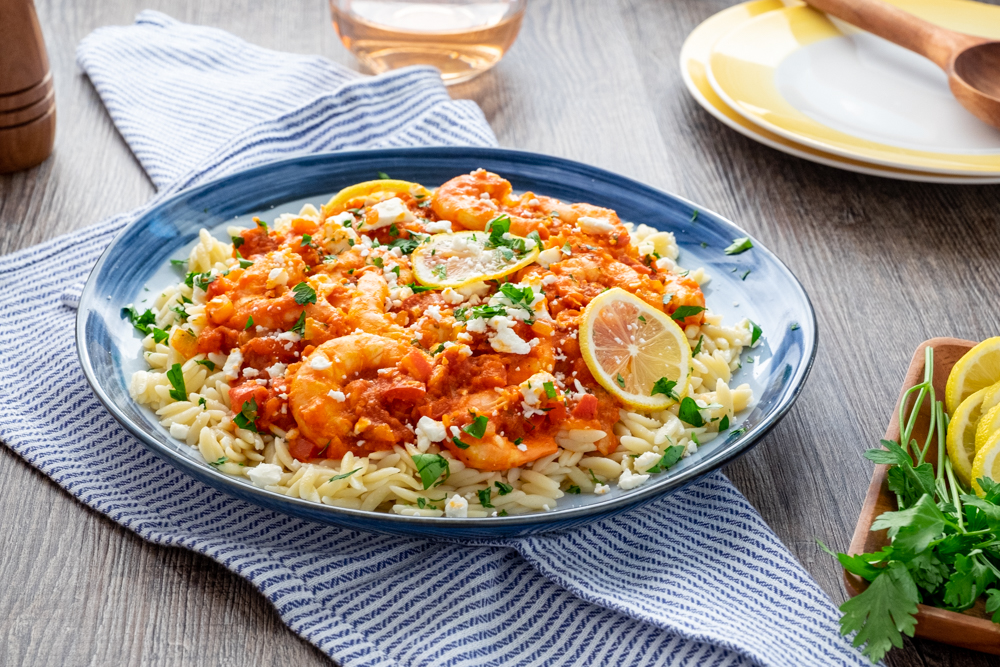 Ingredients
1 lb shrimp, peeled and deveined
4 tbsp olive oil, divided
5 garlic cloves, peeled and minced
1 lemon, zested and juiced
½ tsp red pepper flakes (or to taste based on spice preference)
1 (28 oz) can diced tomatoes, drained
¼ cup dry white wine
1 small yellow onion, diced medium (about 3/4 cup)
1 medium red bell pepper, stem and seeds removed, medium diced
8 oz orzo pasta
2 tbsp fresh parsley, coarsely chopped
6 ounces feta cheese, crumbled (about 1½ cups)
Directions
1) Add shrimp, 2 tbsp olive oil, garlic, lemon zest, 1/2 tsp salt, 1/4 tsp black pepper, red pepper flakes, diced tomatoes, and white wine to a vacuum-sealing bag. Make sure the contents of bag are evenly distributed before vacuum-sealing (here's our DIY vacuum-sealing guide). Place bag in a Suvie pan, cover with water and load into bottom zone of Suvie.
2) Add diced onion and bell pepper to a second Suvie pan and load into upper zone of Suvie. Enter cook settings below.
3) Pour orzo pasta into a Suvie starch strainer set within a Suvie pasta pot. Load into Suvie Starch Cooker. Fill reservoir, enter settings below and cook now or schedule.
Suvie Cook Settings
Bottom Zone: Sous Vide at 125˚F for 45 minutes
Top Zone: Sous Vide at 125°F for 45 minutes
4) After the cook, discard water from shrimp pan, pat the pan dry and pour shrimp out of bag into the pan. Drain water from the pepper and onion pan and pat dry. Toss pepper and onion with 1 tbsp olive oil and salt and pepper to taste. Return both pans to Suvie. Broil shrimp for 5 minutes and peppers and onions for 10 minutes.
5) During the broil, remove orzo from Suvie, add to a large bowl and toss with 1 tbsp olive oil. After the broil add the pepper and onion to the shrimp and pour shrimp and sauce over the orzo. Sprinkle with lemon juice, parsley, and feta cheese crumbles.