These easy stuffed peppers can be prepped in a flash and ready whenever you are. The southwest spices blend perfectly with the corn, black beans and green chiles. A little cheese mixed into the filling and melted on top makes these peppers irresistible. We chose quinoa for this recipe as we wanted it to be gluten-free but feel free to use any starch. You can also double up on all the corn and black bean mix ingredients and skip the starch entirely. Mix up these family favorites any way you like.
Quinoa and Black Bean Stuffed Bell Peppers
Please always check your food to ensure your food has been cooked to safe serving temperatures. Please see our guide
here
for recommended FDA Time & Temperatures.
Servings: 4
Difficulty: 2 hours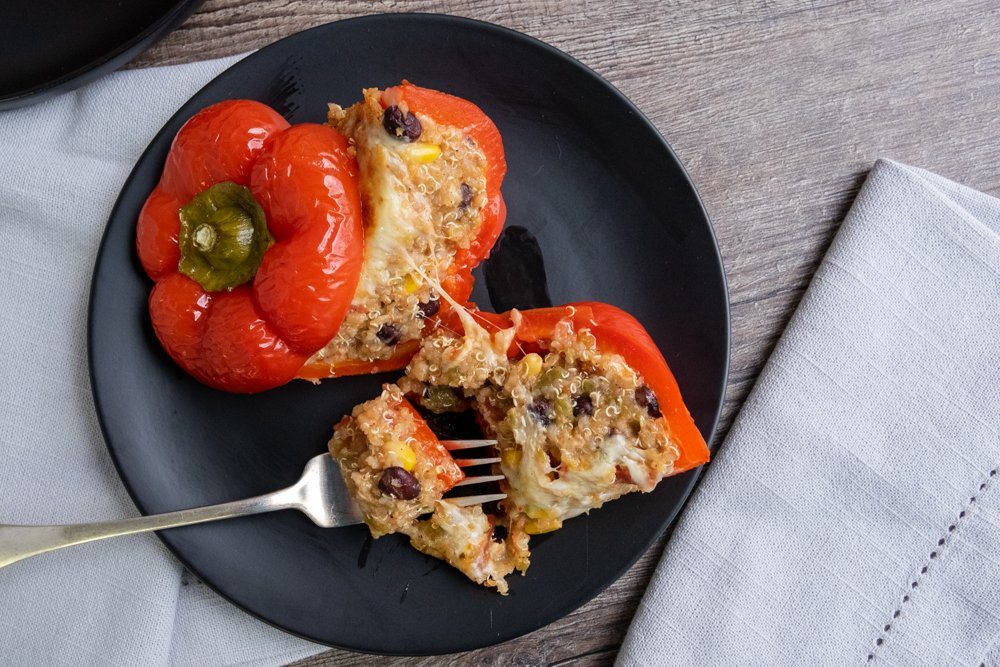 Ingredients
4 oz can green chiles, drained
½ cup corn kernels
½ cup canned black beans, drained and rinsed
½ cup diced tomatoes
1 tsp cumin
1 tsp garlic powder
½ tsp onion powder
1 tsp chili powder
¼ tsp cayenne pepper (optional)
4 bell peppers, tops cut and set aside, seeds and pith removed
2 tbsp vegetable oil
1 cup quinoa, rinsed
¾ cup shredded pepper jack cheese, divided
3 tablespoons chopped fresh cilantro leaves
Directions
1) In a Suvie pan, stir together green chiles, corn kernels, black beans, diced tomatoes, cumin, garlic powder, onion powder, chili powder, cayenne pepper, ½ tsp black pepper, and 1 tsp salt in a Suvie pan.
2) Place bell peppers, cut-side up, in a second Suvie pan. Drizzle with vegetable oil then sprinkle with salt and pepper. You can place the tops of the bell peppers in the pan with the corn and beans if they don't fit in the bell pepper pan. Load pans in Suvie, input settings, and cook now or schedule.
Suvie Cook Settings
Bottom Zone: Slow Cook High for 1 hour, 30 minutes
3) Place 1 cup rinsed quinoa in the Suvie rice pot (black handles). Cover pot with lid and place inside the Suvie Starch Cooker, ensuring the pot is centered on the hot plate. Input settings and cook now or schedule.
Suvie Starch Cooker Settings
Grains, Quinoa, 1 Cup
4) After the cook, remove all pans from Suvie. Drain excess water from the peppers and leave in Suvie pan.
5) In a large bowl, mix together bean mixture with the quinoa and ½ cup pepper jack cheese. Taste and add salt and pepper as needed. Stuff the peppers with the filling, but not beyond the top of the pepper (you may have extra filling). Top each pepper with the remaining ¼ cup of cheese. Return peppers to Suvie and broil for 6-10 minutes or until the tops are browned. Replace tops of bell peppers to serve.