Steak au Poivre is a luxurious staple of French restaurants all over the world. A juicy medallion of beef (traditionally the prized fillet mignon cut) is crusted in a layer of coarsely ground peppercorns and seared to perfection in a hot skillet. The pan sauce that accompanies the steak is prepared in a dramatic flourish tableside as the cognac is flambeed to cook off the alcohol and then reduced with cream and stock. We've simplified this extravagant meal by using our Suvie to cook the steak sous vide so it will come out perfectly every time. A quick sear in a hot skillet, while the potatoes and broccoli are broiling, develops a crust and flavor on the meat. We add a healthy portion of crushed black peppercorns to the cream sauce made with the juices from the meat. So enjoy a glass of your favorite red wine and let Suvie help you make this restaurant meal at home.
Steak au Poivre with Smashed Potatoes
Please always check your food to ensure your food has been cooked to safe serving temperatures. Please see our guide
here
for recommended FDA Time & Temperatures.
Servings: 2
Difficulty: 2 hours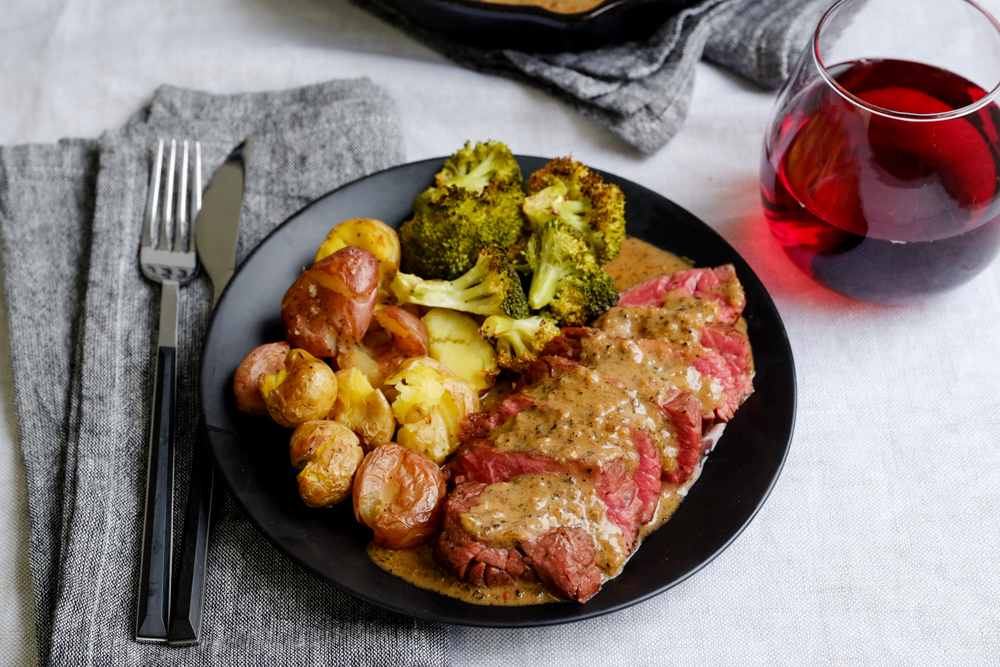 Ingredients
2 (6 oz) top sirloin or filet mignons steaks
8 oz broccoli
12 oz new potatoes
2 tbsp whole black peppercorns
1 shallot, minced
¼ cup creme fraiche
2 tbsp butter
¼ cup chicken stock
1 tsp Dijon mustard
2 tbsp brandy or cognac (optional)
Directions
1) Season steaks generously with kosher salt and pepper, then vacuum seal. Place the steaks in a Suvie pan, cover with water, and place in bottom zone of Suvie.
2) Pour 1/3 cup water into a Suvie pan and place roasting rack, handles facing down, in the pan. Place 8 oz broccoli on the roasting rack. Place pan in the top zone of Suvie. Enter settings below and cook now or schedule.
Suvie Cook Settings
Bottom Zone: Sous Vide at 130˚F for 1 hour, 30 minutes
Top Zone: Steam for 20 minutes
3) Put 12 oz potatoes and 1 tsp salt in the Suvie starch strainer set within the Suvie pasta pot, cover pot with lid, and place inside the Suvie Starch Cooker. Input settings and cook now or schedule.
Suvie Starch Cooker Settings
Potatoes, Uncut, 50 minutes
4) Meanwhile, crush 2 tbsp peppercorns with a heavy skillet or with a mortar and pestle so that they are coarsely ground; don't crush them too finely or they may scorch in the pan.
5) After the cook, remove the steaks from the Suvie pan and dry the pan. Add the baby potatoes to the empty pan and press down to smash in an even layer. Transfer broccoli to a clean, dry Suvie pan. Drizzle the broccoli and potatoes with olive oil, and season with salt and pepper to taste. Broil for 7-10 minutes or until browned.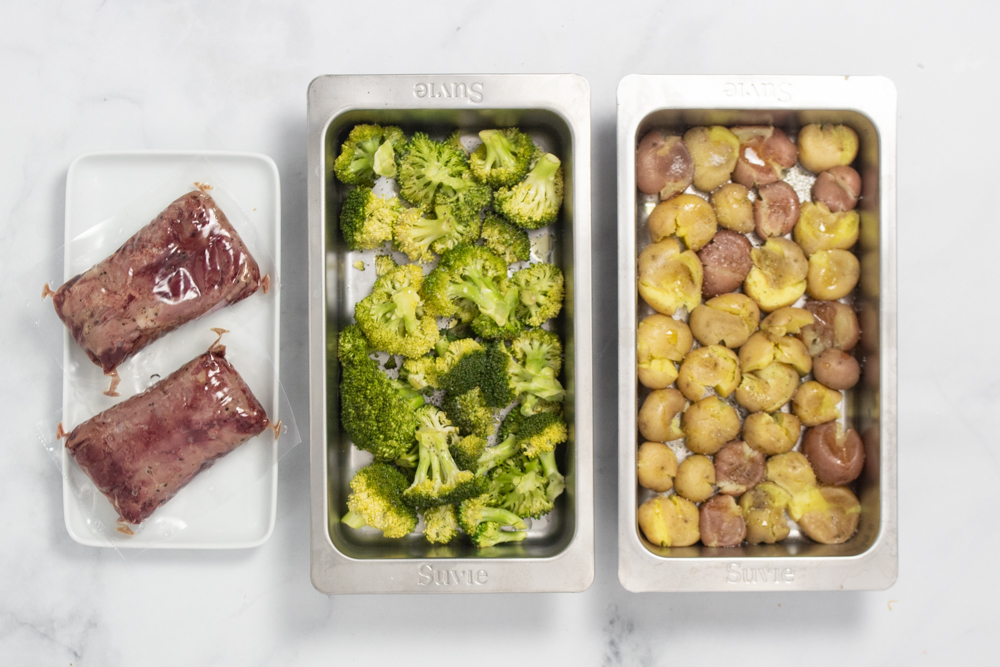 6) Meanwhile, heat 2 tbsp butter in a heavy skillet. Remove the steaks from packaging and pat dry thoroughly. Add the steaks to the hot skillet and sear for about 1 minute per side, or until well browned. Remove steaks and set aside.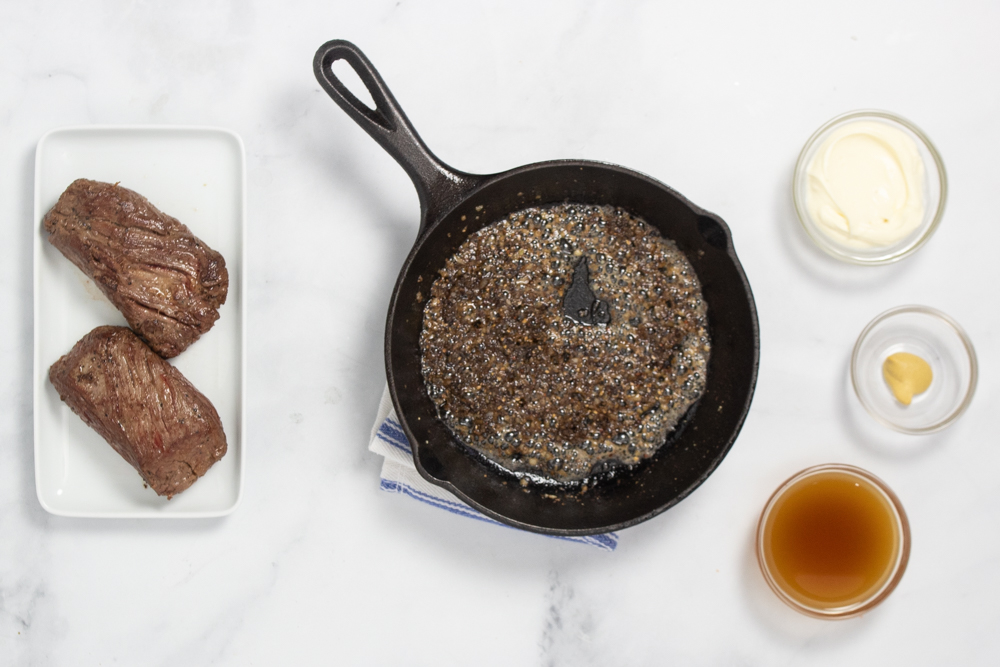 7) Reduce the heat and add the crushed peppercorns to the pan, cook for 1 minute, stirring frequently to keep the peppercorns from scorching. Add the shallots and saute until tender, about 2 minutes. Carefully add 2 tbsp brandy or cognac (if using) and cook for 1 minute to cook off the alcohol. (Be careful if you are working with an open flame as the alcohol can ignite.) Whisk in 1/4 cup chicken stock, 1/4 cup creme fraiche, and 1 tsp Dijon mustard. Simmer for 1-2 minutes until the sauce is reduced and coats the back of a spoon, season to taste with salt and more freshly ground black pepper.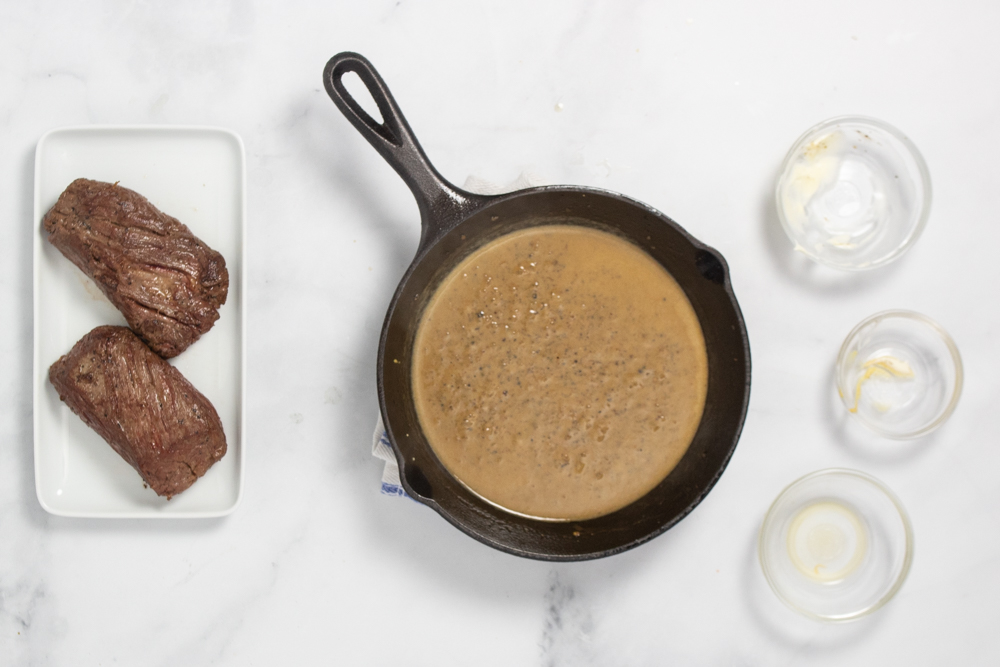 8) Divide the potatoes and broccoli between two plates. Slice the steak against the grain or serve whole. Spoon the sauce over the steaks just before serving.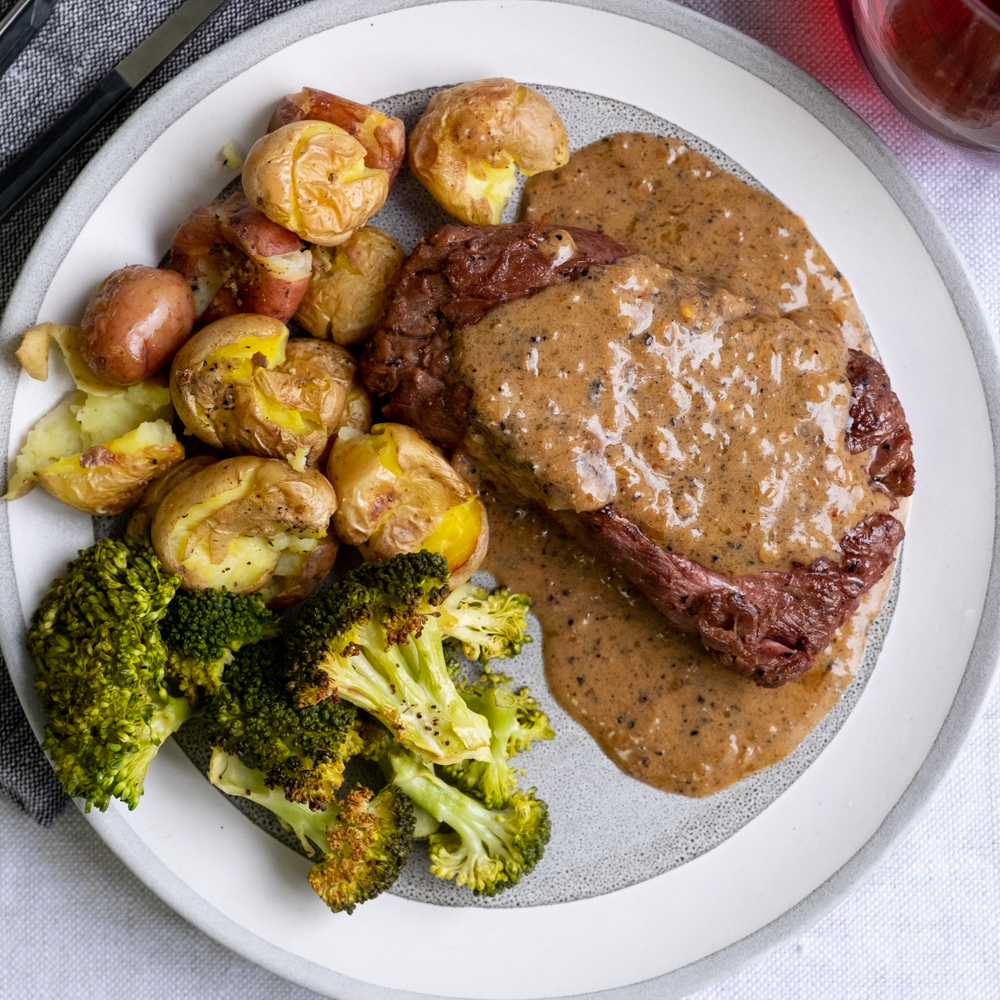 Wine Pairing
Steak works best when paired with punchy and robust red wines. We recommend serving this dish with either Cabernet Sauvignon, Merlot, Malbec, or Syrah.