We love this recipe duo as sides for our Kansas City ribs because we feel that a sweet, slightly spicy baked bean and a creamy tangy coleslaw deserve to be highlighted on your summer barbeque table. The bbq sauce in the beans pairs great with the ribs and the cool and creamy coleslaw contrasts perfectly. While this looks like a whole bunch of ingredients both of these recipes come together in a flash. You can cook the beans at the same time as the ribs and prepare the coleslaw during the cook. Whip up some lemonade and relax on your porch while Suvie cooks your barbeque for you.
Please always check your food to ensure your food has been cooked to safe serving temperatures. Please see our guide
here
for recommended FDA Time & Temperatures.
Servings: 8
Difficulty: 2 hours and 25 minutes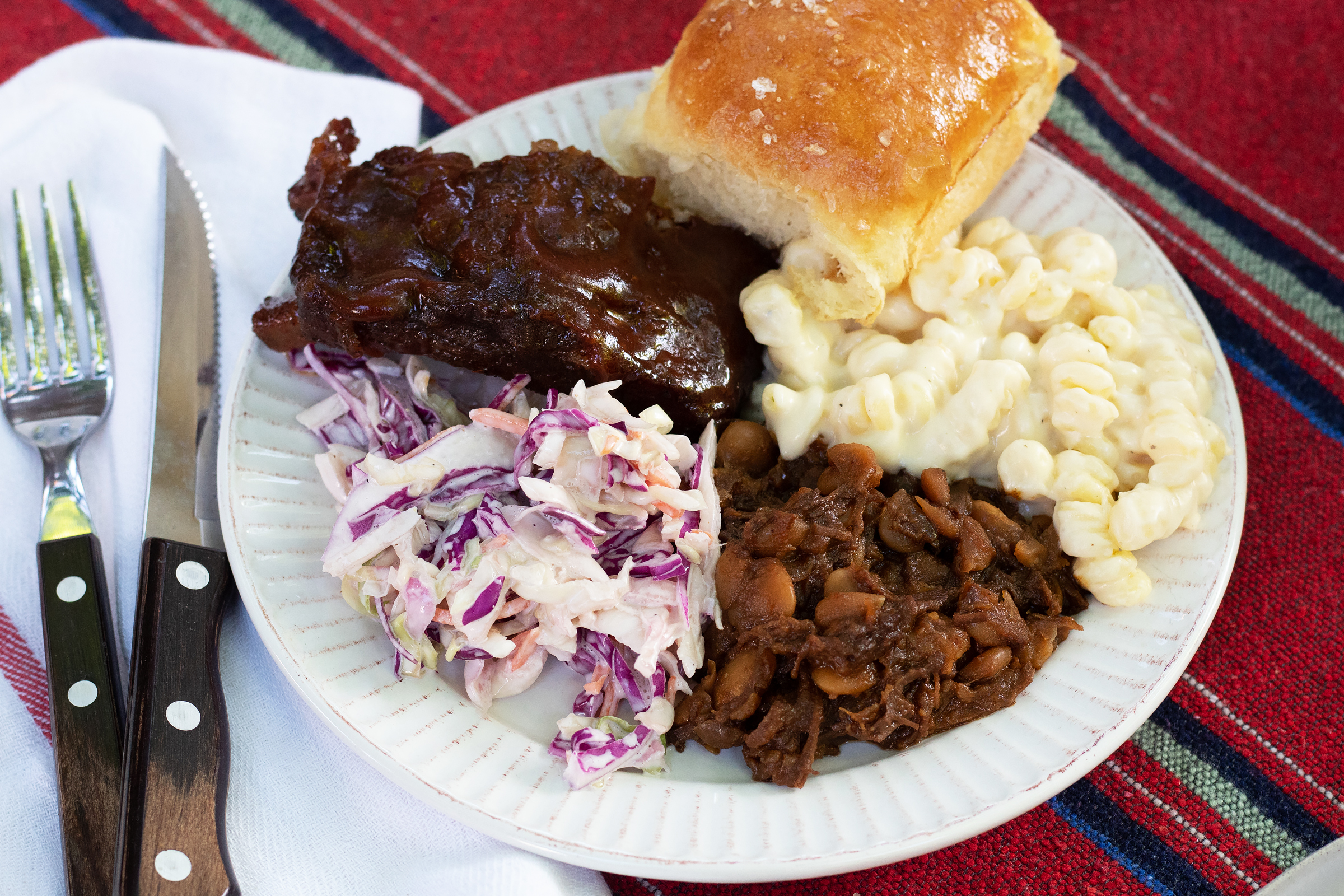 Ingredients
For the pit beans
1 large onion, diced
2 cloves garlic, minced
2 tbsp brown sugar, packed
1 tsp chili powder
½ tsp ground cumin
¼ tsp cayenne pepper
1½ tsp salt
1 tsp pepper
1 tbsp vegetable oil
1 cup brisket or other leftover bbq meat
2 cans navy beans, drained and rinsed
2 tbsp molasses
1½ tsp mustard
½ cup Kansas City style bbq sauce
For the coleslaw
1 package (14 oz) coleslaw mix
⅔ cup mayonnaise (or ⅓ cup mayonnaise and ⅓ cup plain yogurt)
1 tbsp Dijon mustard
2 tbsp red wine vinegar
1 tbsp sugar
1 tsp salt
Directions
Add onion, garlic, brown sugar, chili powder, ground cumin, cayenne pepper, 1 ½ tsp salt, 1 tsp pepper, vegetable oil to a Suvie pan. Broil for 10 minutes.
After the broil add the leftover meat, beans, molasses, mustard and bbq sauce. Insert pan into your Suvie, input settings, and cook now or schedule.
Suvie Cook Settings
Bottom Zone: Slow Cook High for 1 hour
During the cook, prepare the coleslaw. Add coleslaw mix to a large mixing bowl. In a small bowl whisk together mayonnaise, Dijon mustard, red wine vinegar, sugar, and 1 tsp salt. Pour dressing over coleslaw and toss until coated. Add more salt to taste. Refrigerate until ready to serve.
After the cook, remove the beans from Suvie. Serve beans and coleslaw together with ribs, pulled pork or any of our other bbq recipes.
Note: If you would like to make this recipe in Suvie 1.0, insert pan into the top zone of Suvie, fill reservoir, and set to Slow Cook on High for 1 hour.
Nutrition
Pit Beans Nutritional Information per serving (8 servings per recipe): Calories 210, Total Fat 5.5g, Total Carbohydrates 31g, Total Sodium 1094.8mg, Total Protein 9.6g
Creamy Coleslaw Nutritional Information per serving (8 servings per recipe): Calories 141, Total Fat 13.7g, Total Carbohydrates 2.9g, Total Sodium 460.7mg, Total Protein 0.7g