When you don't have a smoker at your disposal, but badly want BBQ, call on your Suvie to do the heavy lifting. The slow cooker setting is perfect for making meat delicious and juicy. In this case, we cook boneless, skinless chicken thighs in BBQ sauce for over 2 hours to approximate the taste and texture of delicious, but onerous outdoor BBQ. Sandwiched between potato buns (or regular hamburger buns, your call!) and topped with pickles, we think this recipe will transport you to the backyard BBQ of your dreams.
Note: If you would like to schedule this meal but do not want to wait for the broiler to cool before refrigerating, sauté the onion and vegetable oil in a medium skillet over medium-high heat until softened, about 6 minutes, instead of broiling.
Pulled Chicken Sandwiches
Please always check your food to ensure your food has been cooked to safe serving temperatures. Please see our guide
here
for recommended FDA Time & Temperatures.
Servings: 6
Difficulty: 2 hours and 11 minutes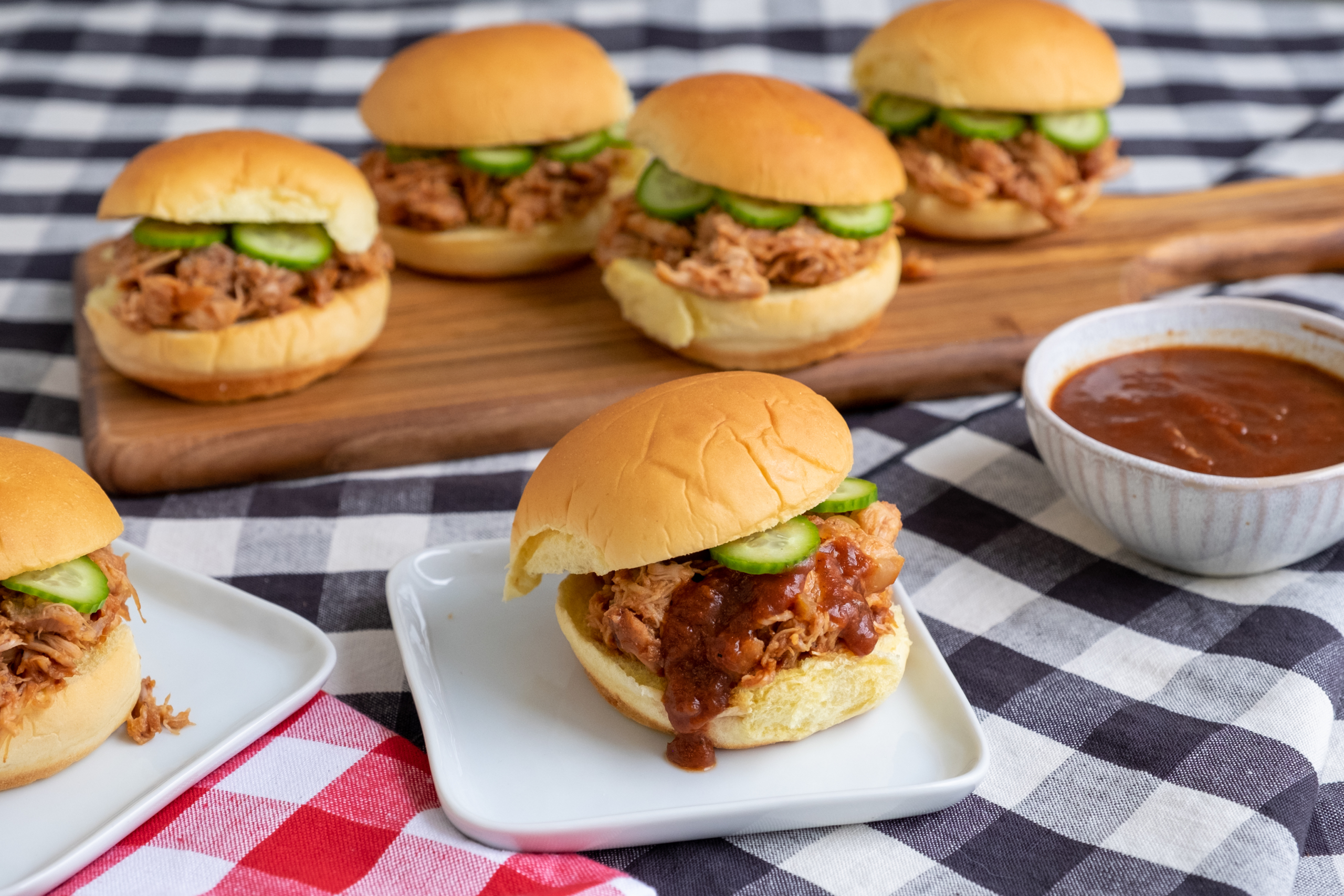 Ingredients
2 lbs boneless, skinless chicken thighs
1 small onion, finely chopped
2 tsp vegetable oil
1 cups BBQ Sauce, plus ¼ cup, separated
1 tbsp apple cider vinegar
½ cup pickles
6 hamburger buns
Directions
1) Divide onion and vegetable oil evenly between 2 Suvie pans. Insert pans into your Suvie and broil for 10 minutes. Do not fill reservoir before broiling.
2) While the onion broils, pat chicken dry and season generously with salt and pepper. 
3) After the onion has finished broiling, divide 1 cup BBQ sauce evenly between the 2 Suvie pans, stirring to incorporate. Divide the chicken evenly between both pans, turning in the sauce to coat. 
4) Insert pans into your Suvie, input settings, and cook now or schedule. 
Suvie Cook Settings
Bottom Zone: Slow Cook High for 2 hours
5) After the chicken has finished cooking, transfer chicken to a large bowl (reserving liquid) and shred chicken into pieces with 2 forks, or with your hands once it is cool enough to handle.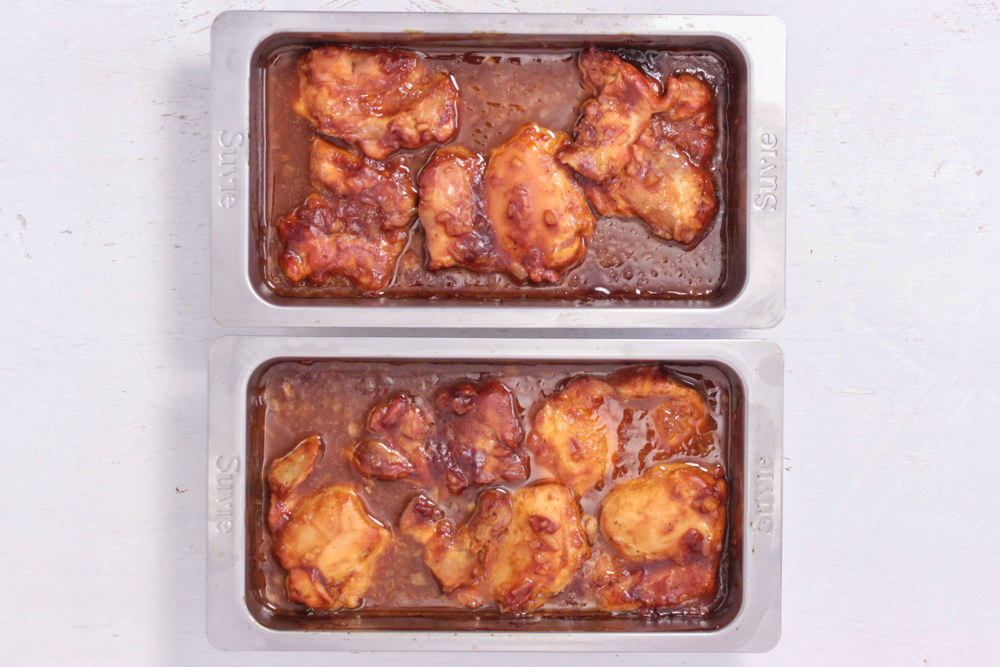 6) Add the apple cider vinegar, ¼ cup BBQ sauce, and ½ cup of the reserved cooking liquid to the chicken, stirring to incorporate. Season chicken to taste with salt and pepper. 
7) Split and toast hamburger buns under the broiler if desired. Divide chicken between buns, top with pickles, and additional BBQ sauce if desired.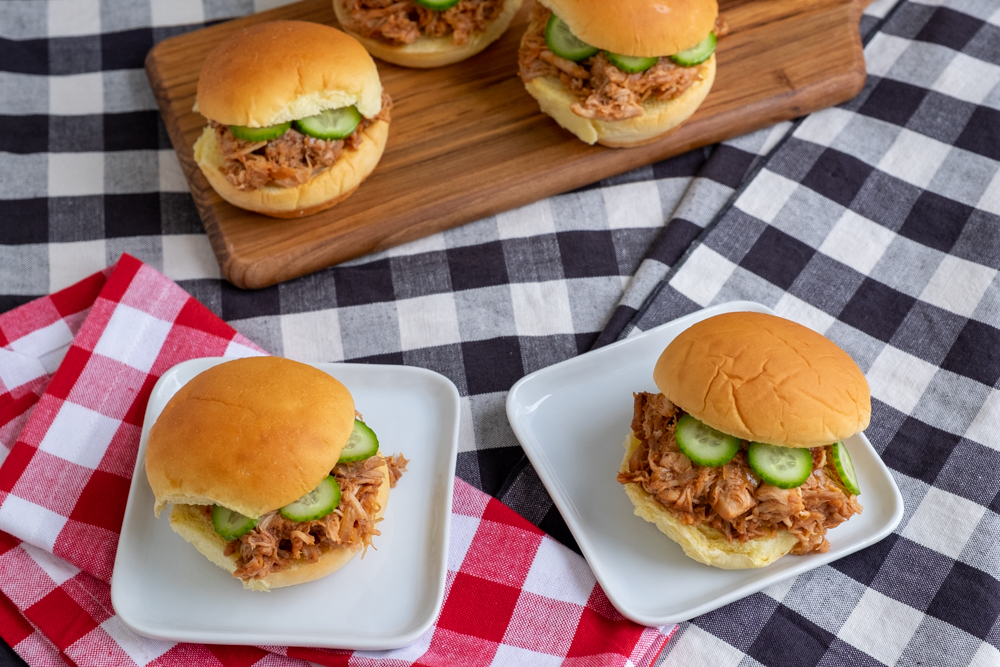 Note: If you would like to make this recipe in Suvie 1.0, insert pans into the top zones of Suvie, fill reservoir, and set to Slow Cook on High for 2 hours.
Nutrition
Nutritional Information per serving (6 servings per recipe): Calories 300 , Total Fat 8g, Total Carbohydrates 41g, Total Sodium 646mg, Total Protein 16g