This simple recipe is great when there's not much in the fridge and you're left with only packages of ramen you're sick of eating. You can make this recipe with any type of pasta but be sure to adjust the cook time for the pasta you choose. We like the pungent flavor of pecorino romano but if you prefer something a bit milder you can substitute the pecorino with more parmesan. We recommend adding a jammy egg on top to provide a filling, creamy protein to this dish. 
Ramen Cacio e Pepe
Please always check your food to ensure your food has been cooked to safe serving temperatures. Please see our guide
here
for recommended FDA Time & Temperatures.
Servings: 2
Difficulty: 2 hours and 10 minutes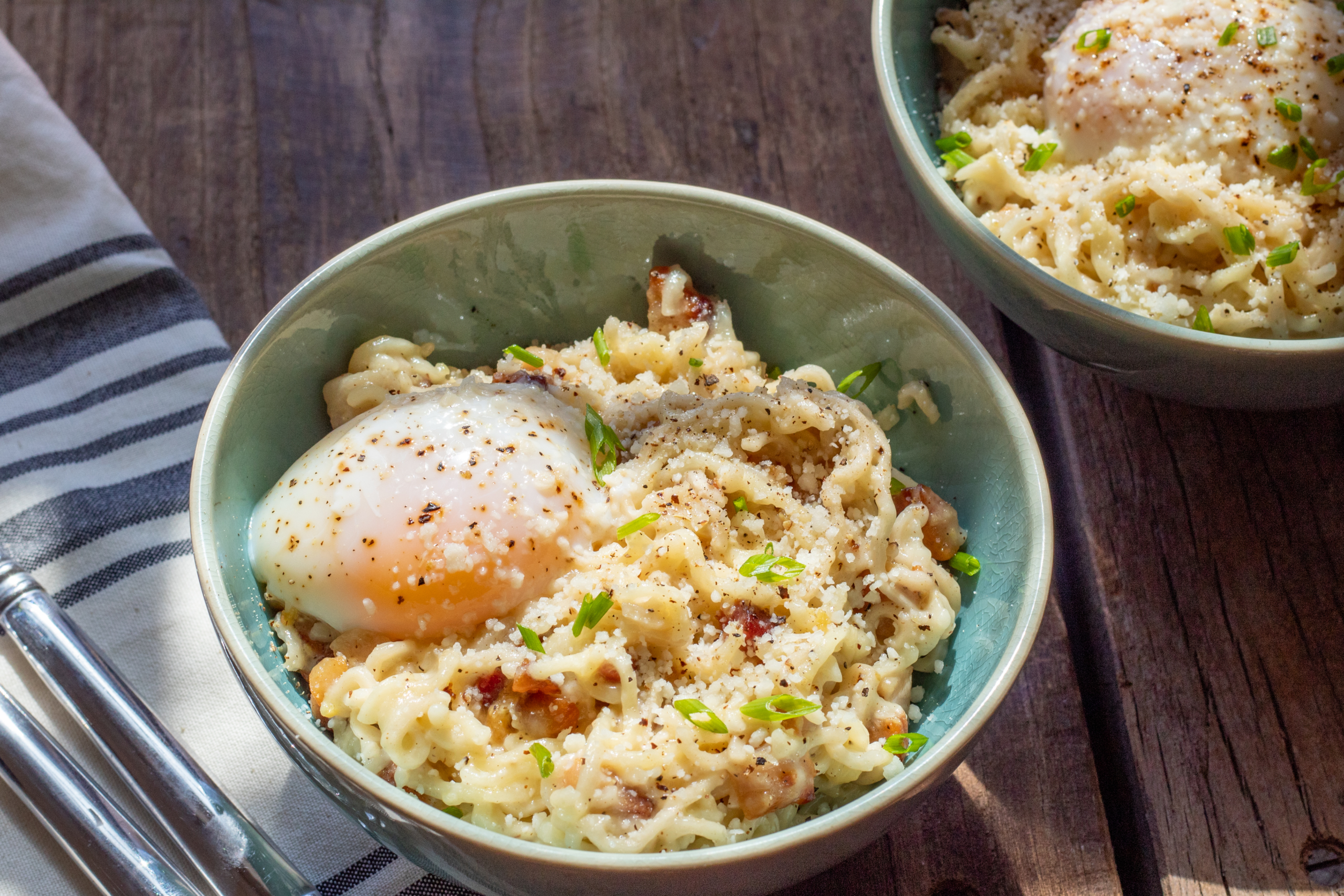 Ingredients
3 oz pancetta or bacon, chopped
2 garlic cloves, minced
2 large eggs
2 packets (approx 85g each) ramen noodles, flavor packets removed
½ cup grated pecorino romano
⅓ cup grated parmesan cheese
2 tsp freshly ground black pepper, plus more for finishing the dish
1 tbsp olive oil
Directions
Add pancetta and garlic cloves to a Suvie pan, insert into the top-left zone of your Suvie and broil for 10 minutes, stirring halfway through cooking. 
After the pancetta has finished broiling, add eggs to another Suvie pan and fill with enough water to cover. Insert into the upper right zone. Place the ramen into a starch pan (you may need to break up the noodles a bit to fit them) and insert into your Suvie (leave the pan with pancetta in Suvie).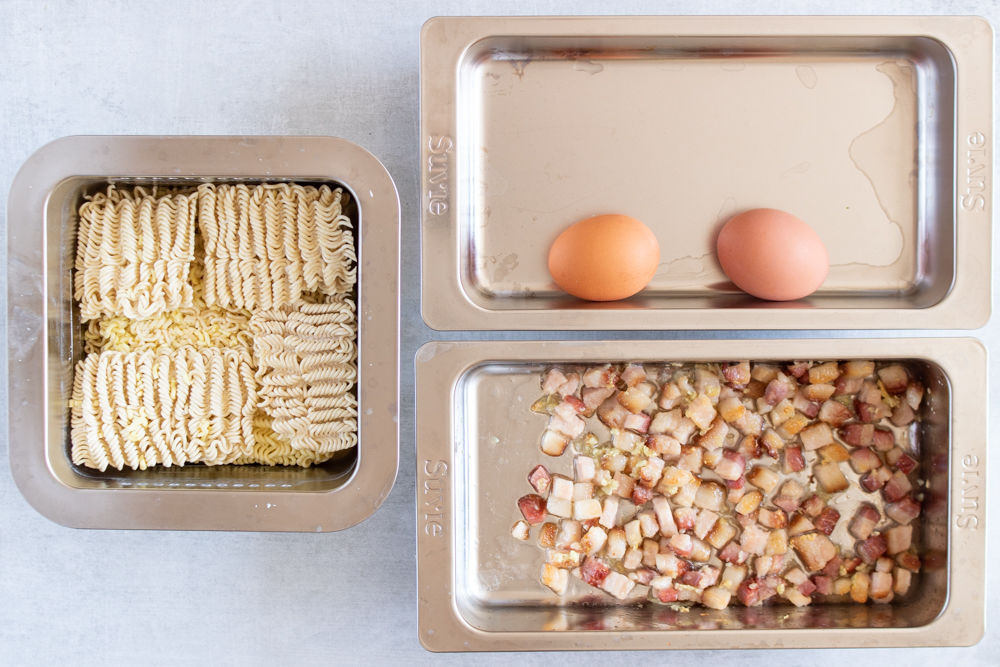 Input settings and cook.
My Cook > Multi-Cook Settings
Protein: 145 for 45 minutes
Vegetable: 0
Starch: 1 minute
During the cook combine the cheeses, black pepper and olive oil together in a medium mixing bowl.
After the cook, immediately remove the eggs from the Suvie pan. Pour the ramen into the bowl with the cheese mixture with ¼ cup of water from the bottom of the starch pan. Toss to coat. Broil pancetta for an additional 10 minutes. While the pancetta broils, crack the eggs into a small bowl discarding any loose egg white that does not stick to the yolk. When the pancetta is finished, drain off the fat and add the pancetta to the ramen. Toss again and divide between bowls. Top each bowl with an egg. 
Season generously with freshly ground black pepper and a sprinkle of cheese.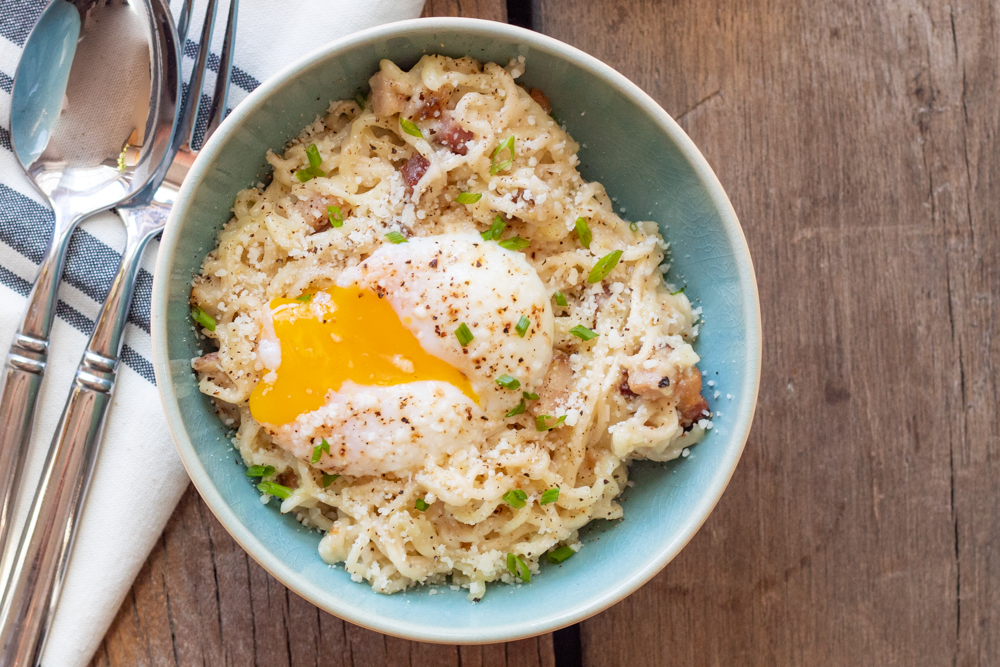 Variation
For an even simpler approach, try ramen topped with a jammy egg. Place 2 large eggs in a Suvie pan, cover with water, and insert into the top-right zone of your Suvie. Place 2 packets of instant ramen in a starch pan and insert into your Suvie. Input settings and cook:
My Cook > Multi-Zone Settings
Protein: 155°F for 45 minutes
Vegetable: 0 minutes
Starch: 1 minute
Immediately remove eggs, crack into a bowl, and scoop out with a large spoon, leaving any loose white behind. Divide ramen between 2 bowls, season with seasoning packet, and top each serving with an egg. Enjoy!
Nutrition
Nutritional Information per serving (2 servings per recipe): Calories 778, Total Fat 43.3g, Total Carbohydrates 53.5g, Total Sodium 581.8mg, Total Protein 33g