This classic and easy cookout night is brought indoors with Suvie. You can use any uncooked sausage you like. We've paired the sausages with a southern-style potato salad which gets plenty of tang from apple cider vinegar and sweet pickles. The salad is crunchy and fresh thanks to ample amounts of celery, red onion and scallions.
Sausage with Southern Potato Salad
Please always check your food to ensure your food has been cooked to safe serving temperatures. Please see our guide
here
for recommended FDA Time & Temperatures.
Servings: 4
Difficulty: 2 hours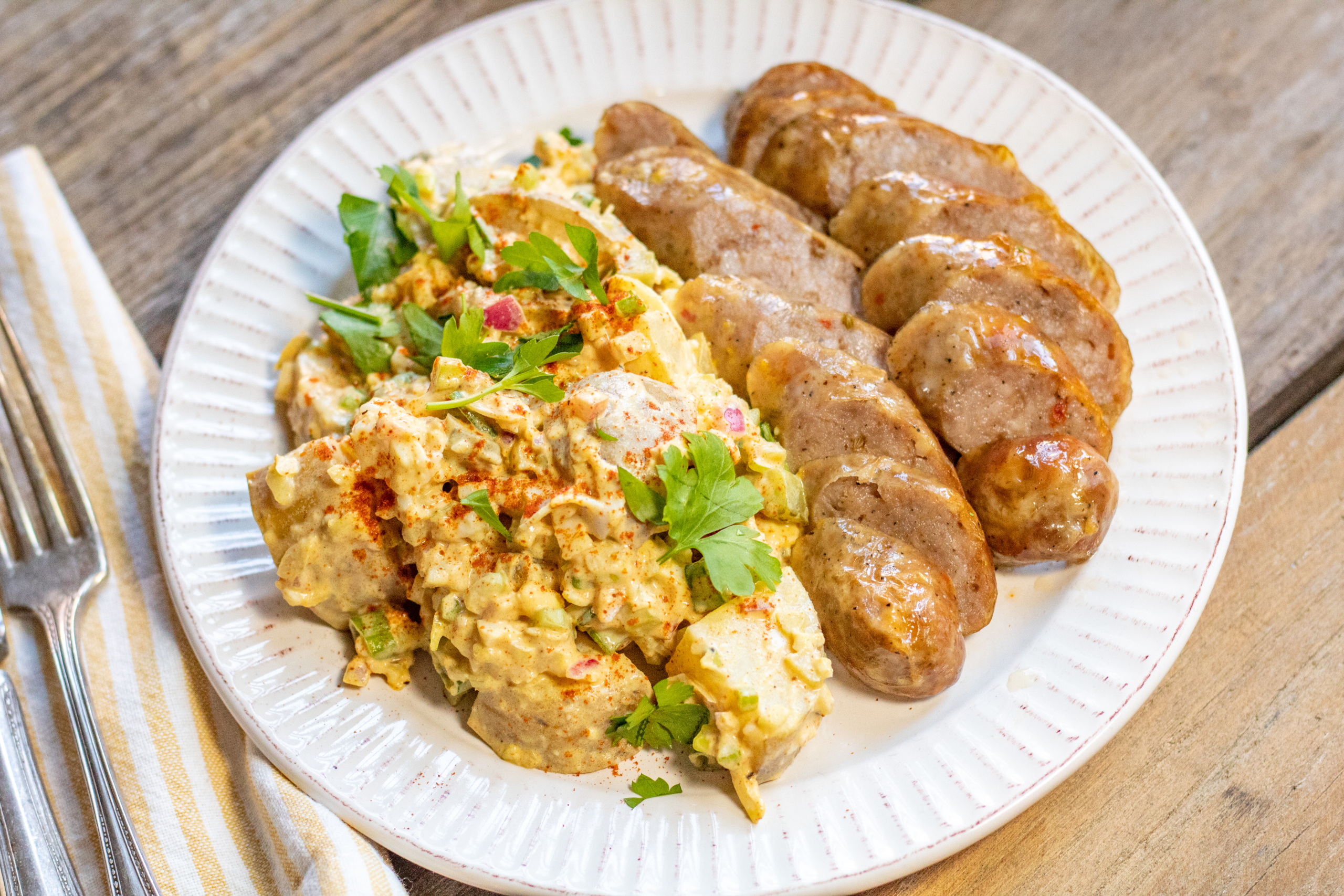 Ingredients
4 sausage links
3 large eggs
1½ lbs new potatoes, cut into 1/2″ pieces
1 cup celery, minced
½ medium red onion, thinly sliced
1 cup scallions, thinly sliced, plus extra for garnish
½ cup sweet pickles, diced
½ cup mayonnaise
1 tbsp Dijon mustard
1 tbsp apple cider vinegar
¼ tsp cayenne pepper
1 tsp paprika, plus extra for garnish
2 tbsp parsley, chopped
Directions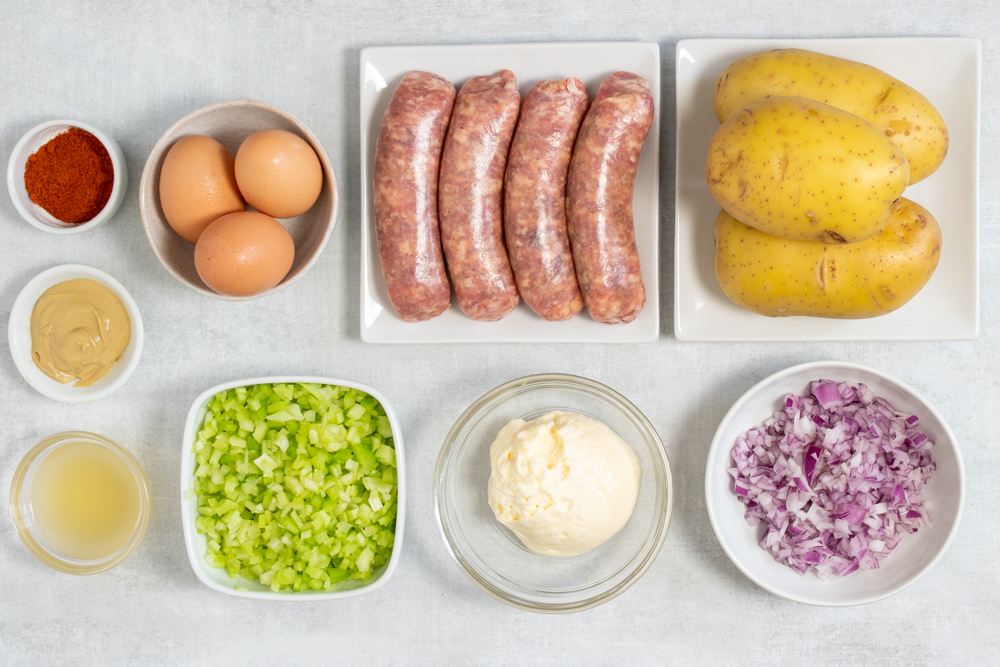 1) Vacuum seal the sausages and place in a Suvie pan. Add the whole eggs to the same Suvie pan and fill with enough water to cover the sausages and eggs. Load pan into bottom zone of Suvie. Input settings and cook now.
Suvie Cook Settings
Bottom Zone: Sous Vide at 165°F for 1 hour, 30 minutes
Top Zone: None
2) Place 1 1/2 lbs cut new potatoes in the Suvie starch strainer set within the Suvie pasta pot (green handles). Cover pot with lid and place pot inside the Suvie Starch Cooker, ensuring the pot is centered on the hot plate. Input settings and cook now.
Suvie Starch Cooker Settings
Potatoes, Cut, 45 minutes
3) Meanwhile, combine celery, red onion, scallions, and pickles in a large mixing bowl. In a small bowl whisk together the mayonnaise, mustard, vinegar, salt, pepper, cayenne pepper, and paprika. Place both bowls in the fridge until the cook is complete.
4) After the cook has finished, remove all pans from Suvie. Immediately pour the water out of the sausage and egg pan. Remove the sausages and fill the pan with cold water to stop the eggs from overcooking. When the eggs are cool enough to handle, peel and dice them.
5) Remove sausages from the vacuum-sealed bag and pat dry. Return sausages to a dry Suvie pan and broil for 10-20 minutes flipping to brown the sausages on all sides (we recommend elevating the sausages on the Suvie roasting rack if using Suvie 3.0).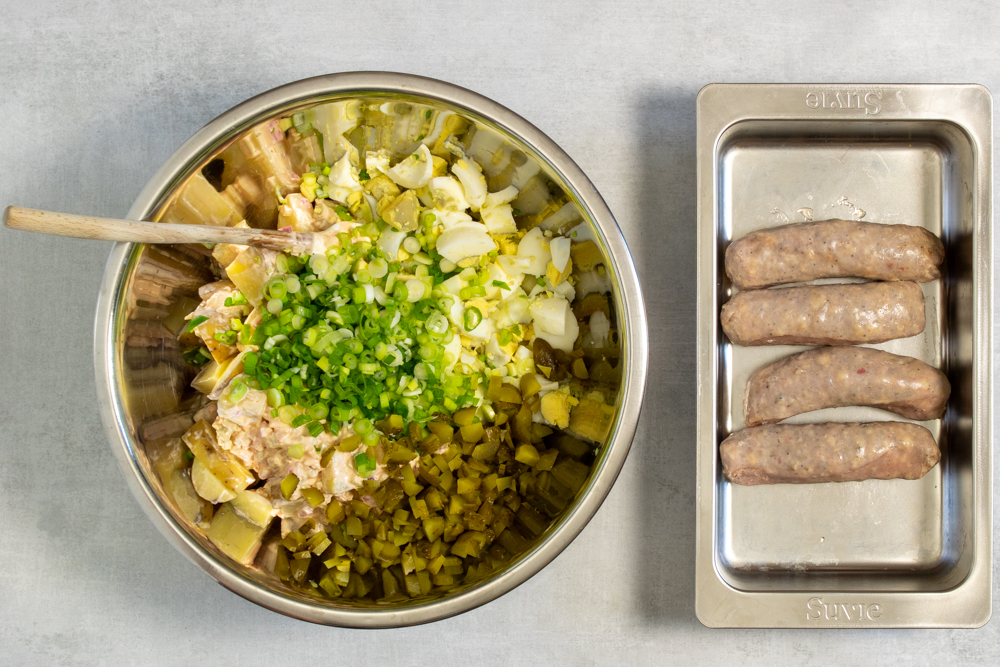 6) While the sausages broil, combine the potatoes and eggs with the celery, red onion, and pickles.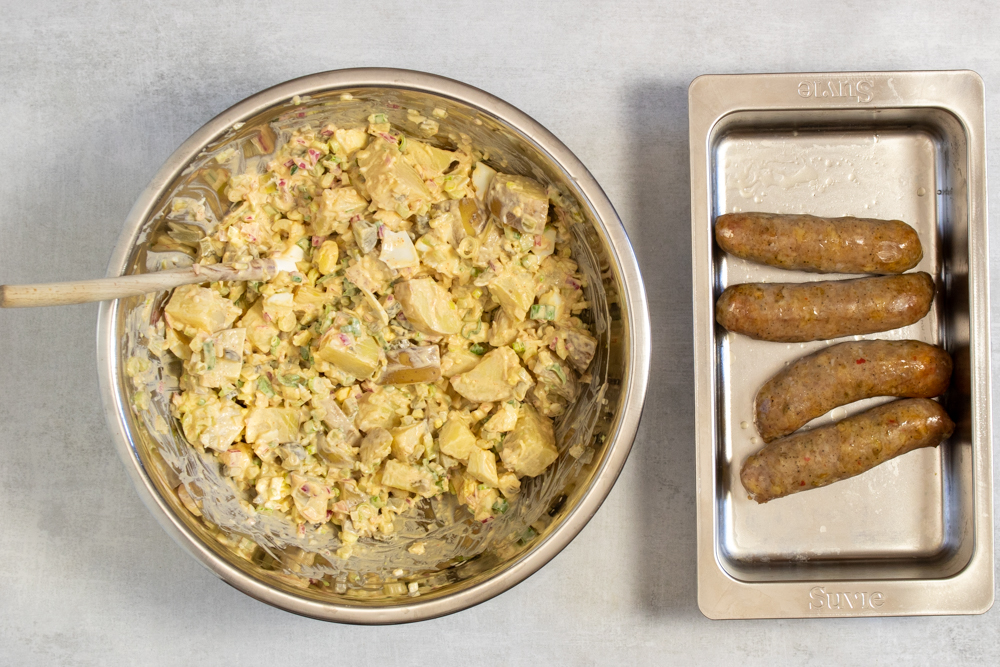 7) Add the mayonnaise mixture to the potatoes and fold gently to coat. Serve sausages with a side of potato salad sprinkled with scallions, paprika, and parsley.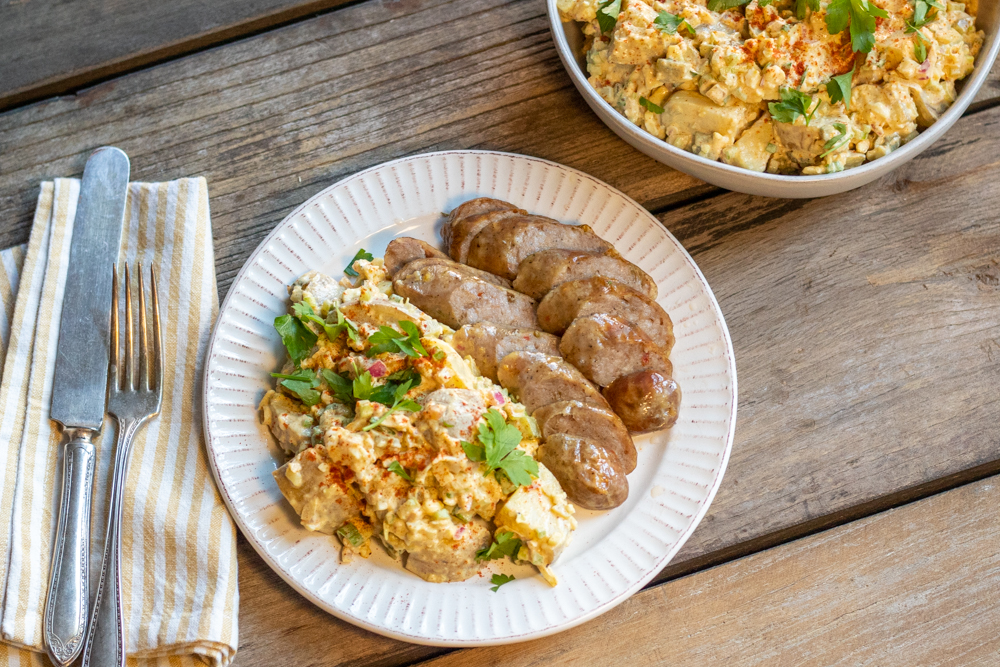 Nutrition
Nutritional Information per serving (4 servings per recipe): Calories 591, Total Fat 40.4g, Total Carbohydrates 32.1g, Total Sodium 1919mg, Total Protein 25.2g