Confit is a classic French technique that was originally used to preserve meats (primarily poultry) in fat. Slow poaching the meat in its own fat slowly evaporates off water and creates an airtight seal once the oil cools. In this recipe, we impart more flavor into the chicken by using olive oil, garlic cloves, and shallots. Braising the carrots with chicken stock and honey adds depth and sweetness.
Garlic Confit Chicken with Braised Carrots
Please always check your food to ensure your food has been cooked to safe serving temperatures. Please see our guide
here
for recommended FDA Time & Temperatures.
Servings: 2
Difficulty: 4 hours 30 minutes
Ingredients
2 whole chicken legs
10 garlic cloves, peeled
4 shallots, peeled and halved
½ cup olive oil
8 oz carrots, peeled
½ cup chicken broth
2 tbsp butter, cubed
1 tbsp honey
2 tbsp fresh parsley leaves
½ lemon, cut into wedges
Directions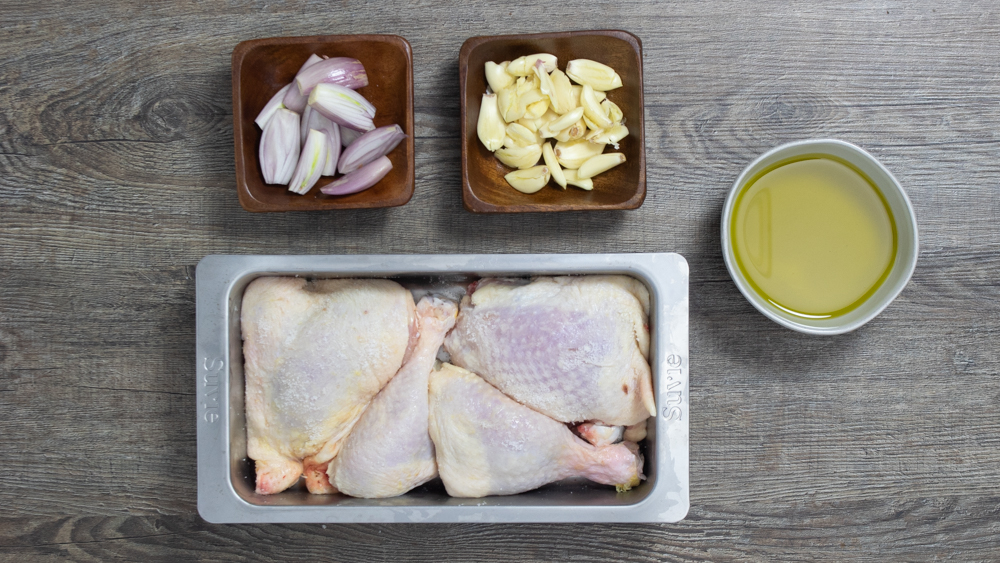 1) Separate the chicken legs into two pieces by cutting between the thigh and drumstick. Place the chicken pieces into a Suvie pan and season with ½ tsp salt and ¼ tsp black pepper. Add 10 garlic cloves, 4 shallots, and ½ cup olive oil to the pan and cover with aluminum foil. Insert the pan in the bottom zone of your Suvie. Input settings, and cook now or schedule.
Suvie Cook Settings
Bottom Zone: Slow Cook on Low for 4 hours
2) After the cook, remove the pan from your Suvie, and remove the foil. Carefully remove the chicken pieces from the oil. Reserve the oil, garlic, and shallots for dipping, drizzling, or if you're feeling ambitious, use it to make mayonnaise!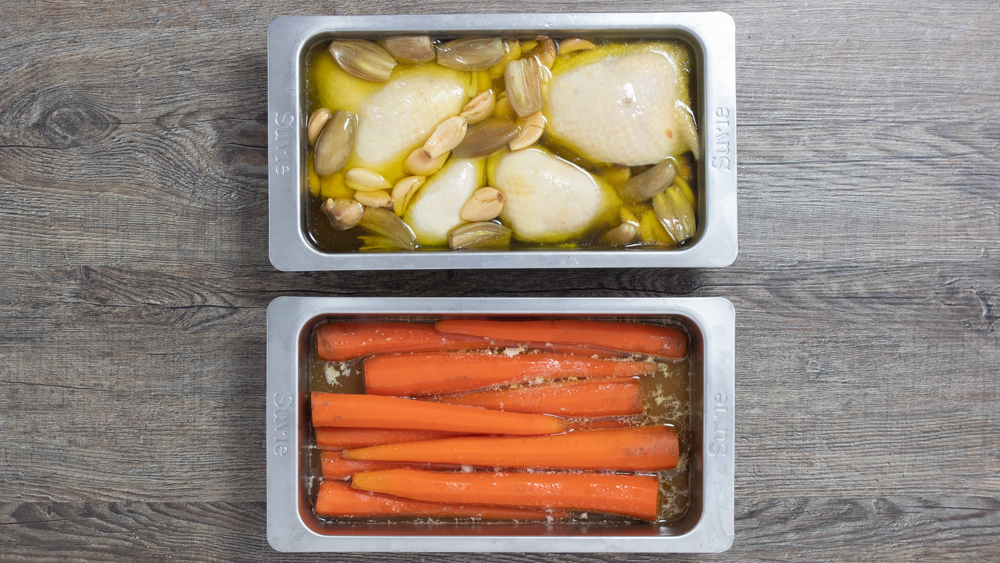 3) Return the chicken to the pan, skin side up, and place the pan in the bottom zone of your Suvie. Place 8 oz of carrots in another Suvie pan and add 1/2 cup chicken broth, 2 tbsp cubed butter, and 1 tbsp of honey. Season carrots with a pinch of salt and pepper and insert in the top zone of your Suvie. Set the bottom zone of your Suvie to broil for 10 minutes and set the top zone to bake at 350°F for 15 minutes. Watch the chicken carefully for the last 2 minutes to make sure it doesn't burn.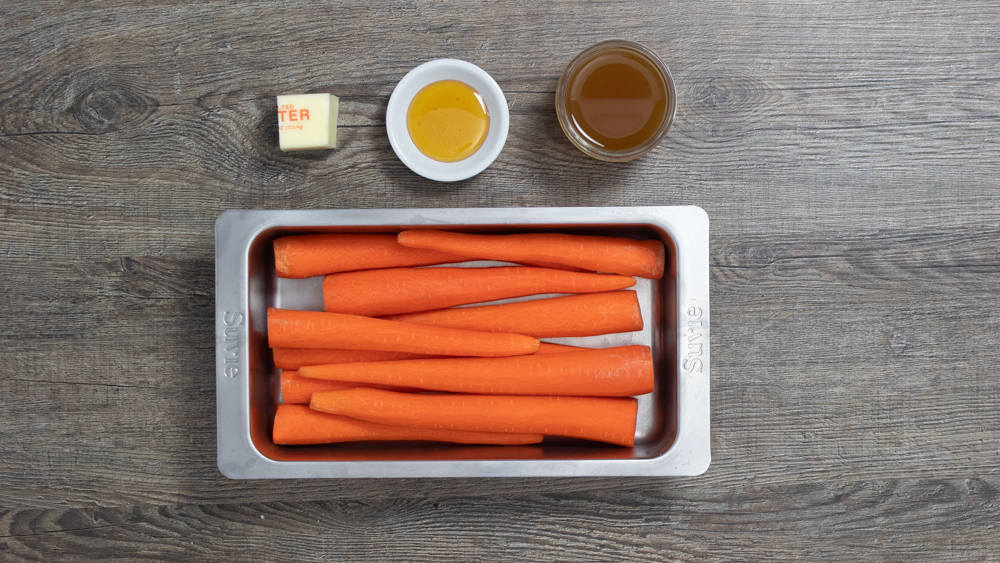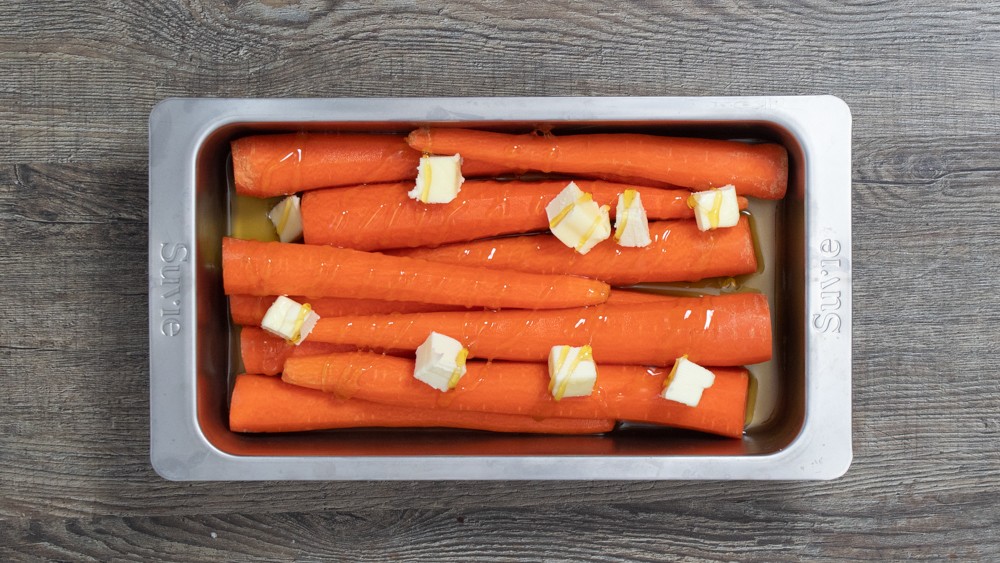 4) After the cook, remove both pans from your Suvie. Cut carrots into halves or quarters and divide between 2 plates. Divide chicken pieces between the plates and garnish with parsley and lemon wedges. Sprinkle with a little salt to taste.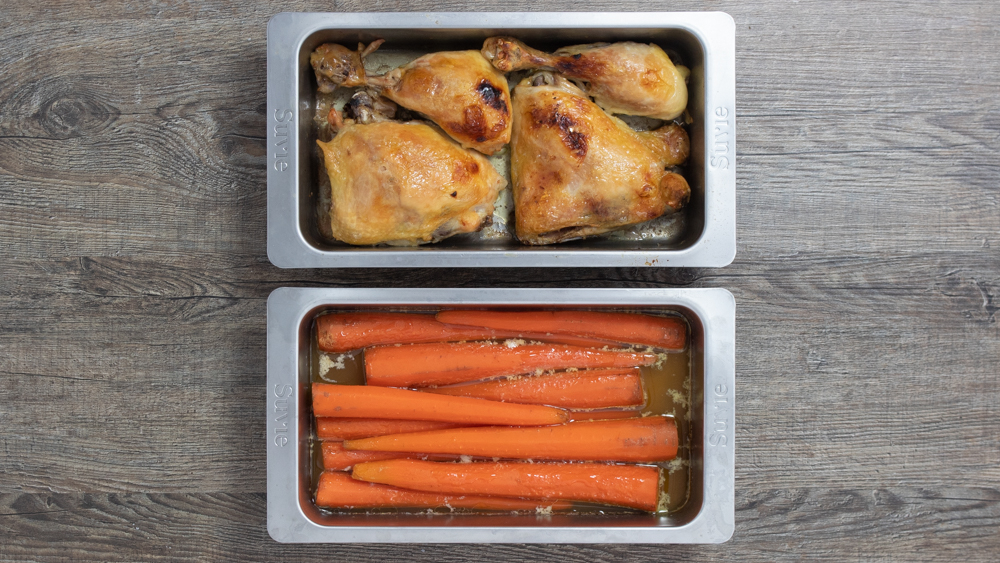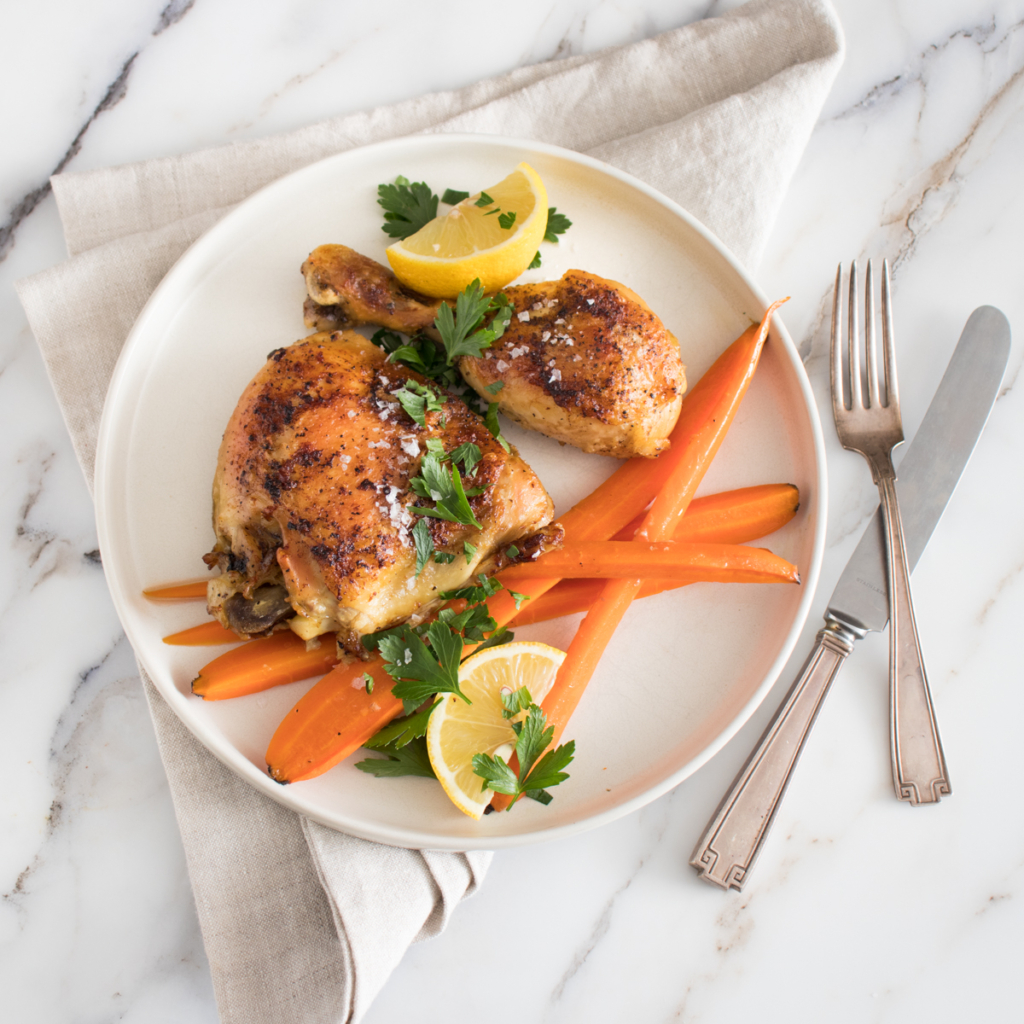 Nutrition
Nutritional Information per serving (2 servings per recipe): Calories 1218, Total Fat 97g, Total Carbohydrates 36g, Total Sodium 1588mg, Total Protein 58g.